If you're planning a trip to Western Australia, Rottnest Island is a must-visit destination. This picturesque island, located just off the coast of Perth, offers a wide range of activities and attractions for travellers of all ages. From stunning beaches to unique wildlife encounters, read on to find the top 15 things to do on Rottnest Island.
Disclaimer: This post may contain affiliate links, which means I get a small commission if you make a purchase (at no extra cost to you). It's one of the ways I can keep producing free resources and guides for my readers. Thank you for your support! Refer to the Disclosure Policy for more details.
Rottnest Island History
Located just off the coast of Perth, Western Australia, Rottnest Island got its name from Dutch explorer Willem de Vlamingh in 1969. He mistakenly identified Rottnest's quokkas as large rats and named them "Rattennest" (Rat's Nest).
The island's history dates back to over 30,000 years ago with Indigenous Australians thought to have inhabited the island. The Whadjuk Noongar people, the land's traditional custodians, referred to Rottnest as Wadjemup.
Although today Rottnest is recognised for its scenic beaches, unique wildlife and picturesque vistas the island has a grim past. In the 19th century during British settlement, Rottnest was previously used as a prison for Indigenous people. In fact, many of the buildings that exist on the island currently were built by these prisoners. Since starting out as a penal settlement it has since turned into a popular holiday destination in the early 20th century, with Rottnest attracting thousands of visitors yearly.
Frequently Asked Questions
What is the weather like on Rottnest Island?
Rottnest Island's weather is near perfect the whole year. During the summer months (December to February) the lowest rainfall happens and this is usually the most popular time to visit Rottnest.
One of the draw cards of Rottnest includes its water warmers compared to Perth's beaches. This is owed to the Leeuwin Current, a body of warm, tropical water that originates from Indonesia. Thanks to the Leeuwin Current, the water surrounding Rottnest Island is warmer than on Perth's beaches.
How long to spend on Rottnest Island?
Although Rottnest is quite small, there are still enough sites to explore and activities to keep you busy for more than a day. I'd recommend staying overnight to enjoy Rottnest to its fullest from relaxing at the beach, snorkelling, swimming or hitting the trails. This way you'll be able to explore the island without rushing and you'll also get to explore Rottnest once all the day visitors have left on the ferry.
Is one day enough for Rottnest?
If you're doing a day trip to Rottnest Island I recommend spending at least six hours on Rottnest. This is a decent amount of time to get your bearings, explore the beaches, bays and other attractions as well as have some downtime at a restaurant or cafe before you return to Perth.
If you're only visiting Rottnest for a day trip make sure to book your departure early in the morning and the return ferry in the late afternoon to enjoy Rottnest to the fullnest. You can explore the island by either renting a bike at your own pace or joining a guided tour to see the best sites on the island. If you're wondering what to do on Rottnest one day I'll be sharing the top things to do on Rottnest Island further in the guide.
Where can I book Rottnest Island Accommodation?
Booking a place to stay on Rottnest can be challenging; accommodation tends to get quickly booked up with it released months ahead by locals. This is especially the case during the school holiday periods in Australia. If you are unable to book accommodation or find yourself short on time, a day trip to Rottnest Island is still worth the trip.
Further in this post I'll be sharing the best places to stay on Rottnest Island.
When is the best time to visit Rottnest Island?
Since a lot of the best things to do on Rottnest Island involve exploring the bays and beaches, it's generally regarded that the best time to visit Rottnest Island is during the warmer months from November to March.
In my personal opinion, you can visit all year round. Important dates to take note of include the summer months which are the busiest time for Rottnest when you can expect large crowds. To avoid large crowds I'd recommend a day trip during autumn or spring (September to November). During these months it will be warm enough to swim and the waters are calm enough to enjoy water sports whether it's swimming, snorkelling or surfing.
Certain times of the year also see large crowds at Rottnest due to special events. During the summer school holidays in December and January, especially weekends, are usually busier than normal. If you're planning a visit around this time I recommend visiting during the week. You'll also want to avoid visiting around the Rottnest Island swim which is usually held in the last few weeks of February which draws large crowds. If you still plan to visit around these dates make sure to reserve your bike rental and ferry transfers in advance.
How to get to Rottnest Island?
The easiest and most convenient way of getting to Rottnest Island is by ferry. The ferries depart at various locations including Hillarys Boat Harbour, Fremantle (B-Shed) and Perth CBD (Barrack St Jetty). For those with more of a budget, you can charter a private boat, plane or helicopter transfer with Corsaire.
There are 3 ferry services that operate to Rottnest Island and they operate daily throughout the day. They all offer similar services regardless of the departing location.
The most popular departure point is Fremantle's B-shed due to its parking space and offering the shortest ferry journey to Rottnest Island. If you are staying in the Perth CBD, then the most convenient option would be catching a ferry from Barrack St Jetty.
For most online bookings, you just need to show your ticket on your phone and board the ferry when you arrive at the port. Make sure to check your booking for the exact times and details.
Important tip: If you want to cycle around the island I recommend booking your ferry transfers and bike rentals together in a package to save money.
⛴️ Ferry Services to Rottnest Island
Both Rottnest Express (red ferries) and SeaLink (blue ferries) depart from Fremantle and Perth. Whilst Rottnest Fast Ferries (green ferries) depart from Hillarys Boat Harbour.
⛴️ 🚲 Ferry Packages to Rottnest Island
How to Get Around Rottnest Island?
Since Rottnest is a vehicle-restricted island, you can explore Rottnest either on foot, by bike or on public transport. The most convenient way of exploring Rottnest is either by bike or on public transport. Depending on your budget and preferences on what you'd like to do on Rottnest will determine which option is the best for you.
Getting Around Rottnest by Bike
The best way to explore Rottnest Island is by cycling which will allow you to stop whenever and wherever you want. Bikes can either be hired in advance online as part of your ferry transfers, or day trip package or you can organise it when you arrive on the island. You can also bring your own bike to Rottnest on the ferry, just make sure to add bike freight to your ticket when making a reservation.
With no cars allowed, cycling is the best way to explore Rottnest where you can stop at various scenic viewpoints on the island. I recommend booking ferry transfers and bike rentals together in a package to save money.
Hiring Online
If you want to book in advance you can hire bikes from three ferry providers as part of your ferry package to get to the island. I personally recommend booking your bike rentals in a day trip package as it covers ferry transfers and admissions for Rottnest. The day trip package ends up being cheaper than booking it all separately. You can also organise snorkel gear as part of your ferry and bike rentals if you're interested in snorkelling.
For some of these packages, the bike will be provided by the ferry provider and will be waiting for you as soon as you depart from the ferry. This is a convenient option as you can start riding as soon as you get off the ferry and won't have to wait for the bike rental store on Rottnest to open. Here are a few recommendations for Rottnest packages that include both ferries and bike rentals.
If you're booking through KLOOK you can get 5% off your reservation by using KELLYTODAY.
⛴️ 🚲 Bike Packages for Rottnest Island
Departure Point
Departure Time
Included
Price
Booking
Perth CBD
8:45 am
Ferry, Bike & Snorkel Rental
$183
Rottnest Express
Perth CBD
8:30 am
Ferry & Bike Rental

(Bike pick up from Pedal & Flipper)
$149
SeaLink Rottnest
Perth CBD
8:45 am
Ferry & Bike Rental

(Bike provided on ferry)
$114
Rottnest Express
Fremantle
9:00 am
Ferry, Bike & Snorkel Rental
$130
Rottnest Express
Fremantle
9:30 am
Ferry & Bike Rental

(Provided on ferry)
$114
Rottnest Express
Fremantle
7:00 am

9:00 am
Ferry & Bike Rental

(Pick up from Pedal & Flipper)

$109
SeaLink Rottnest
Hillarys
7:30 am

10:00 am
Ferry & Bike Rental

(Provided on ferry)
$119
Rottnest Fast Ferries
Hiring a Bicycle on Rottnest
If you're hiring bikes on the day you can book them from Pedal & Flipper Hire which is about a 10-minute walk from the ferry. This rental place operates from 8:30 a.m. to 4:00 p.m. daily and they provide a variety of bike options including electric bikes, kids' bikes, and accessories for one-day or multi-day hire. As of September 2023, the following bike rental prices are stated in the table below and the hiring fee also covers a helmet and lock.
I personally recommend hiring an electric bike (e-bike) from Pedal & Flipper. This is because Rottnest Island is very hilly and a moderate level of fitness is required for cycling around the island. Electric bikes will come in handy tackling those steep hills and exploring areas further away from the settlement area on Rottnest.
Important tip: It is mandatory by law to wear helmets when riding bicycles in Australia.
| Rental | 1 Day (24 hours) | Additional Day | After 1pm |
| --- | --- | --- | --- |
| Bike (Junior) | $20 | $10 | $10 |
| Bike (Adult) | $30 | $14 | $16 |
| Electric Bike (Adult) | $71 | $51 | $41 |
| Electric Scooter | $71 | N/A | $41 |
Getting Around Rottnest by Bus
You can also explore Rottnest through bus tours or ride the daily shuttle bus which offers transfers between Thomsom Bay, Geordie Bay, and Kingstown. This is a great alternative for those not wanting to cycle around the island and you'll also get local recommendations on sites to explore around the island.
Shuttle Bus
The shuttle service runs allow you to explore around the island at your own pace, by letting you hop on and off at 19 different stops around the island. The buses operate the whole week between 8:30 a.m. to 3:00 p.m. (at 15-minute intervals) and then from 3 p.m. to 5 p.m. (at 30-minute intervals).
You can reserve your tickets ($25/adult) online, in person at the Visitor Centre or at the main bus stop near the ferry terminal. Note that the shuttle bus does not provide a guided tour and no local commentary.
If you're visiting Rottnest during peak periods, you might have to stand on the bus or if the bus is full you'll need to wait for the next bus.
Bus Tour
Discover Rottnest Bus tour departs twice a day (11:20 a.m. and 1:50 p.m.) from the main bus stop in Thomson Bay settlement. This can be found a short walk from the main jetty. This tour departs twice a day and covers all the main spots on the island in a 90-minute tour.
You can either reserve a bus tour or a ferry and bus tour package depending on your budget. I recommend reserving a package as it covers round-trip ferry tickets, admission to Rottnest and a local bus tour which will get you live commentary as you discover the Rottnest's scenic spots, fauna and flora. Regardless of which option you choose, adding a bus tour will let you discover the best spots on Rottnest Island with convenience from main attractions such as Cape Vlamingh, Henrietta Rocks, salt lakes, the rugged coastline and more.
🚍 Below are recommended Rottnest Island bus tours
Departure Point
Departure Time
Included
Price
Booking
Perth CBD
8:45 am
Hotel pick up

Roundtrip ferry transfers

Swan River Cruise

90 minute bus tour

Buffet lunch
$178
Rottnest Express
Fremantle
9:30 am
Roundtrip ferry transfers

90 minute bus tour

English speaking guide
$137
Rottnest Express
Hillarys Boat Harbour
7:30 am

10:00 am
Hotel pickup & drop-off

Roundtrip ferry transfers

90 minute bus tour
$149
Rottnest Fast Ferries
Best Things to Do on Rottnest Island
Wondering what to do on Rottnest Island? There are lots of things to do on Rottnest Island for every type of traveller to enjoy from attractions, activities and local guided tours.
Grab a Quokka Selfie
Rottnest Island is famous for its resident quokkas, small marsupials known for their friendly and photogenic nature. In fact, quokkas are known as the 'happiest animal in the world' and are recognised as a brag-worthy deal with everyone from celebrities such as Roger Federer and Margo Robbie taking selfies with the adorable marsupial. When it comes to capturing an (ethical) quokka selfie with Rottnest's star attraction there are important considerations to have in mind.
Important Tips
Here are some important tips when meeting the resident quokkas in a sustainable and ethical manner.
Quokkas are nocturnal so you'll often find them in the morning and early evening all year round, particularly around the settlement precinct.
Remember to maintain a respectful distance for both animal and human safety. I recommend bringing a tripod for your phone or camera.
Do not feed the quokkas with water or food. It will change their behaviour and can make them sick. With this in mind, also remember to dispose of your waste properly on the island.
Be patient, quokkas are quite trusting and let the quokkas come to you.
On-the-spot fines of $200 apply to feeding and harming the quokkas.
What time are quokkas most active?
Since quokkas are nocturnal by nature they spend most of the day resting and sleeping under shady bushes, but can also be spotted lazing around the island. They're also not a fan of the heat, so in hot temperatures, you are likely to find them seeking shelter in the shade. With this in mind, the best times for spotting quokkas are early mornings, late afternoons and in the evening. You'll find that quokkas are most active at night where you can find them night feeding alone or in small bands.
Where can you see quokkas on Rottnest Island?
Truthfully you can find quokkas almost everywhere on Rottnest, so you won't have to travel too far from the settlement area to get an encounter with a quokka. The most convenient sighting spot is around the Settlement area where the restaurants, bakery and pub are found because this is where lots of food and water are found. With this in mind, people are urged not to feed the quokkas because they are plant-eaters and human food can be harmful to them.
📌 Here are eight of the best places to Quokkas on Rottnest
Before Wadjemup Lighthouse (on Defence Road just past Digby Drive) – You'll find an intersection of tea trees which is a popular spot for quokkas to rest at.
Garden Lake is an ideal place to spot a quokka in their natural state surrounded by trees and a field of grass and samphire. You'll likely catch them sleeping under the shade or venturing out in the early morning or late afternoon.
Walk to the Basin (Gabbi Karniny Bidi meets Kingsway Road) – If you walk between the golf course and sports oval you'll meet a line of native tea trees opposite Discovery Rottnest Island (eco tents). These trees provide an ideal woodland habitat for quokkas making a great spotting sight.
Ngank Yira Bidi Trail to Bickley Bail – If you walk the Ngank Yira Bidi trail to reach Bickley Bay you'll encounter a group of low shrub trees where quokkas are likely to dwell for foraging or sleeping.
Bovell Way (En route to Stark Bay) – As you cycle to Stark Bay you'll likely encounter tall fig trees and ate palms which make it an ideal resting spot for quokkas.
Under the trees on the hill up Wadjemup Road towards the lighthouse.
Bicycle parking area near Porpoise Bay.
Settlement area around the beach, bakery, the hotel and restaurants.
Visit the Lighthouses
If you're looking for some of the best views across Rottnest head to one of two lighthouses on Rottnest. This includes Wadjemup Lighthouse in the centre of the island and Bathurst Lighthouse near Pinky's Beach.
Wadjemup Lighthouse is found on the highest point on the island and was built to safeguard against shipwrecks. Constructed in 1896, this 38m lighthouse is the fourth tallest in Australia and visitors can also learn about other buildings in the heritage precinct: Women's Royal Australian Navy Service, Battery Observation Post and Signal Station. Today, it's still in use helping guide ships towards the port of Fremantle. If you're interested in a guided tour on top of Wadjemup Lighthouse, you can sign up by visiting the Volunteer Information Booth in the settlement area or checking in at the Lighthouse during your visit.
Bathurst Lighthouse isn't open to visitors for guided tours however you can still explore the exterior. This lighthouse is actually a popular spot to catch a sunset and I recommend packing a picnic rug to enjoy this spot to the fullest.
Relax at the Beach
Rottnest has over 20 bays and 63 secluded beaches to enjoy. The island, referred to as Rotto by locals is well known as a haven for diving, hiking, surfing, fishing and swimming. Regardless of which beach you decide to spend the day at you'll be treated to crystal clear waters and soft white sand.
Here are some of my favourite beaches that I recommend visiting on Rottnest. These recommendations can be reached via bicycle or via bus.
Parker Point – If you're planning on snorkelling head to this spot where a flight of wooden stairs will lead you to the pristine beach.
Little Salmon Bay – A sheltered bay that boasts crystal clear water inviting you for a quick dip or snorkel.
Little Parakeet Bay – A small sheltered bay next to the larger Parakeet Bay which is a great spot for lounging on the beach or a swim.
The Basin is found within walking distance from the main settlement and is a popular snorkelling spot.
Pinky's Beach is found right in front of Discovery Rottnest Island and is overlooked by Bathurst Lighthouse. This beach is also a popular spot to catch a sunset on the island.
If you're looking for the best beaches to enjoy on Rottnest I personally recommend exploring the beaches and bays that are further away from Thomson Bay Settlement. Generally, the areas around the West End of Rottnest are lesser explored and you can expect fewer crowds.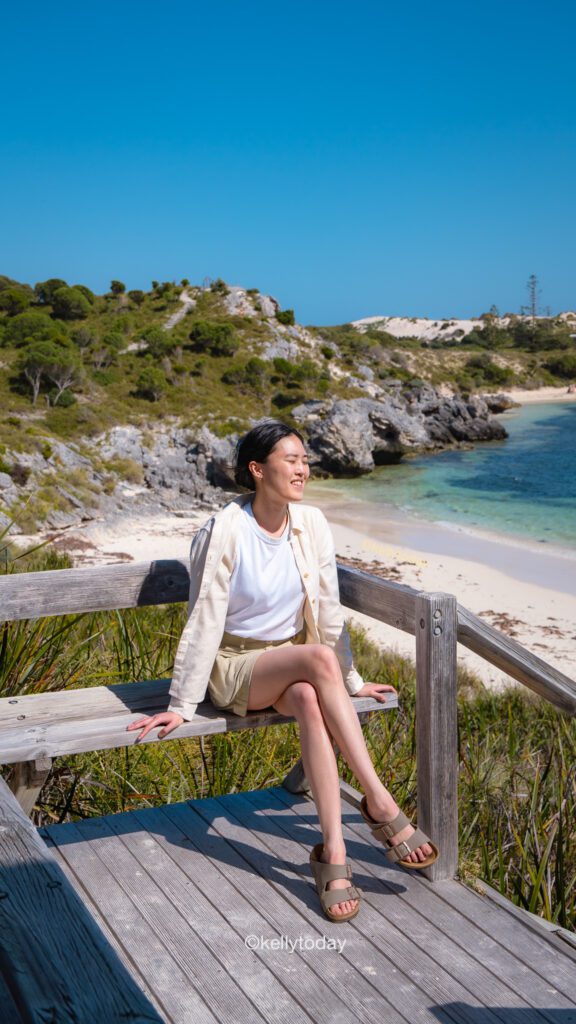 Rottnest's History at Wadjemup Museum
Operating hours: 10:00 am to 3:30 pm (daily)
Rottnest Island is rich in history, and you can immerse yourself in the local Noongar culture through guided tours and interpretive displays. After exploring around Wadjemup Museum, Pilot Boat House and Lomas Cottage head to Wadjemup Museum. This museum boasts outdoor sculptures, and 40,000-year-old artefacts that can be found inside Old Mill and Hay Store.
Cultural Tour
Add to your day trip to Rottnest by joining an Indigenous cultural tour with Go Cultural Aboriginal Tours & experiences. This tour allows you insight into the Noongar language and knowledge including Aboriginal Dreamtime stories, and traditional songs that nod to the Noongar First Nations people's connection to the country.
Alternatively, you can explore some of Rottnest best's sites by adding a half-day sightseeing tour by bus and a historical train or a full-day trip tour. On the half-day tour, you'll be treated to lunch and get to visit attractions including Oliver Hill Battery, Henrietta Rocks shipwreck and Kingstown Barracks. If you want an all-inclusive tour consider this 3.5-hour local bus tour and be treated to morning tea, all of Rottnest's scenic attractions and a historic train ride for some of the best views of Rottnest.
Segway Tour
If you're looking for a fun and unique way to explore Rottnest consider joining a Segway tour. On this tour, you'll be cruising on a segway and be treated to some of the most picturesque vistas and expert commentary with a local guide. This is a great alternative to riding a bike around the island where you'll be treated to insider knowledge from an expert guide and visit the best scenic sites on Rottnest. Depending on your preferences you can either choose from a Segway adventure tour or a settlement tour from Segway Tours WA.
Oliver Hill Guns & Tunnels
Don't miss out on the maze of underground tunnels found under the Second World War gun emplacement on Oliver Hill. For history buffs, you'll want to join a guided walking tour to learn about the defence heritage site found in the middle of the island. I also recommend riding the Captain Hussey trolley train which will transport you from Settlement Railway Station to Oliver Hill where you can enjoy gorgeous views over Rottnest Island's coastline.
Discover Rottnest's best attractions through a bus and train day trip tour.
Sky Diving
If you want the best views of Rottnest Island add a tandem skydiving experience to get breathtaking views of the Island from above. For a bucket list experience, you can parachute over Rottnest with Skydive Geronimo and land safely on the sands of Bickley Bay, Thomson Bay, or Salmon Bay. You can choose from freefalling from an altitude from 10,000 ft to 15,000 ft to see Rottnest from a different perspective. You'll also have the option to add a professionally edited high-definition video and photos package to take home from your trip.
Snorkelling
The reef around Rottnest Island is said to have formed about 100,000 years ago when the sea levels were about 3m higher than they are presently. If you're visiting Rottnest it wouldn't be complete without going snorkelling to check out its abundant marine life from its colourful fishes and if you're lucky dolphins and seals. If you don't have your own snorkel gear you can hire from Pedal & Flipper which is found in the Thomson Bay Settlement Area.
If you're looking for the best snorkelling spots on Rottnest, you should check out The Basin, Little Salmon Bay or The Basin. These spots are a great spot for first-time snorkellers with its sheltered reef and a trail that follows along the limestone reef. No matter which spot you choose you'll be treated with crystal-clear waters, colourful coral formations and diverse marine life.
Surfing
Rottnest Island boasts some of the best surf breaks and you won't want to miss these offshore swells. For experienced wave riders, check out popular spots of Rotto Box, Chicken Reef, Stark Bay or Strickland Bay. However, since Rottnest is an island you can usually find somewhere with the right wind conditions.
Adventure Cruise
Add an adventure boat tour to your day trip to Rottnest and be treated to unforgettable encounters with Rottnest's whales, dolphins, and birdlife. This tour is eco-certified and operates from November and April and explores the Indian Ocean for seals, ospreys and whales (when in season). If you join you'll be treated to a unique perspective of the island's picturesque countryside in addition to wildlife spottings.
If you don't have time to add a wild-life boat tour on your trip to Rottnest you can still board a whale-watching vessel from Fremantle or Hillary's Harbour for a local tour.
Save money by booking your ferry transfers to Rottnest and adventure boat tours together in a local day trip tour.
Wildlife Spotting (On Land)
If you're a nature lover you'll want to check out the wildlife spotting spots on the island. From bird-spotting all over the island, whale watching from September to December, bats, fur seals and quokkas. The best spot to see wildlife is by venturing to the West End of Rottnest, which is the furthest point from the main settlement. If you head to Cathedral Rocks you'll have a lookout platform that provides an ideal spot for spotting seals sunbathing on the rocks below. To reach the West End it's a long bike ride or you can grab a transfer from a local bus.
Visit the Salt Lakes
The middle of Rottnest Island features about 10 salt lakes covering 200 hectares. Whilst the beaches are the most well-known feature of the island you'll want to leave some time to explore the salt lakes which have created a unique wetland ecosystem on Rottnest. At the salt lakes, you'll be treated to unique plant life and waterbirds that have adapted to the environment. If you're lucky you might also catch the salt lakes when they're pink at certain times of the year.
You can either explore on foot or cycle through the salt lakes. As part of the Wadjemup Bidi trail, you can enjoy walking on the boardwalk which will grant you access through the salt lakes.
Wildflower Trails
There are over 12,000 species of wildflowers in Western Australia (WA) making it the world's largest collection. Wildflower season starts in June in the north of WA and then sweeps south, finishing on the southern coast in November.
If you're heading to Rottnest you don't want to miss out on catching the gorgeous display of wildflowers and native plants. The island is home to a variety of unique flora and fauna boasting over 1,500 native species of wildflowers. If you take Wadjemup Bidi (Wadjemup Walk Trail) you'll be treated to a gorgeous display of wildflowers and native plants on the island. Some wildflower highlights include Rottnest Island Pine, Blue Rottnest Daisy and Rottnest Island Tea Tree (Melaleuca).
Don't miss out on these must-see destinations, events and top things to do in spring in Perth in this local guide.
Wadjemup Bidi Walk Trail
The Wadjemup Bidi is a trail network that stretches over 45km and allows visitors to explore Rottnest on foot. You can find five different colour-coded trails that link up at certain points and each offers a user a distinctive experience, navigating walkers past inland lakes, the vast coastline, and through military history. No matter which trail you'll take you'll be treated to cultural and environmental landmarks on the island.
Before you embark on your adventure make sure to pick up an island map from the Visitor Centre and plenty of water for your trip!
Where to Eat on Rottnest Island
Here are some of the best places to eat and drink on Rottnest Island. Across the island, you can find a range of cafes and restaurants offering affordable fine dining options to enjoy. When visiting remember to check the opening hours beforehand.
Remember to stay hydrated when you're visiting Rottnest! You can find water bottle refill stations at the Settlement, Geordie Bay, The Basin and the Visitor Centre.
Lontara
Located a short walk from the main jetty and settlement mall, Lontara offers an open-air dining experience on Rottnest. You'll want to head to Lontara to try delicious Southeast Asian cuisine in a fine dining setting either at breakfast, lunch or around dinner time.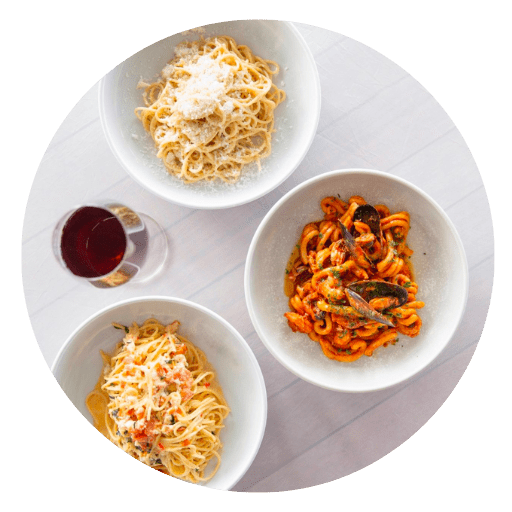 Isola Bar E Cibo
If you're looking for a beachfront venue head to Isola Bar E Cibo. You'll feel like you've been transported to the Amalfi Coast and be treated to delicious Mediterranean dishes. It's a great spot to spend the afternoon or dinner by the beach.
The Lane Cafe
Head to The Lane Cafe to be treated to some of the best coffee on the island, delicious healthy dishes and snacks with gluten-free and vegan options. It's also known for serving the best burgers on Rottnest.
Frankie's on Rotto
Head to Frankie's for some delicious pasta or pizza at lunch or dinner time. It's a great family-friendly spot with a playground located just opposite to entertain the kids before feasting on the delicious bites. Just be aware of the swooping seagulls that might go for your food.
Geordie's Cafe & Art Gallery
For an all-rounder spot check out Geordie's, which serves up breakfast, lunch and dinner all-day options. If you're planning to head to this spot for dinner make sure to reserve in advance as it gets really busy.
Pinky's Beach Club
If you're looking for a beachside dining and drink experience head to the new Pinky's Beach Club. The menu features a seafood-focused option and offers gorgeous views of the island.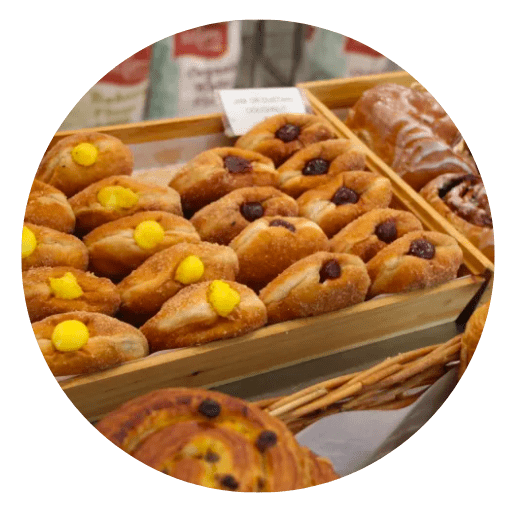 Rottnest Bakery
A trip to Rottnest wouldn't be complete without a visit to the beloved Rottnest Bakery. Often it's a popular spot as soon they visit the ferry. You'll be treated to delicious baked goods from sausage rolls, pastries, sandwiches, pies and more that are worth the long wait.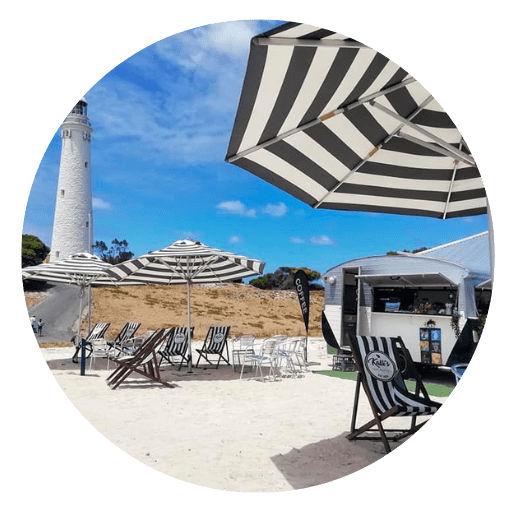 Kalli's / Maeve's / Lexi's
If you have a sweet tooth or need a caffeine hit whilst exploring around Rottnest, check out Kalli's caravan at the base of Wadjemup Lighthouse. You'll also want to keep an eye out for Maeve's Coffee Van which can be found around Rottnest during the day, or Lexi's on the island's on the West End.
Thomsons
As soon as you get off the ferry you'll be able to spot Thomsons. If you're a seafood lover you'll want to check out this seafood joint with affordable prices compared to the rest of the island. Although they run a limited menu at the moment, they'll be running in full spring during summer.
Hotel Rottnest
If you're looking for epic views of Thomson Bay head to Hotel Rottnest. With great food and drink offerings, this joint also boasts a seasonal menu with seafood options and Australian pub fare. On the weekends this spot gets a bit rowdy but it's spacious enough to find shelter from the afternoon seabreeze.
Rottnest Island Accommodation
Although Rottnest can be done as a day trip from Perth, to best experience all that Rottnest has to offer you'll want to stay overnight or a couple of days. If you're wondering where to stay on Rottnest Island read on for some of the best stays on Rottnest Island. Below are accommodation options ranging from budget stays covering cabins, and campgrounds to premium options that boast ocean views and heritage cottages.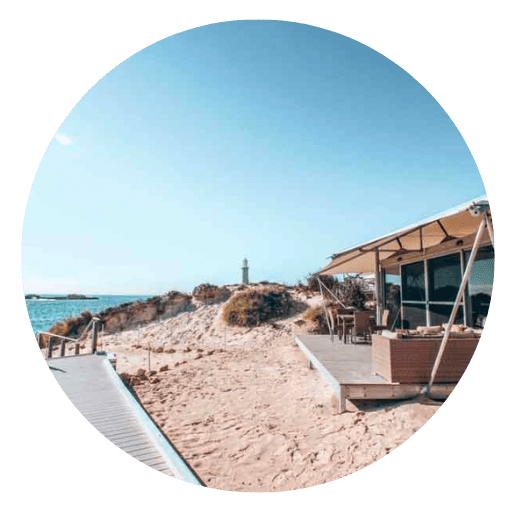 Discovery Rottnest Island is found on one of the most picturesque places on the island – Pinky Beach and has over 83 eco-tents to choose from. Depending on your budget you can choose from a standard tent that covers a private ensuite and outdoor, a superior tent with additional space and a kitchenette, or a deluxe tent that is equipped with a double-vanity ensuite and walk-in robe.
If you're looking for a luxury stay right on the beach check out Samphire. In addition to the luxurious accommodation and gorgeous views, you'll be treated to a pool to relax in and Lontara for laid-back vibes for dinner.
Stay Rottnest Self-Contained Units
If you're travelling in a group or with family consider staying at a self-catering facility on the island. Usually, these stays offer 4 to 6-bed options which are great for splitting the cost within a group.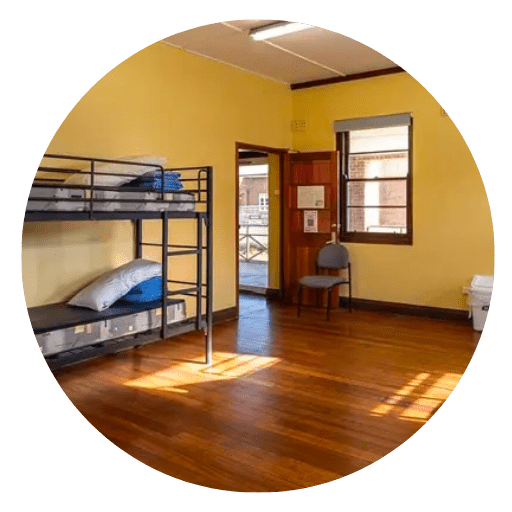 If you're on a budget consider a stay at this option with private rooms and dorm-style accommodation on Rottnest. The prices will be lower compared to the previous options with common areas you'll need to share.
Rottnest Island offers a diverse range of experiences, from natural beauty to outdoor adventures, cultural immersion to relaxation on pristine beaches. Whether you're an avid cyclist, a nature enthusiast, a history buff, or a beach lover, Rottnest Island has something to offer everyone. Plan your visit to this enchanting island, and you'll leave with cherished memories of its unique charm and natural splendour. If you have any questions about visiting Rottnest, feel free to drop them in the comments below so I can answer them!
Found this helpful? 👇🏼
Found this free guide helpful? Support my work so I can produce more free content for you.