Seoul, the bustling capital of South Korea, is a city that never sleeps. With its dazzling lights, bustling streets, and a wide range of activities, there's something for everyone to enjoy after the sun sets. Whether you're a night owl or wondering where to go in Seoul at night, here are the 15 top things to do at night in Seoul.
Disclaimer: This post may contain affiliate links, which means I get a small commission if you make a purchase (at no extra cost to you). It's one of the ways I can keep producing free resources and guides for my readers. Thank you for your support! Refer to the Disclosure Policy for more details.
Frequently Asked Questions
Is it safe to walk at night in Seoul?
The streets of Seoul in Korea are quite safe with low crime rates and theft or assault is hardly seen or heard of. As a solo female traveller, you can find it's safe to travel in Seoul day and night. Just always remember to take basic safety precautions whilst travelling like avoiding dark parking lots and alleys. In Seoul, there are also "Tourist Police" which can be found in major tourist areas such as Hongdae and Myeongdong.
Is Seoul lively at night?
Seoul is considered a relatively safe city to travel in, especially for solo female travellers. In Seoul, you can find the main streets are busy at night, and it's very unlikely you'll find yourself completely alone when you're in busier districts such as Hongdae or Itaewon. In fact, Seoul is recognised for its nightlife and comes alive at night with night markets, street performances, street food vendors and many attractions to enjoy for both tourists and locals alike.
If you're visiting Korea for the first time make sure to read these 10 must-know tips for your trip including visa requirements, how to travel around Korea, and other essential travel information.
How do you get around Seoul late at night?
Seoul Subway: 5:30 am to 24:00 (1:00 am next day)
You'll likely be using the subway system in Seoul to get around the late hours of the night. The subway system in Seoul operates until 1:00 a.m. on weekdays and a bit earlier on weekdays. Note that some subway lines cut off before 1:00 a.m., so you'll need to check the train announcements at each station. Make sure to check in advance when the last train is to your destination to make sure you can get back to your accommodation.
If you're out in Seoul after 12:30 a.m., the best way to get back home is either by taxi or a night bus. Use Naver Maps or Kakao Maps to navigate and find the best bus to take. If you're using the bus you'll need a transportation card.
What are popular night activities in Seoul?
Popular night activities to try in Seoul include watching a performance at the Nanta Theatre, checking out Namsan Seoul Tower for panoramic views of the city, and exploring traditional Korean spas (jjimjibangs). Other activities include enjoying a river cruise on the Han River or enjoying late shopping at Seoul's many markets or malls.
What are some popular nightlife districts in Seoul?
The main areas for nightlife in Seoul include Gangnam, Hongdae and Itaewon. Each district has its own unique vibes to enjoy in terms of age range, atmosphere, price range, and music to enjoy at night.
Also, note that some nightclubs in Seoul do not admit foreigners with some establishments posting "no foreigners" signs outside or a "must speak Korean to enter' sign. Other nightclubs are also selective when admitting people in terms of clothing style and nationality. Most of the time you won't know until you get to the door with the bouncer having the discretion on whether to let you enter the nightclub.
What are some popular night markets to visit in Seoul?
Seoul has a range of night markets to enjoy from food to wholesale markets including the well-known Myeongdong Night Market to lesser-known spots such as Noryangjin Fisheries Wholesale Market in Seoul. Further in this guide, I'll be listing the top night markets to visit in Seoul.
Top Things to Do at Night in Seoul
Whether you're a sightseer, foodie, or shopaholic, Seoul has a variety of top things to do at night for every type of traveller. Read on to find the top activities to do at night in Seoul from well-known to lesser-known things to add to your Seoul travel itinerary.
Visit an Arcade or Game Room
A popular activity for locals to do at night is to visit arcades or game rooms with friends. In Gangnam, Myeongdong, and Hongdae you can find huge arcades to enjoy such as Zzang Games (짱오락실 홍대점) in Hongdae. A visit to the arcade and you'll be treated to racing, dancing, coin karaoke, claw machines and more. It's a fun place to spend some time with friends in the bustling city of Seoul. If you are paying a visit make sure to bring cash as the machines only take coins. If you only have notes there should be machines where you can exchange them for coins.
You can withdraw cash from ATMs in convenience stores (CU, 7-Eleven, Family Mart) or banks.
Night Visit To a Museum
Did you know that on certain days of the week, some museums in Seoul are open late at night? Why not take the opportunity to soak up some culture and knowledge? Another drawcard of visiting museums at night is that it's often not as busy compared to visiting during the day or on the weekends. If you're lucky you might even have the whole museum to yourself.
Museums to check out that have late-night opening hours include the National Museum of Modern and Contemporary Art (MMCA Seoul) (국립현대미술관 서울관), Royal Palace Museum (국립고궁박물관), The National Museum of Korea (국립중앙박물관), and many more!
Make sure to check the opening times for each museum. Each place has different operating hours for different days.
Enjoy the Nightscape on a Local Bus
The most convenient way to enjoy the night view and attractions of Seoul is through a city tour bus. Jump on the Seoul City Tour Bus, which runs along the Han River allowing you to enjoy the city lit up at night. The bus also makes stops at attractions including Namsan Seoul Tower and Namdaemun Market allowing people to take in the view and a few photos at top attractions without organising the transfers yourself.
If you're heading to the coastal city of Busan make sure to check out the Busan City Tour Bus. The city bus offers four different routes to choose from to enjoy Busan's seashore and cultural attractions for your trip. You'll be able to explore Busan hassle-free by discovering places you want to see in the city with ease on this hop-on and hop-off bus tour.
If you're planning to visit multiple local attractions in Korea that require admission tickets you can save money as a tourist by reserving the Seoul Pass.
Catch a Live Performance
Add to your Seoul trip by adding a night performance in the city. In Korea, the most popular performance is NANTA, the cooking show. This is a music and slapstick action show that features four steps cooking food for a wedding party. You'll find this sun running daily in the evenings in Hongdae and Myeongdong. If this doesn't interest you, you can check out performances including, The Palace, The Painters and the Jump (점프). If you want to attend make sure to reserve your tickets in advance online.
If you're traveling on a budget why not check out a free performance in Seoul? Hongdae is well-known for its street performances on the main street. The best times to see the local buskers and dancers are Friday and Saturday evenings however during the week you'll also catch the locals hitting the streets of Hongdae. I recommend grabbing some street food whilst you watch the performances.
Jjimjilbang Experience
Opening hours: 10:00 – 19:00 (Jjimjil Spa), 10:00 – 18:00 (Rooftop Pool)
Address: 1955, Goyang-daero, Deogyang-gu, Goyang-si, Gyeonggi-do
After a full day of exploring the streets of Seoul, why not relax your tired muscles at a jjimjilbang? A jjimjilbang is a Korean-style bathhouse where you can enjoy relaxing saunas, hot or cold baths, massage areas, food areas and also spend the night. Most Koreans visit a jjimjilbang since it can supposedly help with improving circulation, reducing stress, clearing out pores, and helping with weight loss.
After you've spent some time in the bathroom and sauna, you'll get changed into an outfit and then head to the communal resting room. At this spot, you'll be treated to different types of hot kilns, a restaurant to try some local Korean food and a resting area where you can rest.
If you feel a bit intimidated trying a Korean bath experience I recommend checking out Aquafield as it's foreigner-friendly and has a range of facilities from private massage rooms to outdoor saunas. At Aquafield you'll be treated to their sauna, bathing, and sleeping room facilities. It's the perfect spot to rest and recharge after your day out from exploring Seoul.
If you're travelling to South Korea on a budget, spending a night at a jjimjibang is a great affordable option (~₩10,000) compared to booking accommodation in Seoul.
Jjimjilbang & Korean Spa Recommendations
Name
Location
Included
Price
Booking
Aquafield
Goyang, Hanam or Anseong
Entry
Sauna rooms
Massage chairs
Food outlets
$26 AUD
Aquafield Korea
Spa 1899 Daechi
Gangnam
Red Ginseng treatments
Spa packages
From $100 AUD
SPA 1899
Sulwhasoo Balance Spa Treatment
Gangnam
Korean medicinal treatments
Spa packages
From $230 AUD
Sulwhasoo Balance
Get a few snaps at a Korean Photo Booth
Did you really go to Korea if you didn't try a Korean photo booth? These places are usually open 24 hours and are popular amongst locals and tourists alike. It's a fun experience to try with friends and/or family to bring a souvenir home from your trip. The photo booths operate on a self-serve basis and you can also use free props from head accessories (hats, headbands, etc.), plushies and more to take selfies or photos in the booths for a fee. On the photo booth, there are instructions in English making it foreign-friendly! After you've taken your photos they will print the photos and you can usually find them anywhere around Seoul. Popular locations you'll find them however include Hongdae, Gangnam and Itaewon.
Late Night Shopping
There are lots of shopping malls and markets in Seoul that are perfect for late-night shopping on your trip. One of my personal favourites is Dongdaemun Fashion Town which is open till dawn. This is a great place to shop for trendy and stylish fashion at moderate prices. In the area, you can find popular malls including Doota Mall with brand and designer shops, apM Place with trendy female fashion clothing, and Migliore with a variety of accessories and fashion clothing. For those on a budget, you'll want to check out Hongdae Shopping Street with most flagship stores open till around 10 to 11 p.m. At most of stores in Hongdae, you can find a variety of goods from souvenirs, shoes, Korean beauty brands, and local and international fashion brands.
Don't miss out on these must-visit shopping areas, stores and Korean brands to add to your Korea trip in this local guide.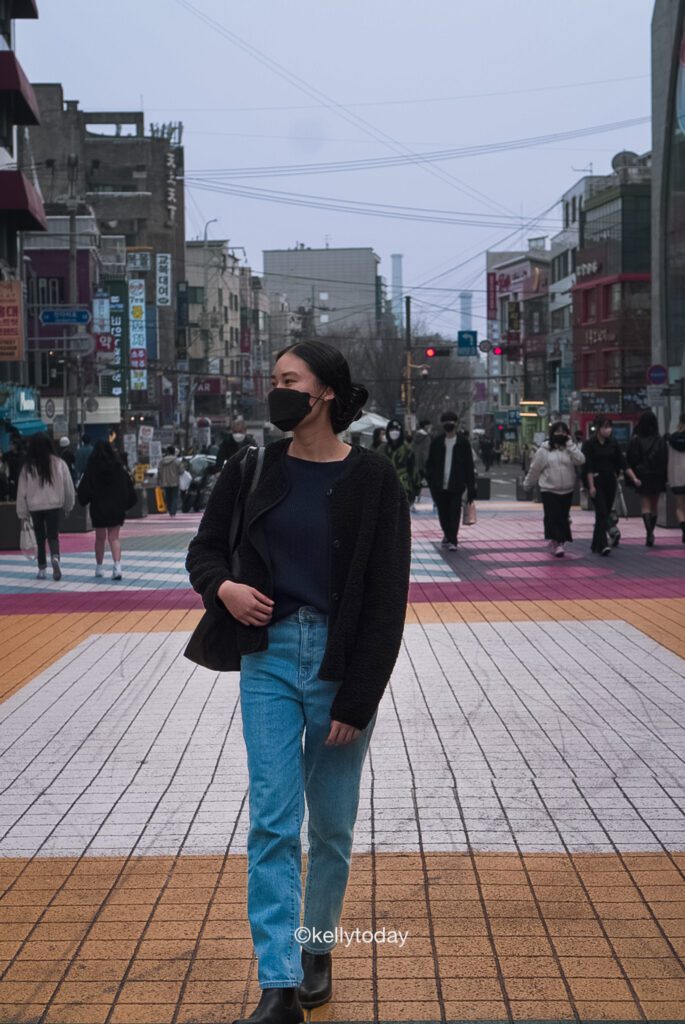 Planning a trip to Seoul for the first time? Save hours of planning with this one-stop Seoul Travel Guide.
+300 places to explore in Seoul and outside the capital city (with Naver Map links)
Local guide to using and booking transport in Korea
Best places to eat in Seoul (cafe & restaurant recommendations)
Best photo spots in Seoul (tourist traps & local recommendations)
Insider tips on where to stay, where to shop and top things to do in Seoul
… and more!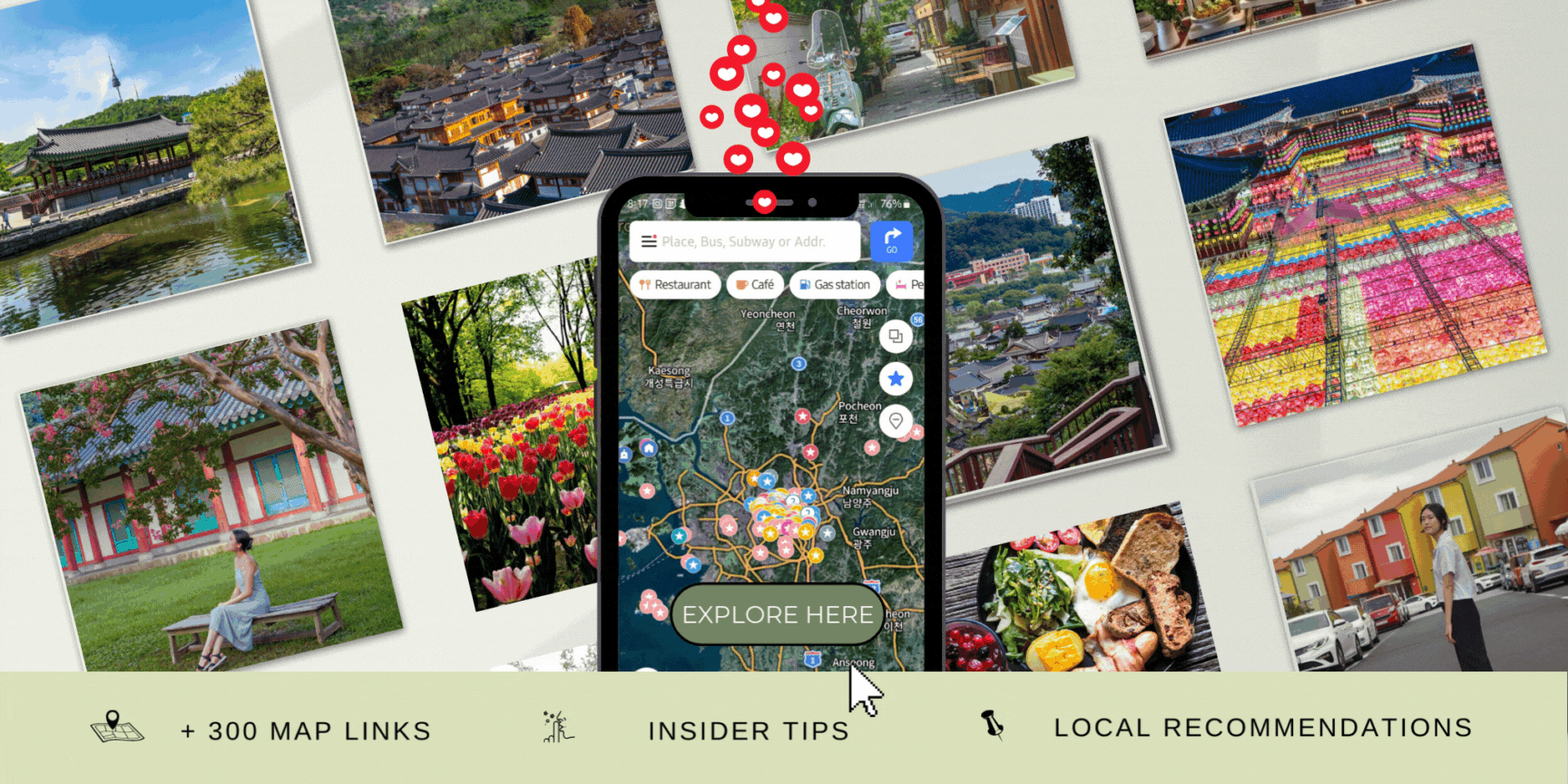 63 Building Observatory Deck (63 아트) & Aqua Planet (아쿠아플라넷 63)
Opening hours: 10:00 to 22:00
Address: 50, 63-ro, Yeongdeungpo-gu, Seoul (서울특별시 영등포구 63로 50)
Admission: Get discounted admission as a foreign tourist by booking online in advance.
If you're looking for gorgeous night views of Seoul head to 63 Building which is a skyscraper on Yeouido island. Besides boasting gorgeous views of the Han River and the city, the observatory functions more than just an observation platform. As a multi-venue leisure complex, the building provides different entertainment functions including a performance hall, wax museum, aquarium, art gallery, and IMAX cinema. I personally recommend checking out Aqua Planet where you can enjoy underwater performances, marine life and more city views of Seoul.
Enjoy a Light Show
Dates: 31 August to 10 September 2023
Address: 281, Eulji-ro, Jung-gu, Seoul (서울특별시 중구 을지로 281)
If you're visiting Seoul during the autumn months you'll want to head over to Dongdaemun Design Plaza (DDP) which is set up to light up Seoul with light artworks displayed on the wall to resemble nature. The series of artworks will display a series of images representing flowers and trees throughout all four seasons and were created by artificial intelligence. The best part of this event is that it's free to attend!
Han River Cruise
Want the best night views of Seoul? Join a night cruise on the Han River to be treated to the scenic sights of Seoul under the moonlight. Often these river cruises operate daily however the best cruise to experience is the one with the fireworks display which only runs on Saturdays. If you join a river cruise you'll get the best views of the water and light show at Banpo Bridge, 63 Building and other scenic buildings in Yeouido.
E-land cruise offers different packages to choose from which operate at different times during the evening. Regardless of which option you choose from though you'll be treated to live performances and gorgeous views of Seoul's skyline as you cruise the Han River. Just make sure to book online in advance to get the specific time slot you want for the cruise.
If you want in-depth information on how to navigate in Korea, and how to use and book transport in Korea read my Korea Survival Travel Guide. I also share over +20 places must-see places in South Korea that aren't known by tourists.
Late-Night Cafe Hopping
After all your explorations in the city, why not treat yourself to a late-night treat at one of Seoul's many cafes? You'll find that most of the chain store cafes in Korea stay open quite late offering a great spot to enjoy with friends and/or family. If you're looking for cafes to visit I recommend visiting a dessert cafe to enjoy a late-night treat. If you're looking for the most aesthetic and unique cafes read this local guide to cafe hopping in Seoul.
An important tip for looking up cafes in South Korea is to always check the opening dates on the Kakao Map or Naver Map in advance. If you're looking for recommendations on the best cafes to visit in Seoul check out my cafe hopping guide here.
---
☕️ Want to find the best places to eat in South Korea?
Don't miss out on over 290 cafes and restaurants to visit in Korea in my Cafe & Restaurant Guide. I've included some of my favourite eateries and essential information including:
Over 290 local cafes & restaurants to visit (with Naver Map links)
How to find hidden local eateries (cafes & restaurants)
Over 30 essential Korean phrases & vocabulary for ordering at restaurants & cafes
Essential etiquette for eating out in Korea ….. and more!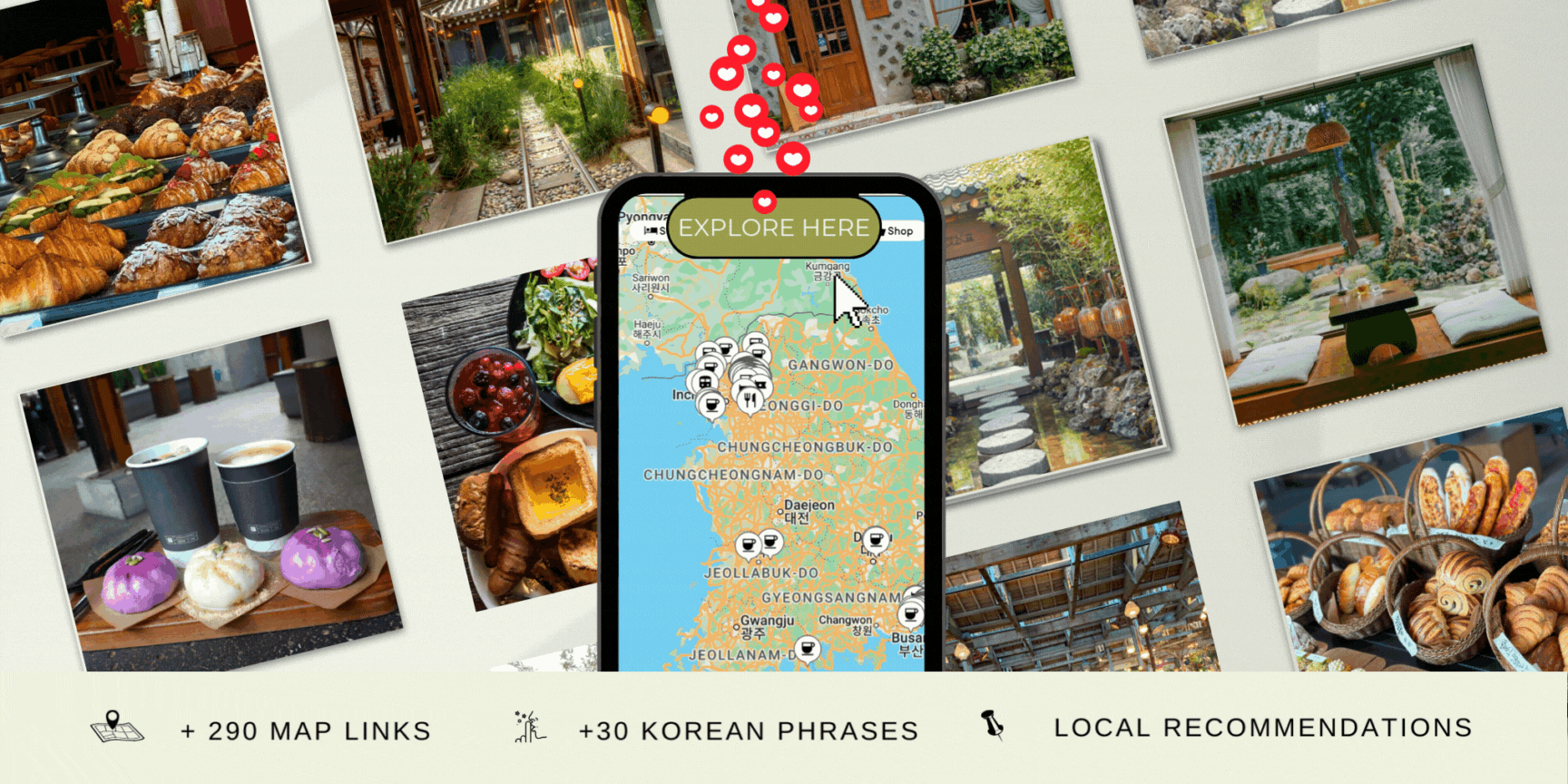 Karaoke
Looking for a fun activity to try with friends or family? Why not head try karaoke (noraebang) to end your night in Seoul? In Korea, they have private rooms that are equipped with a karaoke system with songs both in Korean and English. Often these establishments also serve small snacks and drinks to enjoy whilst you sing your heart out. Usually at karaoke places, you have to pay hourly rates which can range from ₩6000 to ₩30,000. In Seoul, you can find karaoke rooms really anywhere however popular places to visit include those that have been featured on TV shows such as Su Noraebang (수노래연습장 홍대 본점) in Hongdae.
Night Parade & Fireworks at Lotte World (롯데월드)
Address: 240, Olympic-ro, Songpa-gu, Seoul (서울특별시 송파구 올림픽로 240)
Admission: Foreign tourists can get discounted admission by reserving a one-day pass for Lotte World.
Lotte World is a famous indoor and outdoor theme park found in the heart of Seoul. From thrilling rides, films, an ice-skating rink, lively parades and laser shows there is something for everyone to enjoy. Whilst people often think of enjoying this spot during the day you'll want to stay till night to watch the performances and fireworks. Lotte World also holds special events during certain times of the year including Christmas where you can find unique decorations, events and displays during this time.
If you're paying a visit to Lotte World I'd recommend spending a full day here rather than just visiting later in the day. However, if you're short on time it's still worth a visit later in the day to catch the performances and fireworks.
Don't forget to reserve your tickets to Lotte World in advance to get a foreigner discount for admissions.
Night Sports
Around Seoul's downtown areas of Jongno, Hongdae (Hongik University area), and Gangnam, there are a variety of late-night indoor sports facilities where you can enjoy sports such as bowling, baseball, shooting and more. I recommend checking out Legend Sports Heroes, a franchise with stores in Gangnam and Dongdaemun boasting various sports activities to enjoy including archery, fishing, skiing, football and baseball. It's a fun place to experience sports late at night with friends or family. Note that most facilities operate until midnight.
Visit Night Attractions in Seoul
Exploring attractions at night is one of the best times to explore Seoul to get unique views of the city and if you're lucky you'll have fewer crowds at certain places. Seoul has no shortage of nighttime attractions to explore including gorgeous viewpoints, gorgeous parks and free local shows.
The most well-known nighttime attraction in Seoul is the iconic Namsan Seoul Tower. You can take a cable car ride up or a bus to Namsan Seoul Tower and enjoy breathtaking views of the city skyline at night. You can get a discount as a foreign tourist by reserving your tickets online in advance. At the tower, there are also attractions and a few restaurants to enjoy including N Burger and N Grill, Owl's Cutlet and Hello Kitty Island.
If you're heading to Seoul between April to October you'll want to head to Banpo Bridge to witness the colourful Rainbow Fountain show. It's a synchronised water and rainbow light display that operates 4 to 6 times a day for 20 minutes. Water jets shoot out from the sides, creating a colourful display set to music and lights. In addition to the show, there are also picnic areas and an eco-observatory to enjoy. I personally recommend grabbing food and having a dinner picnic to end your night watching the light show.
Want the best night views in Seoul? Read up on these must-see nighttime attractions in Seoul in my local guide.
Night Markets in Seoul
One activity not to miss out on in Korea includes checking out a night market in Seoul. Seoul has a variety of food markets that boast a range of delicious local Korean cuisine, from Korean barbeque to street vendors offering local favourites such as bibimbap and tteokbokki. Places like Gwangjang Market and Myeongdong Night Market are bustling with food stalls, street vendors, and unique finds. If you visit you'll get to savour delectable Korean street food, try exotic snacks and shop for souvenirs as you soak in the lively atmosphere. Read on for Seoul's top night food markets to check out.
For the best night markets and places to eat in Korea read the full local guide here.
Myeongdong Night Market (명동 시장)
Opening hours: Usually from 3 pm to 10 pm (Daily) (Different stalls have different operating hours)
How to get here: Take the subway to Euljiro 1-ga Station (Exits 5-7) or Myeongdong Station (Exits 5-8)
Easily accessible by the subway, Myeongdong Night Market boasts vendors offering affordable street food perfect for an evening bite to eat. Operating seven days a week this market is enjoyed by locals and tourists alike where you can not only enjoy street food but also find souvenirs, beauty products and fashion items.
The market features about 100 to 150 stalls each night with a majority offering street food including fishcake, tteokbokki, grilled squid, soup dumplings and more. Since this market takes place on the main shopping street in Myeongdong it's also close to shopping stores and malls where you can also enjoy some late-night shopping till 10:00 pm.
Note that this market is a bit more expensive than a local non-tourist market outside of Seoul however due to its convenient location, atmosphere and shopping.
Noryangjin Fisheries Wholesale Market (노량진수산물도매시장)
Opening hours: 24 hours (1 am to 3 am Fish Auctions)
Address: 674, Nodeul-ro, Dongjak-gu, Seoul (서울특별시 동작구 노들로 674)
If you're a seafood lover you'll want to check out Noryangjin Fisheries Wholesale Market which is the largest fish market in Seoul. A visit to this market and you'll be treated to the freshest seafood in Seoul until midnight. The market also features a mixture of retail and wholesale stores with a lively atmosphere to enjoy, particularly in the early morning from 1 a.m. to 3 a.m., when the live fish auction takes place. It's a great spot to get an insight into a local's life in Seoul.
If you're a bit intimidated to go by yourself I recommend checking out a food tasting and guided tour of Noryangjin Fish Market. You'll get to immerse yourself in the local culture and experience the freshest seafood from the best market stalls and restaurants like a local with the help of a local guide.
Namdaemun Market (남대문시장)
Opening hours: 23:00 to 4:00
Address: 21, Namdaemunsijang 4-gil, Jung-gu, Seoul (서울특별시 중구 남대문시장4길 21)
Since 1964 Namdaemun Market has been the largest traditional market in Korea with shops offering a variety of affordable goods to visitors. Today this night market creates a bustling scene that attracts tourists worldwide, and you can expect to find a variety of goods from ginseng, flowers, hats, accessories, fine arts, stationery, toys, kitchenware, clothes and more. Why not pick up a souvenir or gift for yourself or a loved one back home at this market? If you're after food note that the street food is only offered late afternoon, or early evening, however, the rest of the market operates overnight.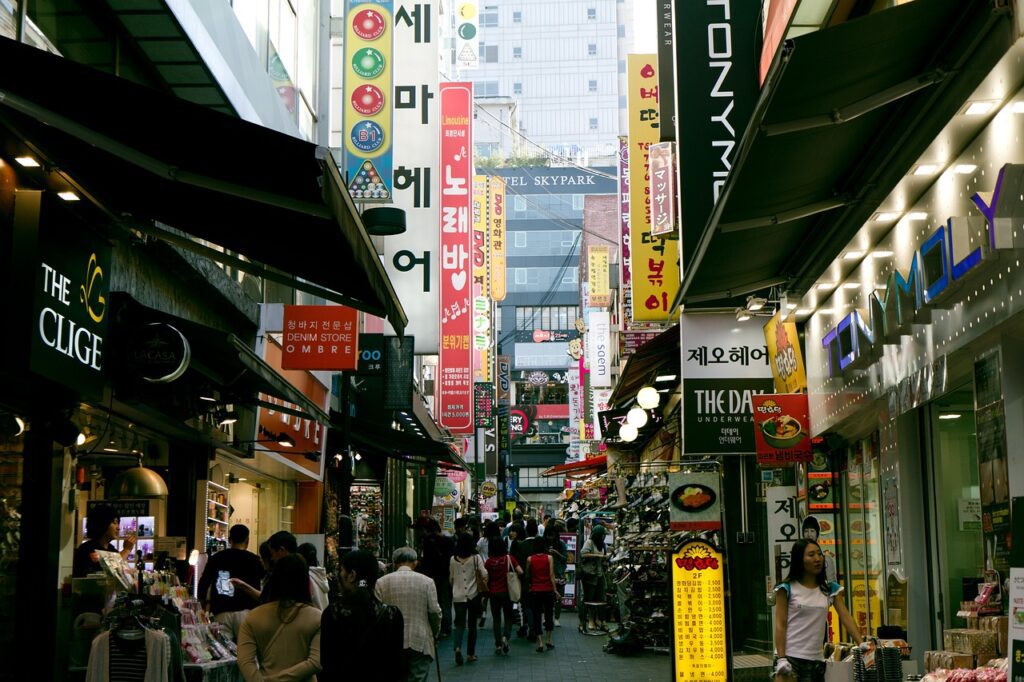 Seoul Bamdokkaebi Night Market (서울밤도깨비야시장)
Opening hours: 18:00 to 23:00 (April to October)
Address: Multiple locations – Cheonggyecheon Stream, Cheonggye Plaza, Dongdaemun Design Plaza, Banpo Hangang Park and Yeouido Hangang Park.
This night market is a one-stop place for food trucks with global bites to eat, special products, handmade crafts and cultural performances. The food you can expect a range of traditional Korean snacks and foods from around the world such as sandwiches, churros, crepes and more. In addition to trying the local food at this market, you'll also be treated to live music performances to accompany the delicious street foods. The market is held across four different venues including Cheonggyecheon Stream, Cheonggye Plaza, Dongdaemun Design Plaza, Banpo Hangang Park and Yeouido Hangang Park.
Gwangjang Market (광장시장)
Opening hours: 9:00 to 18:00 (Daily except Sundays)
Address: 88, Changgyeonggung-ro, Jongno-gu, Seoul (서울특별시 종로구 창경궁로 88)
Visit Korea's first permanent market in Korea for some of the best local Korean food. Originally this market started as a small trading centre that brought in goods from nearby regions, but today it has developed into a large wholesale market offering a variety of goods, from traditional goods, dried fish, groceries, imported goods and more.
If you're looking for food you'll want to head to the food street which is connected to the South Gate 1, North Gate 2 and the East Gate. At Food Street you'll be able to try a variety of menus and food including popular snacks such as fried Korean pancake (bindaetteok) and gimbap.
Night Tours in Seoul
When the sun goes down, Seoul comes to life and the best way to discover the city is through a local night tour. During a night tour, you'll be treated to local recommendations from authentic dining experiences, underrated nighttime attractions, the top night views in Seoul and more.
If you're in Seoul only for a limited time or you want a hassle-free way of exploring the city a local night tour is a great option for you. Below are different night tours to try for every type of traveller whether you're a foodie, adventurer or more of a photographer.
🌃 Here are some of the best night tours you can take around Seoul.
Name
Included
Attractions Included
Price
Booking
City Bus Night Tour
Local Bus Tour of Seoul's best night views.


Banpo Bridge
Namdaemun Market
N Seoul Tower & more!
$14 AUD
Klook
City Night Sights Tour
Dinner Experience
Sightseeing spots & night views
Local guide
Changgyeonggung Palace
Naksan Park
Cheonggyecheon & more!
$64 AUD
Klook
City Night View Tour
Local Guide
Best night views in Seoul

Gwangjang market
Naksan Park
Eungbong Palgakjeong
$63 AUD
Klook
City Sights & Foodie Tour
Traditional food experiences
Night entry into a palace
Key night attractions
Changgyeonggung Palace
Jogyesa Temple
Gwangjang Market
$72 AUD
Get Your Guide
City & River Night Tour
Night views on a starlight cruise
Korean dinner at Han River
Han River Park
$115
Get Your Guide
Seoul's nightlife is as diverse as the city itself, catering to various tastes and preferences. So, whether you're into shopping, dining, clubbing, or simply taking in the scenic beauty of the city at night, Seoul has something unforgettable in store for you. Don't miss the opportunity to experience the magic of Seoul after dark with these top things to do at night in Seoul.
Found this helpful? 👇🏼
Support my work by giving me a coffee. I am always grateful when my readers reach out to support me so I can produce more free content for you 🙂.