If you're planning to travel to South Korea you need to know these things for your trip! I've lived in South Korea since 2022 and I wish I had known about these things when I first arrived in Korea. Not only would I have saved time but I would have gotten to experience more cultural activities and saved money on bookings. In this post, you'll find everything you need to know before your trip to Korea. From the best places to visit in Korea, where to stay in Korea, tips for booking tours and activities, and helpful tips to make your trip to Korea more memorable.
Disclaimer: This post may contain affiliate links, which means I get a small commission if you make a purchase (at no extra cost to you). It's one of the ways I can keep producing free resources and guides for my readers. Thank you for your support! Refer to the Disclosure Policy for more details.
10 Things To Know Before Your Trip to South Korea
Visa
South Korea's travel requirements are constantly changing over the years and it's important to check if you need a visa to enter the country. A Korean Electronic Travel Authorisation (K-ETA) is required at least 72 hours before boarding a flight or ship to South Korea or a visa to visit South Korea. The K-ETA process will take around 72 hours and the result will be sent to your email address directly. However, from 1st April 2023 to 31st December 2024 a K-ETA (Korean Electronic Travel Authorisation) or a visa will be temporarily exempt for passport holders from 22 countries listed here. For more information about entering, leaving, and staying in Korea refer to this website.
Important: You are personally responsible for looking up the regulations that apply to your personal circumstances (nationality, COVID restrictions, etc.). I recommend you confirm this information is correct with your local Korean embassy or local travel page for up-to-date information. Circumstances may change throughout the year and the government may update regulations.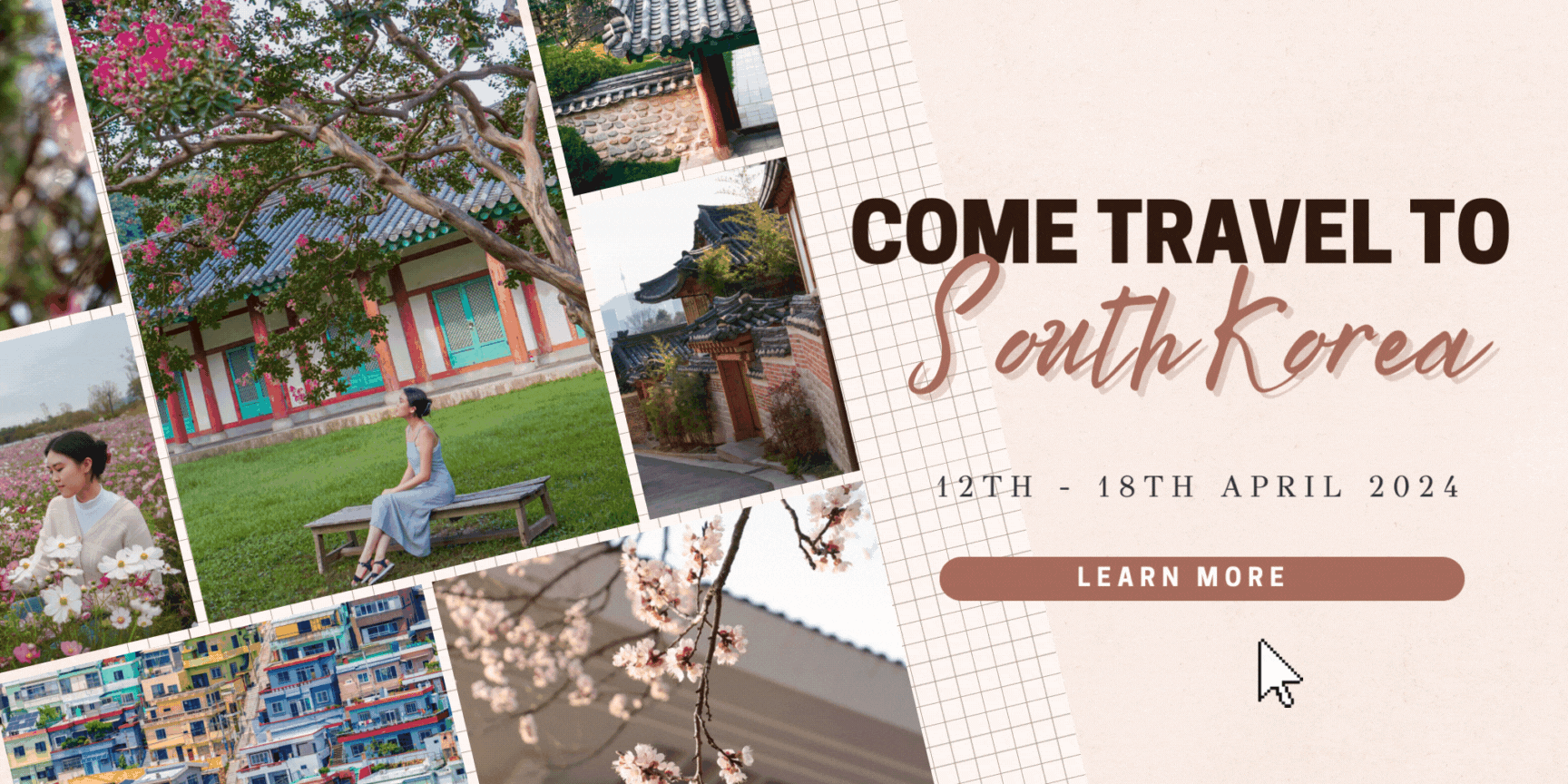 Planning a trip to Seoul for the first time? Save hours of planning with this one-stop Seoul Travel Guide.
+300 places to explore in Seoul and outside the capital city (with Naver Map links)
Local guide to using and booking transport in Korea
Best places to eat in Seoul (cafe & restaurant recommendations)
Best photo spots in Seoul (tourist traps & local recommendations)
Insider tips on where to stay, shop & things to do in Seoul
… and more!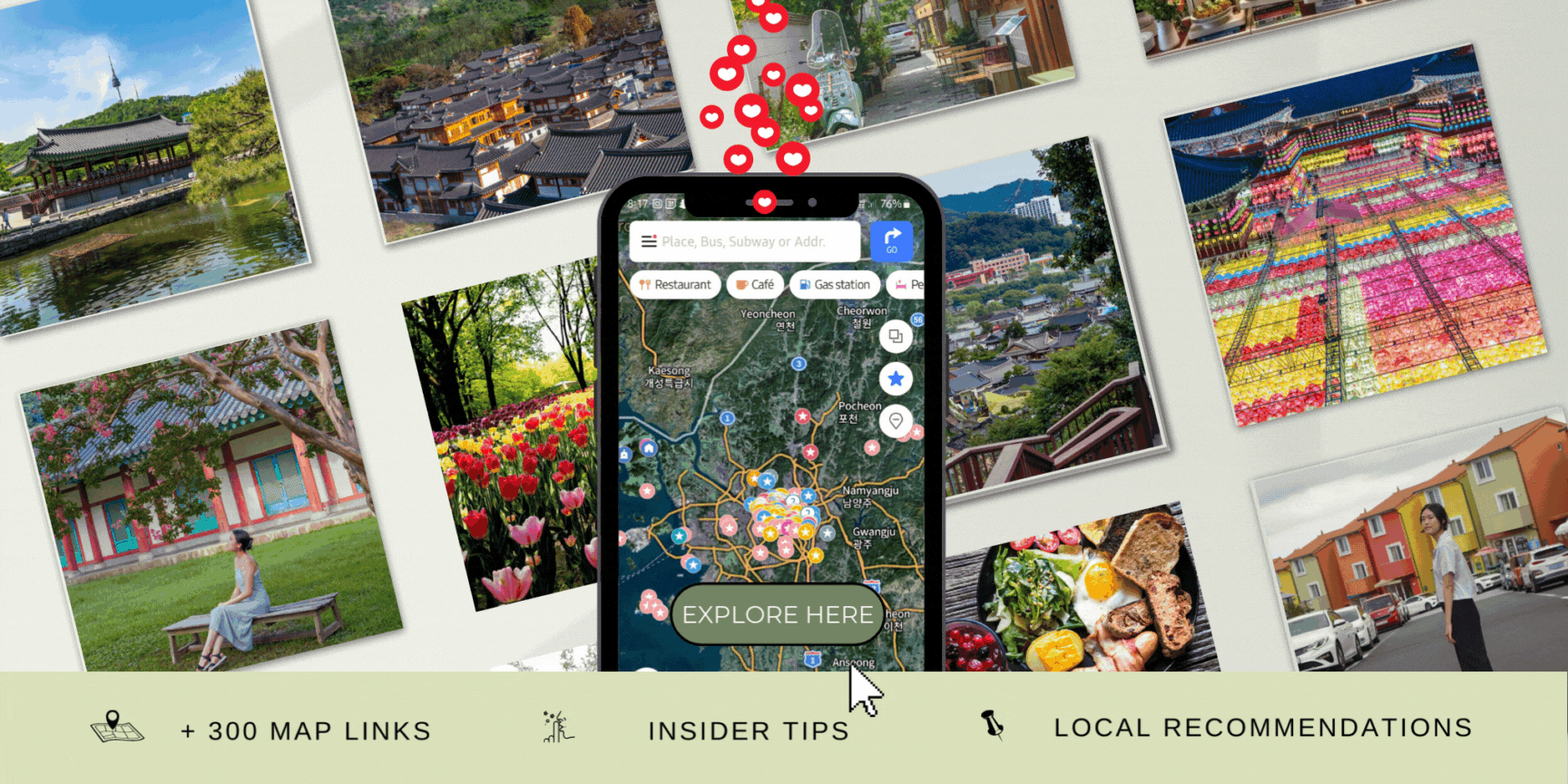 Book Attractions in Advance
This feels like a no-brainer but you'd be surprised how many people forget to do this. When local attractions are popular in South Korea they tend to get very crowded quickly and you can expect long lines. If I've learned anything from living in Korea it's that Koreans love waiting for things. From ride lines to well-known restaurants or cafes, or concerts they can wait in line for hours. Also, read up on 10 must-see places in Seoul for your visit to Korea.
Popular Local Attractions
Some of the most popular destinations in Korea include theme parks such as Lotte World in Seoul and Everland, to attractions such as Namsan Seoul Tower and COEX Aquarium. Don't make the mistake of thinking it will be easy to buy tickets at the entrance. You'll be treated to long lines and you'll miss out on discounts as a foreign tourist by not reserving advance online. It's important to remember that these places are not only popular amongst foreign tourists but are also frequently visited by locals in Korea.
Activities
If you want to try a cultural activity in Korea such as a food tour or renting a hanbok you'll also need to make a reservation in advance. I've managed to save money by making my reservations online and if you're worried about the language barrier this is an easy way to organise your travel bookings.
You'll also want to consider taking a day trip from the main cities such as Seoul. If it's your first time in Korea I always recommend exploring outside the capital city because not only you can escape the crowds but you'll experience Korea more authentically by visiting places that aren't explored by typical tourists. If you're worried about organizing a day trip by yourself you can book a day trip tour from a city (Seoul or Busan) which can save you the hassle of planning the local transfers and the travel itinerary. I'll share some recommendations below with you.
If you're booking through Klook you can use my referral code KELLYTODAY for 5% off your next booking.
📍 Looking for a day trip from Seoul?
Take a day trip from Seoul to Ganghwa Island to explore Korea without the crowds. Find the best things to do in Ganghwa Island from temples to unique cafes and picturesque landscapes. Read everything about Ganghwado in this guide.
Recommended Bookings for Attractions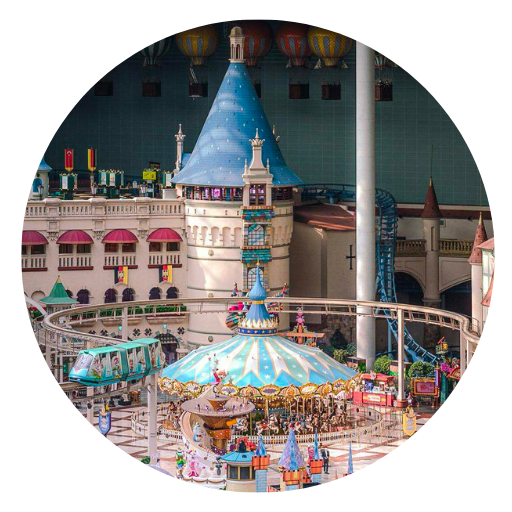 Lotte World in Seoul
I've been to this theme park over three times and I always find myself wanting to go back. Lotte World is a fun indoor and outside theme park that is great for all ages. I recommend spending a full day at Lotte World in Seoul to try out all the rides, local eateries, and shows.
If you pre-book your e-tickets in advance you'll get convenient and discounted entry as a foreign tourist and skip the lines at the entrance!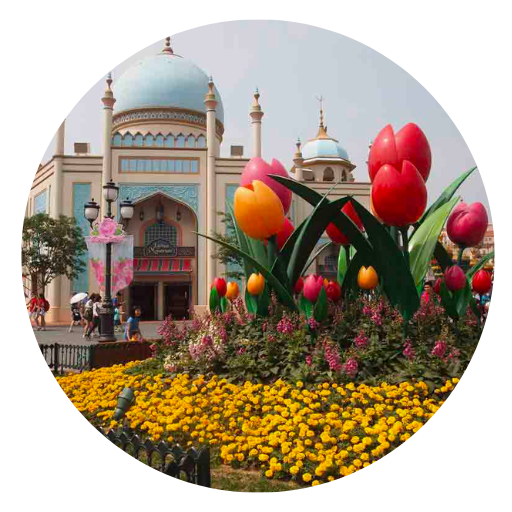 Everland
Visit Korea's largest theme park located about 2 hours away from Seoul. Compared to Lotte World, Everland has five themed areas to enjoy thrilling rides, and parades, and get lost in!
If you plan on visiting I recommend booking a package that includes entry and transfers to the theme park. If you leave around the same time as everyone you could be waiting for hours to get a taxi. Instead please consider booking a bus transfer as part of your visit to the theme park.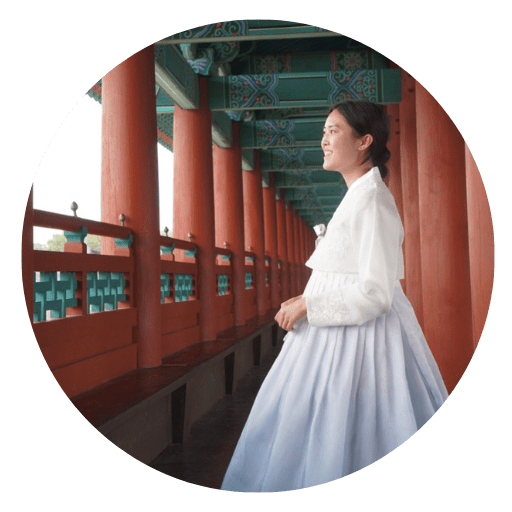 Hanbok Rental in Korea
If you're visiting Korea you must rent a traditional Korean dress (hanbok) with friends and/or family. It's a fun cultural activity that makes exploring Korea's local attractions more memorable and fun. If you visit Gyeongbokgung Palace in Seoul you'll be highly likely to encounter locals and tourists wearing a hanbok. Don't miss out and read about everything you need to know about renting a hanbok in Korea here.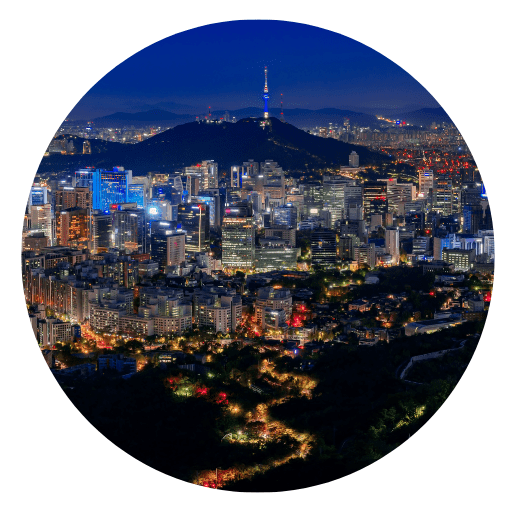 Namsan Seoul Tower
Get a view of Seoul's cityscape at Namsan Seoul Tower. If you book your tickets in advance not only will you skip the queues at the attraction you'll also get discounted admission by booking online. If you're planning on visiting multiple local attractions in Seoul that require admission tickets I also recommend checking out the Seoul Pass. This pass serves as a transportation card and discounted admission to hundreds of Seoul attractions.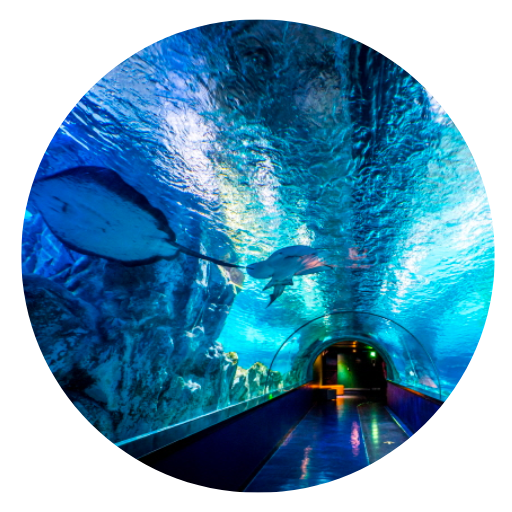 COEX Aquarium (Gangnam, Seoul)
If you're in Gangnam in Seoul, make sure you check out the largest aquarium in Seoul. COEX Aquarium is a fun indoor activity in Seoul that features exhibitions to explore with friends or family. You can complement this aquarium visit by checking out the famous COEX Starfield Library that you've probably seen on social media.
Demilitarised Zone (DMZ) Tour from Seoul
If you're visiting Korea you'll want to add the demilitarised zone in Korea to your travel bucket list. You can organise a guided DMZ tour to learn about the history of the Korean War and get a bird's eye view of North Korea.
Busan Cable Cruise
If you're heading to the coastal city of Busan in Korea be sure to add a Busan Air Cruise cable car ride to your travel itinerary. On this cable car ride, you'll get to enjoy Busan's stunning coastline from above including Songdo Coastal Dulle Road and Namhang Bridge.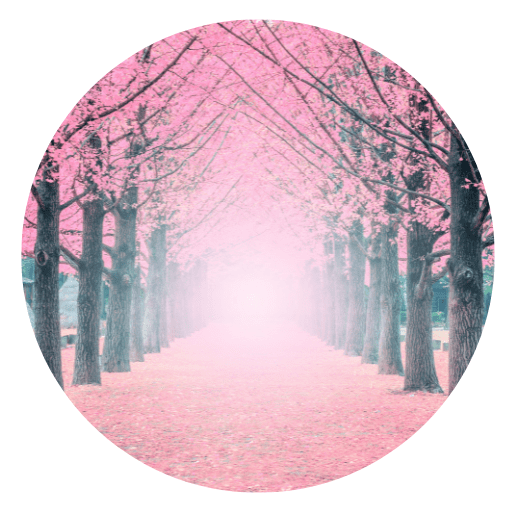 Nami Island (Day trip from Seoul)
If you're looking to escape the bustling crowds of Seoul. Take a day trip to Nami Island for the beautiful scenery and immerse yourself in local activities including ziplining, cycling around the island, and checking out the local eateries. If you book through this tour all the local transfers are organised for you!
👀 Looking for more local tours in Korea?
Stay Connected
If you're traveling to Korea you might think you won't need to buy any online data (SIM card or WiFi Pocket) for your travels. Whilst in most areas in the area you can access public WiFi it's not always reliable and if you're traveling to less-traveled destinations you might not have access to it at all. With this in mind, having access to online data is not only important to stay connected online but for navigation purposes and making reservations for bookings in Korea.
Important: If you don't plan on ordering a SIM card or pocket WiFi I'd recommend having access to a VPN. A VPN ensures that your personal information isn't accessed easily by third parties by hiding your IP address and encrypting your traffic. I've been using NordVPN ever since I moved abroad to South Korea and it has been a lifesaver! Not only does it allow me to access Australian sites and added protection when I connect with WiFi at any Airbnb or hotel.
Where can I get online data?
You can get access to online data by either purchasing a local SIM card or a pocket WiFi. Whether you choose to use a local SIM card or WiFi pocket depends on what suits your travel interests. I personally always prefer buying a SIM card over a pocket WiFi.
Where can I buy a SIM card or pocket WiFi online?
The easiest way to prepurchase a SIM card or pocket WiFi is to organise it online before your trip. Alternatively, you can buy it in person, including when you land at Incheon International Airport at outlets operated by Korean mobile services such as KT, SKT, and LG U+.
Instant Data eSIM
If you want to get instant access to data without a physical SIM card I recommend downloading the app Airalo. This app allows you to download a prepaid eSIM to your phone in over 190 countries. You also don't need to wait for your SIM card to arrive at your home address or pick it up at Incheon International Airport.
SIM Card
PROS
There is no need to carry an extra device (Pocket WiFi).
You can make MMS, SMS & calls.
Provides a local Korean phone number. This is useful for making reservations at cafes and restaurants that required you to line up for these places. You can also book appointments online including hair appointments, skin treatments, etc.
CONS
Need an unlocked phone to use a SIM card. To check if your phone is unlocked you can call your mobile phone carrier to unlock it.
If you prefer to order a physical SIM card you can either have it delivered to your home address in your home country or choose to pick it up at the airport you are arriving in Korea. I'll recommend a few SIM cards below.
4G SIM Card (Airport pickup from Seoul or Busan)
Unlimited Data SIM Card (Airport pickup at Incheon, Gimpo, Jeju, or Daegu)
4G SIM Card (Delivery to Singapore, East & West Malaysia) (Delivery to Taiwan, Hong Kong, or Beijing)
Pocket WiFi
PROS
There is no need to swap your original SIM card.
Can connect to multiple devices. It makes it perfect for traveling with family and friends so you can split the cost.
CONS
You need to carry an extra device with you. This can add weight to your bag which makes a difference if you're carrying extra gear such as your camera, phone, and other accessories.
You will need to return the pocket WiFi which can take up time from your trip.
The battery of a pocket WiFi can run out of charge. The battery especially drains fast if used simultaneously by multiple devices.
If you choose to order a pocket WiFi for your travels make sure to select the correct pick-up destination for your pocket WiFi.
4G Data Pocket WiFi (Pick up from Seoul or Busan)
4G Unlimited Data (Pick up from Seoul)
4G WiFi (Pick up from Seoul, Busan or Daegu)
Save Money on Transportation
Public transport in South Korea is not only reliable but not extensive throughout most of the country. Trains operate in cities including Seoul, Incheon, Daegu, Busan, Daejeon, and Gwangju. What's great about Seoul's Metropolitan Subway is that it extends to the areas of Incheon, Gyeonggi-do, and Chyngcheongnam-do. If you're planning to use public transportation in Korea make sure to check out ordering a transportation card and/or use a short-term pass. I'll discuss both options below.
Want to save money on flights, transport, and accommodation on your travels? Find out how with these 10 must-know travel tips.
How to use public transport in Korea
Transportation Cards (T-Money Cards)
T-money cards are prepaid cards that let you use public transportation (bus, subway) without you paying with a card or cash. T-money cards also offer you discounts and free transfers to and from buses and other subways. After you purchase a T-money card you need to add funds before you can use it on public transport. You can add money to your T-money card at ticket and card-loading machines in subways or at convenience stores. If you're uncomfortable asking someone at the convenience store you might prefer to use the ticket machine which supports different languages including English.
Where can I buy a transportation card?
You can purchase a T-money card you can do this in two different ways.
Purchase in-person in Korea at convenience stores (CU, 7-Eleven, GS25), subway stations, and all places with the "T-money" sign. A base card is ₩2,500 and must be loaded with money to be in use.
Purchase advance online. I recommend ordering via Klook where you can get a SIM card and T-money in one package.
Popular Korea Passes to Consider
If you want to save money on transport consider ordering a pass in advance for your train transfers (high-speed trains) across South Korea. There are also city passes that get you discounts on public transport rides and admissions to ticket attractions in different cities. I'll be linking below some travel passes to consider your trips!
Korea Rail Pass (KR Pass)
The Korea Rail Pass (KR Pass) provides unlimited rides on almost all the trains operated by South Korea's major railway provider KORAIL. There are different options for KR Passes including booking a pass to cover trains for flexible 2 or 4 days or 3 or 4 consecutive days. Not only does the KR pass covers 80 routes and +600 stations. The pass offers discounts only available for foreign tourists including on tourist attractions and accommodation.
Seoul Pass
The Seoul Pass doubles as a T-money card and an admission ticket to top attractions in Seoul. Not only does this pass give you a T-money card that can be topped up and refunded for any remaining balance. The pass also gives you discounted tickets to over 101 tourist attractions (within 24, 48, and 72 hours) and free access to over major attractions. If you plan on visiting multiple sightseeing attractions in Seoul that require tickets for admission this is a great option to save money for your travels around Seoul.
Busan Pass
The Busan Pass offers a 24 or 48-hour 'free pass' around the city. This includes access to free entry to over 30 major tourist attractions in Busan, special discounts on restaurants, shopping, and tourist attractions, and free use of the city tour bus and pre-paid use of the subway.
Personal Space
Generally in Korea, the concept of personal space doesn't exist. Expect strangers to get uncomfortably close in public buses, trains, and elevators. There is a social norm of pushing and shoving in Korea which a lot of people do unapologetically. The notion of saying "excuse me" and "I'm sorry" when trying to pass by someone while walking, on an escalator, or in a jam-packed shopping center is virtually non-existent. Part of the '빨리 빨리' (pali pali) culture, is that everything is fast-paced, meaning that most people are in a rush and are not shy to run each other over in the process. Did I mention this one time I got pushed over by an elderly man on a train so he could get a seat?
Also, be prepared for people NOT to hold the door open for you when you enter or exit a building. It is every man for himself. Be careful of any swinging doors when you're entering or exiting! Also, make sure to read up on these useful cultural insights on Korean etiquette to prepare for your trip to Korea.
Research Your Dates
When you're planning your trip to Korea you'll need to do some research on dates to avoid or whether you're traveling during the peak times. For South Korea, the peak seasons for travel are considered to be in spring (March to May) and Autumn (September to November). This is mainly because of these seasons having the best weather to travel in as well as cherry blossoms and fall foliage to experience.
Korea Peak Travel Times
Here is a list of the most crowded times of the year in Korea. During these times you can expect large crowds, and elevated prices for flights, transport, and accommodations.
National Holidays: Look out for various long weekends throughout the year. Most of the locals will use this time off to visit family and/or go on vacation.
Chuseok also known as 'Korean Thanksgiving' is an extended holiday period that usually happens in autumn. This changes each year so look up the dates in advance. You'll want to avoid traveling at this time as the opening times for local attractions and eateries will differ (limited operating hours) and everyone will be traveling around this time. You can expect a lot of trains to be booked out.
Cherry Blossom Season (March to May): Expect large crowds due to the seasonal activities that come with spring including chasing cherry blossom spots.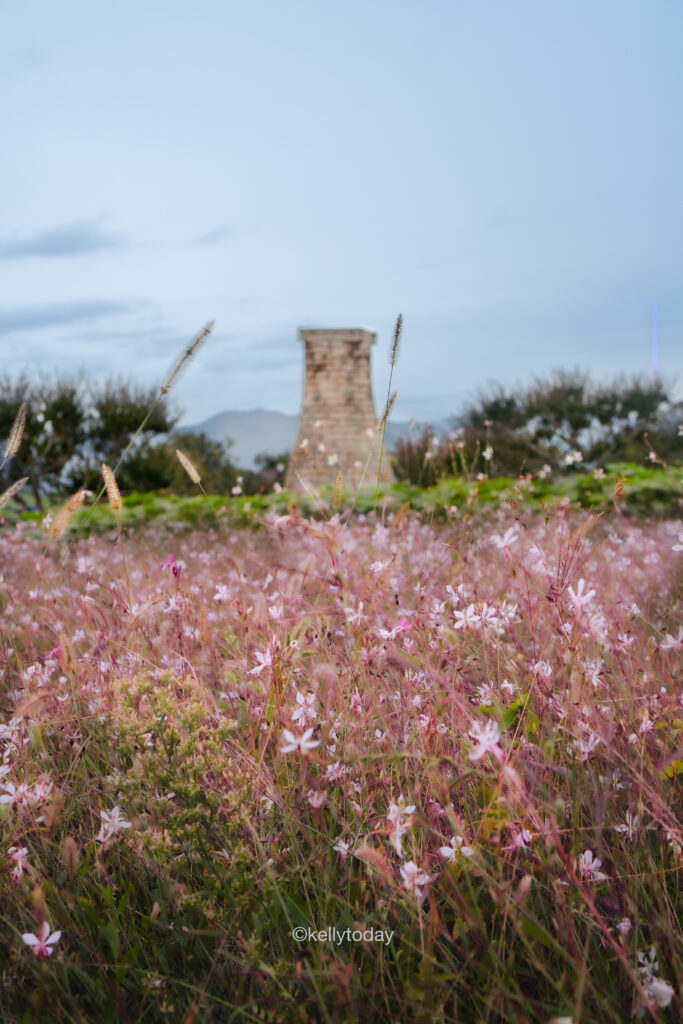 Language Barrier
The language barrier in Korea can vary depending on where you travel in Korea. If you're mainly visiting the major cities (Seoul and Busan) you should be able to travel relatively easily with a decent amount of English available on signs and menus. However please do not expect to see English at all places (restaurants and cafes) in the main cities. If you also plan to visit older establishments or areas further area from the main cities or less visited areas you will encounter a language barrier.
Don't stress about it too much though you can always use a translation app to help you translate texts or if you need to communicate with someone. I personally recommend Papago (App Store or Google Play) over Google Translate because it's more accurate. It translates texts from photos by either importing the taken image or you can take a photo in the app. This is a handy feature when it comes to translating menus at cafes or restaurants.
Important tip! Download Korean offline in either the Papago or Google Translate app. This allows you to access the translation services without relying on a data connection.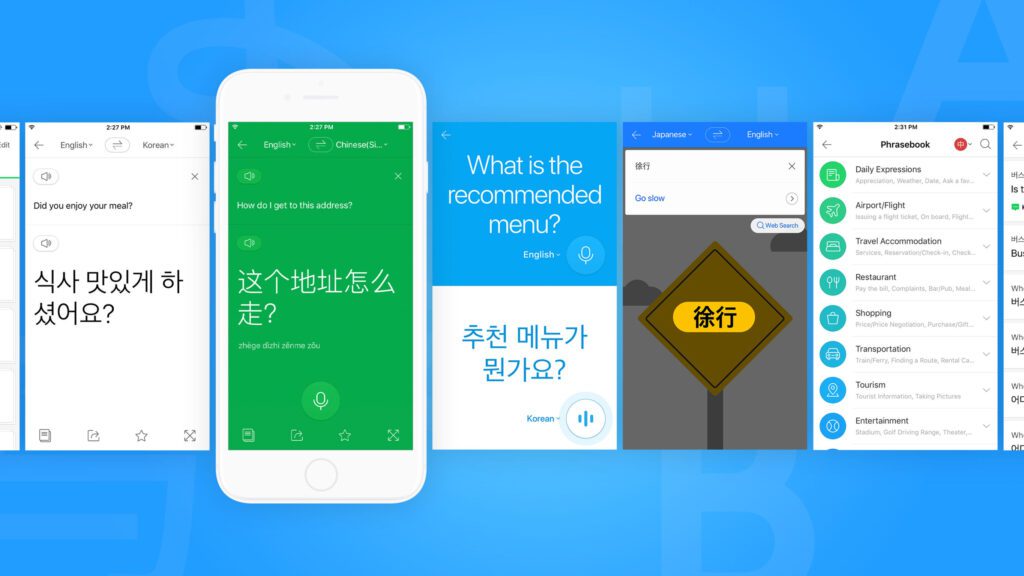 ☕️ Want to find the best places to eat in South Korea?
Don't miss out on over 290 cafes and restaurants to visit in Korea in my Cafe & Restaurant Guide. I cover essential information including…
Over 290 local cafes & restaurants to visit (with Naver Map links)
How to find hidden local eateries (cafes & restaurants)
Over 30 essential Korean phrases & vocabulary for ordering at restaurants & cafes
Essential etiquette for eating out in Korea ….. and more!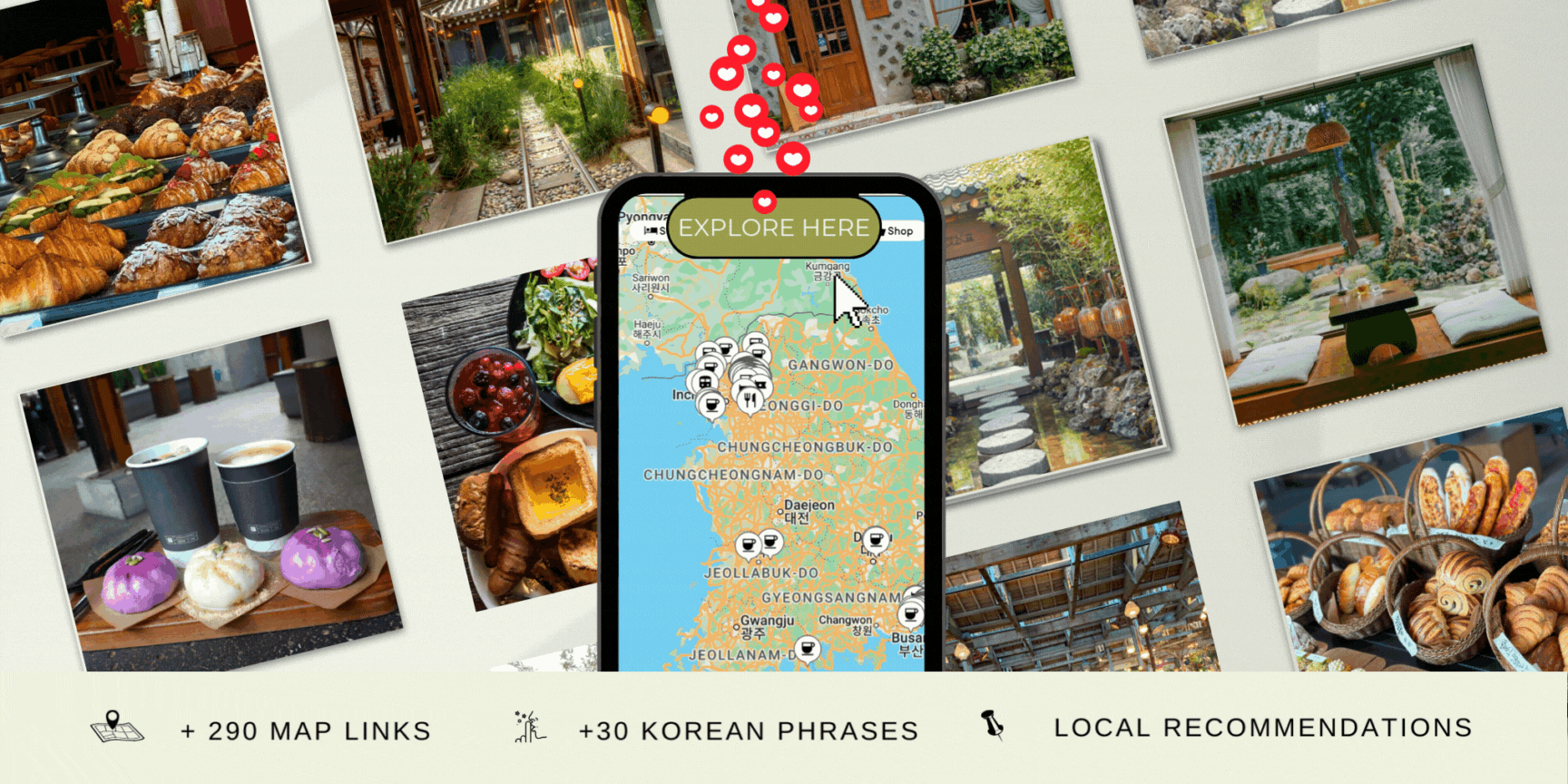 Money & Currency
In Korea, the currency used is Korean Won (₩) and I recommend withdrawing cash before you arrive in South Korea. Whilst credit cards and mobile payments are widely accepted in major cities it is always helpful to have some cash with you. Here are a few situations where cash becomes handy for payment in Korea.
Local and/or Older Places
Cash becomes handy when you are purchasing from local markets, street stalls, ticket machines, and older establishments (restaurants & stores) and sometimes they might only accept cash. If you're visiting Korea for the first time it is also highly likely you'll be buying local items as souvenirs and/or street food in Korea which will require cash.
Rural Areas
If you are planning to travel to rural areas in Korea you might also encounter situations where electronic payments are not accepted and cash will help you in these situations.
Small Payments
Did you know that some small businesses do not accept cards for purchases under ₩10,000 including street food vendors, small restaurants, and several forms of public transport.
Where can I withdraw cash in Korea?
To find the best exchange rate in Korea you can withdraw cash at ATMs in banks and convenience stores (GS25, CU, 7-Eleven, Emart24 & Ministop). If you plan on using your card for payments in Korea or want to withdraw cash in Korea it is always a good idea to get a card with low or no international card fees.
📌 Need travel inspiration for a day trip in South Korea?
Travel to the coastal city of Pohang on the eastern coast of Korea. Find out all the best things to do in this coastal city in this Pohang travel guide.
For reliable and accurate navigation do not use Google Maps in South Korea. Google Maps is not fully supported in Korea with limited data available and it provides inaccurate map directions and locations. Instead, use one or both of these apps – KakaoMap or Naver Map. Both these apps will be your best friend for navigating around Korea and finding recommendations for stores, local eateries, and local attractions.
Note that both apps are in Korean by default but are available in English. I prefer using both navigation apps because different apps hold different updated data across the country on public transport routes and places (restaurants, cafes, sightseeing places). Both apps make it easy to navigate in Korea by showing you directions from different places, and public transport routes for buses and trains. This includes showing the exact train lines, the cost for each trip, which platform to stand at, and travel time. Another handy feature on both apps is saving places (restaurants, cafes, hotels, sightseeing places, etc.) on the apps which makes it handy when planning for your travels.
Important! If you don't know how to read Korean I recommend just downloading Naver Map because it is more English-friendly and the interface is easier to learn and use.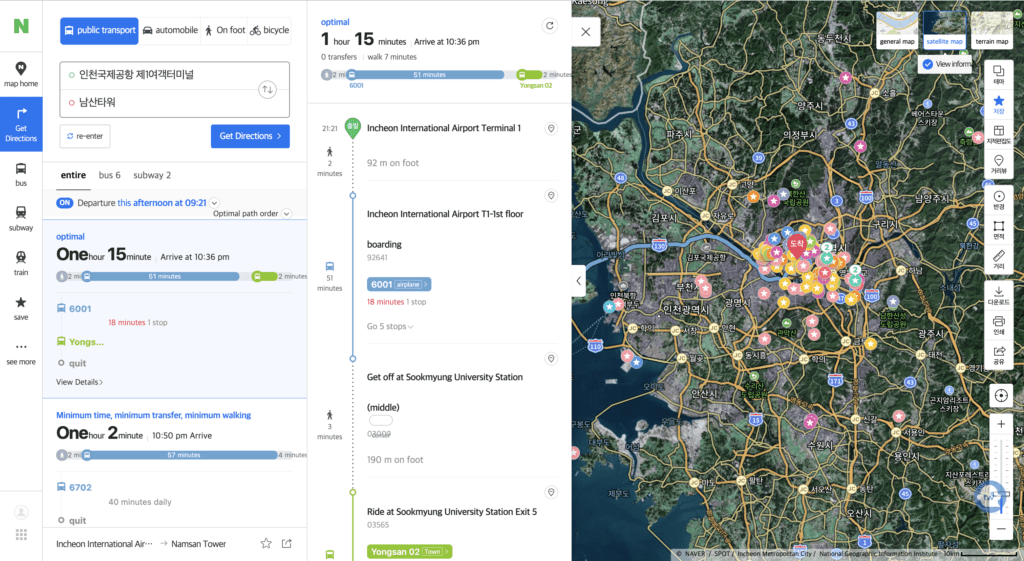 Air Pollution
One of the overlooked considerations when visiting South Korea is the fine dust pollution in Korea. If you're visiting during springtime (March to June) be aware that the fine dust is reported to be at its highest at this time of year. Did you know before COVID was prevalent that Koreans wore face masks to protect themselves from fine dust pollution? In order to prepare yourself and keep safe from air pollution in Korea here are some helpful tips for your trip.
: Download the app IQAir Air Visual (App Store or Google Play) to get real-time updates about the air quality in your location. It also reminds you when to wear a mask outside and when you should stay indoors.
: I recommend bringing KF94 or KF95 (filter 94/95% of pollutants) masks for your visit to Korea. If you don't have access to purchase these in pharmacies (약국), groceries, convenience stores (편의점) (GS25, 7-Eleven, CU, EMart, Ministop), or local stores such as Daiso.
Don't miss out on these top things to do in Seoul at Night in this local travel guide.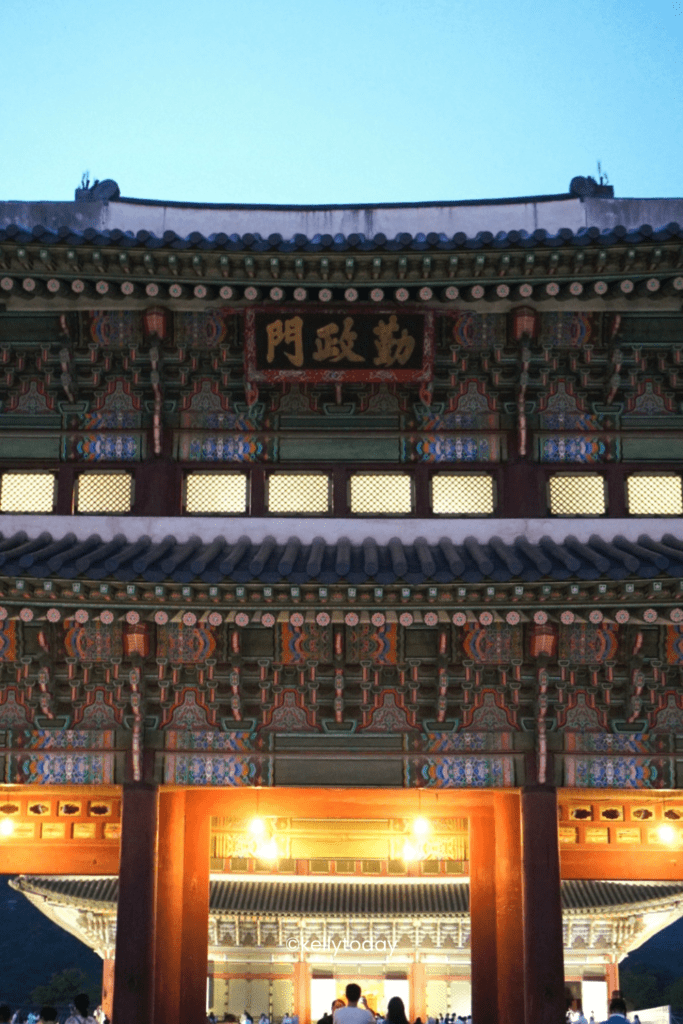 Weather
The most important tip when planning your trip to South Korea is to check the weather in the certain area(s) of Korea you'll be visiting. The weather in Korea across the year is distinct and changes a lot from area to area. If you don't research carefully you might get caught off guard and don't pack the appropriate clothing. For example, during summer Korea can be extremely hot and humid whilst in winter you can experience heavy snowfall. South Korea is also known for its extreme weather events with each season which can impact any attractions or activities you intend to try. This includes typhoons during the summer and snow storms in the winter.
Planning a trip to Korea in winter? Don't miss out on these 20-must-see places in South Korea in winter.
Korea's Seasons
Korea is a great destination to visit all year round and whenever you do visit you'll get to experience a profound appreciation of its seasonal activities. Below are some highlights of Korean seasons throughout the year.
Spring (March to May) is well-known for its cherry blossom season, and seasonal activities and you can expect large crowds from both locals and foreign tourists. Find out everything you need to know for a spring trip to Korea here.
Summer (June to August) is one of the best times of the year to visit Korea if you're a beach lover. Whilst you'll experience humid and hot temperatures, you can escape the heat by visiting Korea's beaches, checking out the summer festivals, and enjoying water sports across the country.
Autumn (September to November) is another popular and magical time of the year to visit. With its stunning fall foliage and pleasant temperatures visitors can enjoy hiking and fun day trips from the city.
Winter (December to February) is a great time to try the winter festivals and snow sports including snowboarding and skiing. If you're a fan of snowboarding and skiing visiting Korea is a perfect time to check out the ski resorts. The easiest way to organise a skiing trip in Korea is through a Ski resort day trip from Seoul (Yongpyong Resort & Vivaldi Park). If this isn't your vibe you can try a day trip to explore Korea's snowy landscape or immerse yourself in one of Korea's snow festivals (Ice Festival & Ice Fishing Festival). Find out everything you need to know for a trip to Korea in winter here.
Frequently Asked Questions About Korea Travel
Is it easy to get around Korea speaking Korean?
This depends if you are planning to just visit or work here. If you're only visiting for a trip then I don't think it's essential to know Korean but it will make your experience more comfortable and rewarding. You'll definitely find navigating and ordering at restaurants more easily. I would recommend as a bare minimum to know at least the Korean alphabet (hangeul) as sometimes not all restaurants and cafes have English menus. Knowing a few basic common phrases will also go a long way in helping you navigate more easily and perform daily tasks on your travels like ordering at a restaurant, shopping, etc.
If you want access to all the essential phrases to navigate, shop, and travel in Korea check out my Korea Survival Guide on my thatch page.
Is South Korea safe for solo female travellers?
It's an awesome idea! You'd be surprised at how many people come to Korea alone as a visitor, exchange students, or for work. For me, I came alone at 23 years old to work as a teacher and I've had an amazing experience. I've also had friends who came here by themselves for solo travel and they felt safe and it was relatively easy to navigate in Korea. I've also personally found South Korea as one of the safest countries to travel as a solo female traveler. Here are a few reasons why:
Ease of Getting Around: Getting around Korea is reliable and affordable compared to Western countries. The high-speed trains can get you from different ends of the country and to different cities within short timeframes. If you're not a fan of using trains you can opt for buses to get you within and across different cities.
People: The locals in Korea are some of the nicest people I've encountered on my travels. If you're looking a bit lost don't be surprised if a local will offer to help you with directions. It also helps if you can speak a bit of Korean as they appreciate the effort in learning their local language.
When is the best time to visit Korea?
The best time to visit Korea depends on your personal preferences and circumstances! For example, what is your budget, and what are your interests and preferences for traveling in Korea? What do you want to see in Korea? Would you prefer to experience the country during spring to see the cherry blossoms and warm weather? Or would you prefer to explore Korea during autumn and see the fall foliage? You'll also need to consider whether the times you want to travel in Korea are peak travel season because the crowds are likely to be high and the prices for flights and accommodations will be elevated.
Should I book a local tour in South Korea?
This depends on your travel style, booking a local tour offers both pros and cons. I personally love the flexibility and freedom of traveling independently by myself and I don't mind researching and navigating a place by myself. However, I have done a few local tours in situations where I want to experience the local culture in ways that I wouldn't be able to organize independently. For example, in Korea booking authentic cooking classes, food tours, bicycle rides or tea ceremonies are cultural activities to try for your trip to Korea. I also love supporting the local economies in the places that I'm visiting.
Recommendations for Local Tours
Local Cooking Classes: Learn how to make authentic local Korean cuisine at a cooking class in Korea. You'll be treated with a local market tour and bring back Korean recipes from your trip.
Local Guided Tour: Get local insight into Seoul or Busan with a guided expert. You'll get to explore off the beaten path and get personal recommendations from someone that has lived there opposed to a typical tourist.
Day Trip: Explore outside the main cities of Korea with a local guided day trip tour to Nami Island or the coastal city of Incheon. Not only will you escape the crowds but you'll be treated with cultural sites and activities not discovered by typical tourists.
Photo Shoot: If you're looking to bring some personal souvenirs why not try a photo shoot in Korea with a local photographer?
Recommendations for fun activities in Seoul
Where Should I Stay in Korea?
I recommend booking your stays on Booking.com to find the best deals and many of the hotels offer free cancellations in case your plans change. If you're traveling on a budget in South Korea you should check out hotels on HostelWorld or AirBnB is also another great option to find more local and affordable stays. If you want a full guide on where to stay in South Korea check out my accommodation guide on Korea.
Some of my favourite places in Korea:
How Long Should I Stay in Korea?
The length of your stay in South Korea will depend on you as a traveler in terms of your budget, and what you want to see and do. I've been living in South Korea since 2022 and I would recommend for a first-time traveler spend at least 1.5 weeks in Korea to cover the main cities of Seoul and Busan and room for day trips. A minimum of 1.5 weeks to spend in Korea will allow you to hop across the different cities. However, if you have the time and budget stay for two weeks to enjoy both the major cities and less traveled areas.
Found this helpful?
If you found these tips helpful check out the full in-depth Korea Survival Travel Guide.
📍Features of the guide
Korea Travel Essentials (Must-Have Apps, Language, Transport, etc.)
Includes Naver Map links making planning and navigating Korea easy!
Must know things for your trip to Korea (Things no one tells you about Korea – scams, language barrier, travel etiquette, etc.)
Essential Korean vocabulary and phrases (learn how to order at restaurants, shops, and navigation)
Guide to using public transport in Korea ("What's the best way to travel?" "How do I book high-speed trains and buses?")
Where to stay in South Korea? ("Where are the best areas and places to stay in Korea?")
Where can I find the best places to eat in Korea (Recommendations for restaurants & cafes)
Where should I travel in South Korea? (Recommendations for Seoul & Beyond ~ Discover hidden gems).
…. and much more!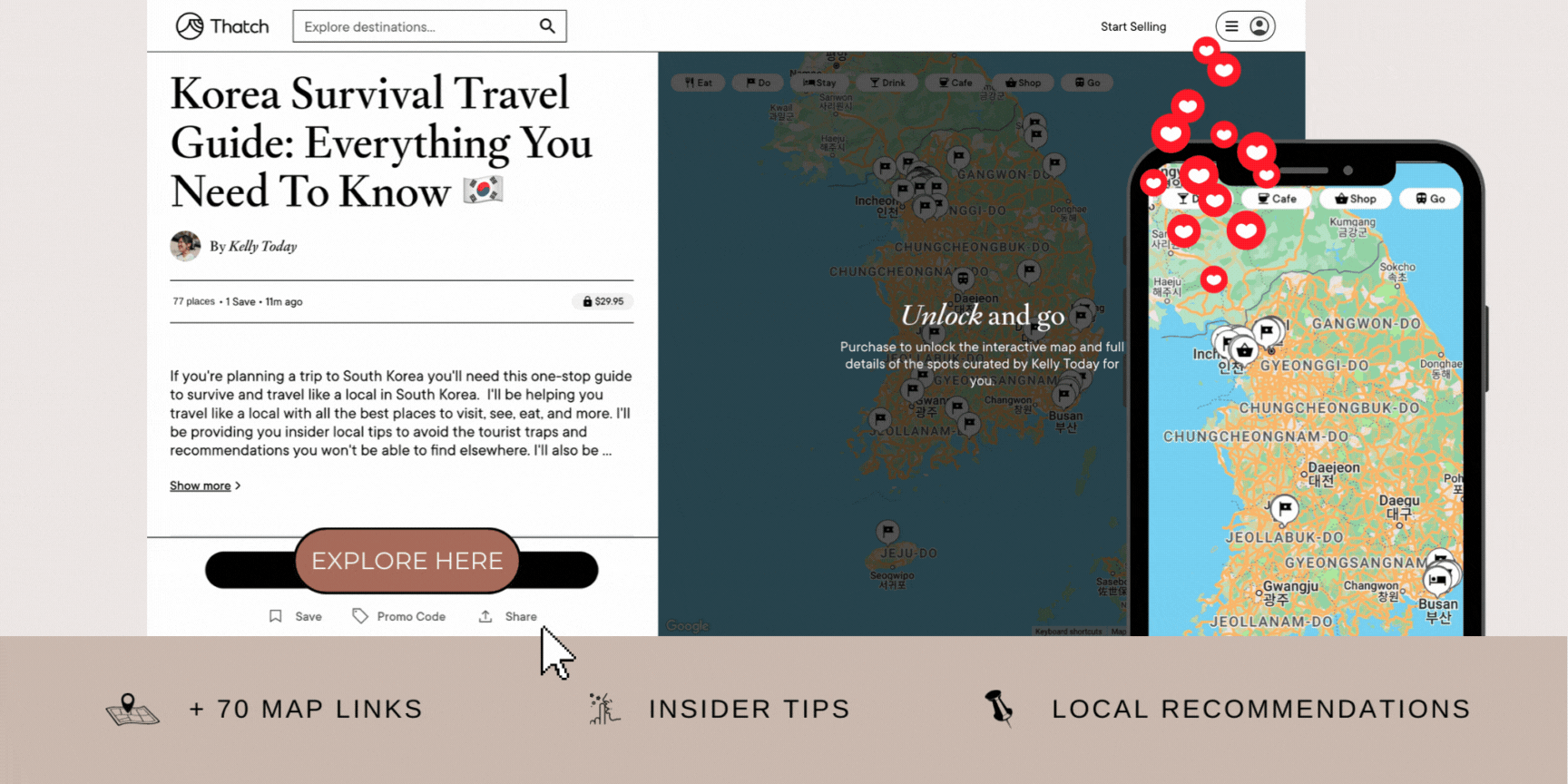 Travel to South Korea in 2024
Want to travel to South Korea without planning anything? Come and travel to South Korea in April 2024 with me. I've planned a group trip to experience South Korea in the spring. The best part? Everything is planned for you including the accommodation, meals, local transfers, +20 activities, and more! Find out all the information and frequently asked questions about the group trip here.
❗️What To Know For Visiting Korea ❗️
If you're planning a trip to Korea these travel essentials will help you plan your trip, find the best deals and save you money and time before and during your trip. Don't forget to read out how to travel cheaply with these 10 budget travel tips for anywhere in the world.
Korea Visas
Korea Electronic Travel Authorisation (K-ETA): Depending on your nationality some countries require a K-ETA to travel to South Korea. Apply before you travel with the official K-ETA site.
Travel Insurance
If you're traveling overseas, don't forget to purchase travel insurance. I always recommend World Nomads as my preferred travel insurance.
Flights
WayAway, Skyscanner, Google Flights, and Kayak are the best sites to find cheap flights and great deals. Depending on your personal you should also check your preferred airlines' websites for comparison to find the best deals from your home country.
Power Adaptors
South Korea uses standard Type C and F sockets with a standard voltage of 220. Note if you have a similar plug socket from your home country that the voltage may be different so be careful with your electronics and use a voltage converter. I always recommend buying a universal adaptor so you can use it in any country (great for future travels) and it offers extra ports for USB cables to charge your devices.
Stay Safe
Staying connected abroad is important for safety and travel. Having a VPN hides your IP address and encrypts your traffic thereby protecting users' privacy and virtual location. Use NordVPN to safely access content from around the world and have protection when you use public WiFi at cafes, restaurants, or your accommodation.
Stay Connected
Make sure to order in advance a SIM card or pocket WiFi so you can stay connected online for navigation and communication. Depending on your personal preferences you can order a SIM card or pocket WiFi. To get data abroad I recommend Airalo which is an app that allows you to download a prepaid eSIM to your phone in over 190 countries.
Found this helpful?
If you found these travel tips and recommendations helpful check out my travel guides on my Thatch Page. I'm sharing one-stop guides for everything you need to know for your trip to South Korea including insider tips and recommendations on where to stay, what to see, full itineraries, and information that is covered by tourists. As someone that has lived in South Korea, I'll be sharing insider information that only the locals know.
Conclusion
I hope you found this post helpful and that it inspires you for your trip to South Korea. Let me know if you have any questions or tips to add in the comment below. If you found this Korea post helpful, make sure to save it or share it.
Found this helpful? 👇🏼
Support my work by buying me a coffee so I can produce more free content for you.
---