Need inspiration for your Korea travel itinerary? Don't miss out on renting a hanbok in Korea to immerse yourself in Korean culture and make some memories for your trip. Across South Korea, there are numerous hanbok rental places to choose from, but don't worry! I'll be sharing everything you need to know about renting a hanbok in this ultimate guide. From how to rent a hanbok, the rental experience, rental costs and the best photo spots for your hanbok experience.
Disclaimer: This post may contain affiliate links, which means I get a small commission if you make a purchase (at no extra cost to you). It's one of the ways I can keep producing free resources and guides for my readers. Thank you for your support! Refer to the Disclosure Policy for more details.
What is a Hanbok?
A hanbok is a traditional piece of clothing that was typically used for semi-formal or formal wear during traditional celebrations and festivals. In fact, the term 'hanbok' translates to Korean clothing however it refers to traditional clothing for both females and males from the Joseon period.
In the present day, hanboks have been reserved for special occasions including birthday celebrations, major holidays, and weddings. For females, the traditional Korean dress comprises two pieces including the high-waste skirt (chima) and a blouse shirt or jacket (jeogori). Whereas the men have two pieces of loose-fitting trousers (baji) and and jacket.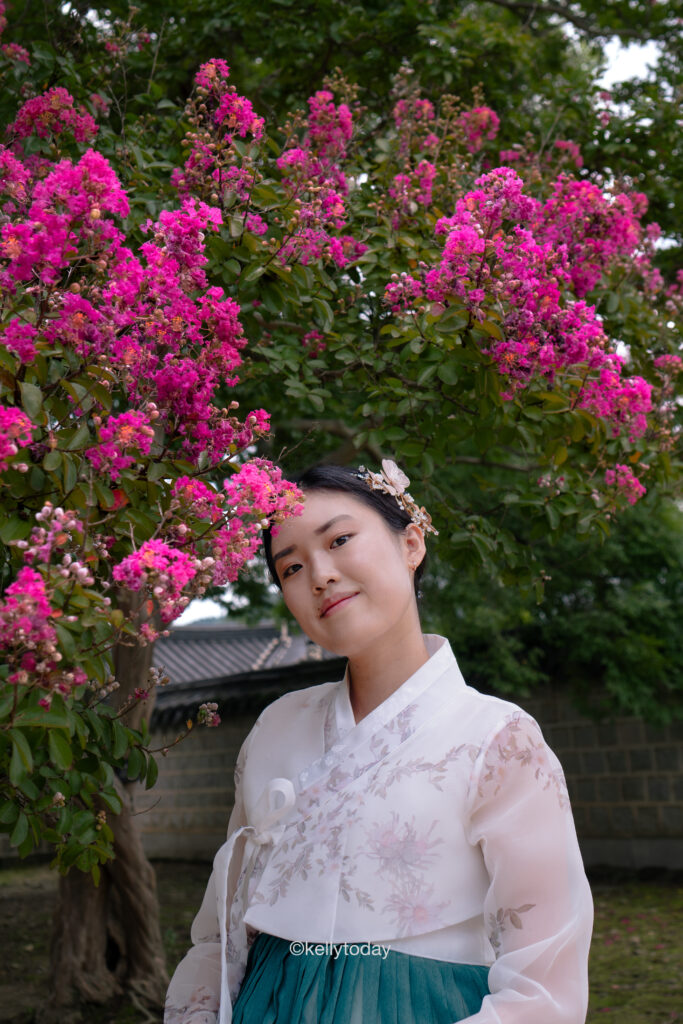 Why Should You Rent a Hanbok?
Besides renting a hanbok for photos and cultural appreciation, renting a hanbok gets you free entry into Seoul's grand Palaces. If you wear a hanbok and visit one of the five grand palaces in Seoul you'll get free entry! The five places include Gyeongbokgung Palace, Changdeokgung Palace, Gyeonghuigung Palace, Deoksugung Palace, and Changgyeonggung Palace.
Important tip: You can rent a hanbok for FREE If you have the Seoul Pass. This pass lets you wear a hanbok for 90 minutes via HANBOKNAM, or take photos with a hanbok in the studio of Namsan Seoul Tower Hanbok Experience Center.
Is it cultural appropriation for a foreigner to wear a hanbok in Korea?
Not at all! As long as you're respectful through the experience you'll find that most Koreans never refer to it as cultural appropriation but more as cultural appreciation. Generally, you'll find that they appreciate when other nationalities take an interest in their culture and customs when done in a genuine and conscious way.
☕️ Want to find the best places to eat in South Korea?
Don't miss out on over 290 cafes and restaurants to visit in Korea in my Cafe & Restaurant Guide. I cover essential information including…
Over 290 local cafes & restaurants to visit (with Naver Map links)
How to find hidden local eateries (cafes & restaurants)
Over 30 essential Korean phrases & vocabulary for ordering at restaurants & cafes
Essential etiquette for eating out in Korea ….. and more!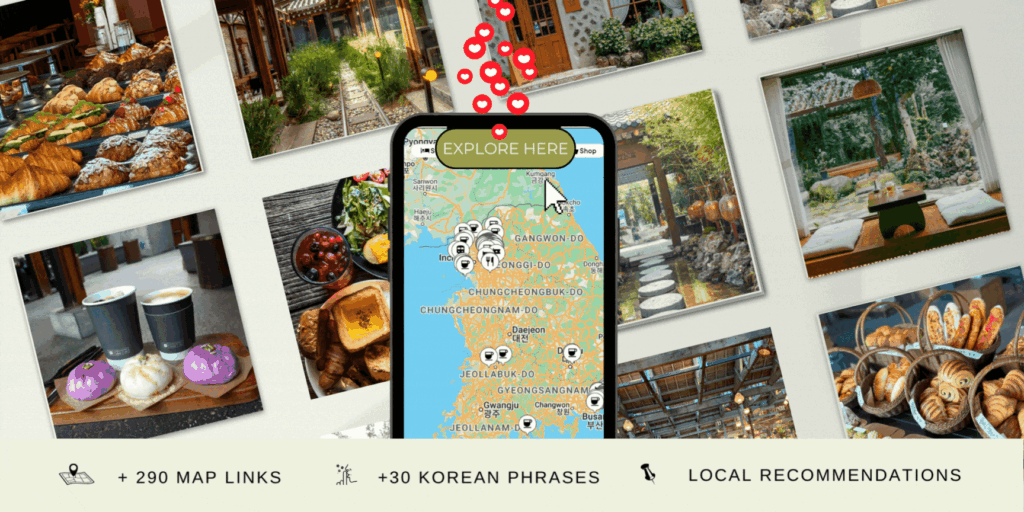 How much does it cost to rent a hanbok?
The cost of renting a hanbok depends on a variety of factors including the location of where you're renting, how long you're renting as well as the rental package you're interested in (hanbok, accessories, hair styling etc.). Generally, however, you can expect to pay around ₩17,000 ₩ for about 3 to 4 hours with a full-day rental ranging around ₩25,000.
Location
In terms of location if you're choosing a hanbok rental store that is found on a main street in a tourist area you can expect more elevated prices because they are positioned in high foot traffic areas compared to a rental store in a less touristy area.
A helpful tip for saving money on a hanbok rental is to reserve your rental online in advance because it tends to be heavily discounted for foreigners online compared to doing it in person. Making a reservation online also means you can skip the queue and you get the best selection of dresses if you book an early time slot.
Rental Package
The price for a hanbok rental also depends on the design of the dress and accessories included that you're selecting. Different rental stores offer different types of dresses from a 'traditional hanbok,' 'themed hanbok,' to 'premium hanbok.' There are also different options for hair styling and hair accessories. The availability of the hanbok styles and accessories will be dependent upon your rental time.
Most hanbok rental stores should cater for females, males and children. Note however if you consider yourself 'tall' or 'plus-sized' you might have fewer design options to choose from depending on the store. With this in mind, you might just have a hanbok that might be a bit too short for you.
What is included in the hanbok rental?
For a standard hanbok rental package, you can expect it to cover the following:
Full outfit (inner and outer clothing, for women and men (Small to XL sizes), and children (Extra small to XXL Sizes))
Tote bag to pack your personal belongings.
Hair styling and access to a salon area
Hair Accessories (hair ornaments, headbands)
Bag
Locker to store personal belongings
Assistance from staff to help you get dressed.
Can I choose my accessories?
The staff at the rental store will often recommend matching accessories for you. However, you have the flexibility to choose what you want to put on your hanbok and your hair accessories. Often at the rental places, they will also offer a variety of hairstyles for you to select from up-dos to down styles.
---
📍 Save hours of planning with my Korea Survival Travel Guide
Travelling to South Korea for the first time? Read up on these must-know insider tips to prepare yourself for your trip in my Korea Survival Travel Guide.
Features of the guide
Korea Travel Essentials (Must-Have Apps, Language, Transport, etc.)
Includes Naver Map links making planning and navigating Korea easy!
Must know things for your trip to Korea (Things no one tells you about Korea – scams, language barrier, travel etiquette, etc.)
Essential Korean vocabulary and phrases (learn how to order at restaurants, shops, and navigation)
Guide to using public transport in Korea ("What's the best way to travel?" "How do I book high-speed trains and buses?")
Where to stay in South Korea? ("Where are the best areas and places to stay in Korea?")
Where can I find the best places to eat in Korea (Recommendations for restaurants & cafes)
Where should I travel in South Korea? (Recommendations for Seoul & Beyond ~ Discover hidden gems).
…. and much more!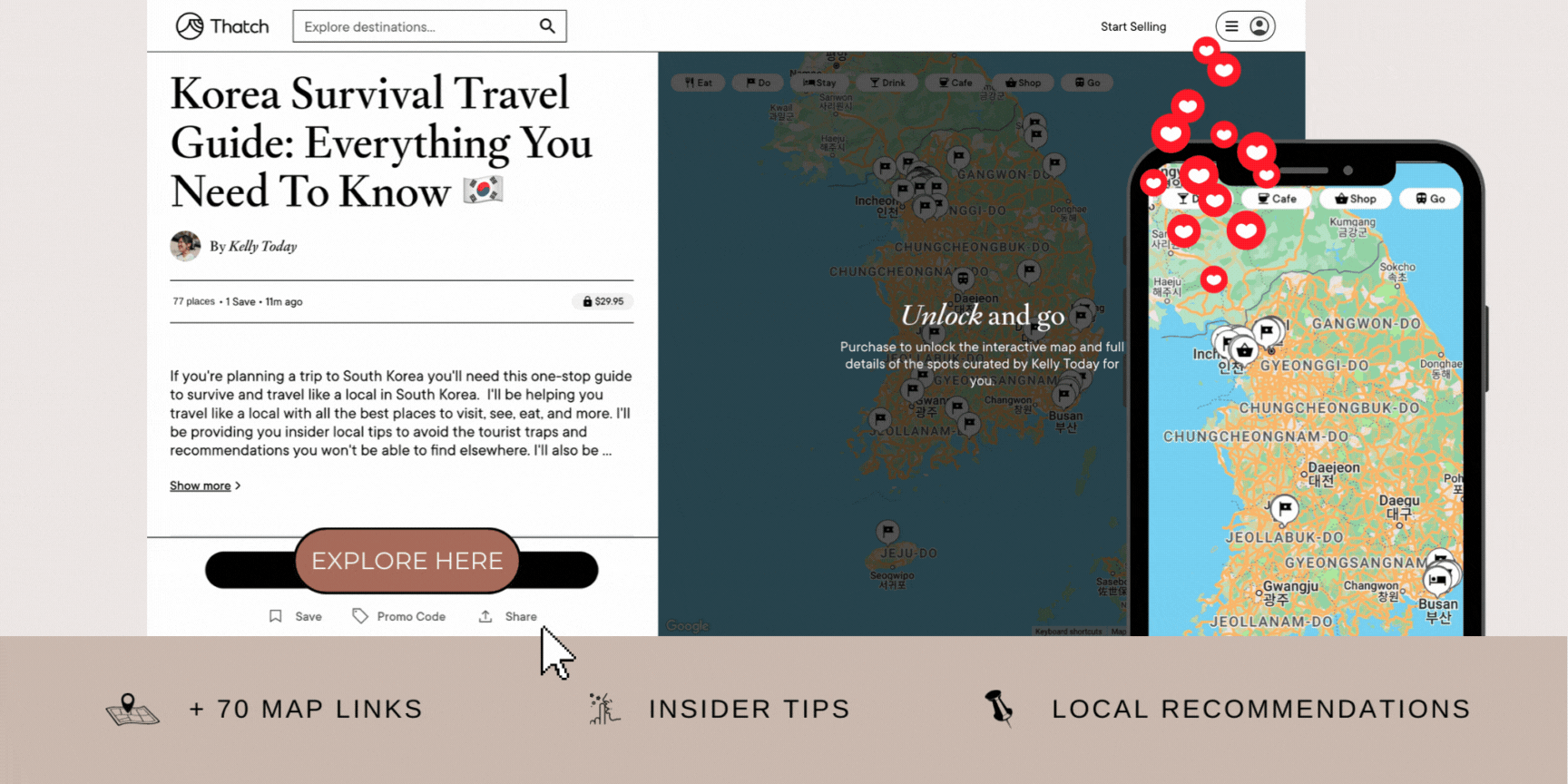 Tips for Renting a Hanbok in Korea
Best Photo Spots
If you're looking to grab some photos of you wearing a hanbok I recommend booking a photoshoot in combination with your hanbok rental (Hanboknam and Hanbok That Day). It works out organising the rental and photography services separately. However, if you have the budget, hiring a local photographer is a great way to capture your trip and get insider recommendations on the best photo spots in Seoul not known by typical tourists.
Time
I recommend avoiding renting a hanbok from Wednesday to Sunday. On the weekend it can get busier at the rental places and in and around the local attractions. Additionally, on Monday 4 out of the 5 grand palaces are closed with only Gyeongbokgung Palace open.
Bookings
Bookings in advance are essential to save money but also to ensure you don't miss out on securing a rental booking. If you choose to do just 'walk in' to a rental store you'll have to consider if the place has English-speaking staff and if the place offers 'walk-in' appointments. Some rental places only accept a certain amount of bookings per day which can be common in high-traffic places in South Korea. Worst case you might have to wait a long time or you won't be accommodated at all. So remember to book ahead of time!
I recommend booking an early morning time slot so you'll have a wider selection of hanboks before they get rented by other customers. Think of it as 'first comes, first served.' You will also have more time to wear the hanbok without feeling rushed exploring and taking photos before you have to return it at the end of the day.
Weather
Before you make a rental booking be sure to check the weather forecast during your travels. The worst thing to happen is booking a time when the weather is rainy, overcast, or too hot and humid during the summer.
Wearing a Hanbok
The process of putting on the hanbok takes over 20 minutes as they have to layer the different clothing pieces. Undergarments for the hanbok include sokbaji (underpants), sokchima (underskirt) and beoseon (hanbok socks). It's quite a loose fit but make sure you wear appropriate clothes for underneath. An important tip before leaving the hanbok rental is to check the hanbok for any stains or tears before you leave the place so they don't require a compensation charge for the damage.
What to wear under a hanbok?
Hanboks are essentially decorative traditional clothes so it's best to wear light clothing underneath. For winter it is important to wear thermal layers because the temperatures can get freezing. I recommend UNIQLO's heat-tech leggings and tops. In summer wear breathable fabrics and light layers to prepare for the humid and hot weather.
I also recommend wearing comfortable shoes to walk in. You are most likely walking to a lot of attractions in your hanbok and want to be comfortable for the journey. Additionally, I'd avoid wearing shoes with a thick heel, or anything that makes you taller than usual. This is because you don't want your shoes to ruin the photos with your hanbok.
What does the rental experience include?
Deposit
If you've booked online and you arrive for your designated time slot you'll be asked to put down a deposit before you leave. Generally, most hanbok rentals ask to leave your ID or passport along with a financial deposit of around ₩10,000. The reasoning behind the deposit is to ensure that if any damage happens to the hanbok it is covered.
Selecting a hanbok
Depending on the rental store, they might offer hanboks in traditional designs or themed hanboks. A traditional hanbok is recognisable from its simple design with a single-coloured skirt. Whereas a themed hanbok has a more intricate detailing design. The staff is often very helpful in finding the size and style that will suit you. Usually, you first pick your bottom piece (the skirt) and they'll recommend several matching tops for you to choose from. Males will be able to select a number of hanbok styles with waist, knee, and ankle-length jackets and a pair of loose pants underneath. Men will also be given the option to rent a hat.
Hair Styling
After you've changed into your hanbok you'll be guided to a studio section to get your hair done. Depending on the rental place they'll offer you a range of hairstyles from updos to down hairstyles. You'll also be given a selection of hair accessories and bags to choose from depending on the rental package you selected.
Hanbok Rental Return
Before you leave the rental place you will be given a time the hanbok needs to be returned. The time that you'll need to return the hanbok will depend on the package you booked either by the hour or a full day package. Make sure to set a reminder when you have to return the hanbok and factor in the time it'll take to get back to the rental place. You don't want to end up paying a late rental fee.
Best Places For Renting a Hanbok
Depending on your budget and the time you have for your trip there are a variety of places for hanbok rentals in South Korea. My personal recommendation to rent a hanbok includes Seoul and Jeonju. Personally, I found the charming city of Jeonju as the quintessential place to try this cultural activity. However, if you're short on time you can explore Seoul by heading to Gyeongbokgung Palace with its picturesque mountain views and nearby Bukchon Hanok Village. This place serves as the perfect backdrop for your photos.
As a general rule, I always recommend choosing places that are close to the attractions you'll want to explore in the hanbok. This is to save time travelling to and from the location. Here are a few personal recommendations on where to rent a hanbok in South Korea in cities including Seoul, Jeonju, and more.
If you're booking a hanbok rental through Klook you can use my referral code KELLYTODAY for 5% off your next booking.
Hanbok Rentals in Seoul
Most of the hanbok rental stores are located near attraction sites including Seoul's 5 Grand Palaces and Bukchon Hanok Village. There are five grand palaces in Seoul (Deoksugung, Gyeonghuigung, Changgyeonggung, Changdeokgung and Gyeongbokgung). All palaces are gorgeous to visit however Gyeongbokgung is the most well-known and popularly visited.
Hanbok That Day (Gyeongbokgung Palace)
Hours: 9:30 am to 19:00 pm
Address: 03062 36, Yulgok-ro 1-gil, Jongno-gu, Seoul
Looking for a hanbok rental and photoshoot all-in-one package? Look no further. This rental shop is located near Gyeongbokgung Palace and offers hanbok rentals and photography sessions. Visitors can choose from renting a variety of hanboks ('traditional', 'fusion', or 'premium' from 3 to 4 hours to a full day.
Hanboknam Changdeokgung (Changdeokgung Palace)
Hours: Rent from 10:00 am to 16:30 pm
Address: Available upon booking.
Select from over 500 Hanbok designs at this rental store near Changdeokgung Palace. One of Seoul's five remaining Joseon palaces. They offer both traditional and themed hanboks to rent from 1.5 hours to a full day depending on your budget for this activity.
Hanboknam Kyeongbokgung (Gyeongbokgung Palace)
Hours: 9:30 am to 7:00 pm (last return 18:30 pm)
Address: 17 Bukchon-ro 5ga-gil, Jongno-gu B2, B3, Seoul 03053 South Korea
Choose from over 500 hanbok designs near Gyeongbokgung Palace in Seoul. If you're worried about the language barrier the staff can speak Japanese, Mandarin, and English.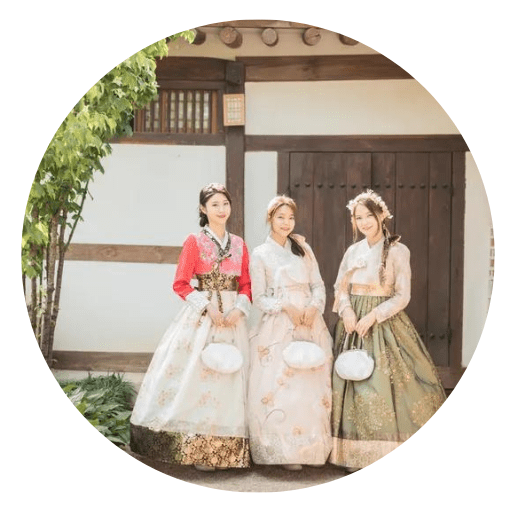 Bukchon Hanbok Rental (Bukchon Hanok Village)
Hours: Rent from 9 am to 4 pm.
Address: Available upon booking.
Choose from renting a hanbok for four hours to a full day. This rental place offers a variety of sizes and designs with hair accessories for those interested. This place is available in Seoul South Korea near Bukchon Hanok Village.
Premium Hanbok Rentals in Seoul
한복남 프리미엄점 Hanboknam Premium Store
Hours: Rent from 10:00 am to 5:00 pm
Address: 133-9, Sajik-ro, Jongno-gu, Seoul, South Korea
Try booking a premium hanbok service at the Hanboknam Premium store. They offer the latest trendy hanbok designs and have branches near Gyeongbokgung and in Jeonju. The rental services range from an hour to three hours to a full day depending on your budget.
Hanbok Photoshoot by Hanboknam Gyeongbokgung
Hours: From 11:00 am to 1:00 pm
Address: Available upon booking.
Have a hanbok portrait service by a professional photographer at local attractions in Seoul. Not only will you get over 500 selections of traditional and themed hanboks. But you'll get a choice of an indoor or outdoor photoshoot option. You'll get the option to take photos near. Bukchon Hanok Village, Changdeokgung Palace, and Gyeongbokgung Palace.
Hanbok Rentals in Jeonju
Jeonju is an easy day trip from Seoul and is a great place for renting a hanbok and exploring the historic and cultural sites of Korea. In particular, Jeonju Hanok Village is a place that you shouldn't miss out on visiting with picturesque cultural sites of mural villages, gorgeous views, aesthetic hanok cafes and more. If you have the time I'd also highly recommend a traditional hanok stay to add a unique experience to your Korea trip.
Hanboknam Jeonju Store
Hours: Available depending upon booking request.
Address: 54-1, Eunhaeng-ro Wansan-gu, Jeonju, Jeollabuk-do
Try a hanbok rental in Jeonju Hanok Village. You'll get to try traditional Korean clothing and the option to get your hair styled in a traditional look. You can choose from a traditional or themed hanbok from 1.5 to 4 hours or a full-day rental.
Hanbok Rentals in Jeju
If you don't have time to rent a hanbok in Seoul why not add the cultural activity on your trip to Jeju Island? Jeju Island is a often overlooked for a hanbok rental experience so you can expect less crowds and beautiful picturesque backdrops for your photos.
Jeju Hanbok Private Guide Tour & Photo Session
Hours: 10:00 am and 13:00 pm Time Slots
Address: 15 Yongma-ro 4-gil, Yongdam 2(i)-dong, Jeju-si, Jeju-do, South Korea
Book a private tour of Jeju inclusive of a hanbok rental and a photo session around the island. They offer packages for one individual or groups depending on your travel preferences.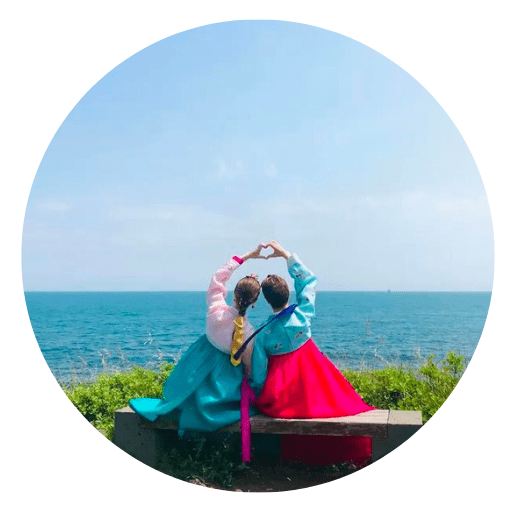 Premium Hanbok Rental in Jeju
Hours: From 9:00 am to 16:00 pm.
Address: 15 Yongma-ro 4-gil, Yongdam 2(i)-dong, Jeju-si, Jeju-do, South Korea
Try a premium hanbok rental on Jeju Island. You'll get the option to choose from a traditional, modern, or Hanyeo hanbok from two hours to a full-day rental. The rental package includes accessories and hairstyling services in the booking.
---
Planning a trip to Seoul for the first time? Save hours of planning with this one-stop Seoul Travel Guide.
+300 places to explore in Seoul and outside the capital city (with Naver Map links)
Local guide to using and booking transport in Korea
Best places to eat in Seoul (cafe & restaurant recommendations)
Best photo spots in Seoul (tourist traps & local recommendations)
Insider tips on where to stay, shop & things to do in Seoul
… and more!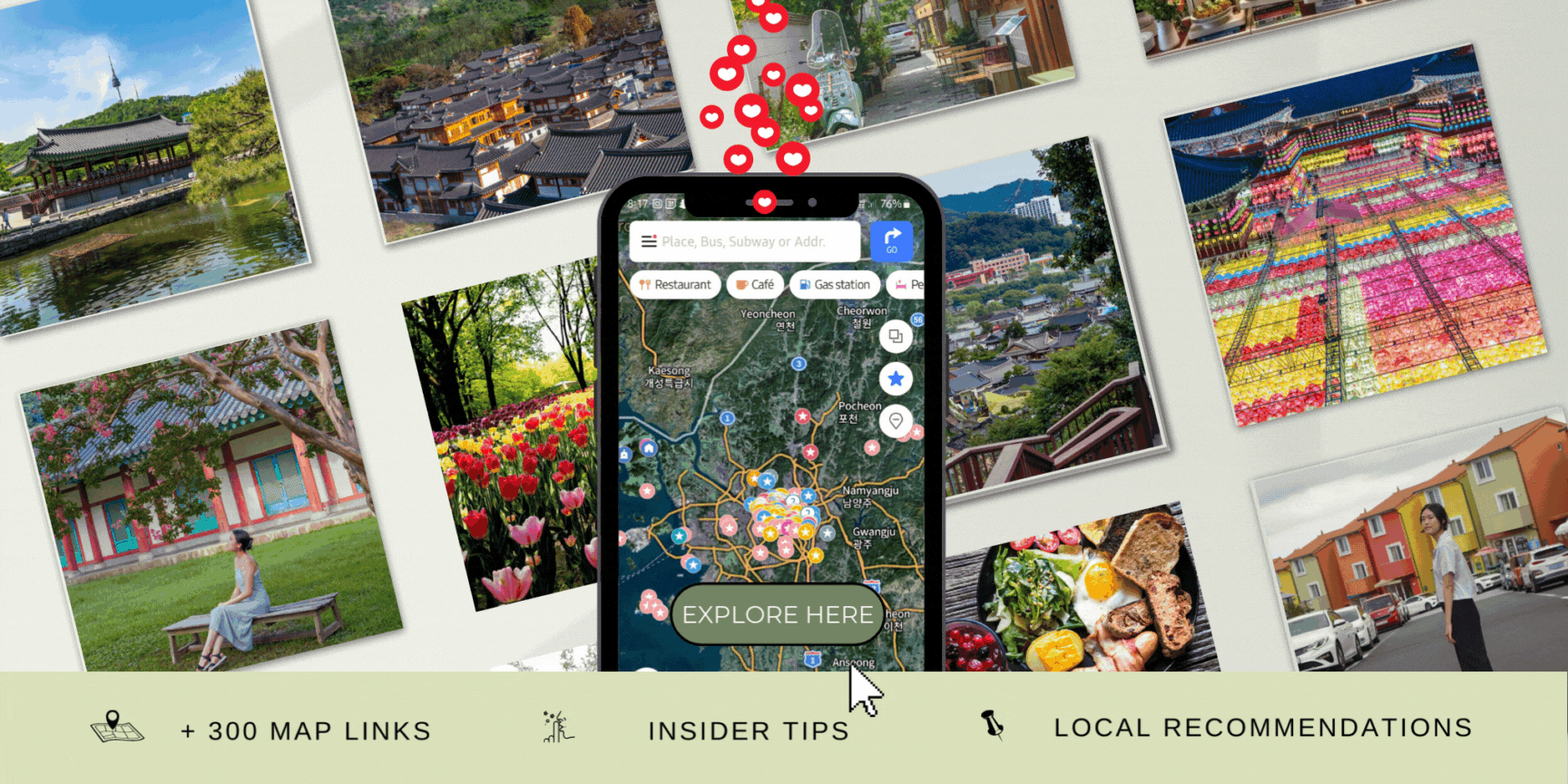 Best Places for Hanbok Photos in Seoul
My personal recommendations for the best photos in a hanbok include Gyeongbokgung Palace, Bukchon Hanok Village, and Changdeokgung Palace. Note that Gyeongbokgung Palace is closed on Tuesdays and Changdeokgung Palace is closed on Mondays.
Bukchon Hanok Village (북촌한옥마을): A picturesque traditional Korean village that is lined with hanoks (traditional Korean houses) that date back to the Joseon Dynasty.
Address: 37, Gyedong-gil, Jongno-gu, Seoul (서울특별시 종로구 계동길 37)
Changdeokgung Palace (창덕궁과 후원 ): One of Seoul's five grand palaces and a UNESCO World Heritage Site. Compared to Gyeongbokgung Palace it is lesser-known and is also home to the Secret Garden. Note that the Secret Garden is only accessible by joining a tour and also requires a separate ticket in addition to the palace entrance.
Address: 99, Yulgok-ro, Jongno-gu, Seoul (서울특별시 종로구 율곡로 99)
Gyeongbokgung Palace (경복궁): One of Seoul's five grand palaces and the most popular. It boasts the largest palace grounds are beautiful to visit all year round. Don't miss out on the changing of the guards' ceremony at 10 am and 2 pm at Gwanghwamun, the main gate of Gyeongbokgung.
Address: 161, Sajik-ro, Jongno-gu, Seoul (서울특별시 종로구 사직로 161)
Frequently Asked Questions About Renting a Hanbok
How long should I rent a hanbok for?
This depends on how much time you have in your itinerary and what you want to see and do in your hanbok. Generally, I'd recommend renting a hanbok for about 1.5 to 2 hours as a minimum. You'll need to factor in the time it will take getting to and from the rental place, exploring the local attractions as well as any activities you'll be doing in the hanboks e.g. taking photos.
How long does it take to dress up in the hanbok?
It usually takes about 35 minutes for women (including the hairstyling). However, this depends on when you visit and the number of people who have booked the same time slot or 'walk-in' appointments for that day.
What activities do you recommend whilst wearing a hanbok?
Apart from exploring the local streets and checking out the local eateries. You might want to consider doing a photo shoot experience to capture some memories. If you're interested in getting professional photos done you can organise this in two ways.
Book a separate photography session. I recommend checking out a local photographer to show you the local sites and capture some memories for your trip.
Organise a photoshoot with your hanbok rental in a package.
Where can I store my personal belongings?
In the rental places, there are personal lockers available to store all your personal belongings. You will be given a key to your locker and you can store all the items that you don't want to bring with you. Remember to bring all your valuables with you.
Conclusion
I hope you found this post helpful and that it inspires you to try this fun cultural activity for your trip to South Korea. If you are considering renting a hanbok in Korea. Let me know your thoughts below. Don't forget to check out my full travel guides for South Korea.
Found this helpful? 👇🏼
Support my work by buying me a coffee so I can produce more free content for you.
---