If you're planning to travel to Japan you need to know these things for your trip! I've been to Japan three times and I always learn new things I wish I had known about the first time I travelled to Japan. Not only would I have saved time but I would've gotten to experience a lot of activities and saved some money on bookings. In this post, you'll find everything you need to know before your trip to Japan. From the best places to visit, tips for booking activities and tours, and helpful tips to make your trip to Japan more memorable.
Disclaimer: This post may contain affiliate links, which means I get a small commission if you make a purchase (at no extra cost to you). It's one of the ways I can keep producing free resources and guides for my readers. Thank you for your support! Refer to the Disclosure Policy for more details.
10 Things To Know Before Your Trip to Japan
Visa
Japan travel requirements are constantly changing over the years and it's always important to check if you need a visa to enter the country. From April 2023 tourists from these 69 countries are exempted from obtaining a visa before a trip to Japan. Visitors from these countries are able to stay in Japan for up to 90 days under the visa waiver agreement (with some exceptions). For more information about entering, leaving, and staying in Japan refer to this website.
Book Attractions in Advance
This feels like a no-brainer but you'd be surprised how many people forget to do this. When local attractions are popular in Japan they tend to get very crowded quickly. Some of the most sought-after destinations in Japan include Universal Studios Japan, Tokyo DisneySea, Tokyo Disneyland, and Shibuya Sky. A lot of people might think that it wouldn't be hard to get in just by buying a ticket at the entrance. However, this proves to be impossible and/or time-consuming due to domestic tourism and popularity amongst foreign tourists.
The same logic also applies to booking cultural activities in Japan. For example, if you're planning on renting a kimono I recommend booking in advance so you have a guaranteed reservation and you'll also get first pick of the kimonos available.
Recommended Bookings for Attractions
: Tokyo Disneyland or DisneySea Pass
Spend a day at Tokyo DisneySea or Tokyo Disneyland with pre-booked e-tickets for convenient entry. You'll get full access to the park including entertainment and shows. The best part is that there is no printing required, just a QR code to enter.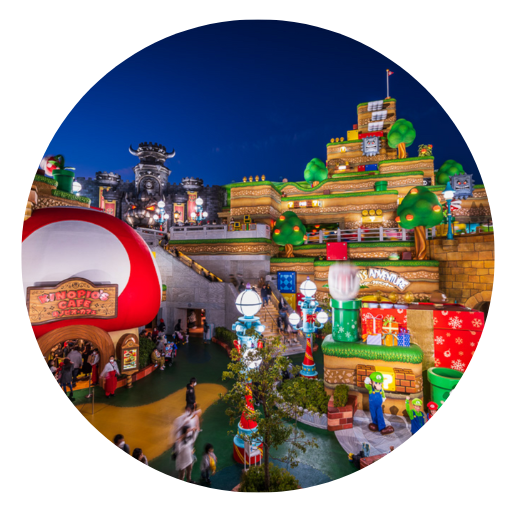 : Osaka Universal Studios
Get direct entry into Universal Studios Japan's 60+ attractions. Klook offers different types of passes depending on your budget including an early entry pass to get ahead of the crowds.
Sumo Wrestling Tournament in Tokyo
Note that sumo tournaments are only held three times a year in Tokyo (January, May, and September). So if a tournament doesn't align with your trip you can still book a tour to see the sumo wrestlers perform their morning practice with this tour.
Shibuya Sky
Get a 360-degree panoramic view of Tokyo at Shibuya Sky from this observation desk. If you book your tickets in advance you'll get to skip the queues at the attraction and also get first pick of the best time slot you want to visit.
TeamLab Planets Tokyo
Visit Tokyo's immersive art exhibit with over 9 art installation spaces to explore and take photos with.
TeamLab Osaka
If you're visiting Osaka check out this nighttime exhibition held at Nagai Botanical Garden with interactive artworks that change with the environment.
Make Reservations in Advance
If you're a foodie and want to hit up the popular restaurants in Japan you'll want to book 1 to 3 months in advance for a reservation. This is especially important for Michelin-star restaurants or popular restaurants so you can avoid wasting time in line or worse missing it altogether. It's important to note that most Japanese restaurants prefer to deal with a restaurant booking service, hotel concierge, or a regular Japanese patron for reservations. This is because many Japanese restaurants have experienced people making bookings and then canceling or not showing up at the last minute. This can be damaging for small businesses if they can only cater to 10 people at their establishment.
If you're worried about the language barriers for reserving tables at restaurants in Japan here are some tips about restaurant bookings in Japan.
You can try making a reservation by going to a restaurant in person a day or before you want to dine in. If you're worried about the English barrier, use the translation app (Papago) with your booking. It also helps to visit during the quiet period such as before dinner or evening rush. Note however that this method is a hit or miss. Some may refuse to take your reservation because they might prefer to work with businesses or people they are familiar with.
Try booking through a hotel concierge for a reservation. This is a great option as the concierge can help with the language barrier as well as explain your preferences to the restaurant. Note this option might only be available for a few mid-range hotels and luxury hotels. Don't confuse concierges with a normal front-desk staff.
Try using online booking services in Japan. Some restaurants will have their own websites with reservation options. Just make sure to check the cancellation policies carefully before you book.
Save Money on Transportation
Save money on transport by ordering a pass in advance for your train transfers across Japan. Many of the transport operators in Japan provide special discounted fares and passes for foreign tourists. It will be important for you to plan what cities you intend to visit so you can select the most suitable pass. My general advice is that you should buy a transport pass if you're staying in Japan longer than one week.
Want to save money on flights, transport, and accommodation on your travels? Find out how with these 10 must-know travel tips.
Popular Japan Passes to Consider
Tohoku Area
The JR East Tohoku Area Pass provides unlimited travel on Shinkansen and other trains, from Tokyo to Japan's northeastern region of Tohoku, for five consecutive days. If you plan on visiting Matsushima, Yamadera, and Ginzan Onsen, this pass is the perfect option to explore these local attractions.
Osaka or Kyoto Area
The Kansai Wide Area Excursion Pass offers unlimited rides on JR West lines for three consecutive days for express trains or Shinkansen. This pass for example allows you to explore sights including Himeji Castle, Kinosaki Onsen, and Universal Studios Japan.
The Kansan Thru Pass provides unlimited travel around Kyoto and Osaka for 2 or 3 days. It covers more than 30 private buses and train lines, including Hankyu, Keihan, Kyoto Municipal Subway, Osaka Metro lines, and many of the major sightseeing areas. An additional benefit is that it offers discounts for about 350 tourist facilities around the Kansai region.
Tokyo Area
The Tokyo Subway Pass is perfect for travelling around Tokyo on the Toei Subway and Tokyo Metro lines for 1 to 3 days. This is a great alternative or additional that can complement the Japan Rail Pass. For example, you can use the Tokyo Subway Pass for unlimited travel for 24, 48, or 72 hours at a discount in Tokyo. This means you don't need to use the JR Pass and Tokyo and you can save it for travelling to and within other cities outside of Tokyo.
Kyushu Area
The JR Kyushu Rail Pass provides unlimited travel around Japan's southwestern island of Kyushu for 3 or 5 days.
All Japan – Japan Rail Pass (JR Pass)
The JR Pass covers unlimited rides on JR train lines and most Shinkansen (bullet trains). Whilst the JR Pass doesn't cover Nozomi Shinkansen – the fastest in the country. The JR Pass is a great option for travellers planning on travelling to different prefectures and cities across Japan. I recommend planning out your travel route across Japan in Google Maps to see the cost of the individual train trips to see if it is worth buying the JR Pass. There are also different durations of JR Passes to choose from including, 7, 14 to 21 days.
How can I order a Japan Rail Pass?
Make sure you order the Japan Rail Pass before you travel to Japan online. It will be posted to your home address and include an exchange voucher for you to exchange the JR Pass when you arrive in Japan. You do have the option of buying the JR pass in Japan however it will be more expensive. If you order your JR Pass through Klook you'll receive instant confirmation and they'll post it to your home address after payment is processed. They'll also provide you with detailed instructions on how you use and access the JR pass in Japan.
Important Update: Note that from October 2023 the JR Pass is expected to increase by 77%. However, if you're planning to travel to Japan anytime between now and the 28th December 2023 then you're in luck. If you book through Klook by the 30th of September they'll honour the original JR Pass price. Klook will send your booking confirmation and exchange order before your travel date to avoid any expiry.
Is there a transportation card available in Japan?
To use the local public transport in Japan (buses & trains) you can use a Suica card for the metro lines and local buses. These cards are reloadable cards you can use on JR East trains, subway trains, select bus lines as well as make purchases at vending machines and select restaurants and stores. You can purchase a Suica card in advance online. Note that the card requires a 500 yen deposit but you can get this back if you return the card at the end of your trip.
Don't just Rely on Trains
Did you know that you don't have to rely on just trains to travel in Japan? Japan also has efficient and affordable buses that you can take to travel to different cities. For example, to cut costs you can try overnight buses for intercity travel to save money on accommodation overnight. Many of the bus companies in Japan can be booked online at kosokubus.com. After your payment is confirmed you'll receive instant confirmation and a confirmation email. Just this confirmation email on your mobile to the driver. Alternatively, Klook offers overnight bus options if you're travelling to and from the cities of Tokyo, Osaka, or Kyoto.
Night Bus from Tokyo to Osaka or Kyoto: Travel in an overnight bus to Osaka or Kyoto from Tokyo to save time and money on your trip.
Night Bus from Osaka to Tokyo: If you're on a budget travel from Osaka to Tokyo in an overnight express bus rather than travelling via train.
There are a variety of overnight bus routes that can save you on a night's accommodation in Japan. Another great thing about the buses in Japan is that they are cozy, clean, and quiet, with reclining seats and a pull-over head to block out light.
Research Your Dates
When you're planning your trip to Japan you'll need to do some research on dates to avoid or whether you're traveling during the peak times. For Japan, the peak seasons for travel are considered to be in spring (March to May) and Autumn (September to November). This is mainly because of these seasons having the best weather to travel in as well as cherry blossoms and fall foliage to experience.
Japan Peak Travel Times
Here is a list of the most crowded times of the year in Japan. During these times you can expect large crowds, and elevated prices for flights, transport, and accommodations.
National Holidays: Look out for various long weekends throughout the year. Most of the locals will use this time off to visit family and/or go on vacation.
Obon is an extended holiday period that usually happens during August.
Cherry Blossom Season (March to May): Expect large crowds due to the seasonal activities that come with spring including chasing cherry blossom spots.
New Year's: Usually around the last week of December to the first week of January.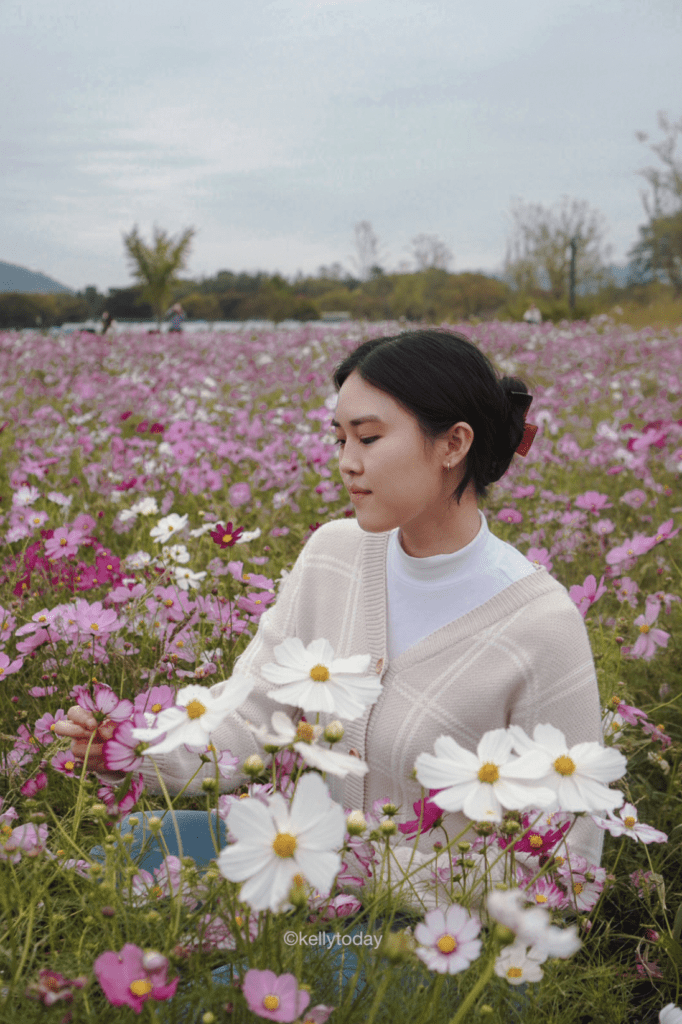 Language Barrier
The language barrier in Japan can vary depending on where you travel in Japan. If you're mainly visiting the major cities you should be able to travel relatively easily with a decent amount of English available on signs and menus. However, if you visit older establishments or areas further away from the main cities you may encounter a language barrier.
Don't worry about it too much though you can always use a translation app to help you translate texts or if you need to communicate with someone. I personally recommend Papago (App Store or Google Play) over Google Translate because it's more accurate. It translates texts from photos by either importing the taken image or you can take a photo in the app. This is a handy feature when it comes to translating menus at cafes or restaurants.
Important tip! Download Japanese offline in either the Papago or Google Translate app. This allows you to access the translation services without relying on a data connection.
Money
In Japan, the currency used is Japanese Yen (JPY) and I recommend withdrawing cash before you arrive in Japan. Cash becomes handy when using it at local stores, ticket machines, and older restaurants. If you also plan on visiting more rural areas in Japan the likelihood of being able to use your card is low. If you're looking to withdraw cash you can find the best exchange rate from ATMs located within convenience stores such as Lawson, 7-Eleven, and Family Mart.
For easy navigation use Google Maps and make sure to download the offline maps for Japan. By downloading it for offline use you don't have to rely on data which makes it handy when you can't get a stable connection. Google Maps also makes it easy to navigate by showing you directions and public transport routes for the bus and train. It also shows the exact train lines, the cost for each trip, the platforms, and the travel time.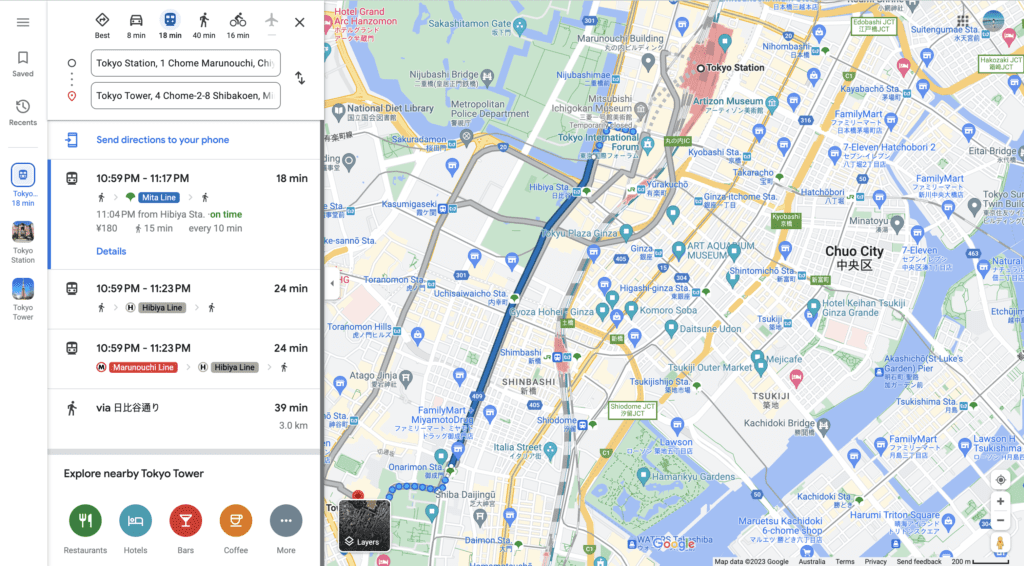 Construction Works
One of the overlooked tips for traveling to Japan is to check if construction is happening at an attraction you're interested in visiting. For example, when I visited Hakone I didn't know the Tori gate was under construction due to the destruction from the typhoons. Make sure to check this website if any major construction works are happening at any attractions you're interested in so you can plan ahead.
Frequently Asked Questions About Japan Travel
Is Japan safe for solo female travelers?
Absolutely! I have personally found Japan as one of the safest countries to travel as a solo female traveler. Here are a few reasons why:
Accommodation: In Japan, there are female-only accommodations including female-only floors are regular hotels and budget-friendly capsule hotels. Additionally, on subways, there are female-only cars if you're worried about traveling on the trains.
Ease of Getting Around: Getting around Japan is easy and relatively affordable compared to Western countries. The high-speed trains can get you from different ends of the country and to different cities within short timeframes.
People: The locals in Japan are some of the nicest people I've encountered on my travels. If you're looking a bit lost don't be surprised if a local will offer to help you with directions. This one time I was a bit confused about finding the correct train platform and a lovely local helped direct me after seeing me looking a bit lost.
When is the best time to visit Japan?
The best time to visit Japan depends on your personal preferences and circumstances! For example, what is your budget, and what are your interests and preferences for traveling in Japan? What do you want to see in Japan? Would you prefer to experience the country during spring to see the cherry blossoms and warm weather? Or would you prefer to explore Japan during autumn and see the fall foliage? You'll also need to consider whether the times you want to travel in Japan are peak travel season because the crowds are likely to be high and the prices for flights and accommodations will be elevated. I have personally been to Japan in the summer and winter and had both wonderful times that offer different experiences for exploring the country.
Weather
The most important tip when planning your trip to Japan is to check the weather in the certain area(s) of Japan you'll be visiting. The weather in Japan changes a lot from area to area and you can get caught off guard if you don't research and pack appropriate clothing. For example, during summer, Japan can be unbearably humid and hot. You'll also need to consider the weather events that each season brings and how they may impact any activities or attractions you intend to visit. For example, during the summer, will you be experiencing high rains or typhoons? You'll need to pack accordingly for these weather events.
Japan's Seasons
Japan is a great destination to visit all year round and whenever you do visit you'll get to experience a profound appreciation of its seasonal activities. Below are some highlights of Japan's seasons throughout the year.
Spring is well-known for its cherry blossom season and you can expect large crowds from both the locals and foreign tourists.
Summer is one of the most festive times of the year and is perfect for visitors wanting to hike the mountains or explore the coastal areas of Japan.
Autumn is another popular and magical time of the year to visit. With its stunning fall foliage and pleasant temperatures.
Winter is a great time to try the delicious seafood, hot springs as well as snow sports including snowboarding and skiing. I've personally been to Japan twice during the winter and I've found it was generally less crowded compared to the other seasons. One of the great drawcards of visiting in winter is that you'll have the highest chance of seeing Mount Fuji due to its crisp air. If you want live updates on Mt Fuji you can check on this website which streams a live camera feed of Mt Fuji from different locations in Japan.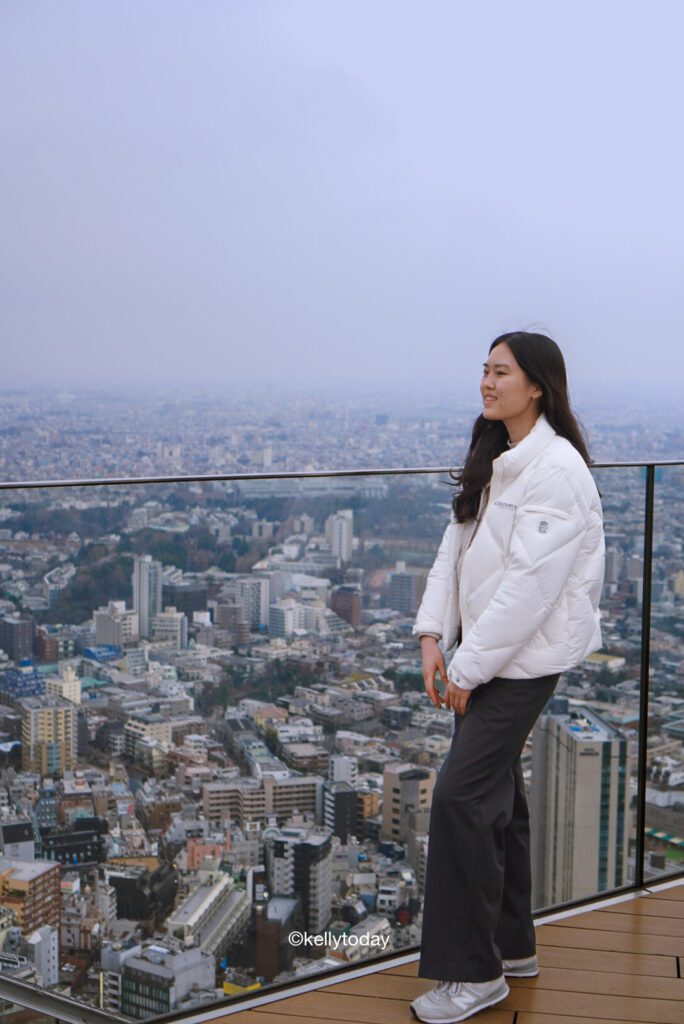 Should I book a local tour in Japan?
This depends on your travel style, booking a local tour offers both pros and cons. I personally love the flexibility and freedom of traveling independently by myself and I don't mind researching and navigating a place by myself. However, I have done a few local tours in situations where I want to experience the local culture in ways that I wouldn't be able to organize independently. For example, in Japan booking authentic cooking classes, food tours, bicycle rides or tea ceremonies are cultural activities to try for your trip to Japan. I also love supporting the local economies in the places that I'm visiting.
Recommendations for Local Tours
Local Cooking Classes: Learn how to make authentic local Japanese cuisine at a cooking class in Japan. Try making dishes such as Sushi, Takoyaki, Okonomiyaki, Soba, and more!
Tea Ceremony: Add a traditional tea ceremony experience to your Japan itinerary in Tokyo, Kyoto or Oita.
Food Tours: If you're a foodie you might want to consider a local food tour throughout the streets of Japan from the local street food or hidden local eateries only a local can show you.
Photo Shoot: If you're looking to bring some personal souvenirs why not try a photo shoot in Tokyo with a local photographer?
Where Should I Stay in Japan?
I recommend booking your stays on boo Booking.com to find the best deals and many of the hotels offer free cancellations in case your plans change. If you're traveling on a budget in Japan you should check out hotels on HostelWorld or AirBnB is also another great option to find more local and affordable stays.
Some of my favourite places in Japan are:
How Long Should I Stay in Japan?
The length of your stay in Japan will depend on you as a traveler in terms of your budget, and what you want to see and do. I've been three times to Japan and I would recommend for a first-time traveler spend at least two weeks in Japan to cover the main cities of Tokyo, Kyoto, and Osaka. A minimum of 10 days to spend in Japan will allow you to hop across the different cities. However, if you have the time and budget stay for three weeks to enjoy both the major cities and less traveled areas.
What To Know For Visiting Japan
If you're planning a trip to Japan these travel essentials will help you plan your trip, find the best deals and save you money and time before and during your trip. Also don't forget to read out how to travel cheaply with these 10 budget travel tips for anywhere in the world.
Japan Visas
Visa: If you're not a citizen of any of Japan's exempted countries check if you need a visa. Check the full visa requirements according to your nationality.
Currency
In Japan, the currency used is Japanese Yen (JPY) and I recommend withdrawing cash before you arrive in Japan. Cash becomes handy when using it at local stores, ticket machines, and older restaurants.
Travel Insurance
If you're traveling overseas, don't forget to purchase travel insurance. I always recommend World Nomads as my preferred travel insurance.
Flights
WayAway, Skyscanner, Google Flights, and Kayak are the best sites to find cheap flights and great deals. Depending on your personal you should also check your preferred airlines' websites for comparison to find the best deals from your home country.
Where to Stay in Japan
Booking.com, Agoda, and HostelWorld are platforms where you can find hostels and hotels anywhere in the world.
Booking.com is great at finding affordable deals and many of the hotels listed offer free cancellations in case your plans change.
If you're traveling on a budget in Japan you should check out hotels on HostelWorld and AirBnB is also another great option to find more local and affordable stays.
Activities & Tours
Get Your Guide and Klook offer local guided tours and discounted tickets for local attractions and activities around the world.
Here are some of the best local tours and activities to do in Japan:
Power Adaptors
Japan uses standard Type A and B adapters which is similar to the US. However, note that the voltage may be different so be careful with your electronics and use a voltage converter. I always recommend buying a universal adaptor so you can use it in any country (great for future travels) and it offers extra ports for USB cables to charge your devices.
Stay Safe
Staying connected abroad is important for safety and travel. Having a VPN hides your IP address and encrypts your traffic thereby protecting users' privacy and virtual location. Use NordVPN to safely access content from around the world and have protection when you use public WiFi at cafes, restaurants, or your accommodation.
Stay Connected
Make sure to order in advance a SIM card or pocket WiFi so you can stay connected online for navigation and communication. Depending on your personal preferences you can order a SIM card or pocket WiFi. Depending on your personal preferences you can order a SIM card or pocket WiFi. The easiest and most convenient way to purchase a SIM card or Pocket WiFi is online before your trip. Alternatively, if you want to buy it in person, you can purchase it at Narita International Airport or at outlets operated by Japanese mobile services.
If you want instant connectivity to data abroad I recommend Airalo which is an app that allows you to download a prepaid eSIM to your phone in over 190 countries. Alternatively, you can check other recommendations for a SIM card or pocket WiFi.
Here are recommendations to order a SIM Card.
Here are recommendations to rent a pocket WiFi.
Transportation
Japan is well-known for its extensive public transportation (buses and trains). You'll definitely need to take advantage of the high-speed trains for your travels.
If you plan to use public transport make sure to order travel passes in advance to save money and time. For booking Japan's high-speed trains, save money and get unlimited rides with a Japan Rail Pass.
Conclusion
I hope you found this post helpful and that it inspires you for your trip to Japan. Let me know if you have any questions or tips to add in the comment below. If you found this Japan post helpful, make sure to save it or share it.
Found this helpful? 👇🏼
Support my work by buying me a coffee so I can produce more free content for you.
---
📌 Click on the pin to save this for later.
Follow my daily adventures @kelly.today