So you want to travel more but you might not have a lot of money. Don't worry, because I'll be sharing must-know travel hacks and tips to travel cheaply and plan a more affordable trip. Whether you're a first-time traveler, completely broke, or just hoping to save some money along the way you'll need to know these 20 ways to travel more affordably. In this post, I'll be sharing ways you can save money when you're planning your future trip from finding the best hotel and flight deals to traveling on a budget at your destination.
Disclaimer: This post may contain affiliate links, which means I get a small commission if you make a purchase (at no extra cost to you). It's one of the ways I can keep producing free resources and guides for my readers. Thank you for your support! Refer to the Disclosure Policy for more details.
Be Flexible
Whenever you're planning a trip make sure to have flexible dates for your trip. Having flexible dates can help you cut the costs of both accommodation and flights. Most flight and accommodation booking sites such as Skyscanner, KAYAK, and WayAway have search engines with flexible dates and they'll show you the prices of each day. This can help you find the most affordable dates to travel during your preferred time and book the cheapest flight that suits your preferences (e.g. time, layover, preferred airline, etc.). Using any of these flight search engines allows you to see what flights are available on specific dates, or across a whole month if you're able to be flexible.
One additional tip to also consider is booking a flight between Tuesday to Thursday if possible. This is because flights tend to be more expensive at weekends as more people are free to travel.
Top Tip: You can save even more money by reserving flights in incognito mode or using a VPN.
Cheap Flights
Often flights can be the most expensive cost of a trip however if you implement these tips for searching and booking your flights you can save some money!
Destinations & Layovers
If possible instead of choosing the direct fly-in destination, choose a different route where you can find the best and most affordable flight. For example, flying to a different city in that country can work out cheaper. Alternatively, you can look at having a stopover for your flights. Some flights can work out cheaper if you have an extended stopover as opposed to having a direct flight. For example, from Perth in Australia instead of flying direct to South Korea I took Singapore Airlines and had a short stopover in Singapore before flying into Seoul, South Korea. In terms of finding flights, I always recommend using Skyscanner to search for flights using the "search everywhere" function to find the best routes and price options for your trip.
Private Browser
You'd be surprised how many people aren't aware of this, but whenever you are planning for a trip like looking up flights or accommodation online make sure you use a private browser ("incognito browser mode") on your preferred internet browser (e.g. Safari, Chrome, Firefox). Using your private browser ensures that your browsing history, cookies, site data, and any information entered in forms aren't saved. This prevents any booking sites you're using to not track your interested travel dates, accommodation, or flights. Often if you don't use a private browser when searching for travel services they'll elevate the prices because they know that you're interested in traveling around those dates or destinations.
If you want to take it a step further you can also use a VPN, such as NordVPN. A VPN is a private network that helps you avoid inflated prices when using booking sites. By using a VPN you can hide the data that airline ticket operators or booking platforms use to customise costs for the service you're interested in. This is achieved by a VPN hiding your IP address and encrypting your traffic which prevents third parties from accessing your data or seeing your online activity, thus helping you avoid targeted marketing. By using a VPN you can also use servers from around the world, which can change the price and even provide better travel deals compared to other countries.
Discounts
To save money on travel bookings look for discounts that are applicable to your personal circumstances. This includes searching for youth or student discounts. Did you know that many airlines (e.g. Singapore Airlines) and Student Universe show accommodation and flight deals for students and young people? The same logic also applies to admission to sightseeing attractions.
Reward Points
It's also worth looking if your preferred airline offers a loyalty program where you can accumulate reward points for booking flights and/or accommodation. This works great in the long run as you'll be able to redeem these points for other services or products like flights, accommodation, or shopping. This logic also extends to certain credit cards you use from your home country offering reward points or cashback offers with your purchases. By accumulating rewards points over time you'll be able to redeem this on future flights or accommodation saving you money for a trip.
Get Your Money Back
Did you know you can get your money back when you shop online? What If I told you could get a portion of your spending when you book your flights or accommodation? Sounds amazing right? I only found out about this recently, but if you shop with Cashrewards you can earn cashback every time you make a purchase with any online store. This is a great way to save money for your travels as when you book your flights or accommodation with Cashrewards you can receive a portion of your money back through cashback.
How do I receive my cashback?
After your cashback is approved by a retailer, Cashrewards will send it straight into your Cashrewards account.
How does it work?
You're probably thinking what's the catch? There isn't one! When you shop at your favorite brands such as AirBnb, Booking.com, or Expedia they earn a commission from these retailers and they share it with you. Cashrewards also doesn't just offer cashback with travel brands but also fashion retailers, marketplaces (e.g. ASOS, Iconic, Amazon), gift cards, and more. Don't miss out on receiving cashback from your spending with Cashrewards.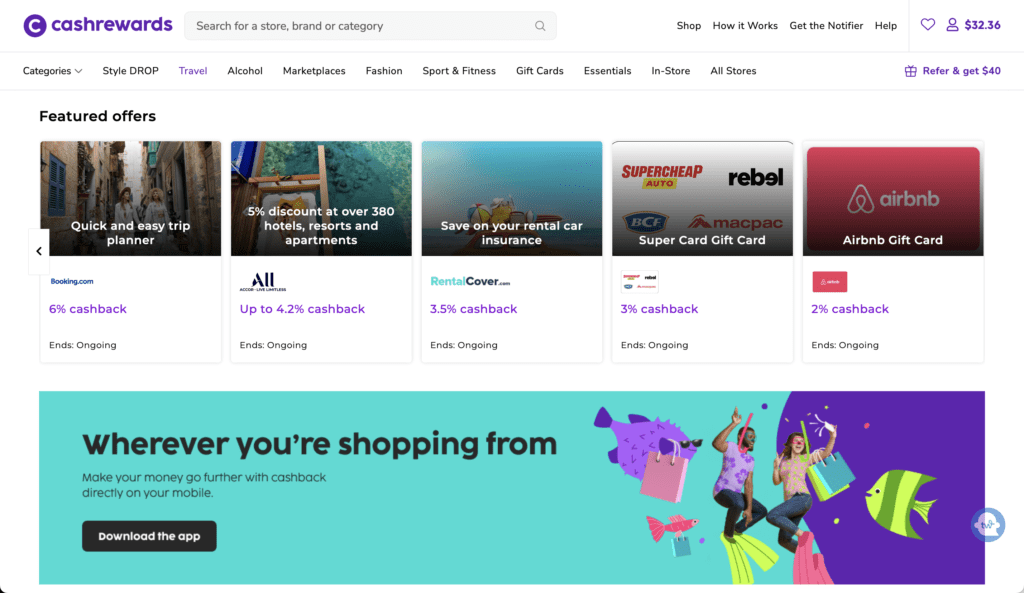 Free Attractions
Another way to save money when you're traveling is by exploring the free attractions offered in a city. Every city has free attractions from museums, public parks, or street art that is worth checking out. Also, don't be afraid to check out free walking tours in the major cities. Often you can find them advertised in hostels, at local tourist offices, or you can search online on Google.
If you're planning on staying at a hotel check if they offer a free walking tour. This is not only a great way to see more of the city for free but you can also meet other fellow travelers. Just note that free walking tours often only cover the major sights in a city for a few hours.
In addition to free admission, you can also find discounted admission to attractions. This might be applicable to people within a certain age such as a student, youth, or pension, or apply to certain days of the week. For example, some museums may have one day a week with free entry or discounted entry. Whilst you're planning on local attractions you're going to visit make sure to research if they have these discounts available and check what requirements are needed to qualify for the discount.
Important: If you're a student you'll likely qualify for discounted tickets for attractions like UNESCO sights and museums around the world. In order to access discounted admission make sure to always carry your student identification card (university card). Be sure to check out getting an official international student card.
Go Off the Beaten Track
Another way to travel cheaply is by saving money by traveling off the beaten track. By visiting tourist hot spots you'll most likely be treated to tourist elevated prices. Meaning you'll be paying more for accommodation and meals compared to what is offered in other areas that only the locals are aware of. In order to find these places your best bet is to ask the locals. Ask the staff at a restaurant or hotel or someone you met on the train. They're highly likely to know insider tips for free attractions or cheap eateries.
It's no secret that prices are often inflated for tourists. If you end up exploring tourist areas you're more likely to spend more money. Exploring or staying in areas that are less known by tourists can allow you to save money on accommodation and explore without the crowds. However, if you are considering to travel off the beaten track just be aware that it isn't always guaranteed to be more affordable. Depending on the destination, remote places may require more time and money in transport, and sometimes budget accommodation might not be available. Just make sure you do your own research before embarking on a trip.
Travel Tip! Another cheap travel hack is to ask the locals what certain prices should be for services or products. This includes what a local transfer such as a taxi or what an item should be charged for. This allows you room for haggling with sellers.
Haggling & Bargains
An essential skill for traveling on a budget is haggling. If you want to avoid paying inflated tourist prices you'll need to get comfortable haggling for different products or services. In order to find out an appropriate price is to ask a local for advice on a certain product, meal, or ride transfer may be. Additionally, researching online any common scams for a travel destination is also recommended. Some of the most common ways travelers have been ripped off include buying SIM cards at the airport or taking certain taxi rides without properly asking or negotiating for the service.
Whilst haggling can be tiring it can save you a lot of money at the end of the day. Just make sure to be respectful when haggling. Remind yourself what might only be a small amount of 50c to you might mean a lot to the local you are purchasing it off. Remember to research the proper etiquette for bargaining in the country you are visiting. In some places, haggling is not appropriate or respectful.
Travel Times
Travel Seasons
When you're planning your dates for your travels consider going in the shoulder season or off-season. The shoulder season is the timeframe between the off-season and peak season. Traveling during these time frames will allow you access to accommodation and flights for lower prices and you'll also get to travel without the large crowds. Note though that during these times certain establishments (accommodation, transport, etc) in certain destinations may run different operating hours or close. The weather might also not be the best time for travel, however depending on the country this might not be the worst thing. Just make sure to do your own independent research on the specific travel dates you are considering.
National Holidays
Make sure to research the major holidays and events at your travel destination when picking your travel dates. Generally on these travel dates, there will be elevated prices for accommodation, and transport transfers (trains, buses, etc.) or even booked out. You can also expect at these times large crowds as the locals will be traveling for a holiday or visiting their family. For example in Korea during chuseok ("Korean thanksgiving") period you can expect different operating hours for eateries, stores, and bookings for transport to be booked out well in advance.
Important: If you're heading to Japan or South Korea make sure to read these 10 must-know tips for your visit to Japan or South Korea.
Travel Overnight
Traveling overnight is an underrated travel hack to help you travel cheaply. It's a great option to save on accommodation with overnight public transport such as trains or buses doubling as beds. It also saves you time by allowing you to travel somewhere new overnight without wasting time during the day and combines transport and accommodation expenses into one. One downside to this option however is that you might miss out on the stunning scenery you would see whilst traveling during the day. However, if you're a traveler that can find yourself sleeping about anywhere this is a great option for you to save time and money for your travels.
Planning to travel to Japan? 🇯🇵
If you're planning a travel to Japan make sure to check out these 10 must-know tips for your trip. I go into detail on how you can save money on accommodation and transport with overnight buses as well as other tips for planning your Japan trip.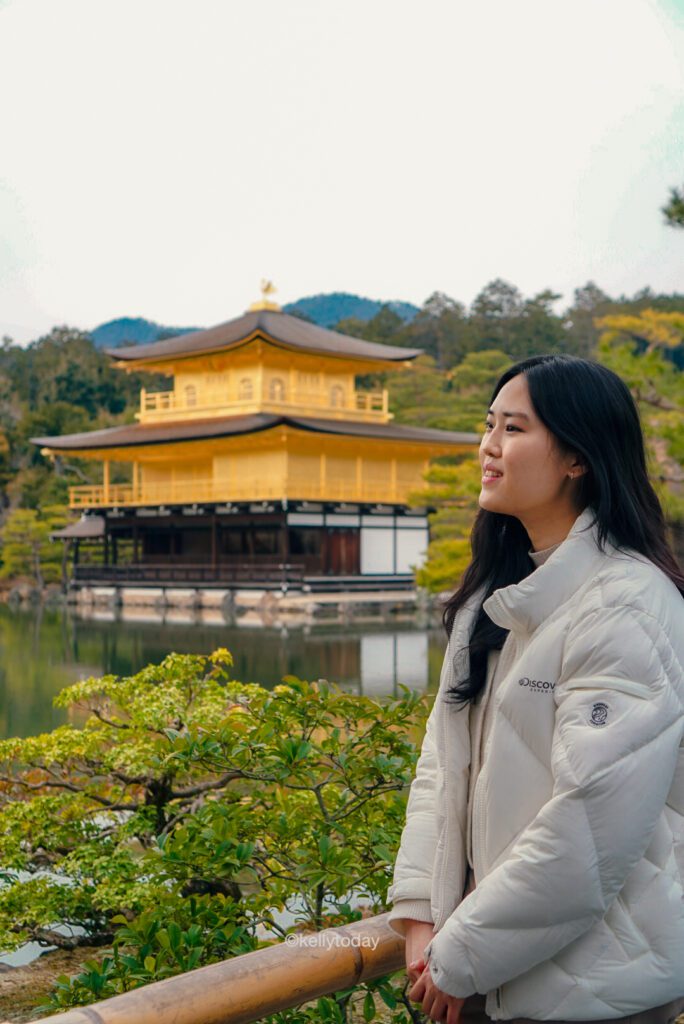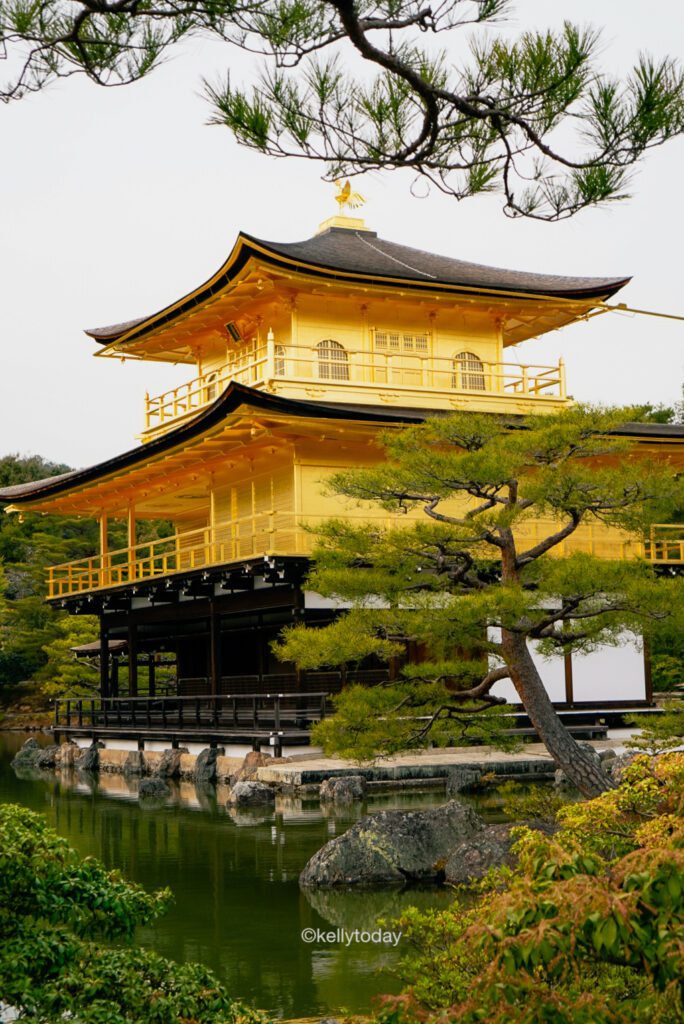 Adopt Slow Travel
If you have the time consider 'slow travel,' which focuses on travel by immersing yourself in the local destination, engaging with local cultures, and having unique experiences. Whilst slow travel has been presented more environmentally friendly it can also help those wanting to travel cheaply. If the name didn't give it away, slow travel mainly involves exploring a slower space and spending more time in one spot. This can allow you to immerse yourself in richer experiences in the places you visit. In terms of cheap travel, there are a few benefits this travel approach can save you money.
If you choose to stay in one location for a longer time you'll often get access to discounted prices on accommodation. This is especially accessible when you book longer stays on AirBnb. Don't be afraid to negotiate with guesthouses for a cheaper price if you're staying a long time.
By adopting slow travel you'll also likely spend less money on transportation. Traveling by foot or cycling is not only a great option for a way to travel more affordably but you'll also find places that you wouldn't have discovered by these travel methods. This method also works well if you travel lightly with only a backpack. This means you can often forgo using private transport such as taxis or Uber.
Compare Bookings
When you're at the planning stage of your travels, in order to get the most affordable booking option make sure to always compare accommodation options on several booking platforms to find the best affordable deal. Also, make sure to check the terms and conditions for each booking platform and each accommodation listing. Often different booking platforms will offer different add-ons that may be free or require extra payment such as free meals or offer different cancellation policies or payment options. This can make a difference in your travel spending in finding the best deal for accommodation and eating expenses. Here are my recommendations for booking platforms that I regularly use for my travels.
Booking.com
Booking.com is a great booking platform that allows you to find the best deals for stays, flights, and car rentals. They also tend to run different deals across the year and if you make an account with them you can earn points for your travel bookings to use for future trips. This is a great way to save money on booking a stay or flight for your trip.
HostelWorld
If you're traveling on a budget you'll want to consider staying at hostels as your first option. Usually, if you stay at a hostel you'll be sharing accommodation with other travelers in dormitory rooms. This allows you to get low prices for your accommodation and meet other like-minded travelers. However, if you're uncomfortable with sharing a room with a stranger you can always book a private room in a hostel which can still be cheaper than a hotel. Hostelworld offers affordable stays at hostels, bed, and breakfasts, and hostels great for those looking to travel cheaply. Another great thing about staying at hostels is that they often offer free guided walking tours of the city. This is a great way to save money on your travels is by getting a free local tour.
Agoda
Similar to booking.com, the platform Agoda allows you to find travel deals for flights, hotels, and apartments and even offers coupons and deals across the year. They also offer travel packages for booking flights and hotels together through their platform which can allow you to save money when compared to booking these travel services separately. From personal experience, I tend to find the best deals for accommodation on Agoda for places in South East Asia. Compared to the other booking platforms Agoda offers a larger selection of stays in these countries.
Airbnb
Booking local stays through Airbnb is another option to find affordable accommodation. Not only can it work out cheaper than staying at hotels but you'll also be supporting local economies at the destinations you're traveling to. Depending on where you travel you can also find some hidden and unique stays on Airbnbs for a great bargain. A general tip for finding the best stays on Airbnb is to look for listings that have a 'super host.' A super host recognises top-rated and the most experienced hosts on the platform.
Compared to hotels or hostels, however, booking an Airbnb might not offer
Additionally, because the places listed on Airbnb are generally by locals you can expect that most of these places will not be found on the main streets which may make it more difficult to find. This is especially hard if you're traveling in a country where English is spoken as the first language. You'll also want to consider the safety aspect of staying at an Airbnb including hidden cameras as well as who has access to these places on Airbnb.
At the end of the day, just make sure to research thoroughly the places you end up staying. Ensuring it suits your personal circumstances (e.g. budget, timeframe, etc.) and you're aware of the terms and conditions for your stay e.g. cancellation policies, check-in and check-out times, etc.
Early Bookings
This is a no-brainer but make sure you book your accommodation and flights as early as possible for your travels. This is especially important when you are planning to travel to a destination during the peak season e.g. several European countries from July to August. If you don't book far in advance you'll not only have to pay an expensive price but worst case many of the accommodation options and especially the affordable ones book out early.
If you want to do a more spontaneous trip, then traveling in the offseason or shoulder season will be a more affordable option for you to plan your flights and accommodations. Additionally, you can consider booking last-minute deals that are offered on travel booking sites. For example, some travel tour sites such as Intrepid Travel offer last-minute deals or the ability to join tours as a last-minute addition for discounted prices.
Solo or Group Travel
Whether you decide to travel solo or with a group depends on your personal preferences. In terms of budget, both options can work out affordably if you do it right.
Solo Travel
Generally, solo travel is cheaper than joining an organised group trip. This is because through solo travel you'll have more control and flexibility over your travel expenses including accommodation, meals, activities, etc. Often group tours will have a set overall price that can work out more expensive when broken down per day. However, it is important to note that group tours offer unique benefits for your travels that you won't be able to experience as a solo traveler. Most often group tours will have a local expert that will provide you insider tips and recommendations for your travels. From the best places to eat to places that only the locals know and more. If you're considering a group trip, make sure to read these 7 must-know things about group travel.
Group Travel
Solo travel isn't always the most affordable option to travel affordably. If you are alone you won't be able to split your travel expenses including accommodation and meals. It's also important to highlight that you sometimes might struggle to join group tours or get to where you want to go without paying a premium for it. If you travel with others you'll be able to share costs and have other benefits including that extra safety of traveling in numbers.
Want to travel to South Korea in 2024? 🌸 🇰🇷
If you're a bit hesitant to travel alone you're more than welcome to join my group trip to Korea. I've planned a group trip to experience South Korea in the spring of 2024. The best part? Everything is planned for you including the accommodation, meals, local transfers, +20 activities, and more! Find out all the information and frequently asked questions about the group trip here.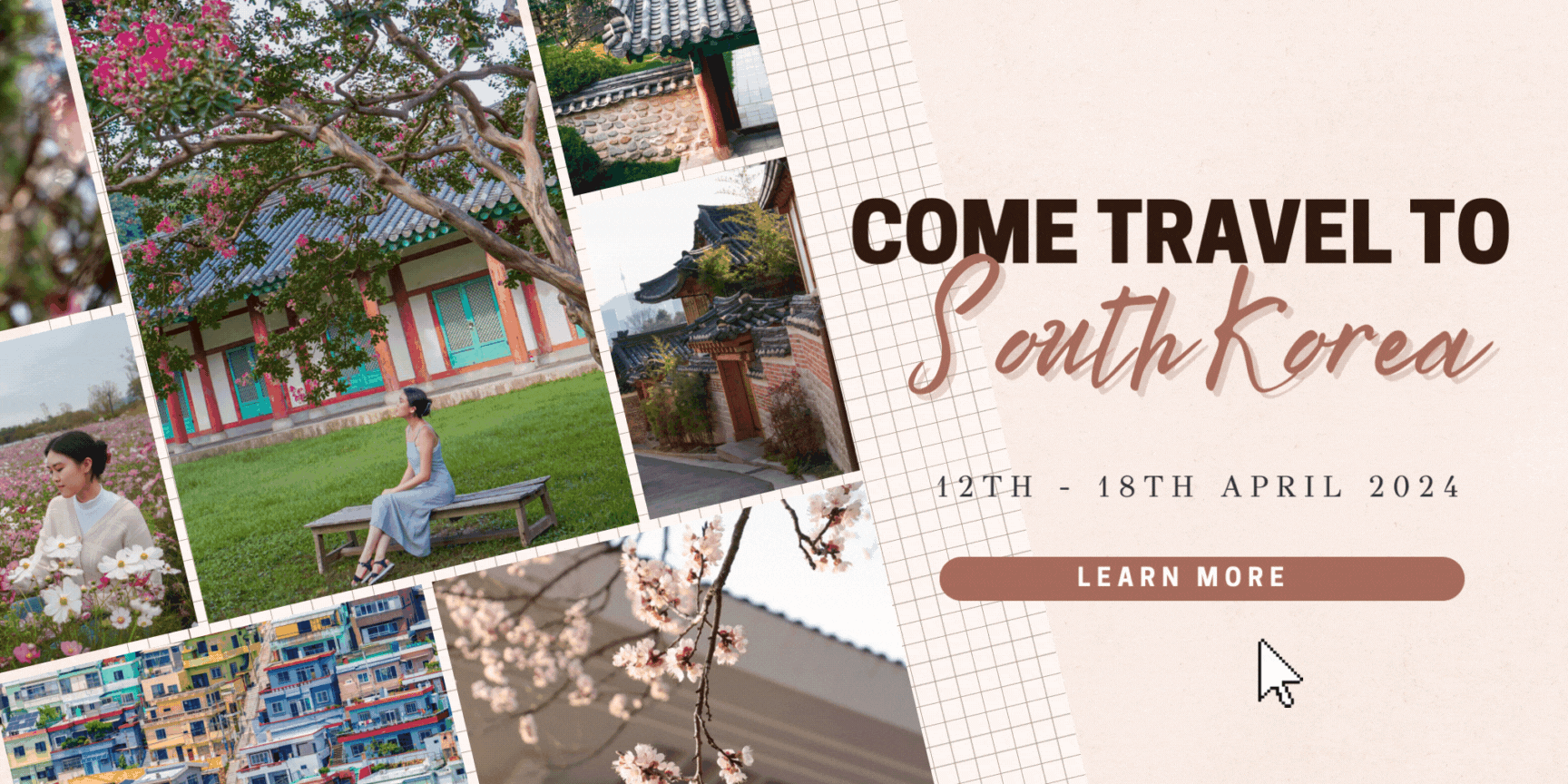 Meals
People often forget how much eating out can add to your travels. If you eat out for all three of your meals, it's likely to add up quickly especially if you plan to do a long trip. To avoid building this travel expensive, try staying at places or hostels that offer cooking facilities or kitchens. This will allow you to make your own local meals to save money on eating out. Often it's a fun experience to head to the local grocery or market to produce your own meal. This can also be a fun way to make a meal that you're missing at home. Alternatively, you can also look into booking a place that offers complimentary meals (breakfast, lunch, dinner) to save money on eating out.
Now I'm not saying that you shouldn't eat out at all! Eating out is one of my personal highlights of traveling in a new country, however, there are ways to make your food experiences more cheaper and authentic! Local restaurants or street food away from the tourist areas is always the best option for finding affordable eats.
Pack a Bottle
One underrated way of saving money on your travels is simply by packing a reusable drink bottle. Seems like a no-brainer right? You'd be surprised at how many travelers don't do this. Not only can you save money on purchasing water but it also makes you a responsible traveller. If you're visiting a country where you can drink water from the tap be sure to monopolize this! Refill your water bottle at your accommodation or make use of the free water that is offered at your accommodation. If you are worried about water quality consider investing in a water bottle with a built-in filter or a personal water filter such as Lifestraw.
Work as You Travel
If you don't have a lot of money and want to travel long term, working abroad or work exchanges are a great option for you. Not only can you save money while you're traveling but you can earn money while doing it. Many different places around the world offer free or discounted accommodation if you work a few shifts, and there's so many working options including reception, teaching abroad, or getting a working holiday visa.
Work Exchanges
Many countries offer working holiday visas that involve you doing a certain amount of work for free accommodation and some free time for travel. Just know that the work might not always be glamorous, most of the common work types involve cleaning, farm, or seasonal work. However, if it means you get free accommodation and free time to travel it's not a bad option.
Au pair – An Au pair is a live-in caregiver who helps a host family by looking after their children and often doing housekeeping. In exchange for the work, you'll get accommodation and a small salary. This is a great option if you're looking to travel more as well as immerse yourself in a new culture.
Overseas work – Sites that offer work exchanges from housework, farming, reception duties, etc. include Workaway, and Worldpackers.
Farm work – WOOF stands for World Wide Opportunities on Organic Farms. Through WOOF you can work on a farm in exchange for free accommodation. This is a great way to travel cheaply as well as have a unique travel experience. There are over 130 countries around the world available to work at including popular destinations such as Hawaii, New Zealand, Australia, Italy, France, and Portugal.
Seasonal work at ski resorts – Ski resorts often employ a range of different staff (lifeguards, hotel staff, restaurant staff, instructors, etc.,) to operate your establishments. This is a great way to make a small income, get free accommodation, and travel in your free time.
Teach English Overseas
One of the best ways to travel cheap and make money for travel is to teach English as a foreign language (TEFL) overseas. As a TEFL teacher in South Korea, I've managed to save a decent amount of money for savings as well as for my travels across Korea and overseas.
You can make a decent amount of money teaching and also have plenty of time for travel. Depending on the country you are teaching the job provider may also provide additional benefits including providing your housing, covering health insurance, and paying for your flights. In order to teach TEFL overseas you'll need to have a TEFL certification and the ability to speak English fluently. If you're interested in teaching English in Korea read all the requirements here.
Another great thing about getting a TEFL certification is that you can also qualify for teaching online anywhere in the world. As long as you have a great WiFi connection you can teach English virtually anywhere. Some of the best places to teach online include the platforms italki, VIPKid, and Cambly.
Luggage
One way to reduce costs on your flights is to only travel with carry-on luggage. Not only is it a cheaper way to travel but it can be more convenient getting to and from locations. Traveling with a backpack is always the most convenient and affordable option to travel long-term. I recommend checking out the Osprey backpack for backpacking trips.
If you plan on bringing big checked-in luggage, remember that it's cheaper to purchase checked-in luggage as part of your flights before traveling. The prices for buying extra baggage after you've bought your flights or near your flight can be expensive and sometimes even cost more than your actual flights.
Travel Insurance
If you're traveling overseas, don't forget to purchase travel insurance. You might think you might not need it however having travel insurance can help you avoid any big costs if you end up requiring medical care or experience any other troubles on your trip. World Nomads offers comprehensive travel insurance that is perfect for a quick getaway or a long period of travel. Please do not end up in a situation where you'll end up paying more than your initial trip if you get into an accident or experience those 'what if' travel situations. Get covered by World Nomads by exploring their travel insurance coverage.
Public Transport
Following flights and accommodation, transport can eat up a lot of your money on a trip. In order to save money on transport avoid using any form of private transport including taxis or private day trips. Instead, opt to use public transportation as your main transfer which can be cheaper and sometimes even more efficient.
Transport Passes
If you're planning on traveling to a destination where public transport like high-speed trains is largely used for travel consider buying a rail pass. Rail passes such as the Eurail Pass in Europe or JR Pass in Japan can save you money on your transfers across different cities. Whilst buying an outright pass might seem expensive at first, it can end up cheaper than just booking individual trips. If you are buying individual trips, just make sure to book well in advance to save money.
City Passes
Depending on the country you are visiting transport options might differ. Always remember to look up the best travel options for each country and see if they offer any discounted passes for foreign tourists. Most often cities will offer transport passes that provide discounted and/or free admission to major sightseeing attractions as well as discounted or free public transport. If you're stuck on where to look I always recommend looking at Klook, Trip.com, or GetYourGuide for booking online any local tours, discounted sightseeing tours, travel passes, or activities.
Important: If you're heading to South Korea you'll want to consider the Seoul Pass or Busan Pass when visiting these cities for your trip. Check out these 10 must-know tips for your trip to South Korea.
ATM Charges
Be aware that ATMs can charge a of money to exchange or withdraw your money. Generally, it is cheaper to withdraw money on your travels than it is to get it exchanged before you leave. In order to avoid charges, take as much money as you can afford to lose out at once. The more you take out, the less often you'll pay the charge, however, there is more to lose or have stolen. If you do plan to carry a lot of cash, remember to store it in different parts of your pockets or bags. Also leave some of your cash in a locked, secure space at your accommodation.
Stick to a Budget
This seems obvious but it is much harder than it sounds. For your whole trip try and work out how much you can realistically spend per day or per month and stick to it. Stick to this travel budget by tracking your spending each day, recording your expenses throughout the day at the end of each day. An easy way to do this is through an expense tracker app such as TravelSpend (App Store or Google Play). Enter how much you spent on accommodation, transport, food, and admission tickets. It might be a bit time-consuming however it can be useful to know what expenses take up most of your travel budget. It also helps with planning to get an overview of what destinations might cost more or less on accommodation or transport.
What You Need To Know for Overseas Travel
If you're planning a trip overseas these travel essentials will help you plan your trip, find the best deals and stay safe for your entire trip.
Travel Visas
Depending on your nationality and the country you visit some countries will require you to apply for a visa to enter and stay in a country for a certain amount of time. Before visiting a country it's important to research the specific visas you might need and the requirements to apply for a visa.
Register Your Spending
Don't forget to register with your bank what countries you'll be visiting. If you don't let them know in advance they might flag your spending overseas and cut off your credit cards or travel cards.
Register for Travel Updates
This might differ depending on what country you're from but in Australia you can register with smartraveller.gov.au for updates for travel advice and information on the destinations you're visiting.
Cheap Flights
If you're looking for the best flight deals make sure to check out WayAway, Skyscanner, and Kayak. They offer price comparisons for different airlines and flight routes depending on your personal preferences. Also don't forget to check your preferred airlines to compare flight deals from your home country.
Travel Insurance
If you're traveling overseas, don't forget to purchase travel insurance. Travel insurance will protect you against trip cancellations, theft, and emergency medical. It's comprehensive protection in case anything goes wrong on your travels. I never go on a trip without it as I've had to use it many times in the past. I always recommend World Nomads as my preferred travel insurance.
Power Adaptors
Don't forget to pack a power adaptor for your travels. If you're traveling long-term across multiple countries consider buying a universal adaptor so you can use it in any country (great for future travels) and it offers extra ports for USB cables to charge your devices.
Stay Safe
Staying connected abroad is important for safety and travel. Having a VPN hides your IP address and encrypts your traffic thereby protecting users' privacy and virtual location. Use NordVPN to safely access content from around the world and have protection when you use public WiFi at cafes, restaurants, or your accommodation.
Stay Connected
Stay connected online for communication and navigation by ordering an eSIM. To get data for your travels abroad I recommend using Airalo which is an app that allows you to download a prepaid eSIM to your phone and get instant access to data in over 190 countries.
I hope you find all these travel tips helpful for planning and traveling more affordably for a future trip. There are a range of ways you can travel for cheap and/or save money whilst traveling.
If you found any of these tips helpful feel free to let me know in the comments below.
Found this helpful? 👇🏼
Support my work by buying me a coffee so I can produce more free content for you.
---