If you're visiting South Korea one place you can't miss on your trip is exploring Eunpyeong Hanok Village. With a long rich history, the Korean government has invested millions of dollars to order international tourism. Bukchon Hanok Village in Seoul is one of the most well-known villages on social media with most tourists adding this spot to their Korea travel itineraries. However as a result an influx of tourists to this Hanok Village has made it crowded to visit both on weekdays and weekends.
If you're looking for a hidden gem in Seoul, consider exploring the lesser-known spot of Eunpyeong Hanok Village (은평한옥마을). This village has a quieter and slower ambience where you'll be able to take in Bukhansan Mountain and explore without the crowds. In this post, I'll be covering everything you need to know about visiting this traditional Hanok village, including things to do, how to get to Eunpyeong Hanok village, and more.
Disclaimer: This post may contain affiliate links, which means I get a small commission if you make a purchase (at no extra cost to you). It's one of the ways I can keep producing free resources and guides for my readers. Thank you for your support! Refer to the Disclosure Policy for more details.
Where is Eunpyeong Hanok Village?
Operating Hours: Open 24 hours.
Address: 127-27 Jingwan-dong, Eunpyeong-gu, Seoul (서울특별시 은평구 진관동 127-25)
In the northwest of Seoul is Eunpyeong district, lies Bukhansan the highest mountain within Seoul city boundaries. At the base of Bukhansan, you can find Eunpyeong Hanok Village with its blend of history, architecture, and local charm.
This Hanok Village differs from others as it was built as part of a Hanok subsidising project to promote and preserve traditional Korean culture. In addition to housing a range of residential Hanok, there is a range of nearby attractions worth adding to your Korea itinerary. From an exhibition hall that is dedicated to sharing the history of the Eunpyeong district. You can also find some Hanoks available to participate in constructing traditional Korean handicrafts and other workshops. Let's explore seven things you can do at Eunpyeong Hanok Village.
Important tip: The village is a residential area so please keep your noise level low and be careful where you walk.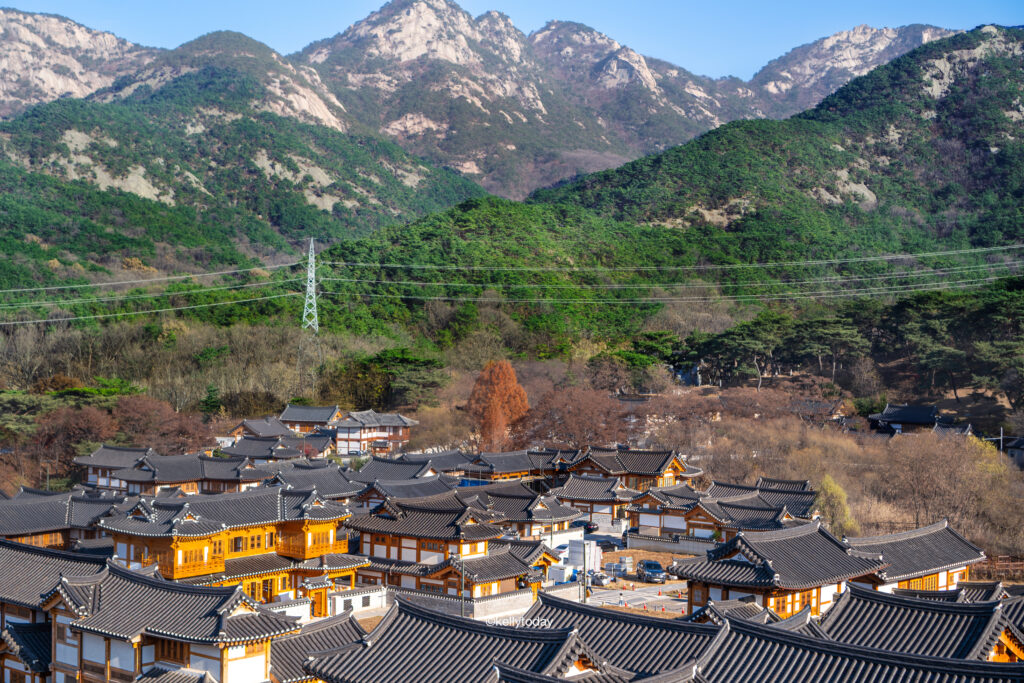 Planning a trip to Seoul for the first time? Save hours of planning with this one-stop Seoul Travel Guide.
+300 places to explore in Seoul and outside the capital city (with Naver Map links)
Local guide to using and booking transport in Korea
Best places to eat in Seoul (cafe & restaurant recommendations)
Best photo spots in Seoul (tourist traps & local recommendations)
Insider tips on where to stay, shop & things to do in Seoul
… and more!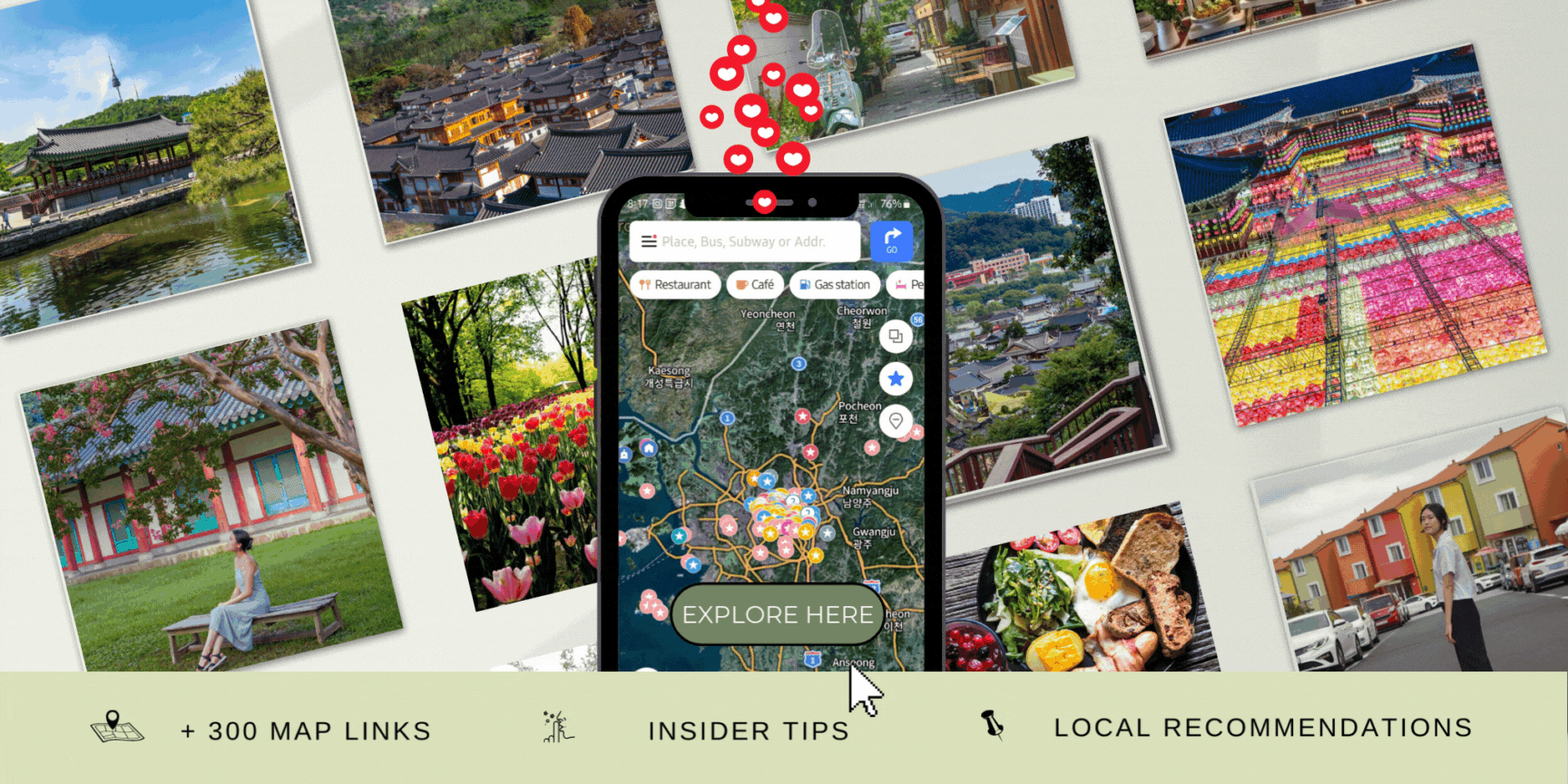 What Can I Do at Eunpyeong Hanok Village?
If you find yourself visiting this charming Hanok Village make sure to add these seven fun things to do in Eunpyeong. Compared to the more well-known Hanok Villages you can expect lesser crowds and you'll also be treated to a stunning background of the mountains.
Explore the Architecture & History
Make sure to save time for walking around the Hanok Village to take around the sights. As you explore the narrow lanes, you'll be treated to beautiful houses with curved roofs, elegant wooden pillars, and intricate detailing. Some of the hanok has also been converted into galleries, musuems, and cultural centers, providing insight into traditional Korean lifestyles and history.
If you're not a history buff, this Hanok Village offers a charming landscape for endless opportunities to create stunning photos. Compared to other villages (Bukchon Hanok Village) it will be less crowded and a better backdrop for your photos with more recently built structures and vibrant colours. If you visit on a clear day you'll also be treated to a view of Bukhansan Mountain. If you're staying in Seoul for a couple of days don't forget to check these 10 must-see places in Seoul for your trip.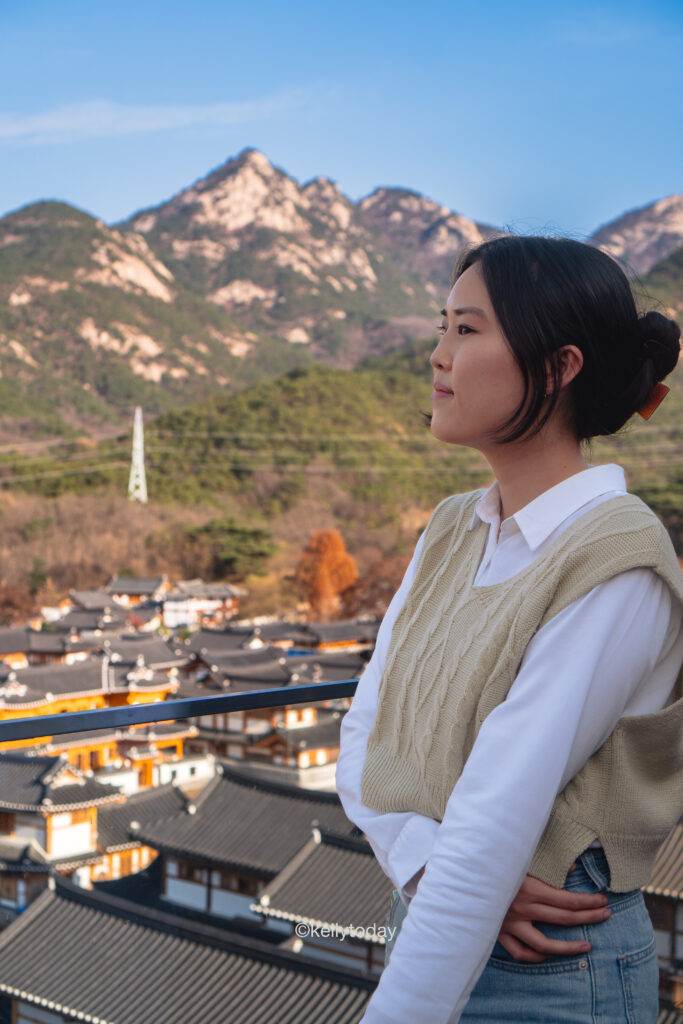 Hanok Stay Experience
Experience the true essence of Korean hospitality by staying in a traditional hanok guesthouse. A trip to Korea wouldn't be complete without staying in one of Korea's traditional hanok guesthouses. These beautifully preserved wooden houses with their tiled roofs and courtyard gardens offer an authentic experience of ancient Korean living. You'll get to wake up to the soothing warmth of the ondol (heated floors), enjoy a cup of tea in the serene courtyard, and savor the peaceful atmosphere that envelops you. It's a chance to step back in time while still enjoying modern comforts.
Here are 3 hanok stay experiences to check out in Eunpyeong Hanok village. These charming accommodations allow you to immerse yourself in traditional living while enjoying modern amenities and comfort.
Read up on everything you need to know about staying in a hanok in this local guide.
Chaehyodang Hanok Stay
If you're looking for a cosy hanok stay nestled in Eunpyeong Hanok Village look no further than Chaehyodang Hanok Stay. Not only will you be treated to a spacious room and a view above the Hanok village, they offer a delicious traditional breakfast as part of your stay.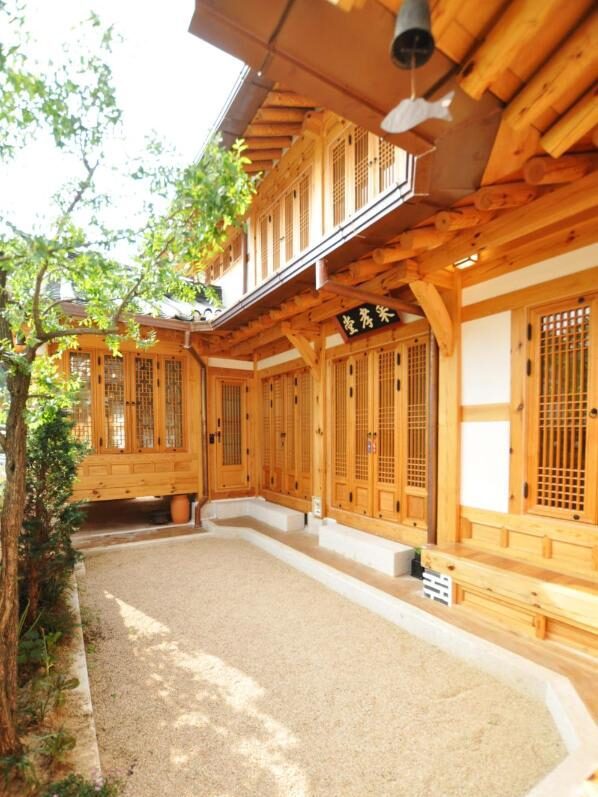 Guesthouse the Kims
If you want a more laid-back cosy stay check out Guesthouse the Kims. This accommodation offers a quiet village-style stay within the bustling city of Seoul. You'll be treated to cozy and spacious rooms, delicious daily breakfast, and of course stunning views of the surrounding Hanok village.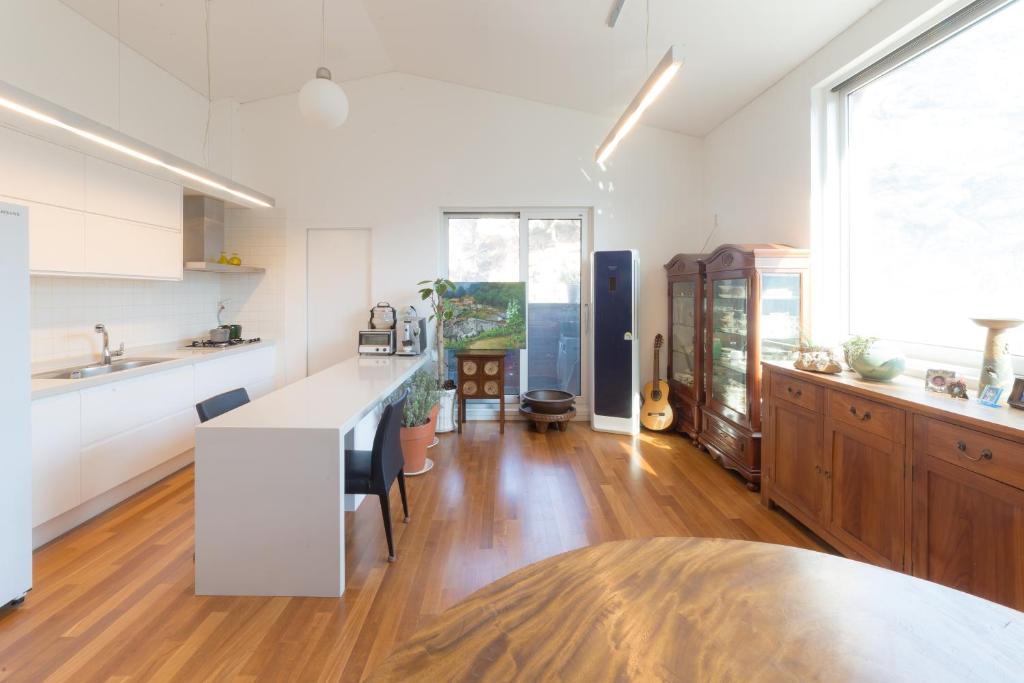 IRIRU Guesthouse
If you're looking for a Hanok stay in South Korea consider staying at this guesthouse hanok in the Hanok Village. This traditional house has been constructed with bright wooden exteriors, stunning timber frames, and traditional furniture. You'll be able to stay in comfort with the more laid-back and quiet atmosphere of Eunpyeong Hanok Village.
🛌 Where to stay in South Korea?
Need help finding the best areas and places to stay in South Korea?
Check out my Korea accommodation travel guide. I cover the best places to stay in over five cities in Korea with hundreds of map links and things I wish I knew before booking accommodation in Korea including scams to look out for!
Hanbok Rental
Consider renting a traditional Korean dress (hanbok) at Eunpyeong Hanok Village. There are a few places in Eunpyeong Hanok village that offer hanbok rental services for a variety of elegant and vibrant hanbok designs. In a hanbok, you'll be able to explore the village in style and capture photos with stunning backgrounds of the hanok houses and mountains. This is the perfect spot to experience a hanbok rental without the usual crowds of Seoul city. Find out everything you need to know about renting a hanbok in this post.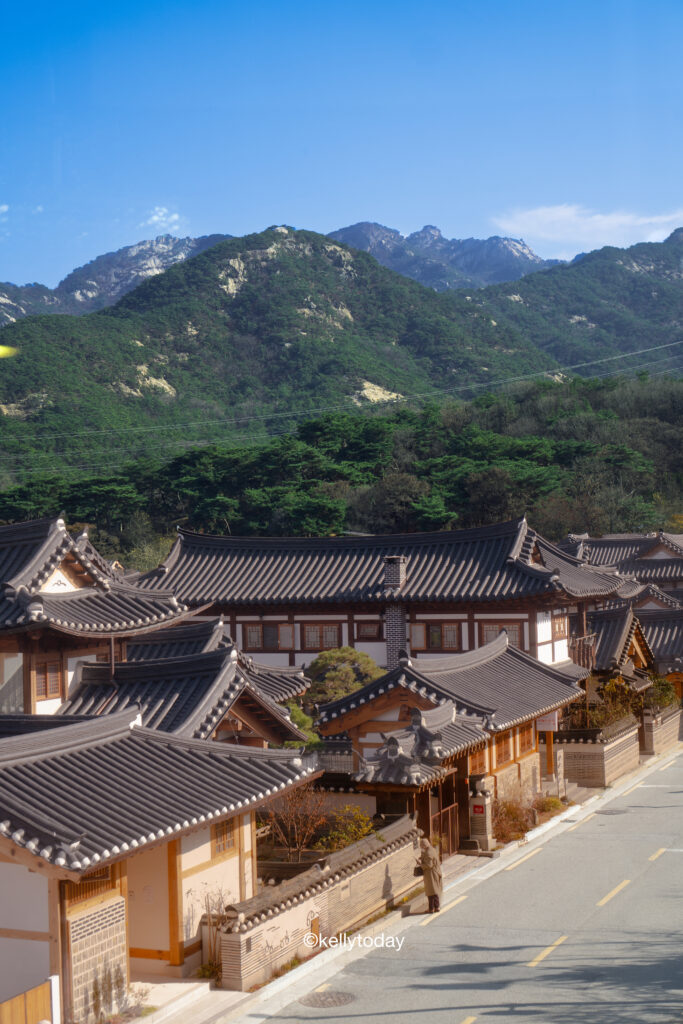 Visit Eunpyeong History and Hanok Museum (은평역사한옥박물관)
Admission: ₩1,000 for adults, ₩500 for Students (elementary school to university)
Address: 8, Yeonseo-ro 50-gil, Eunpyeong-gu, Seoul (서울특별시 은평구 연서로50길 8)
Opening Hours: 9:00 am to 18:00 pm (Closed Monday, January 1, Seollal (Lunar New Year's Day) & Chuseok (Korean Thanksgiving Day) holidays)
After you've strolled through the village and taken a few photos head to Eunpyeong History and Hanok Museum where you can learn about the history of Eunpyeong through hands-on programs and lectures. The museum consists of the Eunpyeong History Hall on the second floor and the Hanok Exhibition Hall on the third floor. If you visit the hanok hall you'll be able to see the changes in hanok structures across time as well as examples of modern hanok. Visitors will also be treated to seeing over 7,500 items related to Eunpyeong's history and representative cultural heritages. Don't miss out on the rooftop for a stunning view of Bukhansan and Eunpyeong Hanok Village.
Looking for more things to do in Seoul? Don't miss out on these must-see places in Seoul at night in this local travel guide.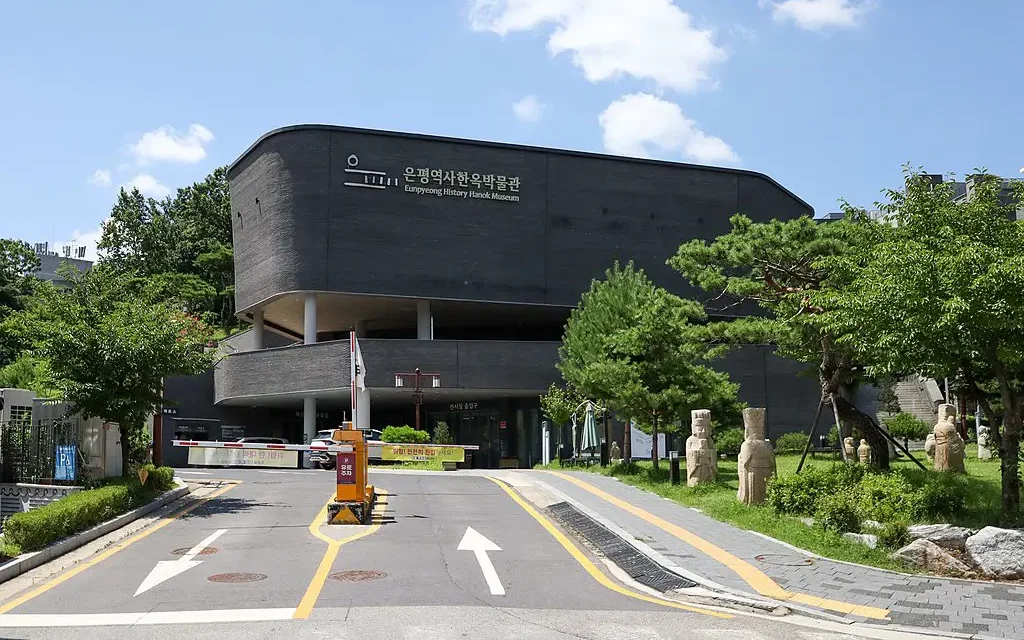 Jingwansa Buddhist Temple (진관사)
Admission: Free
Operating Hours: 9 am to 17:30 pm (Open All Year Round)
Address: 73, Jingwan-gil, Eunpyeong-gu, Seoul (서울특별시 은평구 진관길 73)
If you have time you can go for a little walk to visit the beautiful Buddhist temple of Jingwansa. Jingwansa is one of Seoul's major four temples, which includes Seunggasa, Sammaksa, and Bulamsa. It was built by order of King Hyeonjong of the Goryeo Dynasty in honor of the great Buddhist monk Jinkwan. The temple consists of several buildings including Nahanjeon Hall, Myeongbujeon Hall, and Daeungjeon Hall. I recommend taking the walking path, Baekchowon-gil, from the temple entrance which provides a stunning view of a valley flowing out of Bukhansan National Park. Jingwansa Temple is located about a 10-minute walk from Eunpyeong Hanok Village.
If you're interested the temple also hosts temple stay programs where visitors can experience Buddhist culture firsthand including trying delicious home-cooked meals and learning more about the history.
📌 Need travel inspiration for a day trip in South Korea?
Travel to the coastal city of Pohang on the eastern coast of Korea. Find out all the best things to do in this coastal city in this Pohang travel guide.
Eunpyeong Trail (Jingwansa Temple Entrance)
If you're a nature lover you'll want to add hiking and trekking in Eunpyeong to your trip. Consider the Eunpyeong trail, with five courses to choose from featuring viewings of Eunpyeong Hanok Village and Jingwansa Temple. Course four is recommended for those that enjoy hiking as it connects with sections of the Bukhansan Dulle-gil Trail.
Cafe Hopping
After visiting nearby attractions around the Hanok Village there are a variety of hanok-style cafes, tea houses, and restaurants to check out. Most of these places feature upstairs seating for a panoramic view of the entire village and a stunning background of Bukhansan Mountain. Here are a few recommendations for local cafes to check out in Eunpyeong Hanok Village.
If you're visiting Korea for the first time make sure to read these 10 must-know tips for your trip including visa requirements, how to travel around Korea, and other essential travel information.
Cafe Volgasim (카페볼가심)
Opening Hours: 10:00 am to 22:00 pm.
Address: 서울 은평구 진관길 10 1층
Try one of the most unique desserts in Korea – hotteok croffles. Hotteok is a small Korean pancake that is filled with black sugar syrup and fillings such as grounded nuts. Whilst croffles are a dessert made with a croissant. At this cafe, they combine both into a dessert that is topped with honey, ice cream, and mixed ground nuts.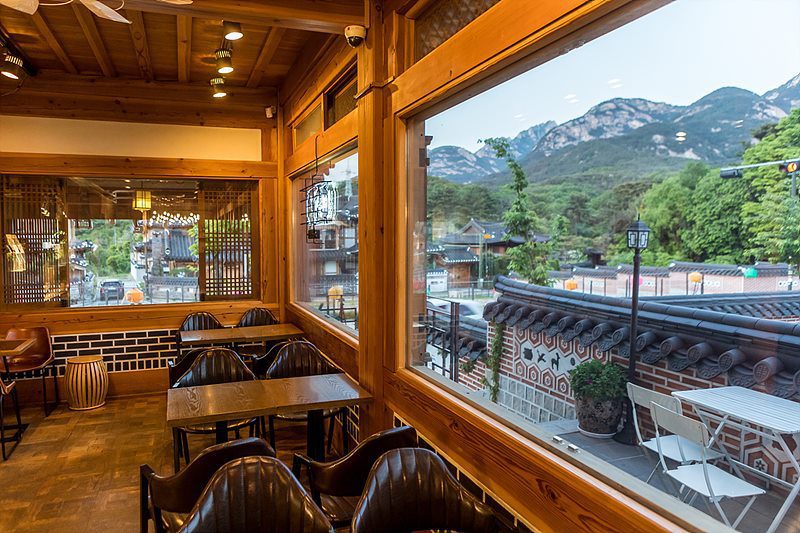 Space Helena (스페이스헬레나)
Opening Hours:
Address: 198-1, Jingwan-dong, Eunpyeong-gu, Seoul 2F (서울특별시 은평구 진관길 4 2F)
If you want to enjoy a high tea in Korea check out Space Helena in Eunpyeong Hanok Village. This cozy hanok cafe boasts traditional wooden furnishings mixed with Victorian-era decor and stunning views of the surrounding village. The cafe offers a range of seating from inside bench seating to outdoor seating to enjoy the stunning views of the mountains. If you visit in winter you'll also be treated with a fireplace to keep the chills away.
Planning a trip to Korea in winter? Don't miss out on these 20-must-see places in South Korea in winter.
Long Bread (롱브레드카페)
Opening Hours: 10:00 am to 21:00 pm.
Address: 219-2, Jingwan-dong, Eunpyeong-gu, Seoul (서울특별시 은평구 연서로 530)
If you're looking for a brunch spot with a stunning view of Eunpyeong Hanok Village. Long Bread offers a range of brunch options to add to your visit to Eunpyeong. Compared to the other cafes mentioned this cafe offers a fuller meal for those looking to fill their stomachs. I recommend ordering the eggs benedict or the shrimp rosé pasta for brunch.
1 in 1 Cup (1인1상)
Operating Hours: 10:00 am to 21:30 pm
Address: 서울 은평구 연서로 534 (534, Yeonseo-ro, Eunpyeong-gu, Seoul)
Cafe 1 in 1 Cup is a popular cafe known for its rooftop view of Eunpyeong Hanok Village and the surrounding mountain landscape. It functions as a cafe and a restaurant and is always full of visitors of different age groups from students, couples, and families. If you're just visiting the cafe you'll be able to try a variety of options coffee, tea, sweets, pastries, and traditional treats. If you have a sweet tooth be sure to check out the 5th floor which offers traditional Korean treats to add to your taste palette.
The restaurant offers a fusion of traditional and modern food. Just note that this restaurant is quite expensive but it's worth trying if you're looking for a traditional meal with a stunning view.
If you're looking for more unique cafes and underrated gems to explore consider a day trip from Seoul to Ganghwa Island.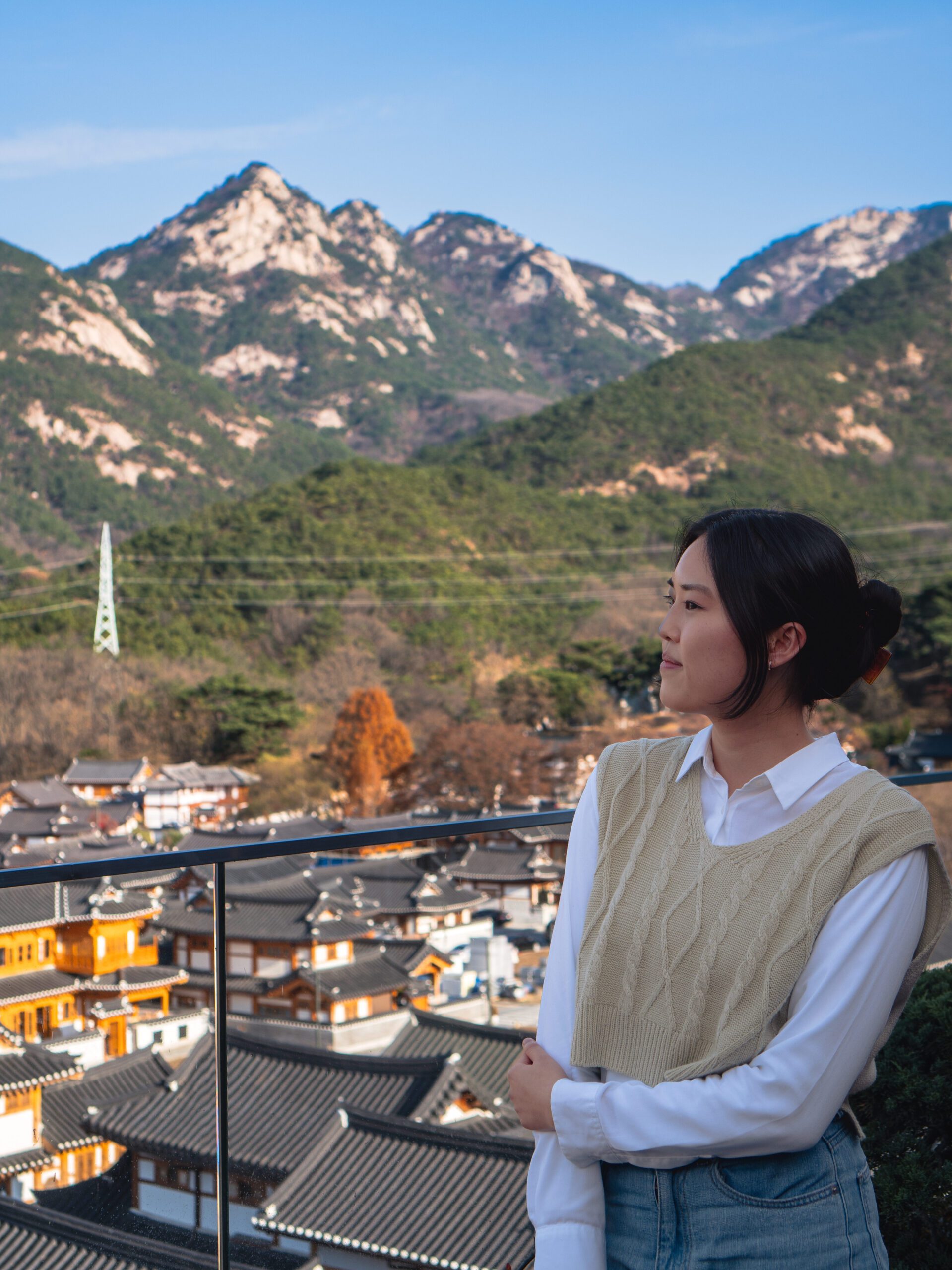 ☕️ Want to find the best places to eat in South Korea?
Don't miss out on over 290 cafes and restaurants to visit in Korea in my Cafe & Restaurant Guide. I cover essential information including…
Over 290 local cafes & restaurants to visit (with Naver Map links)
How to find hidden local eateries (cafes & restaurants)
Over 30 essential Korean phrases & vocabulary for ordering at restaurants & cafes
Essential etiquette for eating out in Korea ….. and more!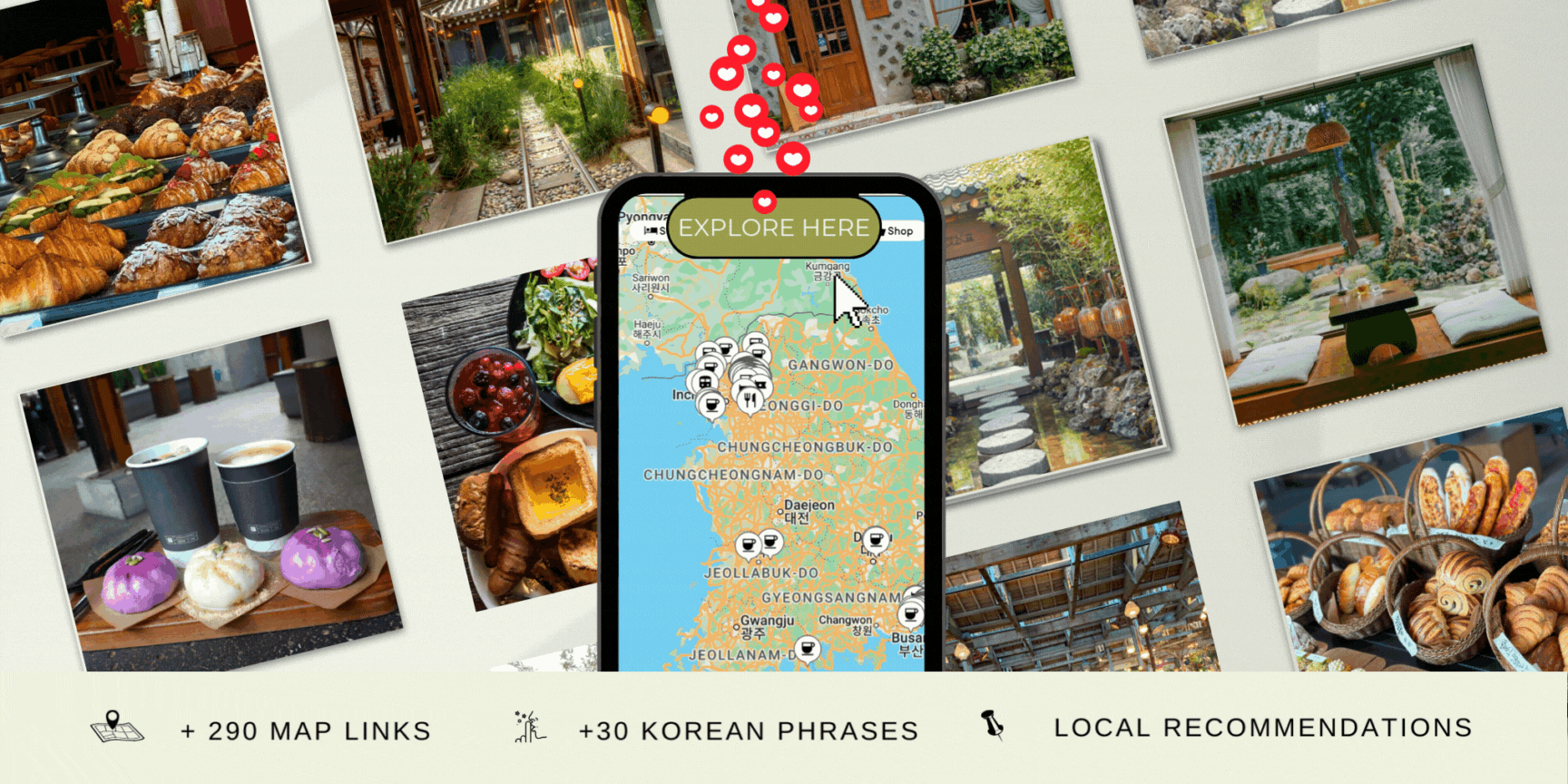 How do you get to Eunpyeong Hanok Village?
Depending on where you are coming from in Seoul you should be able to get to Eunpyeong Hanok Village using public transport (bus and/or subway). The closest subway stations are Gupabal Station and Yeonsinnae Station, where you'll have to transfer to a bus at these subway stations. The good news is that the bus stops are located right in front of Eunpyeong Hanok Village.
Directions: Take Bus No. 701 or 7211 from Yeonsinnae Station (연신내역) (Seoul Subway Line 3, 6), Exit 3 to Hanago, Jingwansa, Samcheonsa Entrance Bus Stop (하나고.삼천사.진관사입구 정류장) (9th stop)
* Bus No. 7723 from Gupabal Station (Seoul Subway Line 3), Exit 4 also stops at this bus stop
In conclusion, Eunpyeong Hanok Village is an enchanting destination that offers a unique window into Korea's past and cultural heritage. Whether you seek tranquility, cultural immersion, historical insights, or simply an escape from the city, this timeless village in Seoul has something special to offer every traveler. From staying in traditional hanok guesthouses to exploring historical landmarks and indulging in local cuisine, this hanok village offers a range of experiences that appeal to history enthusiasts, culture aficionados, and wanderers seeking a glimpse of Korea's past. Eunpyeong Hanok Village offers a delightful journey through time and a deeper appreciation of Korea's history.
If you're considering visiting this place, let me know in the comments below. Also, if you're visiting Korea for the first time don't miss out on 10 must-know tips for your trip to South Korea. I cover must-know tips on how to travel in South Korea including the best areas to stay in Korea, the language barrier, how to book transport, and more!
---
✈️ Traveling to South Korea for the first time?
Don't miss out on these must-know things for your trip to Korea in my Korea Survival Travel Guide. I cover essential tips including…
Korea Travel Essentials (Must-Have Apps, Language, Transport, etc.)
Must-know Tips for your trip to Korea (Things no one tells you about Korea – scams, language barrier, travel etiquette, etc.)
+100 Essential Korean vocabulary and phrases (learn how to order at restaurants, shops, and navigation)
Guide to using public transport in Korea ("What's the best way to travel?" "How do I book high-speed trains and buses?")
Where should I travel in South Korea? (Recommendations for Seoul & Beyond ~ Discover hidden gems).
…. and much more!
📌 Save this article for later!