If you're an aficionado of aesthetics and Instagrammable settings, Seoul is a treasure trove of charming and visually captivating cafes. In this article, I'll be sharing some of the best aesthetic cafes in Seoul where you can savour not only delicious brews but also inspiring designs. All these aesthetic cafes are organised into five themes including themed cafes, Instagrammable cafes, unique cafes, brunch cafes and hanok cafes you can find in the bustling city of Seoul.
Disclaimer: This post may contain affiliate links, which means I get a small commission if you make a purchase (at no extra cost to you). It's one of the ways I can keep producing free resources and guides for my readers. Thank you for your support! Refer to the Disclosure Policy for more details.
Tips for Visiting Cafes in Seoul
Data Connectivity
For certain cafes and restaurants that are popular or trendy, you'll likely need to have a local Korean phone number to be put on the waiting list for entering the eatery. With this in mind, I recommend ordering a SIM card in advance before you arrive in South Korea. Having a SIM card will not only provide you a local Korean phone number but also provide data connectivity which can be helpful for navigation around Korea and making reservations for hair and skin appointments.
The easiest way to prepurchase a SIM card is online before your trip and get it delivered instantly via email or for pick-up at the airport where you're arriving.
Tipping Culture
South Korea does not have a tipping culture, and it can even be confusing for staff to receive a tip since they are not used to receiving tips. In fact, some staff might feel quite uncomfortable when they receive a tip because they are already being paid a salary, and getting a tip can feel like making money "on the side." Note however that some Western-style bars have tip jars and a few upscale Western restaurants expect tips. Generally, however, these places are few and far between.
Opening Hours
Note that most independently owned cafes or coffee shops tend to open quite late around 11:00 to 12:00 pm. If you're planning on grabbing some breakfast or brunch at a cafe always check the opening times of the specific cafe using Naver Map or Kakao Maps. Most chain bakeries such as Paris Baguette and Tours Les Jours and convenience stores (GS25, 7-Eleven, etc) however will have early opening hours so you can grab a bite to eat or a beverage. Don't forget to read up on these must-have apps for travelling in South Korea.
Found this helpful?
Travelling to South Korea for the first time? Read up on these must-know insider tips to prepare yourself for your trip in my Korea Survival Travel Guide.
Features of the guide
Korea Travel Essentials (Must-Have Apps, Language, Transport, etc.)
Includes Naver Map links making planning and navigating Korea easy!
Must know things for your trip to Korea (Things no one tells you about Korea – scams, language barrier, travel etiquette, etc.)
Essential Korean vocabulary and phrases (learn how to order at restaurants, shops, and navigation)
Guide to using public transport in Korea ("What's the best way to travel?" "How do I book high-speed trains and buses?")
Where to stay in South Korea? ("Where are the best areas and places to stay in Korea?")
Where can I find the best places to eat in Korea (Recommendations for restaurants & cafes)
Where should I travel in South Korea? (Recommendations for Seoul & Beyond ~ Discover hidden gems).
…. and much more!
Instagrammable Cafes in Seoul
Seoul has no shortage of Insta-worthy and aesthetic cafes across the city. In addition to boasting unique decor and designs, most of the cafes listed also have delicious treats to try. From tasty sweet baked goods to beverages of lattes, coffee and more. Note that if you are visiting cafes solely for photos it is expected that you buy at least one item from the menu whether it is a beverage or food product.
Stylenanda Pink Pool Cafe (스타일난다 핑크풀카페)
Address: 서울 중구 명동8길 37-8 스타일난다핑크호텔
Found in the trendy area of Hongdae, lies the Pink Pool Cafe which is a must-visit aesthetic cafe for anyone looking for those Insta-worthy photos and to enjoy a treat or two. The cafe actually belongs to the Korean fashion brand Style Nanda's flagship store where you can find the first three floors boasting clothes whilst the fourth floor is reserved for the cafe. A visit to the cafe and you'll be treated to an entirely pink interior adorned with cute decor from velvet chairs, a small poor and flamingos. In addition to the unique decor, you can enjoy delicious treats and drinks from chocolate tarts, and croissants to lattes.
Cafe Layered (카페 레이어드)
Address: 서울 종로구 북촌로2길 2-3
Cafe Layered is an English-style bakery that offers a wide selection of pastries and treats from scones, tarts, cakes and salty options including onion cheese scones. In addition to its delicious treats, it boasts a cozy decor that spans two floors of its brick building. Its rooftop however offers the best seating where you can grab a bite to eat and soak up the weather when it's warm. Note that the seating at this cafe is limited and you'll want to avoid peak hours to
Mamma Mia Dosan (도산맘마미아)
Address: 서울 강남구 압구정로42길 45
Mamma Mia Dosan is one of the trendiest and insta-worthy cafes in Seoul. In addition to boasting a vibrant pink building, the outside garden is beautifully decorated with wisteria or ornaments depending on the time of year you visit. The cafe also offers a variety of delicious desserts from cupcakes, and cakes to drinks including ades, coffee and lattes.
An important tip if you want to get a photo without the crowds is to visit at opening time. It's always a busy spot to visit even during the weekdays.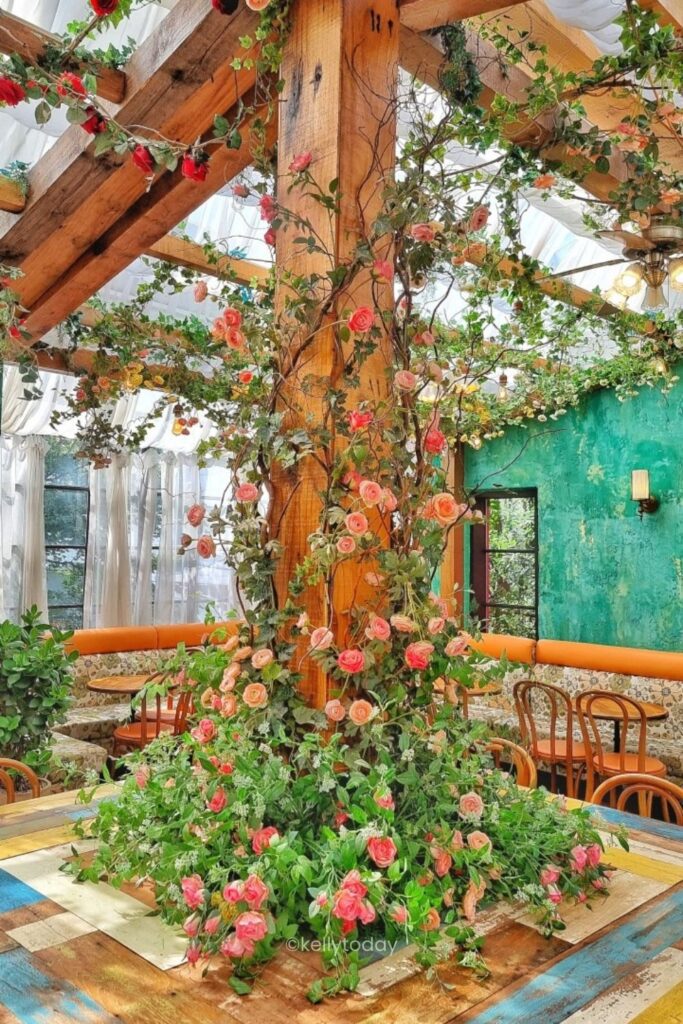 Themed Cafes in Seoul
If you're looking for unique cafes to visit add a themed cafe to your Seoul itinerary. Most of the themed cafes in Seoul take inspiration from popular and globally well-known TV shows and movies. Read on to find themed cafes drawing inspiration from movies including Studio Ghibli and Harry Potter.
943 King's Cross (943 킹스크로스CAFE)
Address: 서울 마포구 양화로16길 24 1층~4층
If you're a a fan of Harry Potter you'll want to head to 943 Kings Cross which is a Harry Potter-themed cafe found in the heart of Hongdae – a popular hangout spot for Korean youths. The cafe boasts a magical atmosphere that is coupled with detailed themed decorations that make it more than a cafe but an experience. In each corner, you'll find decorations with intricate details that pay tribute to the franchise including the chandeliers, the food and drinks and more.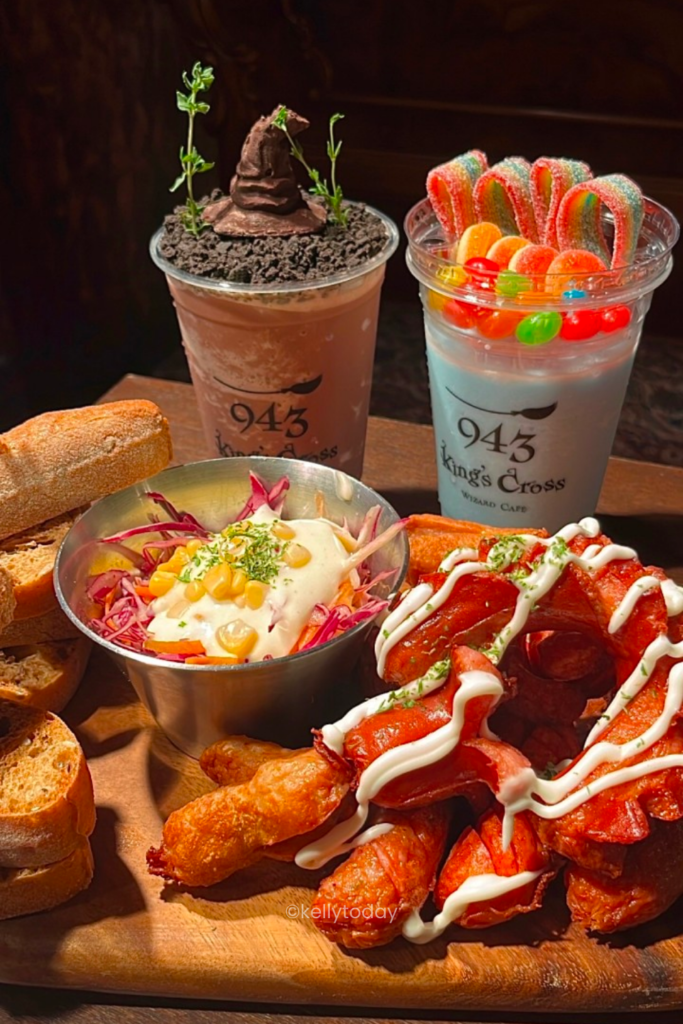 Dotori (도토리)
Address: 서울 용산구 한강대로52길 25-6 1층
Dotori is a Studio Ghibli-inspired bakery cafe that features a Japanese-style interior coupled with cute pastries, sandwiches and yogurt and granola bowls. Nestled in Seoul this cafe exudes a delightful retro flair that will delight both your eyes and taste buds. As soon as you enter you'll get to see adorable baked pastries meticulously arranged on display inviting a bite.
If you don't have a sweet tooth, they also have a variety of savoury breads however this availability is subject to the time you visit. In recent years this cafe has received wide popularity it's recommended to visit early to get seating at this cafe.
Note that there are two branches of this cafe, one in Yongsan and one in Jongno.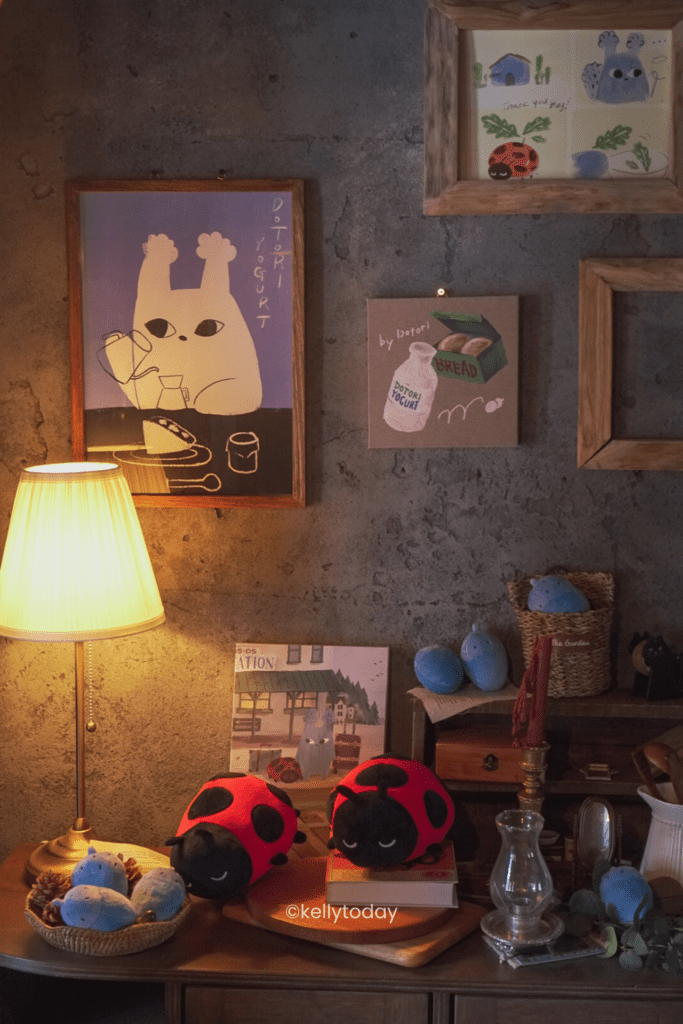 Koriko Cafe (코리코 카페)
Address: 서울 마포구 성미산로 165-7 대원미디어 연남점
If you're a fan of Studio Ghibli like myself you won't want to miss Koriko Cafe which is inspired by Kiki's Delivery Service. Both the interior and exterior of the cafe have been designed to reflect the bakery where the beloved main character works. From the adorable themed baked treats and yellow-painted house, from the moment you arrive, you'll be transported into an alternate world that feels like the film. In addition to the gorgeous decor, you can enjoy a variety of treats including pancakes, cakes and sweet drinks.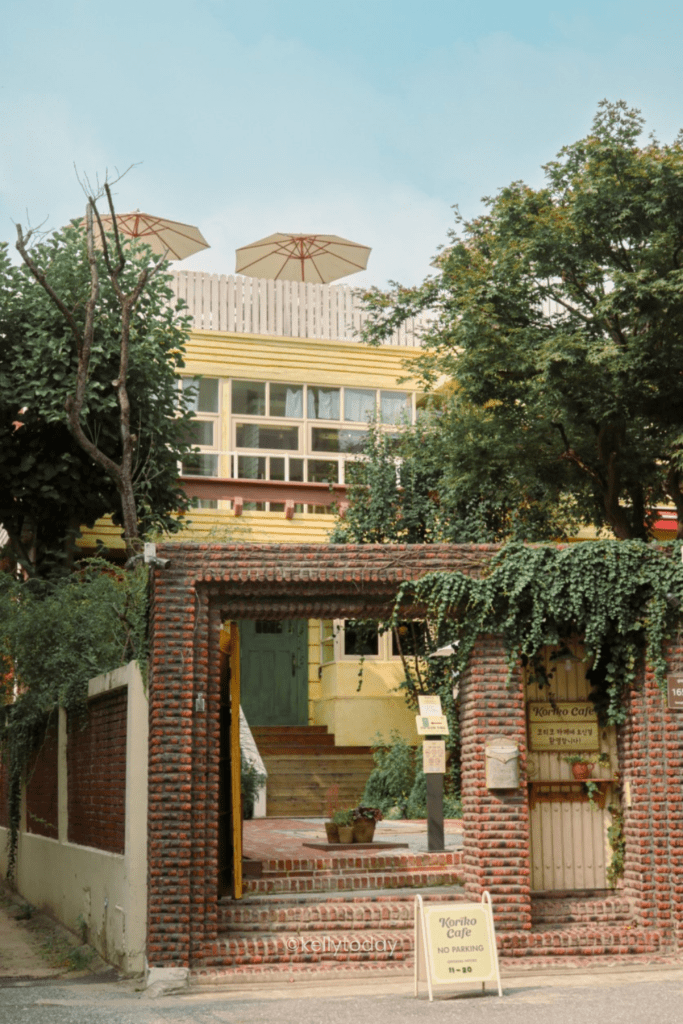 Planning a trip to Seoul for the first time? Save hours of planning with this one-stop Seoul Travel Guide.
+300 places to explore in Seoul and outside the capital city (with Naver Map links)
Local guide to using and booking transport in Korea
Best places to eat in Seoul (cafe & restaurant recommendations)
Best photo spots in Seoul (tourist traps & local recommendations)
Insider tips on where to stay, shop & things to do in Seoul
… and more!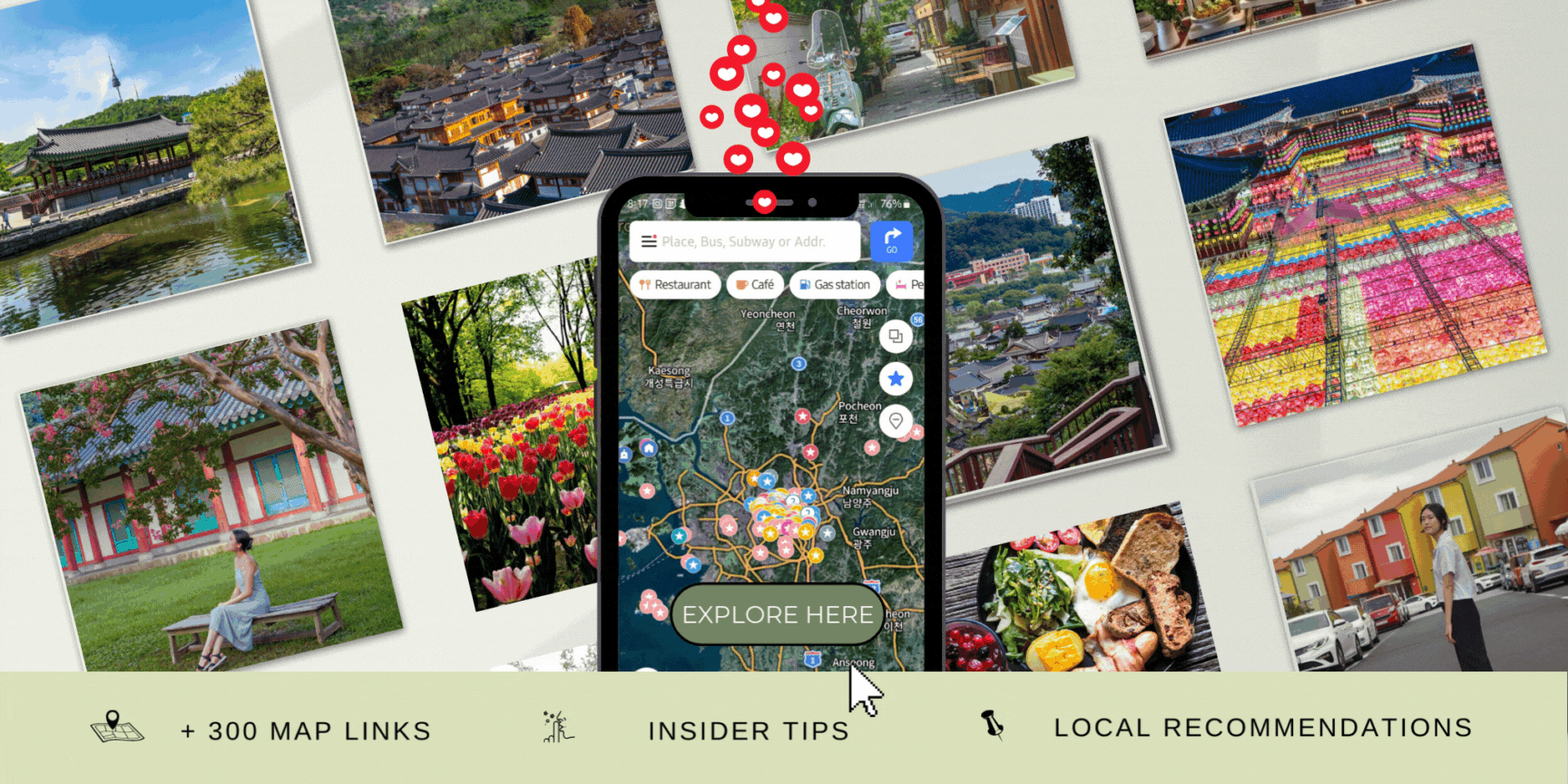 Unique Cafes in Seoul
The cafe-hopping culture in Seoul also covers unique aesthetic cafes that boast fun and immersive experiences coupled with enjoying a treat or two. In addition to having a coffee or a bite to eat certain cafes also specialise in providing an activity or workshop to experience. The following recommendations are both aesthetic and unique cafes in Seoul that can add some fun to your Seoul travel itinerary.
Peach Gray (피치그레이)
Address: 서울특별시 송파구 송파동25, 2층
Korea is well-known for its unique and themed cafes and Peach Gray is a hidden gem in Seoul (at the time of writing this). Boasting two branches, you can find one in Jamsil and one in Gangnam, both of which operate as a watercolour cafe in which you can enjoy painting whilst grabbing a bite to eat.
Note that the cafe is quite small so the overall atmosphere at the establishment is quite chill. The painting material is about ₩3,000 to access a watercolour palette, paper and brush. Besides the unique art experience you can enjoy at this cafe, they also serve some of the most delicious treats from souffle pancakes and cakes to drinks including ades, lattes and coffee.
Greem Cafe (그림 카페 )
Address: 서울 마포구 성미산로 161-10 그림카페
In Korean, "Greem" (그림) means drawing which suggests the inspiration behind the cafe. Since its opening in 2017, this cafe has received lots of attention from international news outlets like Elle and was even featured as a filming location in "To All the Boys: Always and Forever"
Upon entering the Greem Cafe, you'll feel as though you've been transported into a two-dimensional world with all the interior appearing to be ripped from a cartoonist's notebook. Boosting a peculiar atmosphere, you'll find outlines of whitewashed furniture in black, with its 2D concept, creating an illusion of being in a cartoon. In addition to enjoying the unique atmosphere, you'll be treated to a variety of beverages and pastries on your visit.
Nuldam Space (널담은공간)
Address: 서울 용산구 신흥로15길 18-12
If you're looking for a unique cafe, look no further than Nuldam Space. This cafe welcomes visitors to write a letter to their future selves by inviting inward reflection. After writing your letter and putting a wax seal on the letter, you'll need to select what date to send it out by placing it in one of 365 slots at the cafe. In addition to the writing experience, you can enjoy vegan-friendly treats such as croffles and/or a beverage.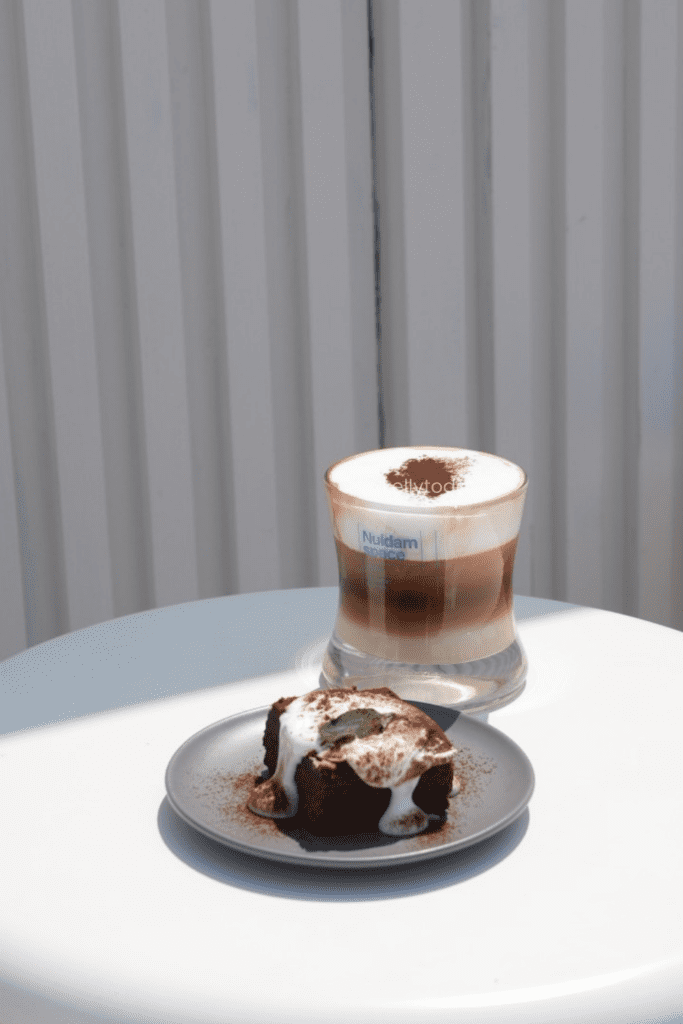 ☕️ Want to find the best places to eat in South Korea?
Don't miss out on over 290 cafes and restaurants to visit in Korea in my Cafe & Restaurant Guide. I've included some of my favourite eateries and essential information including:
Over 290 local cafes & restaurants to visit (with Naver Map links)
How to find hidden local eateries (cafes & restaurants)
Over 30 essential Korean phrases & vocabulary for ordering at restaurants & cafes
Essential etiquette for eating out in Korea ….. and more!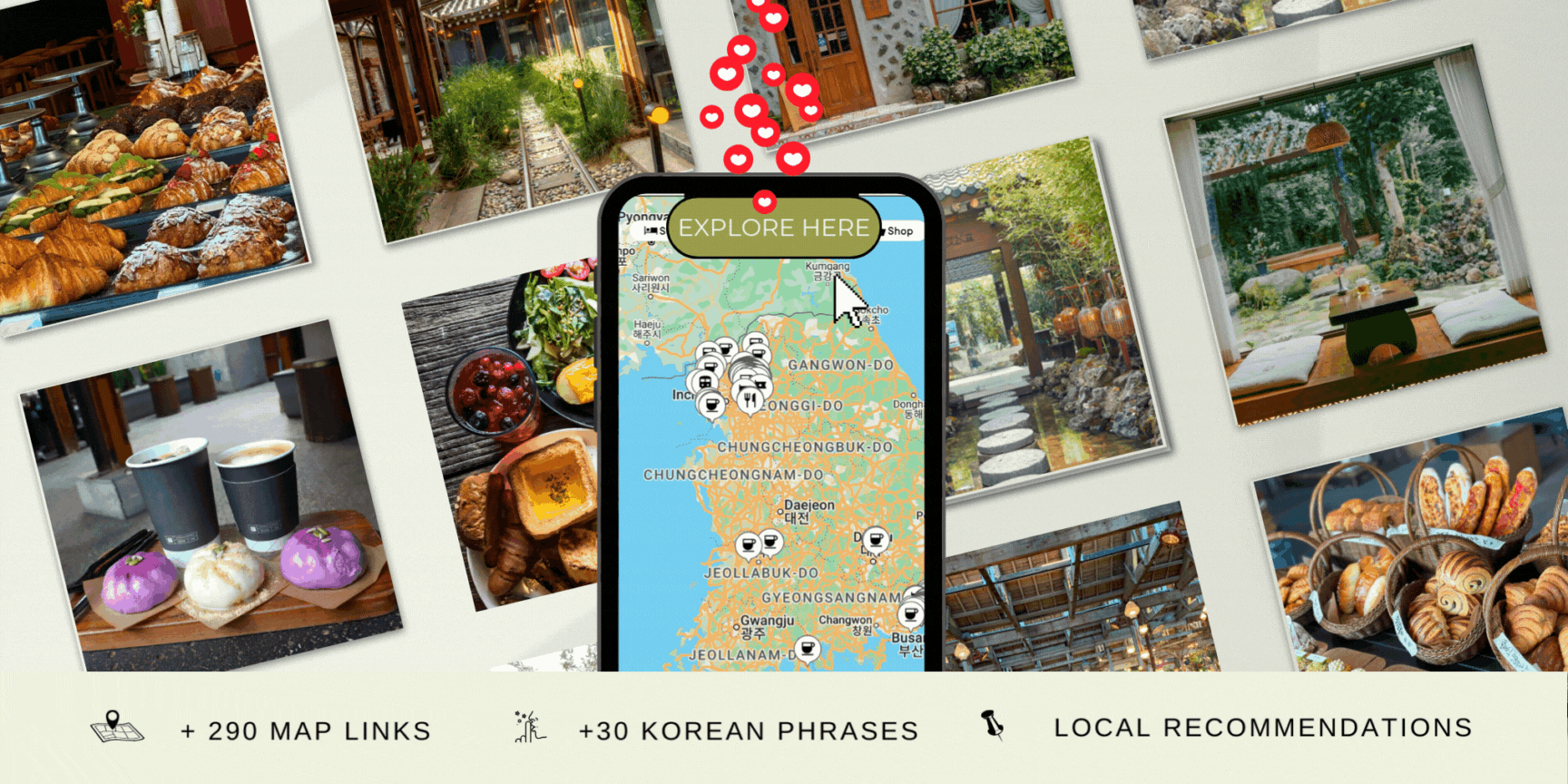 Brunch Cafes in Seoul
If you're looking for cafes to get a filling bite to eat you'll want to add these aesthetic brunch cafes in Seoul. In addition to boasting aesthetic interiors, the cafes serve up authentic and deliciously cooked meals that won't disappoint your taste palette.
Bear's Den Brunch (베어스덴 브런치)
Address: 서울 서대문구 연희로4길 10 1층 베어스덴
Visit Bear's Den on an empty stomach and be treated to delicious cooked brunches. Previously it was a bakery but has turned into a well-beloved cafe and brunch spot in Seoul. A visit to Bear's Den and you'll be treated to uniquely-named brunch dishes and enjoy the artistry of Korean pastry making including iconic dishes of Hidden Honeypot and Bear's Plate.
Summer Lane (써머레인)
Address: 서울시 용산구 한남동 738-13 1층 (738-13 Hannam-dong, Yongsan-gu, Seoul)
Summer Lane is an Australian, all-day brunch eatery located in Hannam-dong, Seoul. It has become popular amongst the locals due to its variety of modern brunch options and is a must-stop for those looking for a delicious brunch spot in Seoul. Their menu features dishes from french toast, and eggs benedict to a sweet fruity pavlova and drinks including lattes, teas and coffee.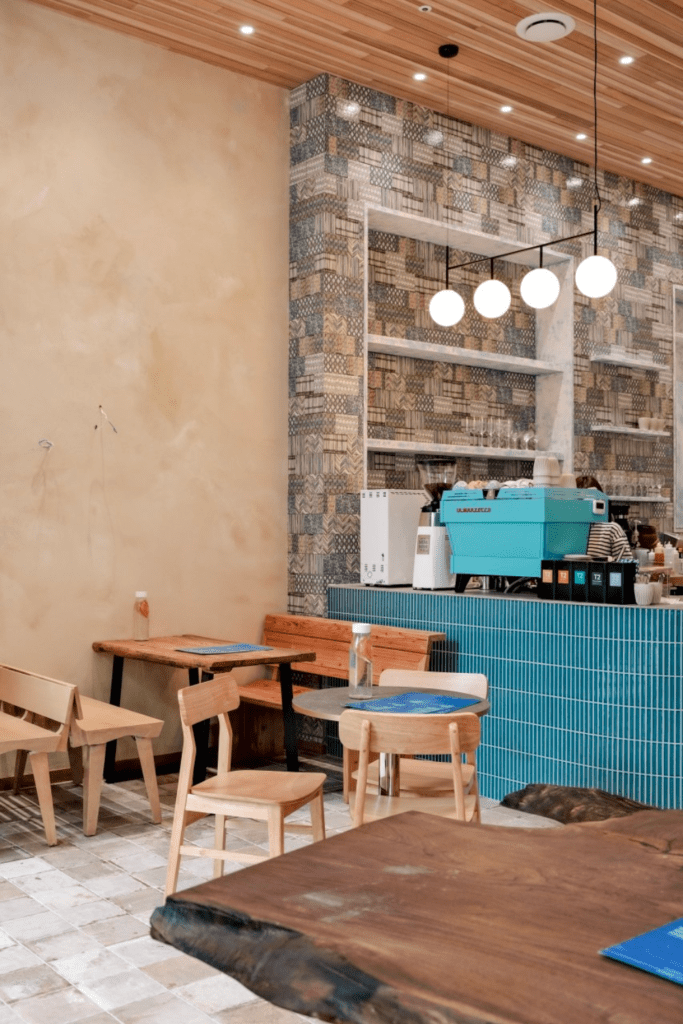 Lucyd (루시드)
Address: 서울 마포구 독막로14길 24 2층
One of my personal favourite brunch spots in Seoul is Lucyd. As an Australian, I couldn't but help put an Australian brunch cafe and bistro on this list. Even if you're not a huge fan of Australian cuisine, this brunch cafe makes it hard to dislike with the deliciously cooked dishes, pastries, minimalistic interior and friendly staff that welcome you the minute you arrive. If you're nervous about the language barrier in Korea, you'll be happy to know that this place is English-friendly!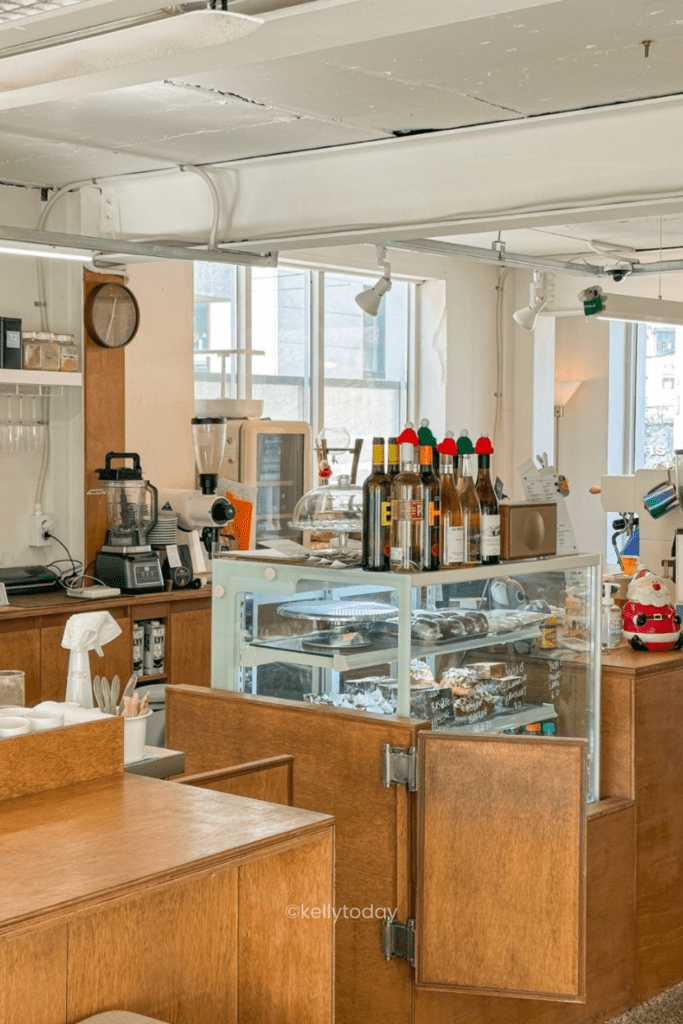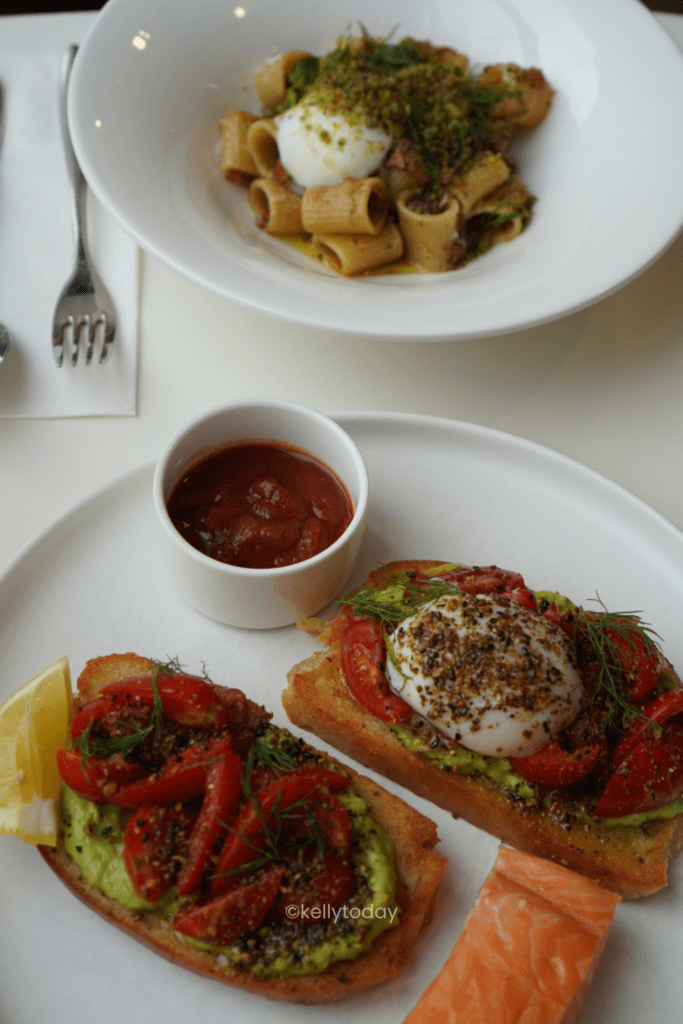 Hanok Cafes in Seoul
Originally the term "hanok" was used to refer to all traditional Korean buildings however today it is often used to refer to private dwelling houses. Currently a lot of hanoks have been reused as homestays, holiday rentals or cafes. If you're looking for aesthetic cafes in Seoul you'll need to pay a visit to at least one hanok cafe on your Korea itinerary. A hanok cafe is an ideal place to enjoy both a combination of Korea's traditional atmosphere and modern amenities with a beverage and/or treat in hand.
Don't miss out on an authentic hanok stay in South Korea for your trip. Read everything you need to know about staying in a hanok in this local guide.
Cafe Onion Anguk (어니언 안국)
Address: 서울 종로구 계동길 5 카페 어니언
The Anguk branch of Onion is one of the trendiest cafes in Seoul. You can find several branches of this cafe across Seoul however the most well-known is the one at Jongno-gu near Gyeongbokgung Palace and Bukchon Hanok Village. Mixing a blend of the present and the past, Cafe Onion has been designed in a traditional hanok building and offers high-quality pastries and bread to try.
Oyatt Kkot Hanok Cafe (오얏꽃)
Address: 서울 종로구 돈화문로11다길 15
If you're looking for a traditional cafe to try in Seoul you'll want to try Oyat Kkot Hanok Cafe in Ikseondong, Seoul. The outside has been designed with a gorgeous courtyard to enjoy the outdoors with a beverage or a treat. At the cafe, you can enjoy a collection of desserts including shaved ice, croffles, and parfait and beverages including coffee, ades, teas and lattes.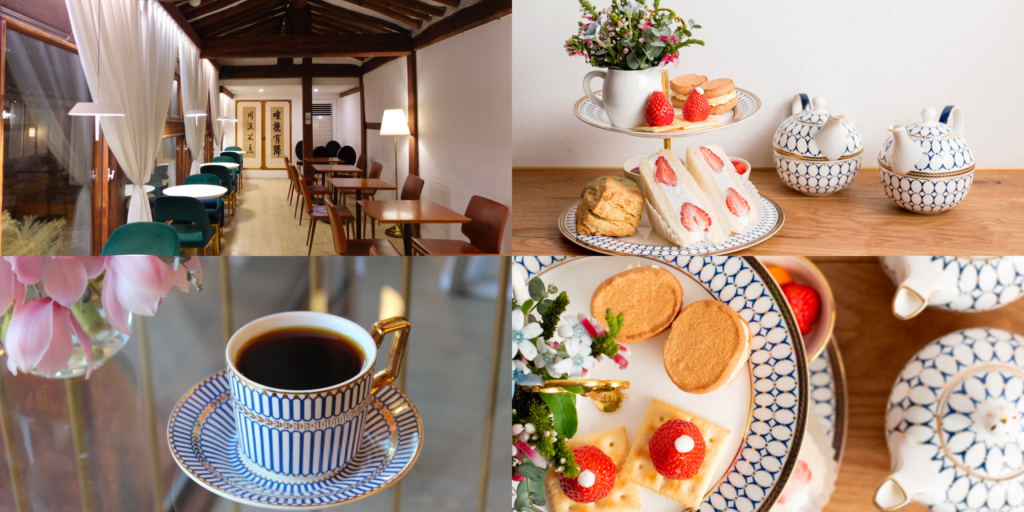 J. Hidden House (제이히든하우스)
Address: 서울 종로구 종로 269-4
Pay a visit to a traditional hanok with over 100 years of history. This hanok cafe features carefully preserved traditional hanok on the outside coupled with a modern-style interior. Located near Dongdaemun, it's a great resting place after exploring the area.
Don't miss out on Eunpyeong Hanok Village in Seoul. You'll be treated to more aesthetic hanok cafes, picturesque photo spots and historic sites. Read everything about this hanok village in this local guide.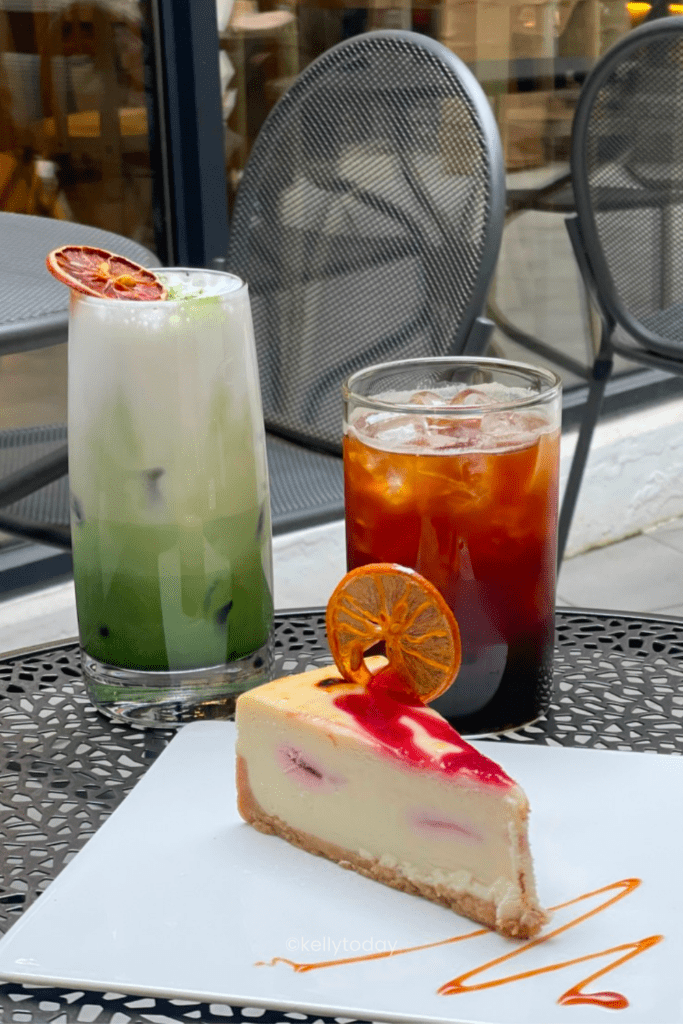 Frequently Asked Questions
Why are cafes so popular in South Korea?
South Korea has become synonymous with a popular cafe culture due to cafes offering a great ambience and a place for friends and/or families to come together and catch up over a beverage or treats.
Generally, most older and traditional eateries will not have an English menu available if it is not found in a tourist area. However, you can expect newer cafes and restaurants or those found in trendy areas to have menus with English translations below the Korean on the menu. As a general rule, in tourist areas, you can find most restaurants and cafes either having a separate English menu or having English and Korean on a single menu. Don't miss out on reading up on these must-know Korean phrases and vocabulary for eating out in South Korea in this travel guide.
What are the best areas for cafe hopping in Seoul?
Seoul is no stranger to having some of the best aesthetic and unique cafes around the country. The most trendy areas for cafe hopping in Seoul include Ikseondong, Hongdae and Gangnam. If you want the full neighbourhood guide for the cafe hopping in Seoul read my local guide to cafes.
Seoul's aesthetic cafes not only offer great food and drinks but also an immersive visual experience. Each of these cafes offers a unique atmosphere that invites you to linger and appreciate the artistry in every detail. Whether you're a lover of minimalist design, pastel dreams, artistic expressions, or simply good coffee in a beautiful setting, Seoul has a cafe waiting to captivate your senses. So, if you're planning a visit to Seoul, don't forget to put these aesthetic cafes on your must-visit list and prepare to be enchanted by their unique charm. Happy cafe-hopping!
Found this helpful? 👇🏼
Found this free guide helpful? Support my work so I can produce more free content for you.
📌 Click on this pin to save this article for later!
---