Melbourne is a vibrant city busting with visually stunning and Instagram-worthy photo spots. From colourful street art to iconic landmarks and hidden gems, here's a list of 30 of the best Instagrammable places in Melbourne that are sure to add a pop of colour or unique compositions to your photos. All these Instagram photo spots in Melbourne cover a range of places from well-known spots including graffiti-filled laneways, serene nature spots, hidden gems, unique museums and galleries, iconic attractions and more.
Disclaimer: This post may contain affiliate links, which means I get a small commission if you make a purchase (at no extra cost to you). It's one of the ways I can keep producing free resources and guides for my readers. Thank you for your support! Refer to the Disclosure Policy for more details.
Important Tips
Flying into Melbourne
There are two airports in Melbourne including Avalon and Tullamarine Airport. You'll most likely arrive at Tullamarine Airport since it is the main airport for Melbourne. The easiest and most convenient way to reach the city from the airport is by taking the Skybus Airport Transfer from Tullamarine Airport to the city (pre-book online for a cheaper rate). If you take the Melbourne City Express Route, you'll be dropped off at Southern Cross Station. From this station, you can take the free city tram to your accommodation.
Getting Around Melbourne
The best way to get around the city is by public transport using the train, bus and tram. Make sure to buy a Myki card online or in person. If you have an Android phone you can use your phone as a Myki card with a Mobile card.
If you're travelling on a budget in Melbourne take the adventure of the free circle tram. This tram line circles the city centre of Melbourne ("The Grid") and takes you anywhere you want to visit. Generally, it comes every 12 minutes and takes about 48 minutes to complete the full route. For more information about the City Circle tram read here.
Local Photographers
If you're looking to grab the best photos on your Melbourne trip, consider hiring a local photographer in Melbourne for your trip. Booking a photo session with a local photographer is a great way to get those Instagrammable photos you're looking for and you'll be treated to insider recommendations for the best photo spots in the city that aren't known by tourists. I always recommend Flytographer for finding local photographers in a destination I'm travelling to.
Transport Passes
If you're visiting Melbourne for the first time don't miss out on the Melbourne Pass to get exclusive discounts on the city's attractions and activities. You can get a pass for up to 7 days for admission to iconic attractions such as Melbourne Skydeck and Enchanted Adventure Garden. If you're planning on visiting multiple sites or trying multiple activities in the city it's a great way to save money through this pass.
Best Instagrammable Places in Melbourne
Whether you're looking for the best Instagram spots in Melbourne, or just need ideas for the best Melbourne photography locations I've got you covered. Read on to find 30 of the best Instagrammable places in the city of Melbourne, from idyllic coastal spots to graffiti-lined laneways, plus everything in between.
Glyn Davis Building at Melbourne School of Design
Opening hours: 8:00 to 17:30 (Closed on Weekends).
Address: University of Melbourne, Masson Rd, Parkville Victoria 3052
Found in the core of the University of Melbourne's Parkville campus lies the Melbourne School of Design which is a treasure trove for lovers of intriguing architecture. It's an urban oasis that is free to explore its gorgeous interior architecture and design. The entrance on one side has been designed around a heritage facade which opens into a looming glass and steel structure that invites a photograph or two.
Fitzroy Gardens
Opening hours: 24 hours
Address: Wellington Parade, East Melbourne VIC 3002
This historical garden showcases a blend of natural beauty and Victorian-era structures. Don't miss out on Captain Cook's Cottage, the Fairies' Tree, and the lovely Conservatory for timeless and picturesque captures. On a visit to Fitzroy Gardens, you'll be treated to historical structures and picturesque landscapes making for delightful Instagram photo spots. In addition to grabbing those Insta-worthy photos, Fitzroy Gardens is the perfect spot for a picnic around sunset.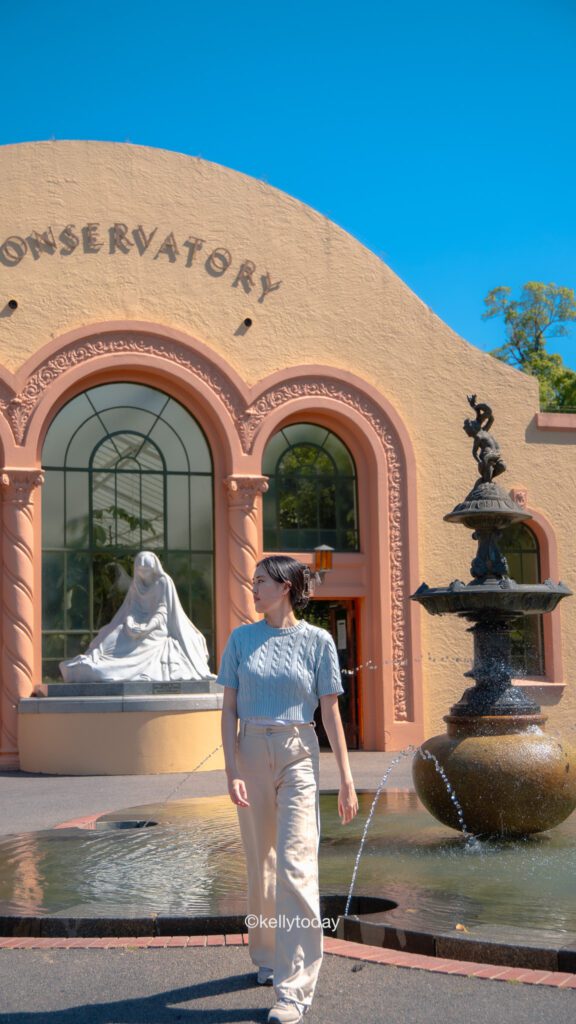 The Conservatory
Opening hours: 9:00 to 17:00 every day.
Address: 298 Wellington Parade, East Melbourne VIC 3002
If you're visiting Fitzroy Gardens in Melbourne stop by the Conservatory to grab a few Instagrammable photos. A visit to this place and you'll be treated to a lush display of florals and Spanish mission architectural style coupled with an adobe colour palette. The Conservatory is beautiful to visit all year round and is known for its gorgeous floral displays which change throughout the year with seasonal plants. During my visit in November, I got to see the hydrangea floral display. For the latest information on floral installations at The Conservatory refer to their website.
Make sure to check if The Conservatory has any scheduled closures during your visit. It's common throughout the year when they are settling up new floral displays.
Chuckle Park Bar
Address: 322 Little Collins St, Melbourne VIC 3000
Chuckle Park is a cozy outdoor space found in the Melbourne CBD and is a small laneway bar that begs a visit. Adorned with flowers, lanterns and boasting delicious cocktails this charming bar will allow you to get some Instagram-worth shots and also make you blend in with the Melbourne locals.
Parliament House
Opening hours: 8:30 to 17:30 (Mon to Fri)
Address: Spring St, East Melbourne VIC 3002
Parliament House is a local go-to photo spot in Melbourne that is popularly used by local photographers. If you visit you'll most likely see couples taking their wedding photos outside the entrance of Parliament House with its grand architecture.
Outside of Parliment House, there is gorgeous architecture to marvel at and grab a few photos with. However inside is even more stunning and is worth a visit through a free local guided tour. Local tours run for about 50 minutes at certain time slots including 9:30, 12:00, 13:00, 15:00 and 16:00 on selected days (non-sitting weeks (Monday to Friday) and sitting weeks (Monday and Friday)). If you want to join the tour make sure to arrive at least 30 minutes before as they only allow 25 people per tour and operate at selected times.
If you want to join the local tour arrive at least 30 minutes before the tour starts to secure your spot, for security screening, and check-in.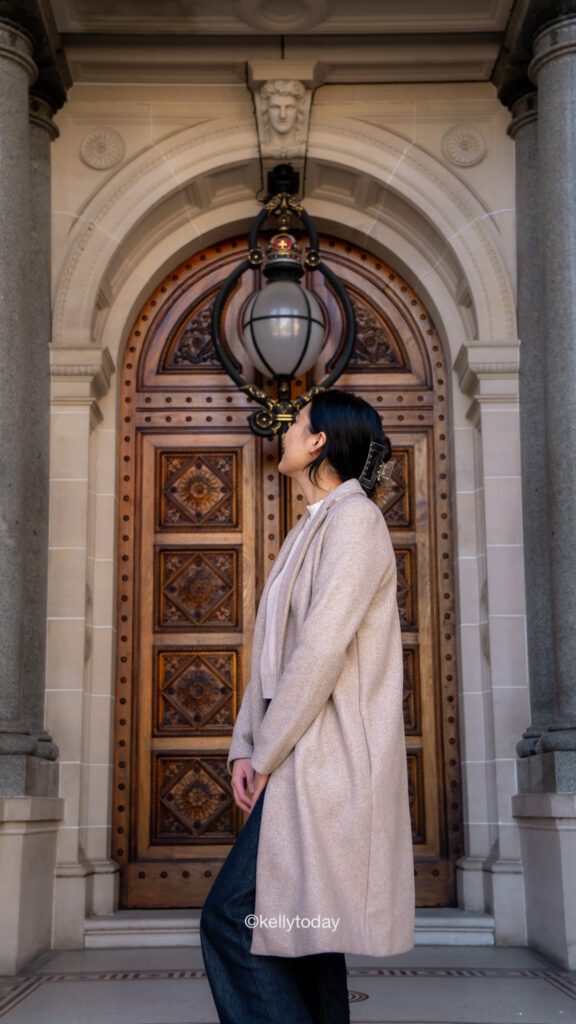 The Yarra River
Address: Evan Walker Bridge, Southbank VIC 3006
The iconic Yarra River snakes through Melbourne's CBD and offers a variety of gorgeous photo opportunities. If you want closer shots of the Yarra River you'll want to head to Ponyfish Island. The tiny bar brings you close to river level for a close angle of the city's Iconic Princes Bridge and Flinders Street Station. Alternatively, you can head to the Royal Botanic Gardens for a more tranquil nature-lined shot of the river.
Eureka Skydeck Melbourne
Opening hours: 12:00 to 22:00 (Everyday)
Address: 7 Riverside Quay, Southbank VIC 3006
If you're looking for the best panoramic city views of Melbourne look no further than Melbourne Skydeck. As you make your way up to 88 floors you'll be treated to a 360° bird's eye view of the city and a gorgeous vantage point of the city's landmarks including Dandenong Ranges and Port Phillip Bay. Make sure to have your camera ready to capture the urban scenery from above. If you're feeling a bit adventurous you'll also want to check out the Edge experience which suspends visitors in a transparent glass cube that projects out from the Skydeck. Visitors will get to be suspended nearly 300m above the city of Melbourne.
For the best time to visit, I recommend heading to this spot around sunset to see the city light up as the sun goes down. You can also enjoy the city views at the cafe while you sip on a beverage. Make sure to book your tickets in advance online to skip the queues and get discounted tickets.
If you're visiting multiple attractions in Melbourne that require admission entry buy the Melbourne Pass to save money on tickets and attractions!
Hosier Lane
Address: Hosier Lane, Melbourne, Victoria, 3000.
It wouldn't be a trip to Melbourne without visiting some of its iconic street art. What better place to grab some photos in Melbourne than heading over to the city's iconic Hosier Lane – the colourful bluestone that put the city on the map for its urban art scene? The vibrant, colourful murals and artworks make it a prime spot for captivating and edgy Instagram photos. You'll find the lane painted from wall to pavement and nothing is off the palette, with windows, wheelie bins and dumpsters decorated with colours. You'll also want to visit Rutledge Lane which is another vibrant animated alley to grab some pictures.
If you're looking for more photo spots exploring Melbourne's art scene don't miss out on a local art tour around the city. On this art tour, you'll get to discover hidden laneways, artworks and graffiti from famous street artists all around the city. One of the best parts of this tour is discovering hidden treasures with a local guide and you'll be treated to delicious refreshments.
Royal Exhibition Building
Address: 9 Nicholson St, Carlton Victoria 3053
Built in 1880 the Royal Exhibition Building is beautiful inside and out and is surrounded by picturesque gardens in the city. The building was constructed during the international exhibition movement of the late 19th and early 20th centuries and is known as one of the oldest surviving of its kind from that era. If you visit you'll get to see the building combining elements from Italian Renaissance, Lombardic, Romanesque and Byzantine styles
Today, numerous cultural events, public expos and trade fairs are held each year at this landmark. If you're looking to enter the building you'll need to join a guided tour which starts at 2 pm in the foyer at Melbourne Museum.
RMIT Design Hub
Opening hours: 11:00 to 17:00 (Everday) (Closed on Weekends)
Address: 150 Victoria St, Carlton, Victoria 3000
RMIT University houses Melbourne's most unique and daring architecture however the most instagrammable architecture photo spot is at the Design Hub. As you head up Swanston Street you'll spot the hub with its unique exterior comprised of thousands of solar energy disks which utilise solar energy to power the building. Not only for decoration the design of the hub is also eco-friendly. Take advantage of those leading lines at this photo spot from the architecture.
Royal Arcade
Opening hours: 7:00 to 19:00 (Mon to Thu), 7:00 to 20:30 (Fri), 8:00 to 19:00 (Sat), 9:00 to 19:00 (Sun)
Address: 335 Bourke St, Melbourne VIC 3000
Want to step back in time to the 1920s? Head to the Royal Arcade to walk on chequered corridors that slink past vibrantly lit boutiques selling vintage wares while busy shoppers keep track of time. You'll also find the Gaunt's Clock striking on every hour since 1892.
Found in the heart of the CBD, the Royal Arcade is Melbourne's most iconic boutique shopping experience and spot to experience the city's old-world charm. With its heritage-listed status, this place boasts mosaic-tiled flooring, a high glass roof, and boutique shops that offer an elegant and sophisticated backdrop for Instagram photos. The arcade boasts a soaring glass canopy and mosaic floors which draw inspiration from Milan's famed Galleria Vittorio Emanuele. The Royal Arcade will also take you past the gorgeous Hopetoun Tearooms which is one of the best window displays of cakes in the city. If you're a fan of old-world charm, sweeping arches, high ceilings and decorative tiling, these central arcades are the perfect photo spot for you.
In addition to grabbing a few photos at this Instagrammable spot, set time to explore the dazzling interiors, exploring the art dealers, spice merchants, jewellery and other stores that inhabit this spot in Melbourne's CBD. I personally recommend picking up some sweet treats at the chocolate shop and exploring the bustling bakeries, cafes, and specialty shops to add to your visit.
Wondering what camera gear I use? Check out all the latest camera gear I use for my travels and must-have essentials for beginner photographers here.
Degraves Street and Centre Way
Address: Degraves Street & Centre Way, Melbourne, Victoria, 3000
Melbourne has become known for its bustling sidewalks, however, it was Degraves Street that has made the city recognised for its vibrant laneways. When you enter via Flinders Street, you'll want to wander through the maze of laneways boutiques, cafes and coffee shops. You'll find tourists sitting at sidewalk tables sipping on their beverages whilst locals dart through the crowds. Before leaving you'll want to visit Flinders Lane to find Centre Way, which intersects with Collins Street Via Centreway Arcade.
If you're looking to get the most out of your visit to Melbourne consider adding a local city tour to explore secret galleries, hidden shops and unique laneway cafes. Not only will you be treated with some of the best photo spots around the city, but you'll also get access to insider recommendations by a local guide to explore Melbourne's laneways.
Flinders Street Railway Station
Address: Flinders St, Melbourne VIC 3000
At the junction of Swanson and Flinders Streets, you can find the iconic Flinders Street Railway Station. This is one of the most popular Instagram photo spots in Melbourne as most visitors have to pass through here at some point to get around the city. Its yellow facade and bustling surroundings offer multiple compositions and angles, making it a gorgeous spot for architectural or portrait photography.
The heritage building is also a cultural icon of the city and one of the most recognisable landmarks in the city. You can actually find it on a lot of t-shirts, fridge magnets and postcards. If you're planning to take photos at the station just note that this spot is extremely busy. You'll need to watch out for trams, cars and pedestrians. I recommend taking portrait photos just on the corner from St Paul's Cathedral with a platform out looking to Flinders Street Railway Station.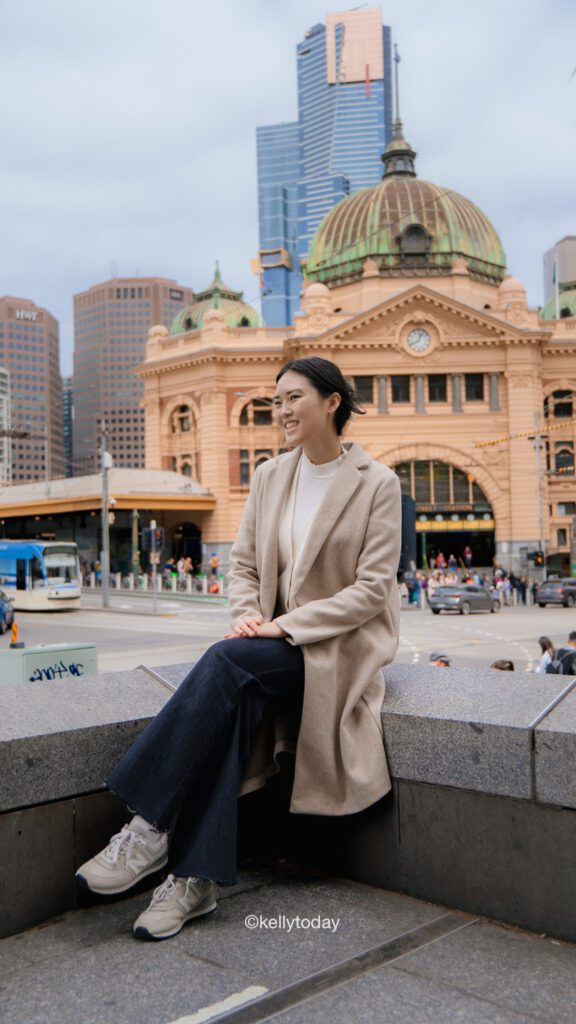 St Paul's Cathedral
Opening hours: 10:00 to 18:00 (Mon to Fri), 10:00 to 15:00 (Sat), 7:30 to 17:00 (Sun)
Address: Flinders St, Melbourne VIC 3000
Built between 1880 and 1931, St Paul's Cathedral is an Anglican church found on Melbourne's busiest intersection opposite Federation Square. It's a gorgeous photo spot where you can capture the neo-Gothic architecture from both the inside and outside. Constructed in sandstone, the building combines both Early English and Decorative Gothic styles which is a must-visit for photos and to marvel at. Highlights include the fine timbered roof, banded stonework, stunning patterned floor tiles and mosaics and fine polychromatic brickwork.
Note that you can't take photos inside the cathedral when a mass service is on.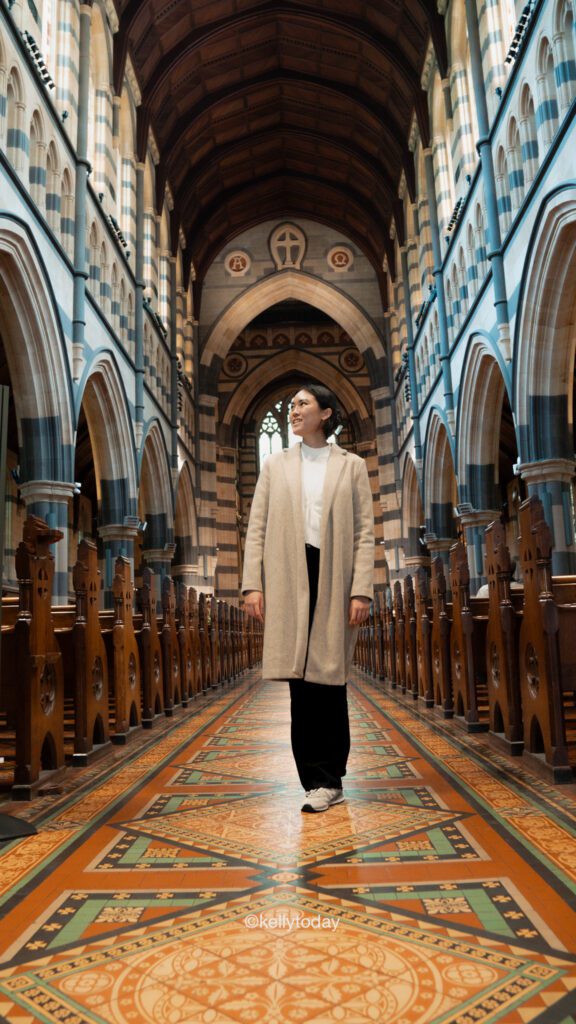 Federation Square
Opening hours: 24 hours (every day)
Address: Swanston St & Flinders St, Melbourne VIC 3000
Since opening in 2002, Federation Square has attracted over 100 million visitors and ranked 6th in a top-10 list of the world's best public squares in 2014. Over the last 200 years, this spot has hosted rail yards, corporate offices, a fish market and a city morgue. These days however it adds to Melbourne's cultural psyche with a myriad of restaurants, galleries, bars and specialty stores.
Don't forget to check out the centrepiece at Federation Square by making your way inside the Atrium, a towering gallery of steel and glass, which is often used for markets and exhibitions. The gorgeous building means you'll be treated with natural shadow and light for your Instagram-worthy shots.
The Lume
Opening hours: 10:00 to 18:30 (Mon to Wed, Sun) and 10:00 to 21:30 (Fri to Sun)
Address: 5 Convention Centre Pl, South Wharf VIC 3006
Check out The LUME's latest exhibition, which showcases a breathtaking First Peoples' culture, music and art. Connection features stories of the world's oldest culture through a series of photographs, songs, and paintings from over 110 artists. Upon entry, you'll get to explore a 3,000-square-metre projection art gallery, which swirls with floor-to-ceiling digital displays. The experience is also elevated with music from Baker Boy, Yothu Yindi and other Australian artists to add to the immersive experience.
Read my insider tips and tricks for taking photos by myself as a solo traveller in this step-by-step guide.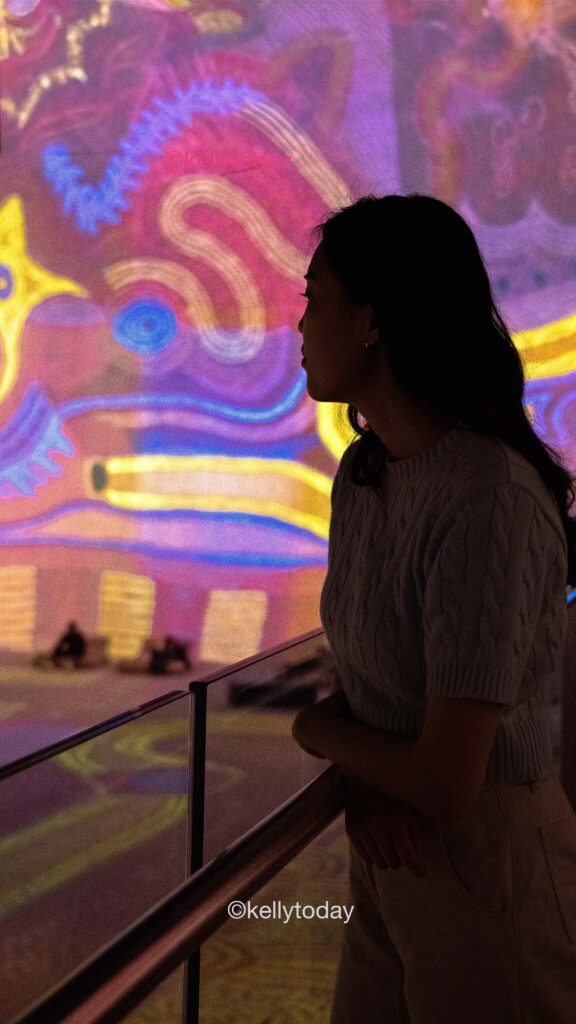 St Kilda Pier
Opening hours: 24 hours (Every day)
Address: Pier Rd, St Kilda VIC 3182
Head down to St Kilda Pier to take in the city's skyline and gorgeous views of Port Phillip Bay. If you head to the kiosk at the pier there is also a great element to include in your photos. One of the best times to photograph St Kilda Pier is around sunset.
Shrine of Remembrance
Opening hours: 10:00 to 17:00 (Everyday)
Address: Birdwood Ave, Melbourne, Victoria 3001
The Shrine of Remembrance is a monument that was built in 1934 to tribute the lives lost in World War I, but today serves as a memorial for all the Australians who served in the war. Its stunning architecture was designed by architects and World War I veterans James Wardrop and Phillip Hudson and was also inspired by the Parthenon and the Tomb of Mausolus in Greece. A popular photo spot is the avenue of cypress trees which features commemorative plaques. If you wander inside you'll also be greeted with galleries, and crypts and get views of the gorgeous memorial gardens from the balcony and its free entry.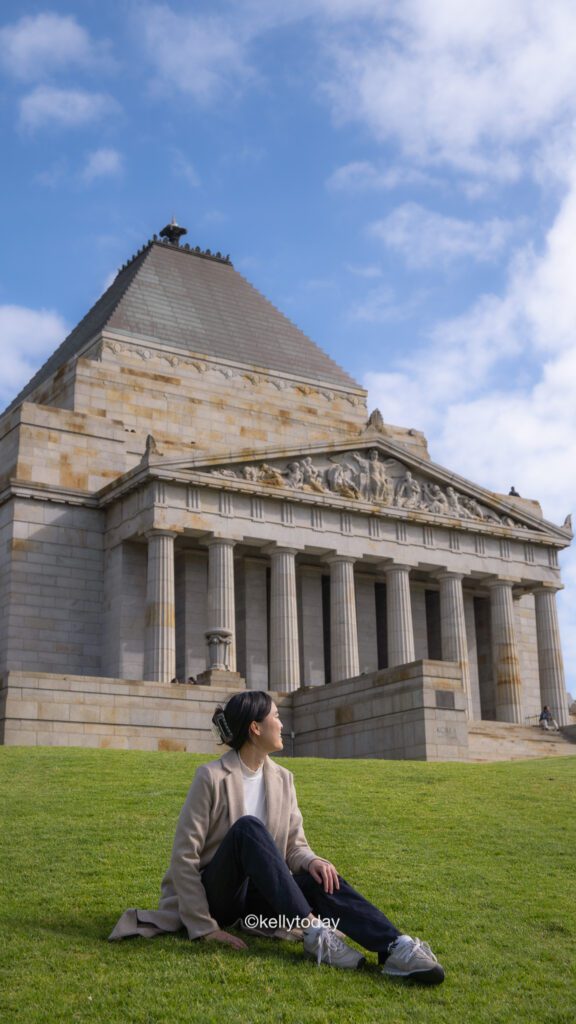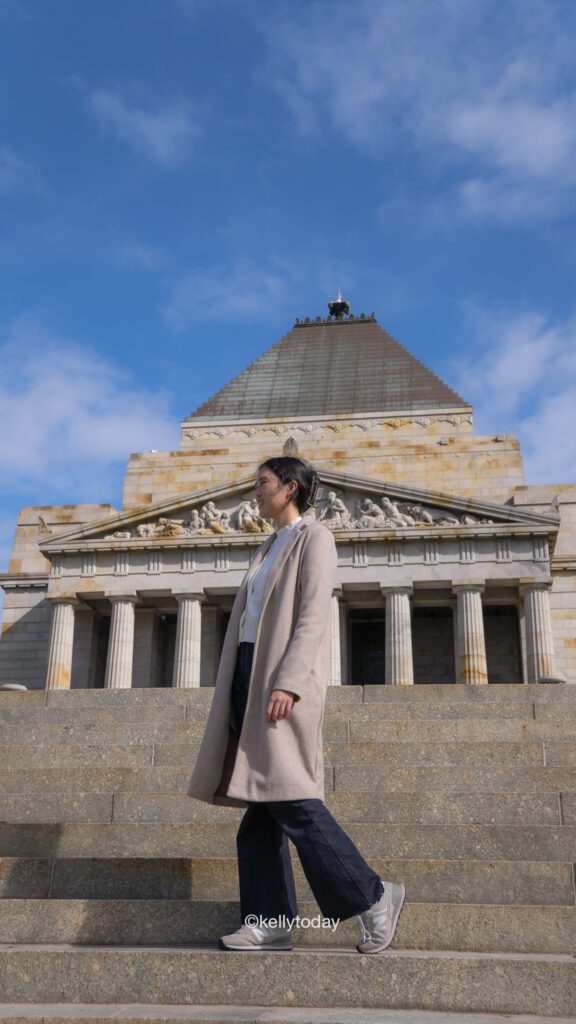 Luna Park
Address: 18 Lower Esplanade, St Kilda VIC 3182
Admission: General ticket or/and Unlimited Rides Pass.
Did you really visit Melbourne if you didn't visit and take a photo in front of the vibrant gaping entrance of Luna Park? In 1912 the popular amusement park opened its doors and has been operating almost continuously ever since.
Over its 100-year history, many rides have come and gone however the one that has remained is the Great Scenic Railway. In fact, it's a heritage-listed rollercoaster, which can be found around the perimeter of the park and is also recognised as the oldest continually operating wooden rollercoaster in the world. If you're looking to enter Luna Park don't forget to reserve your tickets online in advance for discounted admission and for unlimited rides.
Princes Pier
Address: Pier St, Port Melbourne VIC 3207
Built in 1915, Port Melbourne Pier was originally a major arrival point for new migrants however was renamed Princes Pier after a visit from Edward VIII – then Prince of Wales in 1920. These days however the 580m driftwood dock is home to a collection of picturesque stumps, is part open-air museum, part pier and is a gorgeous spot to visit around sunrise and sunset for those Instagram photos.
National Gallery of Victoria
Opening hours: 10:00 to 17:00 (Everyday)
Address: 180 St Kilda Rd, Melbourne VIC 3006
The National Gallery of Victoria is one of the best instagrammable photo spots in Melbourne. You'll find world-class exhibitions constantly featured in the gallery that you won't want to miss. Immediately upon arrival, you'll be greeted with endless photo opportunities, from the cascading water wall entrance, leading into an enormous central space decorated with large artworks and kaleidoscope-like stained glass ceilings. The gallery also features ever-changing exhibitions and installations which is a treasure trove for creative and visually engaging photo spots.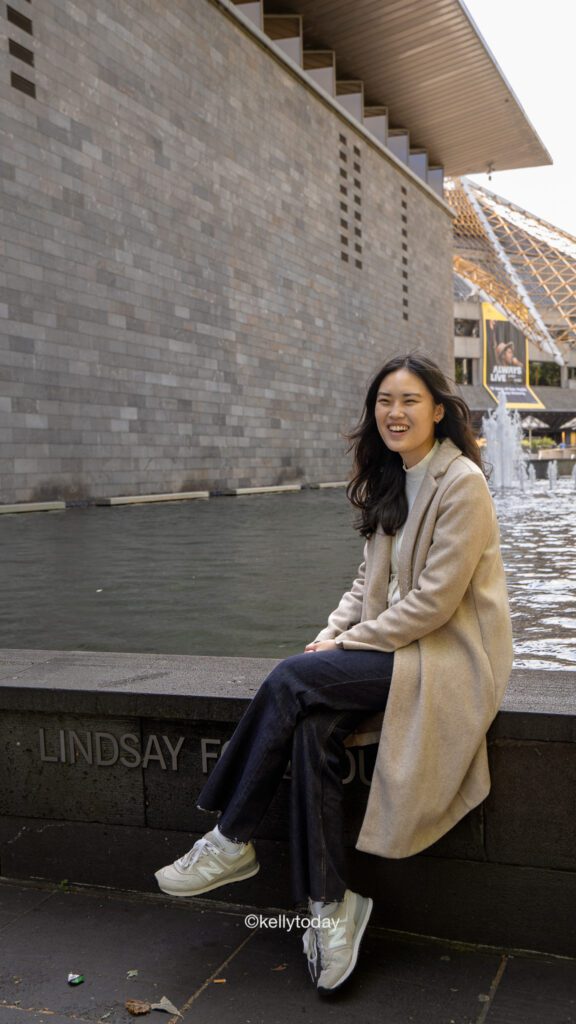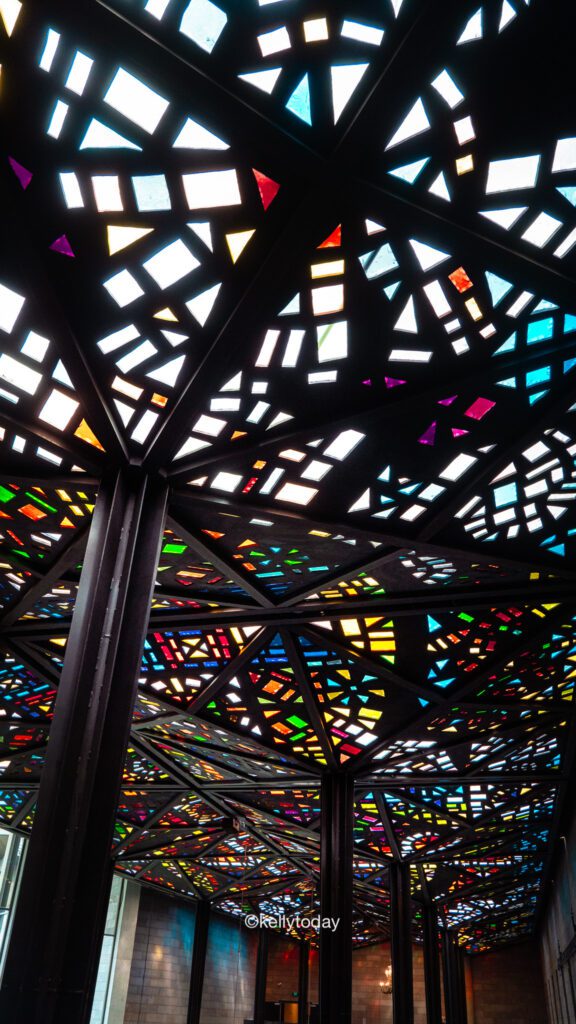 Dandenong Ranges
Address: Mount Dandenong, Melbourne, Victoria 3767
The Dandenong Ranges are the perfect day trip from Melbourne for those looking for magical forests, quaint gardens and adorable towns. About an hour's drive from the city, the Dandenongs are a lush haven of vibrant nature that is filled with greenery and flowers that will add a floral vibe to your feed. Two photo spots you'll want to add to your itinerary include Warratina Lavender Farm and the iconic Puffing Billy steam train in Belgrave.
The easiest and most convenient way to reach Dandenong Ranges is by a local day trip tour. This tour also covers Yarra Valley and other must-see sites in Melbourne.
Great Ocean Road
The Great Ocean Road makes the perfect day trip from Melbourne for those looking to escape the city. There are lots of photo opportunities along the way from waterfalls, beaches, cliffs and a rainforest. The most popular attraction is the 12 Apostles however all along the route you can find gorgeous spots for coastal photos. If you're a nature lover you'll want to check out the Great Otway National Park to be treated to waterfalls, ocean views and adorable fauna. I also highly recommend a helicopter tour over Great Ocean Road for the best views of the 12 Apostles, Loch Ard Gorge, The Sentinel, The Arch and London Bridge.
You can do a day trip to Great Ocean Road by hiring a car from Melbourne however it's about 7 hours worth of driving. The most convenient and easiest way to explore the Great Ocean Road is through a day trip tour. I booked the Great Ocean Road and Wildlife day trip tour from Melbourne and it covered all the main attractions and sites as well as round-trip transfers.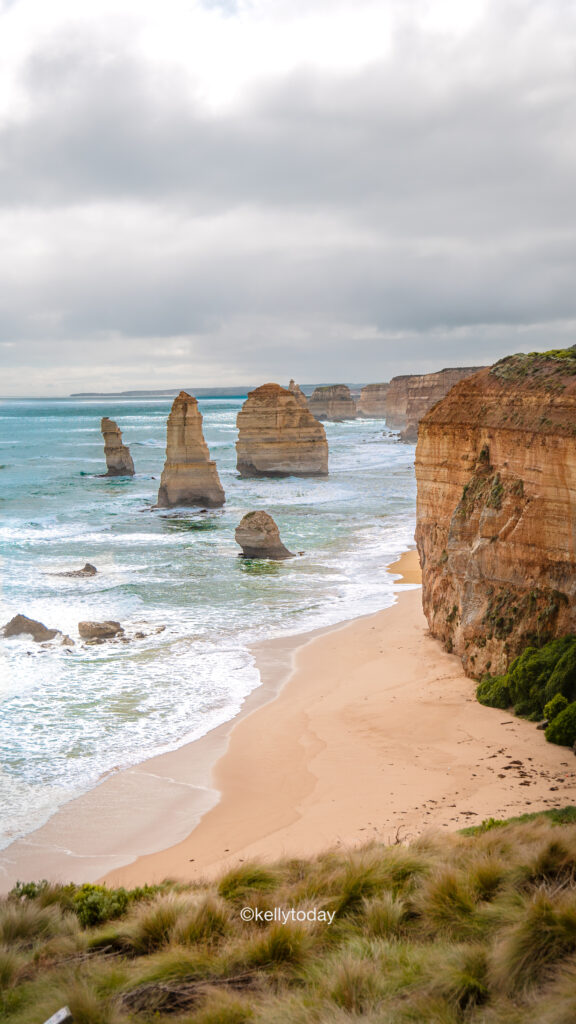 Looking for more day trip tours for Melbourne?
Wilsons Promontory National Park
Address: Gippsland, Melbourne, Victoria 3960
Head to Wilsons Promontory National Park to explore Victoria's coastal wilderness and some stunning nature photo spots. Located about a 3 hours drive from the city, this national park is the most southern point in mainland Australia that is worth the trip.
The reserve is a labyrinth of walking trails where you can find a variety of native Australian animals taking shelter. You'll also be treated to numerous backdrops, with the area featuring everything from secluded beaches, tranquil rivers, and granite mountaintops to fern-covered gullies. The easiest and most convenient way of reaching the National Park is through a local day trip tour.
Brighton Beach Boxes
Address: Esplanade, Brighton, Melbourne, Victoria 3186
A little further out from Melbourne's CBD lies Brighton which can be accessed by train or through a local day tour. On Brighton Beach, you'll find multicoloured bathing boxes which have been there since the early 1900s. At this spot, you'll find about 82 individually painted structures to explore making a vibrant background for your photos.
If you want to make the most of your trip in Melbourne I recommend checking out the Phillip Island and Brighton Local tour. It's a local day tour that covers Phillip Island's wildlife and the Brighton Beach Boxes on a day trip with round-trip transfers and admission to iconic local attractions.
Queen Victoria Market
Opening hours: 6:00 to 15:00 (Thu to Fri), 6:00 to 16:00 (Sat), 9:00 to 16:00 (Sun).
Address: Queen St, Melbourne Victoria 3000
Pay a visit to the longest-running 19th-century market in Victoria! Spanning over 7 hectares this market is also the largest open-air market in the southern hemisphere. Whilst it dates back to the 1860s, the Queen Victoria Market has become recognised as one of Melbourne's must-see destinations to see, photograph or grab a bite to eat in the city. The skyline setting at the market also makes a gorgeous photo backdrop.
Peter MacCallum Cancer Center
Opening hours: 8:00 to 20:00 (Every day)
Address: 305 Grattan St, Melbourne VIC 3052
The Peter MacCallum Cancer Center sits right next door to the University of Melbourne which is a research facility boasting a stunning futuristic interior. The central indoor area has been designed with several white walls spanning up twelve levels to the skylights of the roof. At night the building also lights up and is a gorgeous spot to visit after the sun goes down.
Royal Botanic Gardens
Opening hours: 7:30 to 19:30 (Everyday)
Address: Birdwood Avenue, Melbourne VIC 3004
Founded in 1846, the Royal Botanic Gardens is an urban green oasis that covers 36 perfectly manicured hectares and features over 50,000 individual plants. A visit to this garden and you'll be treated to lush rainforests, lakes, and a variety of flora and fauna which makes it the perfect spot for nature lovers.
It's a great spot to enjoy a picnic by the lake or you can take a leisure stroll along Tan Track which takes you around the gardens' perimeter. In addition to the gorgeous natural scenery, you'll be treated to sweeping views over Melbourne's skyline making it the picture-perfect spot.
For more in-depth tips on how to create content from capturing your photos to editing in post-production. Check out my entire content creation process including the best camera gear and things I wish I knew as a beginner photographer in this full in-depth guide on content creation here.
East Warburton Redwood Forest
Opening hours: 24 hours (Every day)
Address: Cement Creek Rd, East Warburton Victoria 3799
The Warburton Redwood Forrest is situated a bit of a drive from the city but it's worth a visit for getting a shots underneath the towering giant redwoods. With the trees planted in perfect rows, it gives photographers the perfect space to explore this enchanting forest. In addition to the towering trees there are also changing artworks littered throughout the area which you'll want to grab a photo with.
State Library of Victoria
Opening hours: 10:00 to 18:00.
Address: 328 Swanston St, Melbourne Victoria 3000
Yet to receive wide recognition, the State Library of Victoria is known for its iconic domed reading room – La Trobe Reading Room. Opened in 1854, the State Library is Australia's oldest public library and one of the first free libraries in the world. Its collection features more than two million books and 350,000 photographs, newspapers, maps and manuscripts. This library is probably one of the most instagrammable destinations in the city and it's not hard to see why. If you head upstairs you'll get a birds-eye photo of the octagonal space at the La Trobe Reading Room, littered with tiny green lamps below.
Note that this library is a working space and often filled with students, so make sure to visit early for the best photo opportunity.
Found this helpful? 👇🏼
Found this free guide helpful? Support my work so I can produce more free content for you.