If you're planning a trip to South Korea don't make the mistake of not visiting places outside of Seoul. There is so much more to see and do than the capital city of Seoul. Besides escaping the usual crowds of the bustling city you can use Seoul as a home base to discover other stunning parts of the country. This Korea day trip guide is full of fun day trips from Seoul including the best places to visit outside of Seoul, how to travel to these places, things to do, and more.
Disclaimer: This post may contain affiliate links, which means I get a small commission if you make a purchase (at no extra cost to you). It's one of the ways I can keep producing free resources and guides for my readers. Thank you for your support! Refer to the Disclosure Policy for more details.
Ganghwado Island (강화도)
If you're looking for a short day trip from Seoul consider Ganghwado Island in Incheon. This underrated gem has a range of things to do for every type of traveler. From exploring historical sites and fortresses, aesthetic cafes, picturesque mountainscapes, and more. The best part? There are barely any crowds exploring attractions on Ganghwa Island. You are unlikely to encounter any foreign tourists but a few locals taking a day trip to Ganghwa.
Some of the most popular things to do on Ganghwado Island include checking out the free North Korea viewpoints, cafe hopping at the picturesque cafes, and exploring the historic fortresses. To reach Ganghwa Island you can either take public transport or rent a car from Seoul. Find out everything you need to know about taking a day trip from Seoul to Ganghwado Island in this day-trip travel guide.
Pohang (포항)
If you're looking for an alternative city to Busan consider a day trip to Pohang. This coastal city is a hidden gem found on the eastern coast of South Korea with endless things to do. This includes some of the best places to explore in Korea with diverse landscapes ranging from gorgeous beaches, mountains, seaside cafes, temples, and stunning observatories with coastal views. One of the top things to do in Pohang is to catch a sunrise or sunset at the beach or one of many Pohang's viewpoints. The most popular spot for sunset is at Yeongildae Observatory (영일대 전망대) where you'll get to walk above the ocean and be treated to oceanside views and the Hwanho Space Walk.
If you're a Korean drama fan, you'll also want to check out the filming locations for Hometown Cha Cha Cha (2021) and When the Camellia Blooms (2019). Across Pohang are several filming spots used in the shows that capture the well-beloved charm of the shows.
To reach Pohang you can take a day trip from the main cities in Korea including Seoul, Busan, or Daegu. The best way to get to Pohang is by taking a high-speed train (KTX Train) or taking an express bus. Find out everything you need to know about taking a day trip to Pohang in this Pohang Travel guide.
📌 Save hours planning with this one-stop Pohang Travel Guide!
Nami Island (남이섬)
Address: 1, Namiseom-gil, Chuncheon-si, Gangwon-do (경기도 가평군 가평읍 북한강변로 1024)
Opening Hours: Open all year round.
If you're looking for a day trip to escape the bustling city of Seoul to explore nature consider Nami Island in Gapyeong. Nami Island is a small crescent-shaped island located 63km from Seoul. It's a popular day trip spot by locals and tourists alike and is beautiful to visit all year round. No matter what season you visit Nami Island you'll be treated to stunning scenery from its towering tree lanes, picturesque gardens, and Cheongpyeong Lake. You can also meet the friendly locals from the cute rabbits roaming around the island and if you're lucky some ostriches.
Things to do on Nami Island
You can easily explore the island on foot or rent a bike to cycle around the island and explore all the attractions. Some of the most popular attractions on Nami Island are Gingko Alley, Metasequoia, and the story tour which takes you on a tour of the island via an air bike. If you're a Korean drama fan you'll be happy to know that Nami Island was featured in various Korean dramas including Secret Garden (2010), Winter Sonata (2002), My Love from the Stars (2013), and Running Man. You'll get the chance to experience the charm of these K-Dramas by visiting filming locations such as First Kiss Bridge and the Winter Sonata statute.
A day trip to Nami Island is often done together by visiting nearby attractions including Petite France, Gapyeong Rail Park, and the Garden of Morning Calm. Read on to find out how to get to these places in Korea.
Petite France (쁘띠프랑스)
Address: 1024, Bukhangangbyeon-ro, Gapyeong-eup, Gapyeong-gun, Gyeonggi-do, Korea
Instead of visiting Europe an affordable option can be found in Petite France. Petite France is a picturesque French-themed cultural village located in Gapyeong. With pastel-colored French-style buildings surrounded by mountains and a lake, Petite France provides endless Instagrammable photo spots for your trip. Besides being famous for its gorgeous scenery, the village has also been featured in several Korean dramas, including My Love from Stars (2013), Secret Garden (2010), Personal Taste (2010), and Beethoven Virus (2008). If you're a K-Drama fan, Petite France is a must-visit location to add to your Korea travel itinerary.
Things to do in Petite France
There is a range of galleries to explore showcasing antique furniture, cute marionettes, and various props. Make sure to check out the performance with the traditional music box and hand-carved marionette demonstration. For more hands-on activity you can immerse yourself in French culture by trying activities including traditional French games and plaster craft. You can also try visiting the Saint-Exupery Memorial Hall where to can see the exhibition dedicated to Saint-Exupery, a French author of 'Le Petite Prince (The Little Prince)' and 'Night Flight.'
How to get to Nami Island & Petite France from Seoul
For first-time travelers to Korea, it isn't the easiest day trip from Seoul. Since there are no direct bus or train connections from Seoul to Nami Island or Petite France. You will have to organise multiple modes of transit and make several transfers. Additionally, if you reach one of these places, it can also be quite difficult to get to the next destination without a car, because these places are spread out from each other. I personally recommend organising a tour which covers all the transport transfers and the entrance fees.
Public Transport
Depending on where you're based in Seoul you'll want to take a train (ITX-Cheongchun line) to Gapyeong Station. I recommend booking an ITX train in advance instead of the regular subway to save time on the transfer and you can reserve your seats online. From Gapyeong Station you'll either take public transport or a taxi to Gapyeong Wharf where you can purchase a ferry ticket to Nami Island. If you plan on taking an ITX train make sure to arrive 30 minutes before the scheduled departure time.
Another option to reach Nami Island from Seoul is taking a direct shuttle bus or a local day trip tour. This saves you the hassle of organising all the different transport transfers and it includes admission to attractions.
Day Trip Tours to Nami Island
The easiest and most popular way to get to Nami Island is by joining a day trip tour. It's the quickest and most convenient way to visit Nami Island in addition to Petite France, and the Garden of the Morning Calm. The best part about going on a local day trip is all the round-trip transfers are organized, it covers all entry admissions and you get to skip the queues for attractions. Depending on the season you visit Nami Island there are also unique seasonal tours that offer visits to unique attractions and seasonal activities. Read the following recommendations to decide which one works best for your trip.
If you're travelling to South Korea during the winter months (December to February) you'll be treated to picturesque snowy landscapes and the chance for snow sports. Try these local one-day tours that suit your preferences, from skiing and/or exploring all the winter hot spots across Korea.
The Garden of Morning Calm (아침고요수목원)
Address: 432, Sumogwon-ro, Gapyeong-gun, Gyeonggi-do (경기도 가평군 상면 수목원로 432)
Another day trip from Seoul is the Garden of the Morning Calm. This garden is located north of Seoul in Gapyeong and is beautiful to visit all year round. Visitors will be treated to an arrangement of unique gardens and a lush forest of pine nut trees. One must-see spot to check out here includes the Sunken Garden which has been designed like the Korean Peninsula and features flowers on both sides to symbolise North and South Korea to be reunited.
If you're visiting Korea during winter you'll want to add the Garden of Morning Calm as a day trip. You'll be lucky to experience the Light Festival where the garden is lined with over 30,000 LED lights and is a magical sight to experience. This festival is usually held from December to March every day and you can organize a visit through a local tour.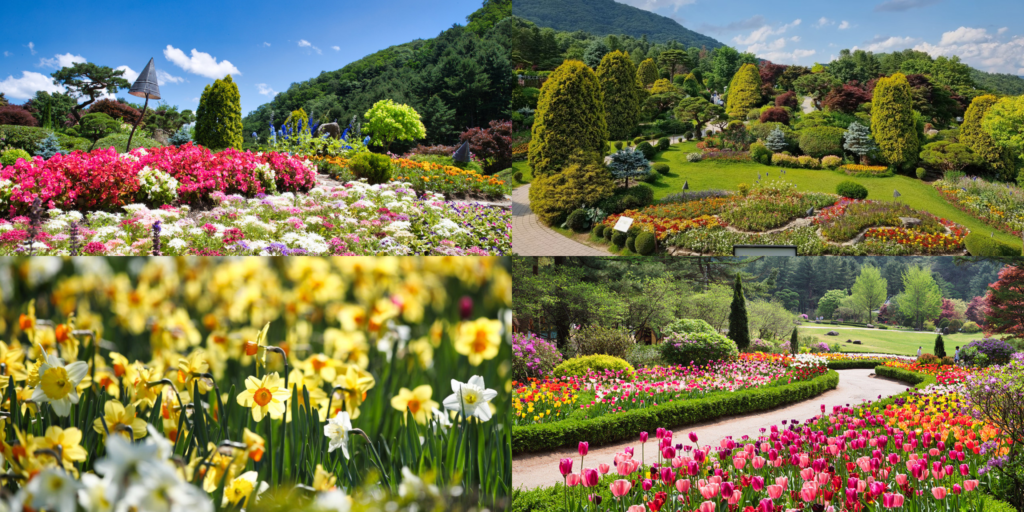 Gangchon Rail Park (강촌레일파크)
Address: 1383, Gimyujeong-ro, Chuncheon-si, Gangwon-do (강원특별자치도 춘천시 신동면 김유정로 1383)
If you're visiting the Garden of Morning Calm it's popular to also visit Gangchon Rail Park which is nearby. You'll get to pedal along an abandoned railroad track through beautiful scenery from picturesque fields, mountains, rice fields, tunnels, and more. The total course of the rail bike is about 8.5km with 6km on the rail bike and the remaining 2.5km on a train. If you're worried about peddling you'll be relieved to know that most of the track is downhill to make it easy for visitors to mainly enjoy the sites.
This is a great spot to visit with a group of friends with two types of rail carts available including 4-seaters and 2-seaters. Besides experiencing the railroad track there are also other attractions to enjoy including a zip wire, cafe, large book photo zone, and more.
How to get here
The easiest way to get to Garden of Morning Calm and Gangchon Rail Park is by a private car which is about a 2-hour drive or through a local tour. I'd personally recommend a local tour as they often cover multiple attractions (Nami Island, Petite France, Garden of Morning Calm, Rail Park) in and around Gapyeong and round-trip transfers in a single trip. A local tour is the most affordable option however if you have to budget you can organise a private car transfer which is a great option if you're traveling in a group. This way you can split the cost across each other.
Important Tip
I personally wouldn't recommend doing a day trip independently covering all these attractions in and around Gapyeong. This is because it's not a feasible option to visit all these places in one day. All these places are spread out and would require multiple public transport transfers. This can be overwhelming to organize for first-time travelers to Korea and it can actually work out more expensive than booking a day trip. With this in mind, consider exploring a local day trip tour that covers the attractions you'd most like to see in and around Gapyeong. Just make sure to choose the right tour that suits your budget and the preferred attractions you want to see.
Incheon (인천)
Incheon is located right next to Seoul and is often overlooked by foreign tourists. Often most travelers just arrive at Incheon International Airport and travel directly into Seoul. However, Incheon has a lot of sightseeing attractions to offer and makes an easy day trip from Seoul. To get to Incheon take the metro train to the closest train station to the first attraction in Incheon you want to see. The best option for navigating to Incheon and around South Korea is by using either Naver Map or Kakao Maps.
Things to do in Incheon
You can easily spend a day in Incheon with a diverse range of things to do around the city. For sightseeing, I recommend strolling at Songwol-dong Fairy Tale Village, Incheon Central Park, and making a stop at Jeondeungsa Temple. If you're looking for a place for affordable shopping check out Bupyeong underground market in Incheon. You can find everything at this market from affordable skincare, bags, and clothes to household items.
A must-see place in the city includes Incheon Chinatown (인천 차이나타운). Chinatown is a popular destination in Incheon due to its influence on Chinese immigrants and food. You'll be treated to a unique experience away from the bustling city of Seoul with Chinese delicacies and unique architecture. I also recommend grabbing a bite in the area by trying jjajangmyeong which is a noodle dish with black bean sauce that originated in Korea.
A great way to end your day in Incheon is by checking out Wolmido Island around sunset. A visit to Womido Island will allow you to try a boardwalk experience in Korea. It's a great place to catch a sunset and also check out the Ferris wheel, carnival games, rollercoasters, and local food. If you're feeling adventurous you'll want to try out the famous ride Disco Bang Bang. This famous ride became popular from its entertaining DJ who tries to 'throw you off' the ride. Wolmido is a great free alternative if you don't want to pay for Lotte World in Seoul.
🛌 Where to stay in South Korea?
Need help finding the best areas and places to stay in South Korea?
Check out my Korea accommodation travel guide. I cover the best places to stay in over five cities in Korea with hundreds of map links and things I wish I knew before booking accommodation in Korea including scams to look out for!
Demilitarised Military Zone (DMZ)
There's a rich history behind why Korea is divided into its South and North territories. After drafting an agreement that ceased the violence of the Korean War, the Korean Demilitarized Zone (DMZ) stands as the border between the territories. The DMZ is a great place to visit to learn more about Korean history and the situation between South and North Korea.
How to travel to the DMZ
With strict entrance requirements, the best way to visit the DMZ is either through a half-day or full-day tour from Seoul. If you choose a half-day option you'll be able to see all the sites in a small amount of time with no planning involved. Depending on which DMZ tour you choose you'll get to enjoy different sites including Imjingak Park, Dora Observatory, the 3rd Infiltration Tunnel, and Dorasan Station. For example, at Imjingak Park you'll be able to see Freedom Bridge and a derailed steam train from the Korean War. This park has also been dedicated to the millions of South Koreans who were separated from their families.
If you visit Dora Observatory you'll get to use binoculars to see North Korea's propaganda village. On a clear day, you might even get a glimpse of North Korean soldiers. Meanwhile a visit to the Third Infiltration Tunnel you'll be given a hard hat and get to walk along 265m of the 1,635m long tunnel which is situated 73m below ground.
Depending on what you want to see and experience at the DMZ will determine which local tour is best for you. Here are recommendations on half-day and full-day tours to the DMZ.
Suwon (수원)
Address:
Step back in time with a day trip to Suwon, which is home to the Hwaseong Fortress, a UNESCO World Heritage site that boasts impressive walls, gates, and watchtowers. Built in the 18th century, 'hwaseong' means brilliant castle' and was constructed in honor of King Jeongjo's filial piety to his father. The fortress wall is over 5km long and has over four majestic gates that are beautifully preserved. Taking a leisure stroll along the fortress strolls will allow you to get panoramic views of the city, and allow you to step back in time. Besides checking out the historic sites, Suwon is home to a range of aesthetic cafes with gorgeous views of the surrounding city that shouldn't be missed.
☕️ Want to find the best places to eat in South Korea?
Don't miss out on over 290 cafes and restaurants to visit in Korea in my Cafe & Restaurant Guide. I cover essential information including…
Over 290 local cafes & restaurants to visit (with Naver Map links)
How to find hidden local eateries (cafes & restaurants)
Over 30 essential Korean phrases & vocabulary for ordering at restaurants & cafes
Essential etiquette for eating out in Korea ….. and more!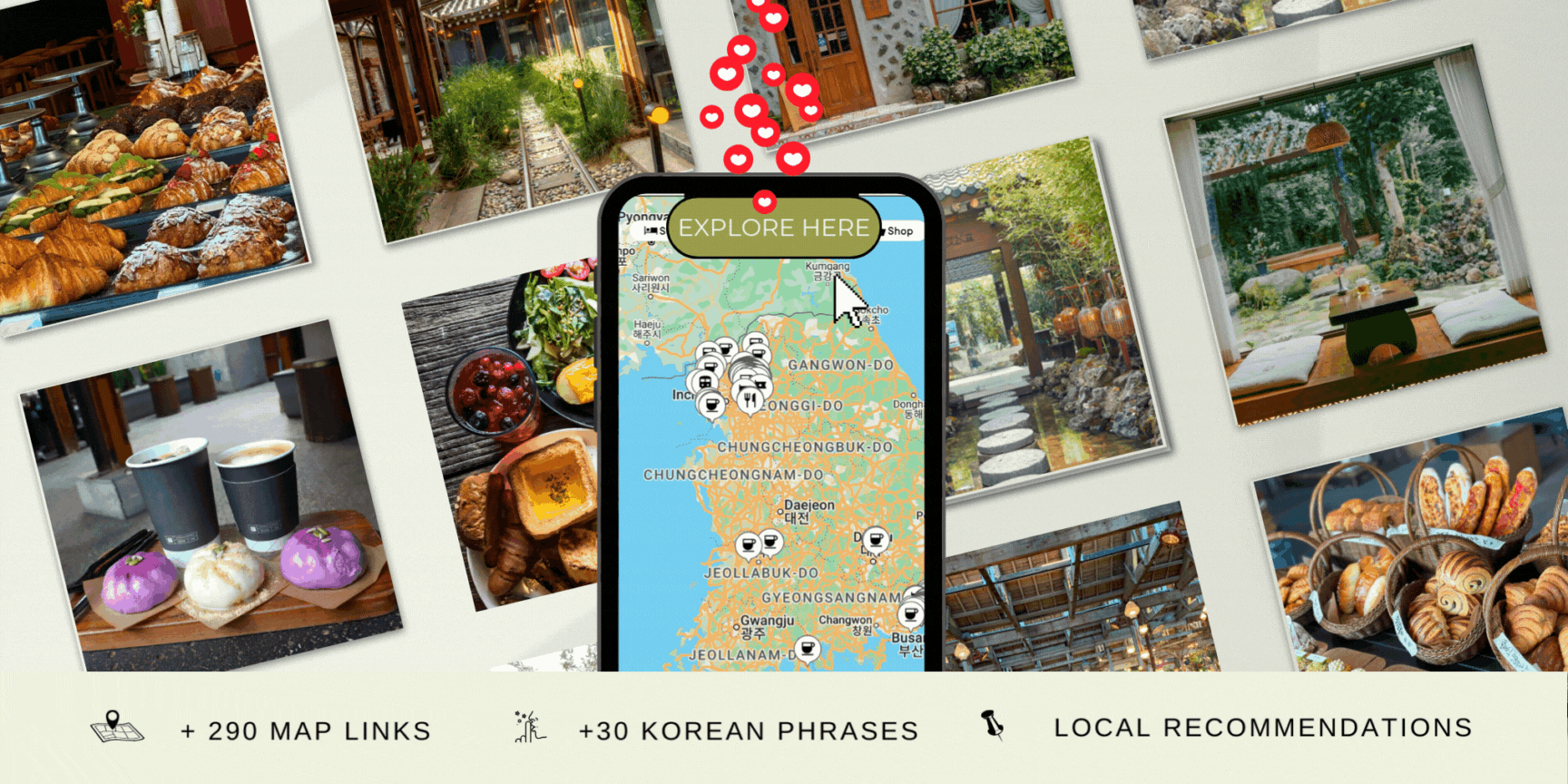 How to get to Suwon?
Public Transport
Suwon is located 34 kilometres south of Seoul and is accessible by public transport. For the quickest route between Suwon and Seoul take a 30-minute KTX. You'll need to book a KTX train in advance to reserve your seats otherwise you can take the regular Seoul Subway which will be about a 50-minute ride.
Private Local Tour
If you prefer traveling at your own pace consider a full or half-day private transfer to and around Suwon. The best part about a private local tour is that it's tailored to your interests. You also have the option for a guide to join you on the tour allowing you to get insider recommendations on where to travel around Korea. This private tour is also a great option to split with friends on a trip.
Day Trip Tour
For a stress-free trip to Suwon check out the Suwon Hwaseong day tour from Seoul which includes:
Round-trip transfers
Visit attractions including Suwon Hwaseong Fortress and Korean Folk Village.
Traditional Korean Clothing Experience & Cultural Activities
Traditional Korean Market Experience
English-speaking guide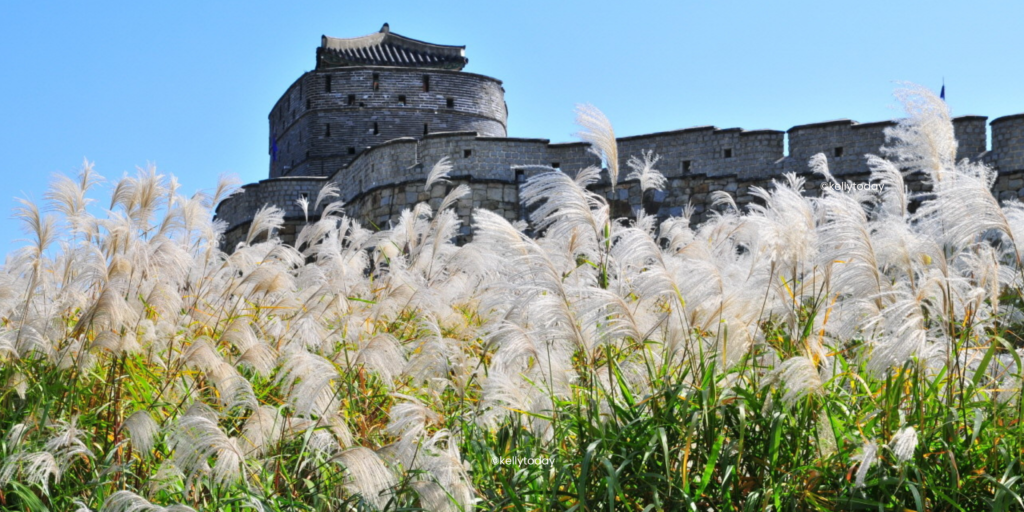 Korean Folk Village (한국민속촌)
Address: 90 Minsokchon-ro, Giheung-gu, Yongin-si, Gyeonggi-do (경기도 용인시 기흥구 민속촌로 90)
If you want to explore a traditional culture village without the usual city crowds consider the Korean Folk Village in Gyeonggi-do. Visitors will be treated with a mixture of regular houses and mansions from all over Korea that have been moved here and restored to recreate a village from the Joseon dynasty.
What makes this village interesting are the cultural experiences that aren't available in other cities. From seeing artisans using traditional techniques to make handicrafts and watching local performances such as a traditional wedding ceremony, martial arts on horseback, nongak (farmer's music), and other special events available by season. You can also find workshops including pottery; constructing bamboo products such as furniture and baskets; blacksmithing; natural tie-dying and; bronzeware.
How to Get to Korean Folk Village
There are several ways to get to the Korean Folk Village. If you plan to go by yourself you'll need to take a combination of public transport options (subway and bus). To find the best transport route you'll need to map your transfers using Kakao Map or Naver Map. The easiest and most convenient way to get here is through a day trip tour with round-trip transfers and admissions to all attractions covered.
Seoul Land (서울랜드)
Address: 181, Gwangmyeong-ro, Gwacheon-si, Gyeonggi-do Korea (경기도 과천시 광명로 181)
Seoul Land is one of the oldest theme parks in South Korea. It has a mixture of rides and attractions for all ages to enjoy. Despite this theme park being more outdated it's a great place to visit with less crowds compared to Everland and Lotte World. Seoul Land is also a more affordable park to visit compared to these two theme parks.
Seoul Land also features seasonal festivals all year-round at the park including Halloween and Christmas. One of the most popular seasonal times to visit is during winter when they open up a snow slope for all ages to enjoy. They also decorate the park with igloos to add to your winter explorations in Korea.
Everland (에버랜드)
Address: 199, Everland-ro, Cheoin-gu, Yongin-si, Gyeonggi-do (경기도 용인시 처인구 포곡읍 에버랜드로 199)
Go on a fun adventure by visiting Korea's largest amusement park, Everland. It's the perfect place to spend a full day for all ages from exploring a mini safari, trying out carnival games, testing out the thrilling rides, and more. The theme park has five themes including American Adventure, Magic Land, European Adventure, Zoo-Topia, and Global Fair.
If you're a thrill seeker you'll want to explore the park's several big rides from the T-Express, Korea's first wooden roller coaster, and several high-tech VR rides. If this isn't for you the park also has a 4D movie theatre, water rides, and a live hologram theatre. Make sure to also check out the zoo and safari theme park which boasts pandas, sea lions, bears, tigers, and more.
How to get to Everland
Everland is located about 46 kilometers from Seoul and you can reach it in multiple ways. If you want to go to Everland on your own you'll have to take a combination of public transport transfers which can take over 2 hours. I personally don't recommend taking public transport for a one-day trip to Everland. Getting back from Everland to Seoul at the end of the day is very hectic with crowds and long lines for public transport.
I personally recommend organising a shuttle service as part of a day trip tour package. The shuttle bus will have several pick-up locations in Seoul and usually offers round-trip transfers. Depending on where you board the bus the journey takes about 40 to 70 minutes.
Ansan (안산)
If you're looking for a more laid-back place to explore in South Korea consider the city of Ansan. Ansan is often an overlooked city by foreign tourists and is a hidden gem that deserves more widespread recognition from visitors. This city is located southeast of Seoul in Gyeonggi-do province and is only about an hour away from the capital city. Since it's located on the coast of the Yellow Sea it has a range of diverse landscapes to enjoy. Top attractions to explore include Ansan Multicultural Village, Ansan Botanical Garden, and Ansan Reed March Park.
If you're a foodie you'll want to experience the gastronomic side of Ansan. The city boasts a mixture of cuisines from all over the world. You can find food from all over South-East, Central, and East Asian countries to try in this area.
If you're visiting South Korea at the end of the year you'll want to add Ansan Starlight Village (안산별빛마을) to your itinerary. The village is a park that showcases the style of Provence in France and during this event is decorated with stunning lights and over 200 displays inspired by real-size objects and animals.
The easiest way to visit Ansan from Seoul is by public transport or an organised bus transfer. If want to check out Ansan Starlight Village I recommend booking this day trip tour from Seoul. This local tour covers Ansan Starlight Village, Gyeonggi Uiwang Rail Bike, Gwangmyeong Cave Day, and round-trip transfers making it hassle-free for you.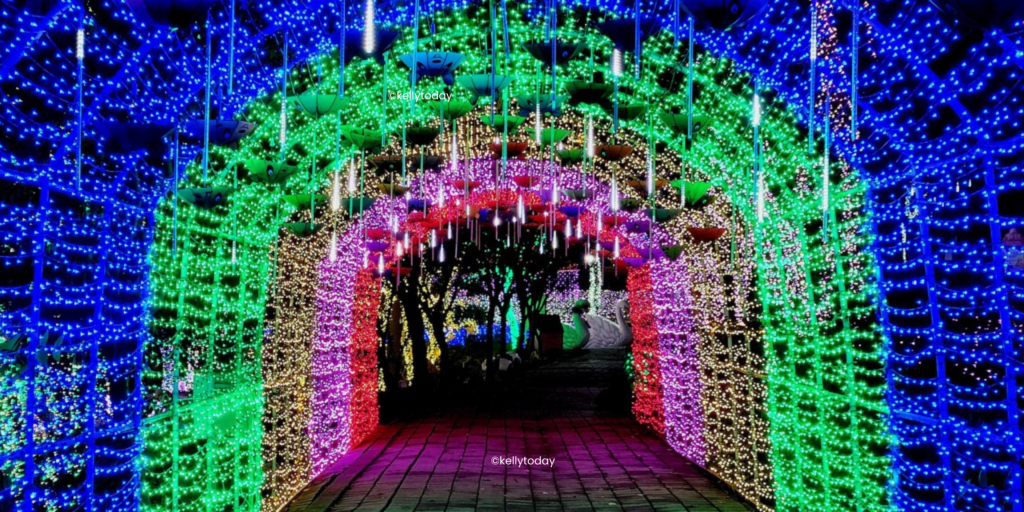 Gwangmyeongdonggul Cave (광명동굴)
Opening hours: 9:00 to 18:00 (Weekdays)
Address: 142, Gahak-ro 85beon-gil, Gwangmyeong-si, Gyeonggi-do (경기도 광명시 가학로85번길 142)
If you want to escape the hot weather of Seoul during the summer months consider a visit to Gwangmyeong Cave. This abandoned copper, silver, and gold mine opened in 2011 for tourism as a themed cave park with a range of artistic and cultural things to try.
Visitors will be treated to different themed areas including the cave aqua world, the cave arts center, the space of light, the wormhole square, and more. In addition to these themed areas, there is the largest dragon sculpture in Korea and an LED light display to explore for your visit. After you've done exploring you can grab some food from the local stalls, restaurant, or cafe whilst taking in the unique scenery at the theme park.
How to get to Gwangmyeongdonggul Cave
The easiest way to reach Gwangmyeongdonggul Cave is by taking public transport. From Seoul it will take multiple public transport transfers and the best route can be mapped out using Naver Map or Kakao Map.
Jeonju (잔주)
Address: 99, Girin-daero, Wansan-gu, Jeonju-si, Jeollabuk-do (전라북도 전주시 완산구 기린대로 99)
Jeonju is one of my favourite places that I always find myself visiting in South Korea. Located in North Jeolla province it boasts a rich cultural heritage and delicious food that shouldn't be missed. A must-visit place in Jeonju is Jeonju Hanok Village (전주 한옥마을 ) which will make you feel as if you've stepped back into the Joseon Dynasty. With over 800 Korean traditional hanok houses, you'll get to experience slow travel and some of the best food to try in the country. Recommended local cuisine to try in Jeonju include bibimbap, choco pie, and Kongnamul gukbap. Whilst you can try Bibimbap anywhere in Korea Jeonju is the birthplace and is a must-try dish in this city.
Things to do in Jeonju
With its traditional hanok houses that you've seen in historical K-dramas, Jeonju also has other local sightseeing must-see attractions to check out. The best part about visiting Jeonju Hanok Village is that most of the attractions are within walking distance which makes it easier to explore Jeonju within a day. A few of these attractions include Nambu Market, Pungmun Gate, and Gyeonggijeon, a historic shrine that now serves as a royal portrait museum. If you have the time I strongly recommend trying a traditional hanok stay in Jeonju or in Seoul for your trip.
If you're visiting Korea in autumn (September to November) you'll want to pay a visit to Gyeonggijeon (경기전) which features shrines, storehouses, and guardrooms that are stunning with the orange, red and yellow leaves in the background.
Hanbok Rental
A trip to Korea wouldn't be complete without renting a traditional Korean dress (hanbok). Instead of renting a hanbok in Seoul with the busy crowds consider trying this cultural activity in Jeonju. Not only will you get to explore without the usual city crowds but you'll get different cultural sites to explore compared to the well-known tourist attractions in Seoul. Read everything you need to know about hanbok rentals here.
How to get to Jeonju
Take a day trip from Seoul to Jeonju using a 1.5-hour KTX train. Alternatively, a cheaper option includes taking an express bus to Jeonju. The most easiest and convenient way to get to Jeonju however is through a day trip tour which includes round-trip transfers and a local guide giving you insider recommendations on the best places to visit.
Gyeongju (경주)
Address: 757, Taejong-ro, Gyeongju-si, Gyeongsangbuk-do (경상북도 경주시 태종로 757)
One of my favourite day trips from Seoul includes the ancient capital of Gyeongju. This city was previously the capital of the kingdom of Silla (BCE 57-CE 935) and has been recognized for its historic value through Gyeongju's Historic Areas designated as a UNESCO World Heritage Site in 2000.
Nicknamed the 'museum without walls' you'll be treated to endless archaeological and historical sites that have been well preserved and are a must-see experience. A day trip visit will allow you to walk back into Korea's history by exploring the royal tombs, shrines, and gorgeous scenery as well as allow you to enjoy the delicious cuisine and more. The city's streets are lined with aesthetic cafes and local eateries that serve both Korean and Western cuisine with a gorgeous view of Gyeongju's historic sites.
Some of the top must-see attractions in Gyeongju include Bulguksa Temple, Cheomseongdae Observatory, Daereungwon Tomb Complex, and Gyeongju Tower. Whilst Gyeongju is beautiful all year round to visit my personal favourite times to visit include autumn to see the fall foliage and different flower fields.
How to travel to Gyeongju?
By Train: If you're taking a train, consider getting the foreigner discount train pass to save money and get around numerous cities via train. From Seoul, the most convenient and easiest way to get to Gyeongju is via the high-speed train (KTX). Direct trains are available from Seoul Station usually every hour and should take about 2 to 2.5 hours. After you reach the KTX train station in Gyeongju you'll have to take a bus or catch a taxi to the main attractions in Gyeongju because the station is located outside of the city center.
By Bus: You can take a 3.5-hour express bus from Seoul to Gyeongju. You can often show up at the Express Bus Terminal and get tickets without an issue, otherwise, you can reserve your tickets online.
Join a Tour: The easiest way to reach Gyeongju from Seoul is by booking a local tour. There are some great options that will get you to Gyeongju and back in a day and let you see all the main attractions. This local tour covers Bulguksa Temple, Daereungwo, Gyochon Village (Woljeonggyo), and more and gets you back to Seoul all in one day.
Private transfer: You can book a private driver that will pick you up from Busan and get you to Gyeongju and see all the main sites and back in your own time. This is a great option to split with a group and you'll also won't have to rush to see all the attractions.
✈️ Traveling to South Korea for the first time?
Don't miss out on these must-know things for your trip to Korea in my Korea Survival Travel Guide. I cover essential tips including…
Korea Travel Essentials (Must-Have Apps, Language, Transport, etc.)
Must-know Tips for your trip to Korea (Things no one tells you about Korea – scams, language barrier, travel etiquette, etc.)
+100 Essential Korean vocabulary and phrases (learn how to order at restaurants, shops, and navigation)
Guide to using public transport in Korea ("What's the best way to travel?" "How do I book high-speed trains and buses?")
Where should I travel in South Korea? (Recommendations for Seoul & Beyond ~ Discover hidden gems).
…. and much more!
Hopefully, you're inspired by the different fun day trips from Seoul. From classic trips such as the DMZ and Nami Island to places outside of Seoul that are more off the beaten path including Pohang and Ganghwado. There are endless places to visit outside of Seoul to add to your Korea trip itinerary. After reading this article which place are you excited most to visit? Let me know in the comments.
Found this helpful? 👇🏼
Support my work by buying me a coffee so I can produce more free content for you.
---