Autumn in South Korea is a breathtaking spectacle of nature's beauty. The vibrant fall foliage, cool weather, and cultural festivities make it an ideal time to visit South Korea. If you're planning a trip to South Korea during autumn, here's your local travel guide with the top things to do in autumn and the best places to see the autumn foliage in South Korea.
Disclaimer: This post may contain affiliate links, which means I get a small commission if you make a purchase (at no extra cost to you). It's one of the ways I can keep producing free resources and guides for my readers. Thank you for your support! Refer to the Disclosure Policy for more details.
Frequently Asked Questions about Autumn in Korea
When is Autumn in South Korea?
Autumn in South Korea occurs between late September to mid-November. The exact foliage dates vary each year, depending on the region, weather conditions and altitude. As the season progresses you can expect the colours to begin in higher altitudes and then gradually to the lower elevations. In order to experience the best dates for the fall foliage in Korea make sure to plan your visit for the end of October. Usually around this time, you can expect peak fall foliage across many areas in Korea.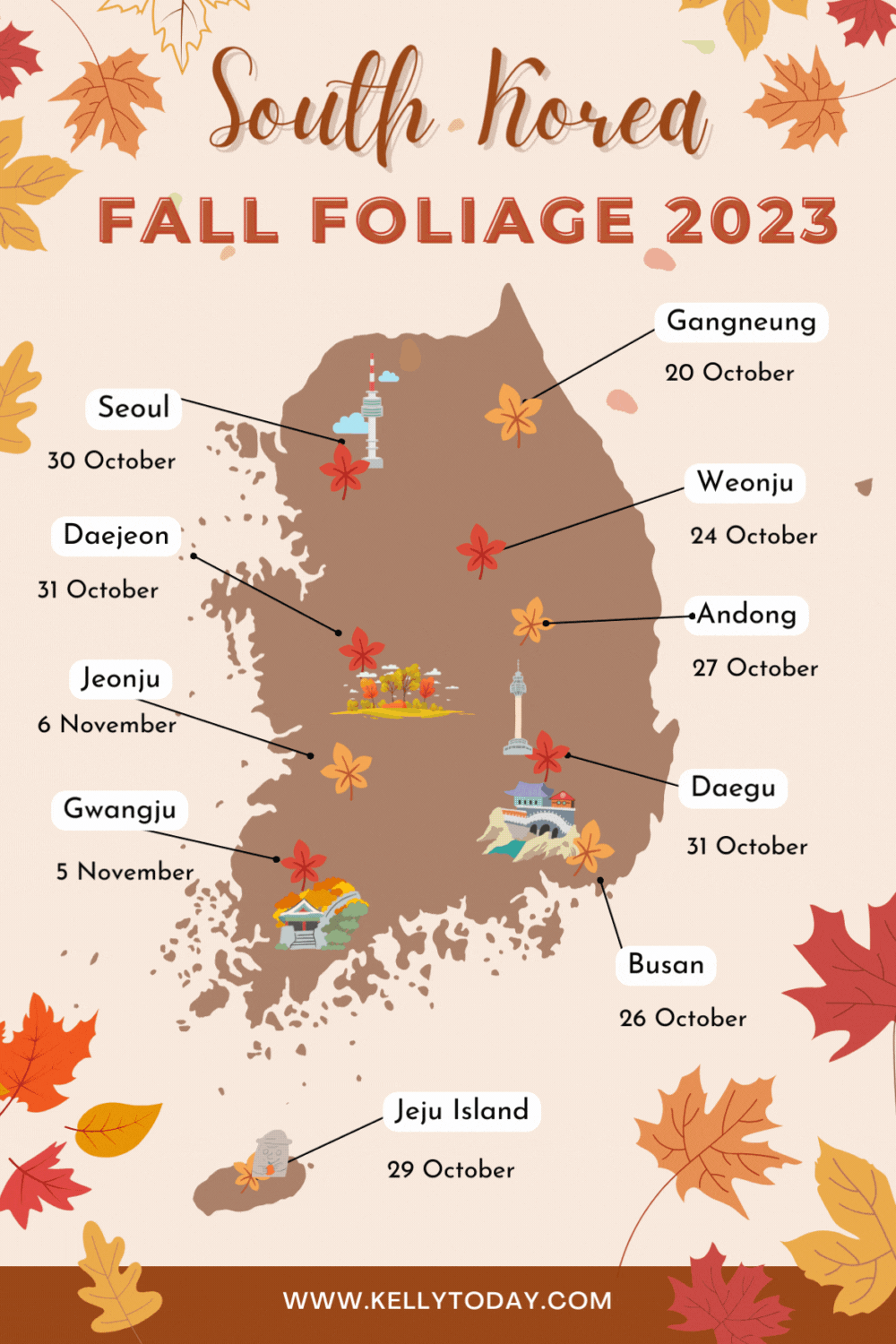 Autumn Weather in South Korea
In addition to the vibrant golden and orange leaves, you can also expect pleasant warm to cool temperatures (around 20°C) in autumn which makes it a great time to visit South Korea. Average daytime temperatures range from 15°C to 20°C (59°F to 68°F) and during the night you can expect cooler temperatures. With this in mind, it's important to pack lots of layers for your autumn visit to Korea.
Read up on must-have travel essentials and Korean phrases for your trip to South Korea in this Korea Survival Guide.
What can you do in Autumn in South Korea?
If you're visiting during autumn there are a lot of fall festivals in South Korea to enjoy where you can enjoy cultural performances and activities. In autumn a popular activity includes hiking to soak up up the cool weather and enjoy the vibrant foliage. For the top autumn hiking spots, I'd recommend checking out Naejangsan and Seoraksan Mountain.
Another top thing to do in Korea during autumn is renting a traditional Korean dress (hanbok). Besides renting a gorgeous hanbok for the photo opportunities it's also a great way to immerse yourself in Korean culture. If you rent a hanbok in Seoul you'll also be granted free entry into the five grand palaces.
Find out everything you need to know about renting a hanbok in South Korea in this guide.
Where are the best places to see autumn foliage in Korea?
There are endless places to enjoy the autumn foliage in South Korea. In Seoul, some of my personal favourite fall foliage spots are Seoul Forest, Gyeongbokgung Palace and Olympic Park. Further in this autumn guide I'll be covering 20 of the best fall foliage spots to add to your Korea trip itinerary.
Tips for Autumn in South Korea
Before reading all these helpful tips for travelling in South Korea make sure to read these 10 must-know things before your trip to Korea.
Fine Dust Pollution
If you're traveling in Korea during autumn you'll need to be aware of the presence of fine dust particles in the air. Fine dust or yellow dust ("hwangsa") is a prevalent meteorological event in South Korea particularly during spring and autumn months. Fine dust can affect air quality and visibility, so it's strongly recommended to check air quality forecasts, wear a mask and also to opt for indoor activities during high fine dust levels.
To check for air-quality levels I recommend downloading the app Airvisual (Apple or Android) for real-time updates about the air quality in your location.
Best Time to Visit Korea in Autumn
The best times to see the autumn foliage in South Korea are late October and November, and the peak foliage season usually lasts for about two weeks. It's important to note that the peak foliage period varies by region, with cooler areas in the north changing colours earlier.
Seasonal Delights
Take advantage of the seasonal festivities by trying some of Korea's culinary delights available in autumn. No autumn is complete without trying seasonal foods and treats in Korea. Here are some of the best autumn foods to try.
Dried persimmon (gotgam) – Persimmons fully ripen during autumn making it a staple food during the season. It can be enjoyed in a variety of ways such as desserts and punches.
Korean blue crab is a popular autumn meal with Korean markets stocked up on fresh crab. In particular, Korean blue crab marinated in soy sauce (ganjang gejang) is a must-try dish.
Cutlass fish (galchi) is best enjoyed grilled with onions, radish and gochugaru (red chilli pepper powder). This dish is packed with the taste of autumn and shouldn't be missed on Jeju Island.
Pine mushrooms are harvested during autumn and make a great addition to any autumn meal. The best way to enjoy them is by grilling them and adding them with beef or abalone.
☕️ Want to find the best places to eat in South Korea?
Don't miss out on over 290 cafes and restaurants to visit in Korea in my Cafe & Restaurant Guide. I've included some of my favourite eateries and essential information including:
Over 290 local cafes & restaurants to visit (with Naver Map links)
How to find hidden local eateries (cafes & restaurants)
Over 30 essential Korean phrases & vocabulary for ordering at restaurants & cafes
Essential etiquette for eating out in Korea ….. and more!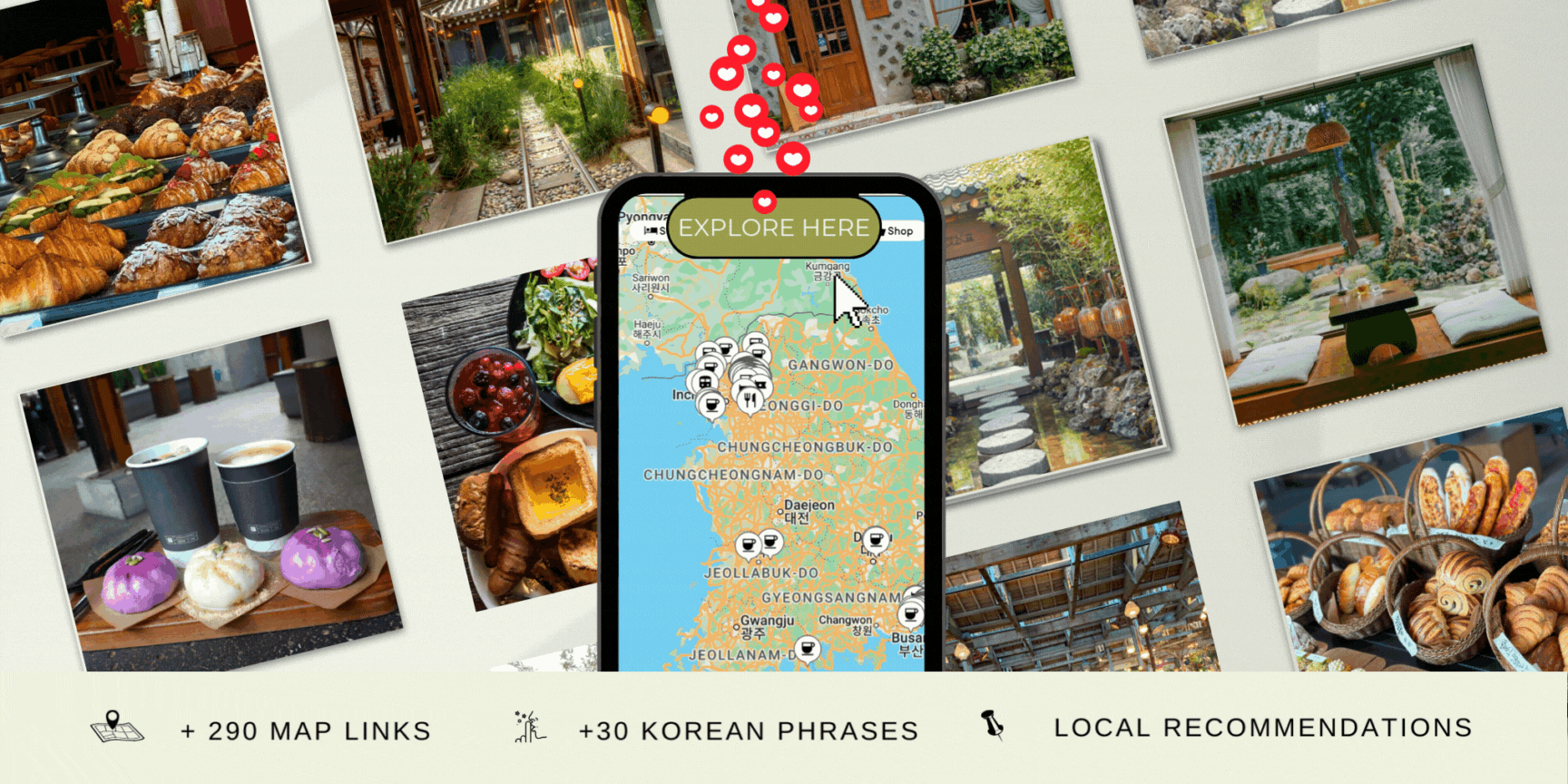 Photography
Don't forget to pack your camera to capture the stunning autumn scenery. If you don't have a camera and are using your phone make sure to invest in a good tripod for those solo portrait shots. I've included a full guide on my camera gear and photography tips in this blog post.
Wondering what camera gear I use? Check out all the latest camera gear I use for my travels and must-have essentials for beginner photographers here.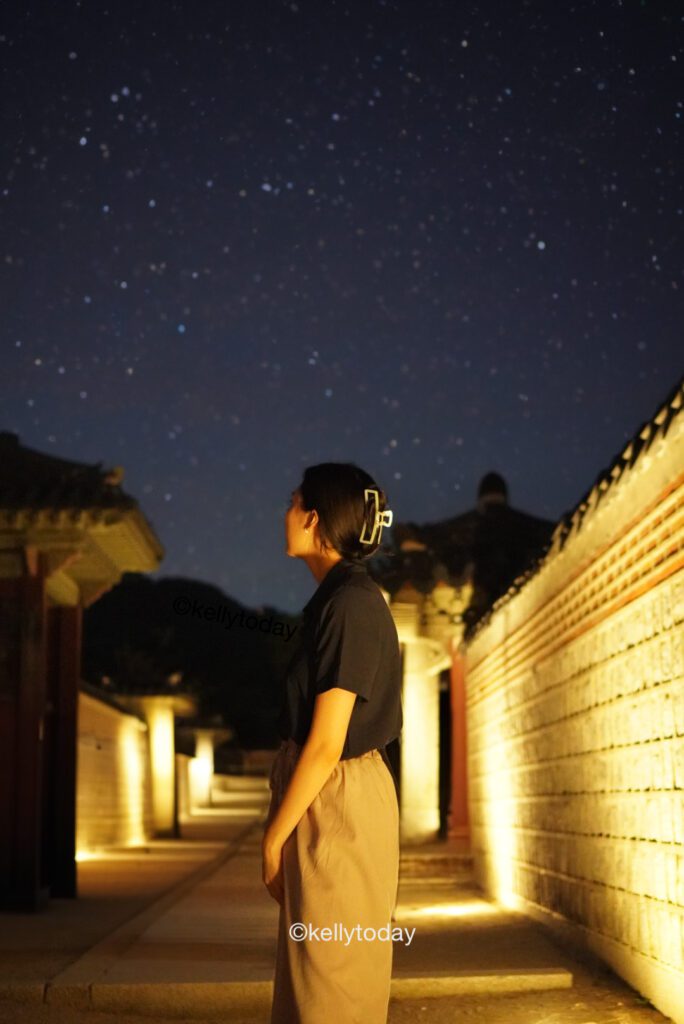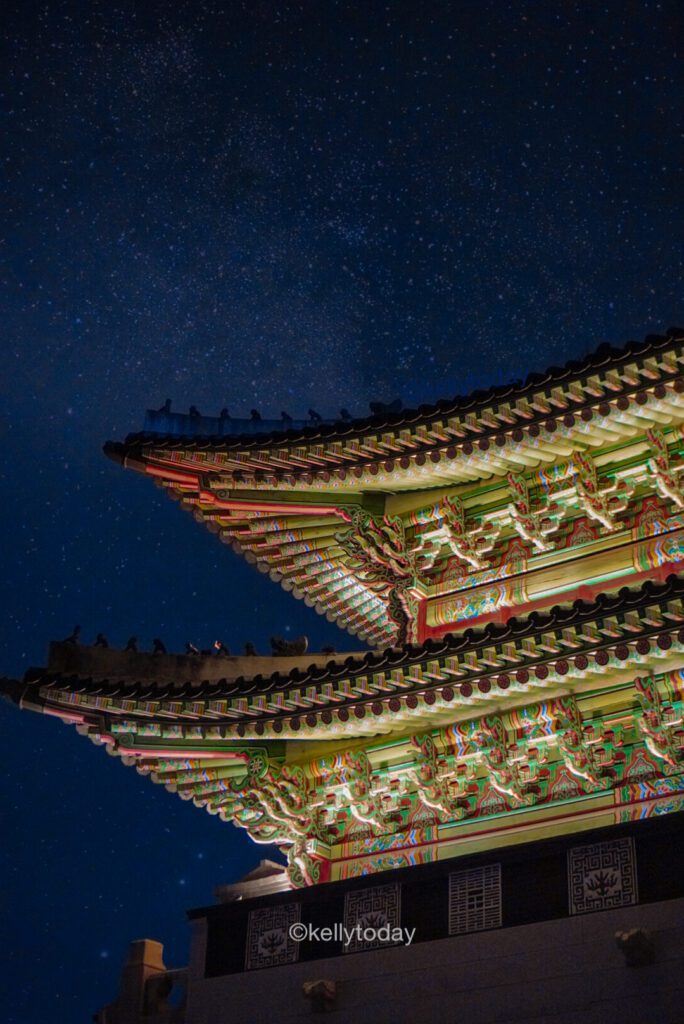 Public Holidays
There are two public holidays that fall during the autumn season that you need to be aware of. If you're travelling around these dates note that it might affect the availability of accommodations and transport bookings such as high-speed trains. Two major public holidays to be aware of include Hangeul Day and Chuseok (Korean Thanksgiving Day).
Chuseok (추석) usually occurs in late September or early October. During this time, Koreans gather with family and partake in ancestral rites. During this period operational hours might differ and transportation may be crowded.
Hangeul Day (한글) is celebrated on the 9th of October and commemorates the creation of the Korean script, hangeul. Since it's a national holiday note that some opening hours for businesses and attractions may differ including being closed or close early.
Packing Tips for Autumn
Autumn in South Korea is known for fluctuating temperatures and it's important to pack layers to accommodate for this. Packing a warm jacket is also strongly recommended to prepare for the chilly evenings. Another important packing essential is a comfortable pair of walking shoes or hiking boots. You'll likely be walking a lot in South Korea exploring all the attractions and it will also come in handy if you're exploring natural areas or planning on hitting the hiking trails.
Best Fall Foliage Places in South Korea
Discover some of the best places to see the autumn foliage in South Korea. I've included the best autumn photography spots to add for your trip to South Korea from well-known places in Seoul to other cities such as Incheon, Jeonju, Ganghwado and more. Don't forget to check out these 20 must-see autumn festivals in South Korea for your trip.
Changdeokgung Palace & Secret Garden (창덕궁과 후원)
Address: 185, Changgyeonggung-ro, Jongno-gu, Seoul
Opening hours: September to October (9:00 – 18:30), November to January (9:00 – 17:30)
Add a UNESCO World Heritage site to your autumn itinerary by visiting Changdeokgung Palace & Secret Garden. If you visit this spot during autumn you'll get to enjoy sprawling gardens with picturesque ponds and pavillions painted in gold and red. To add to your trip I recommend adding a traditional hanbok experience and have your photos taken with a gorgeous background of the fall foliage and palace.
Note that all the palace grounds of Seoul's 5 Main Palaces are stunning to visit during autumn. Chandeokgung Palace however is known as the autumn hotspot in Korea.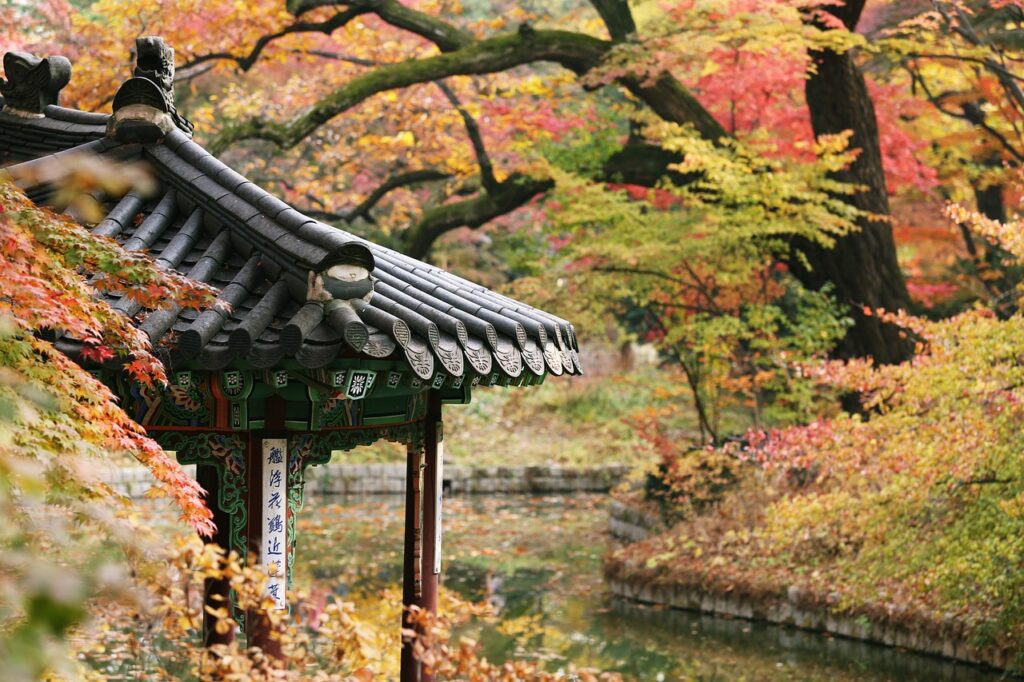 Seoul Forest (서울숲)
Address: 273, Ttukseom-ro, Seongdong-gu, Seoul (서울특별시 성동구 뚝섬로 273)
Another autumn hotspot in Korea is Seoul Forest Park for its stunning seasonal flowers and fall foliage. Across the park, there is a stretch of ginkgo trees which make it a gorgeous spot for foliage viewing in autumn. There are also a variety of facilities within the park including a waterfront marina area, forest playground areas, and Culture & Art Park which makes it a tranquil spot for tourists and locals alike. I recommend packing a picnic to enjoy the autumn weather and scenery at this spot.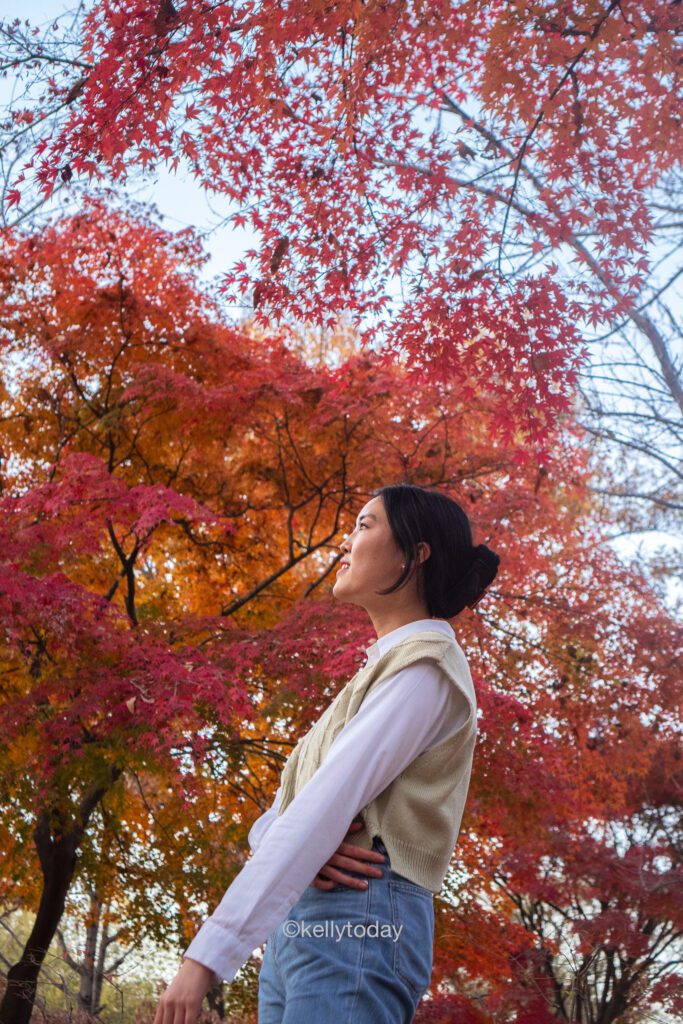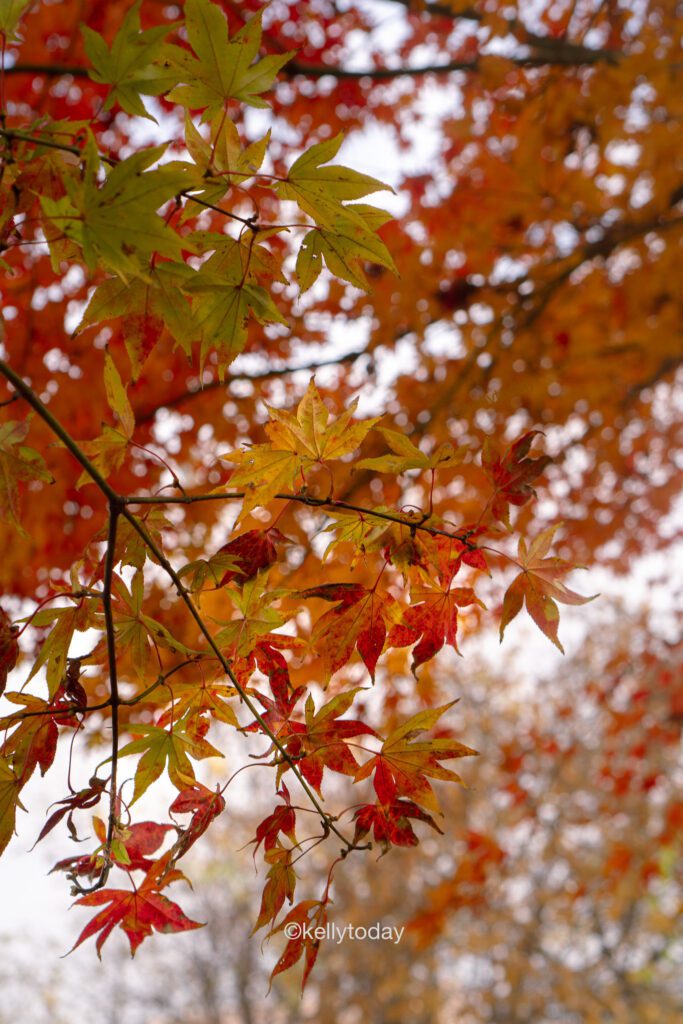 ---
Planning a trip to Seoul for the first time? Save hours of planning with this one-stop Seoul Travel Guide.
+300 places to explore in Seoul and outside the capital city (with Naver Map links)
Local guide to using and booking transport in Korea
Best places to eat in Seoul (cafe & restaurant recommendations)
Best photo spots in Seoul (tourist traps & local recommendations)
Insider tips on where to stay, shop & things to do in Seoul
… and more!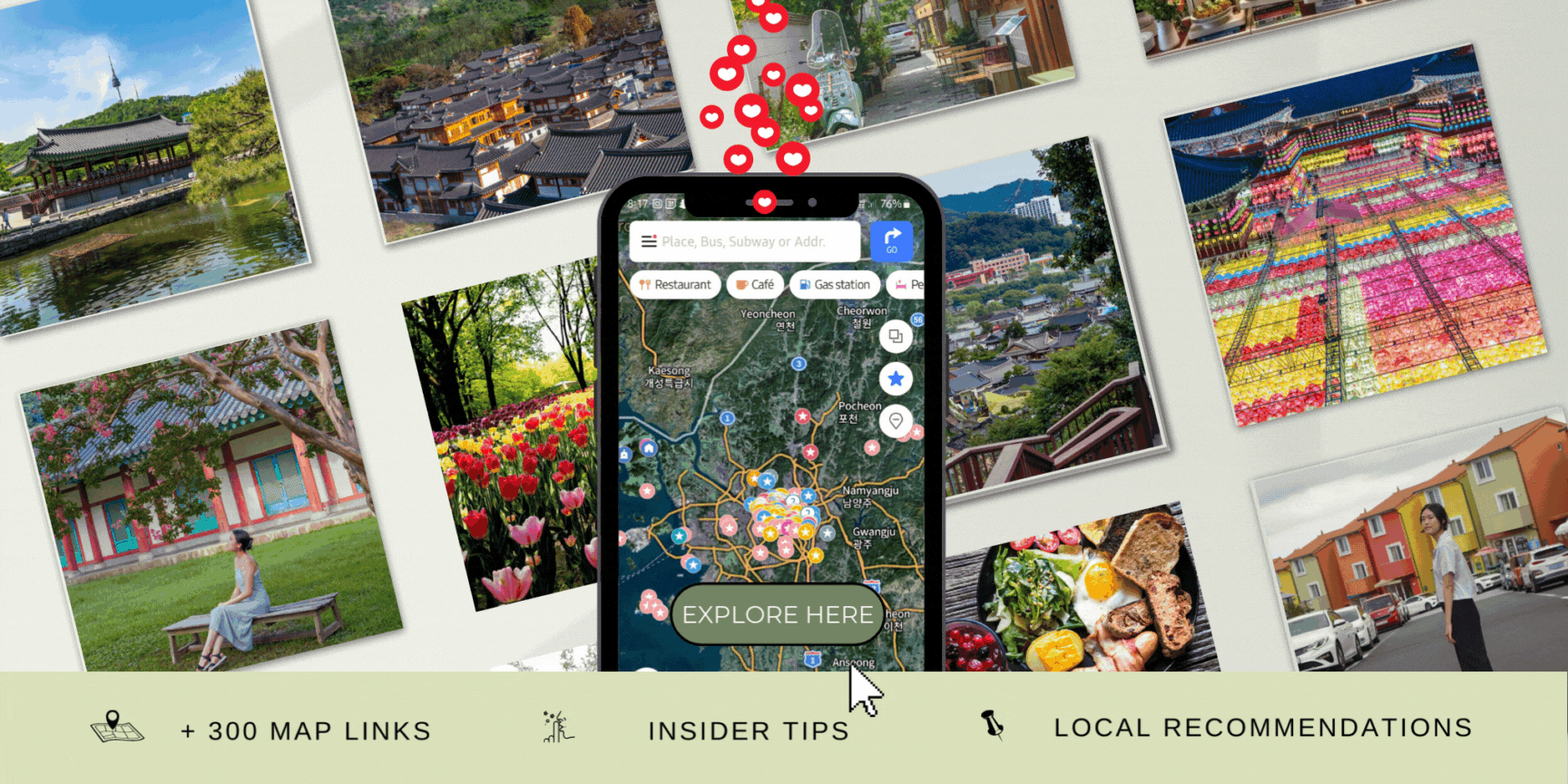 Namsan Park (남산공원)
Address: 231, Samil-daero, Jung-gu, Seoul (서울특별시 중구 삼일대로 231)
Add to your trip to Namsan Park by taking Namsan Cable Car or hiking up to N Seoul Tower for breathtaking views of Seoul's fall foliage from above. As a tourist, you can get discounted tickets for the cable car and tower by reserving online in advance.
If you're planning to visit multiple local attractions in Korea that require admission tickets you can save money as a tourist by reserving the Seoul Pass.
Seoul Olympic Park (올림픽공원)
Address: 424, Olympic-ro, Songpa-gu, Seoul (서울특별시 송파구 올림픽로 424)
Another must-see autumn spot in Korea includes Seoul Olympic Park. I recommend spending a couple of hours at this park to enjoy the autumn foliage and its zones, including its Environmental Eco-Park, History Experience Park, Cultural Art Park and Leisure Sports Park. For the top autumn photo spots head to Golden Ginkgo Tree Road, Rose Plaza and Wild Flower Garden.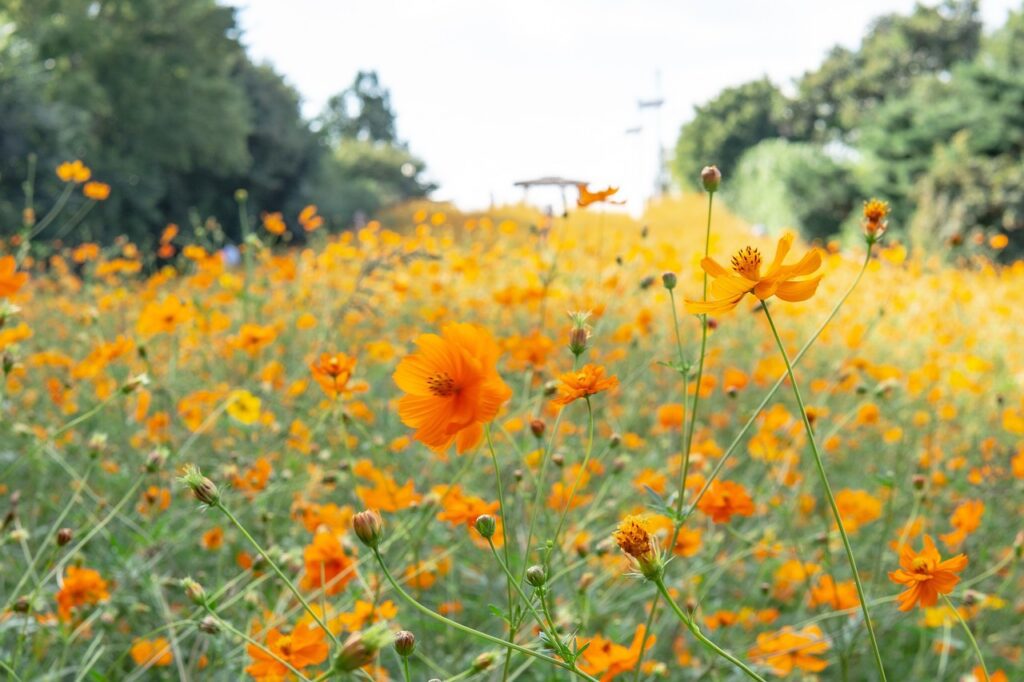 World Cup Park (월드컵공원)
Address: 243-60, World Cup-ro, Mapo-gu, Seoul (서울특별시 마포구 하늘공원로 84)
If you're looking for a peaceful place to explore during autumn head to World Cup Park. This park was constructed to commemorate the 17th FIFA World Cup in Korea and consists of 5 smaller ones. Haneul Park is the most popular park visited boasting over 22 lookout points for gorgeous views of Gwanaksan Mountain, Bukhansan, Namsan and Seoul.
Haneul Sky Park (하늘공원)
Address: 95, Haneulgongwon-ro, Mapo-gu, Seoul (서울특별시 마포구 하늘공원로 95)
Haneul means sky in Korean and it's name comes from the park recognised for it's close proximity to the sky. With this in mind, you'll be treated to panoramic views of Seoul which is stunning around sunset for golden hour. During autumn this park transforms into gorgeous warm tones with the pink muhly grass and Kochia blooms making it a stunning backdrop for a day outside. There are also a variety of resting spots, a convenience store and onsite restrooms available at the park.
In addition to the stunning natural scenery, during October this park holds the Pampas Grass Festival where the pampas grass is in full bloom and visitors can enjoy exploring and pampas-related activities.
Places Outside of Seoul
The following fall foliage spots are located outside the capital city of Seoul and can be done as a day trip from the main cities of Seoul or Busan. If you're looking for more inspiration for the best day trips in Korea read this local day trip guide.
Yongheunggung Palace (용흥궁)
Address: 16-1, Dongmunan-gil 21beon-gil, Ganghwa-gun, Incheon (인천광역시 강화군 강화읍 동문안길21번길 16-1)
If you're looking for a hidden gem to see the fall foliage in Korea head to Yeongheunngung Palace on Ganghwado. This palace was originally the house where King Cheolijong ruled the Joseon Dynasty during the mid-19th century, and spent his youth until he became the monarch of Korea at 19. If you visit this spot during autumn you'll be treated with no crowds and golden and orange vibrant foliage to enjoy for yourself.
Find out everything you need to know about visiting Ganghwado Island in this day trip guide.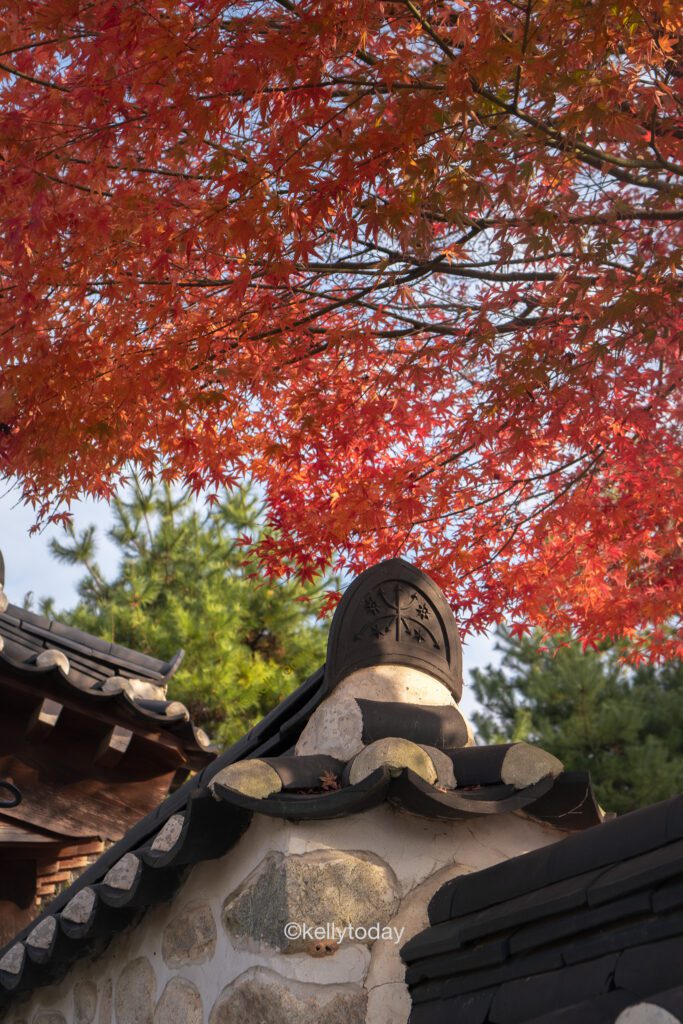 Hwadam Botanic Garden (화담숲)
Address: 278-1, Docheogwit-ro, Gwangju-si, Gyeonggi-do (경기도 광주시 도척면 도척윗로 278-1)
Hwadam Botanic Garden is a gorgeous eco-friendly garden with over 4,000 species of flowers and plants. During autumn the plants and trees transform into brilliant shades of yellow, orange and red. You can also visit Namhansanseong Fortress, which is a mountain fortress that offers views of the surrounding city. The easiest way to get to Hwadam Botanic Garden is through a local day tour from Seoul.
Garden of Morning Calm (아침고요수목원)
Address: 432, Sumogwon-ro, Gapyeong-gun, Gyeonggi-do (경기도 가평군 상면 수목원로 432)
The Garden of the Morning Calm is a picturesque spot in Gapyeong that is a must-visit for nature lovers. If you visit during autumn you'll be greeted with colourful foliage mixed with picturesque manicured gardens. One must-see spot at the Garden of the Morning Calm is the Sunken Garden which has been designed like the Korean Peninsula and features flowers on both sides to symbolise North and South Korea being reunited.
The Garden of the Morning Calm can be reached from Seoul on a day trip. The easiest and most convenient way to reach this spot is through a local tour that covers both Garden of the Morning Calm and Nami Island.
Nami Island (남이섬)
Address: 1, Namiseom-gil, Chuncheon-si, Gangwon-do (경기도 가평군 가평읍 북한강변로 1024)
Nami Island is a popular day trip spot for locals and tourists alike for its tree-lined paths and during autumn a top destination for fall foliage enthusiasts.
The easiest and most popular way to reach Nami Island is by joining a day trip tour. Reaching Nami Island from Seoul isn't the easiest day trip since there are no direct bus or train connections. If you decide to visit independently you'll need to organise multiple modes of transit and make several transfers. With this in mind, local tours are a great solution where round-trip transfers and entry admissions are organised. This is especially helpful for first-time visitors to Korea who are a bit nervous navigating the language barrier and organising their own independent transfers.
Seoraksan National Park (설악산 국립공원)
Best dates for autumn foliage: Mid-October
Address: Seoraksan-dong, Sokcho-si, Gangwon-do (강원도 속초시 설악동)
Seoraksan National Park has the third highest mountain in Korea, Seoraksan, and is the first place to see the autumn foliage in the country. If you visit you'll be treated to unique rock formations, valleys and mountain peaks adorned with vibrant foliage. By mid-October, you can expect most of the hiking trails covered in golden and red leaves at Seoraksan National Park. If you're looking to visit Seoraksan National Park consider a day trip from Seoul or Busan. Visit Seoraksan National Park by joining a day trip from Seoul or Busan.
Naejangsan National Park (내장산국립공원)
Best dates for autumn foliage: Late October to Mid-November
Address: 328, Naejanghoban-ro, Jeongeup-si, Jeollabuk-do (전라북도 정읍시 내장호반로 328)
Naejansan National Park is a hotspot autumn destination with its vivid crimson foliage, waterfalls and 600-year-old nutmeg trees. In addition to the natural scenery, there are also two Buddhist temples to check out in the park including Naejangsa Temple and Baekyangsa Temple. A visit to Naejangsan National Park will allow you to take in the breathtaking canopy of colourful autumn leaves.
The most convenient way to reach this national park is through a day trip tour from Seoul or Busan which covers round-trip transfers and the best autumn foliage viewing spots.
Jirisan National Park (지리산국립공원)
Best dates for autumn foliage: Mid-October to Early-November
Address: 10, Waun-gil, Namwon-si, Jeollabuk-do (전라북도 남원시 산내면 와운길 10)
If you're looking for an autumn foliage destination near Busan head to Jirisan National Park. It's known as Korea's biggest and oldest national park and has the second tallest mountain in the country, Jirisan (1915m). This park is famous for its vibrant fall colours and is a popular foliage destination in Busan. It takes about 2 hours to Jirisan from Busan which can be done as a day trip. If you're visiting this spot make sure to check out the Baemsagol Valley, a 9km valley lined with small streams and rock formations bathed in vibrant fall colours.
Andong Hahoe Folk Village (안동 하회마을)
Address: 2-1, Hahoejongga-gil, Andong-si, Gyeongsangbuk-do (경상북도 안동시 풍천면 하회종가길 2-1)
Found along Hwasun Mountain, Andong Hahoe Folk Village is an underrated autumn hotspot in South Korea. In addition to seeing the vibrant fall foliage and flower fields, you'll be treated to beautifully preserved Korean traditional architecture. The Andong Mask Dance Festival also takes place in Andong which is worth checking out if you're visiting this area as a day trip during autumn.
Bukhansan National Park (북한산국립공원)
Address: 262, Bogungmun-ro, Seongbuk-gu, Seoul (서울특별시 성북구 보국문로 262)
During autumn the iconic Bukhansan National Park transforms into a colourful wonderland that begs a visit during fall. Located in Seoul's metropolitan area, it's a popular spot for its streams, granite peaks, hiking trails and scenery. During autumn you can expect thousands of visitors to flock to this spot for the vibrant foliage and hiking trails. If you hike up Bukhansan you'll be treated to breathtaking panoramic views of Seoul adorned in golden and crimson foliage.