As Perth heads into warmer months, the city begins to transform into a dreamy purple tinge, with the Jacaranda trees blooming from October to November. Across Perth, you can expect several suburbs across the city where the streets are lined with bursts of purple blooms. Read on to discover the best places to see Jacarandas in Perth and other must-see spring attractions in the city.
Disclaimer: This post may contain affiliate links, which means I get a small commission if you make a purchase (at no extra cost to you). It's one of the ways I can keep producing free resources and guides for my readers. Thank you for your support! Refer to the Disclosure Policy for more details.
What are Jacarandas?
The jacaranda tree is a large deciduous tree known for its gorgeous display of purple-mauve flowers. The species of jacaranda that is commonly found in Australia is not native to Australia. But rather is native to South America which was imported into Australia via England in the 19th century.
The widespread adoption of jacaranda trees across Australia's capital cities is owed to the civic beautification programs in the early 20th century. For decades, jacarandas have been used by councils for park and street planting not just for their gorgeous floral display but for the minimal maintenance that they require.
When is Jacaranda season?
Jacaranda season runs from mid-October to mid-November in Perth, Western Australia. At the end of spring, the flowers fall from the trees, making a bright carpet on the ground. Whilst the whole city begins to bloom with the purple jacarandas there are a few jacaranda hotspots for the best photo spots across Perth.
For 2023, Jacarandas started to bloom in mid-October and peak bloom began in the first week of November. The flowers usually last about a month until the end of November or early December.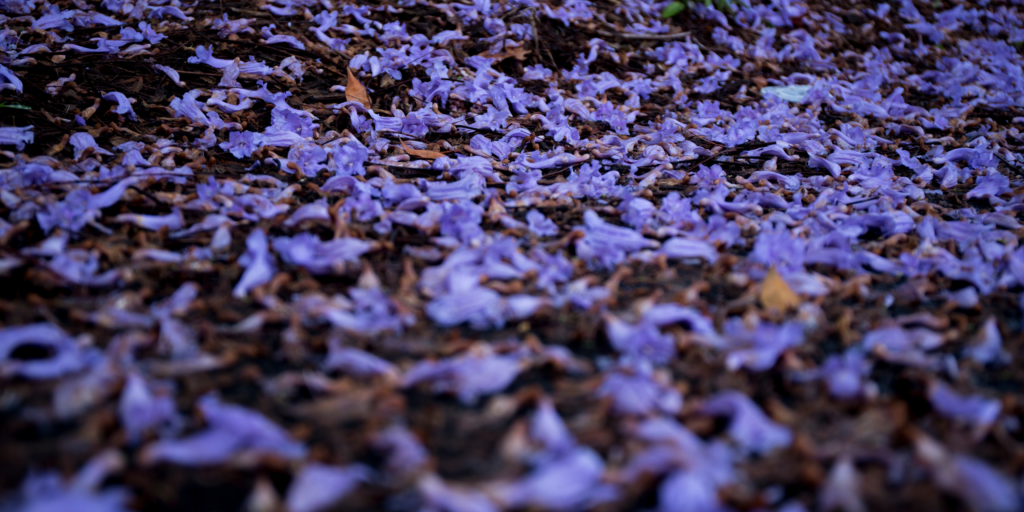 Where are the best places to see Jacarandas in Perth?
Here are some of the best Jaranda locations in Perth. From well-known places to see the Jacarandas to lesser-known spots to visit to add to your spring outing in Perth.
Applecross
Applecross is the jacaranda hotspot in Perth where you can find the streets lined with blooming jacaranda trees. You can head off in any direction in the streets to be treated to a lavender dreamscape. However, the most famous street is Nisbet Road in Applecross. I recommend checking out the jacaranda tree near Applecross District Hall for a gorgeous floral display. Alternatively, for lesser-known spots in the suburb, you can check out Ardross Street and Alness Street.
The jacaranda trees have become so well-recognised in Perth that there is a festival to celebrate the floral display. The Rotary Jacaranda Festival happens annually on the last Saturday in November and comes to life with over 150 stalls and entertainment shows for all ages to enjoy. The best part? Entry is free to the festival so you can enjoy both the purple flowers and the festivities of the event.
An important reminder that these are residential streets and to be respectful of the residents and oncoming traffic.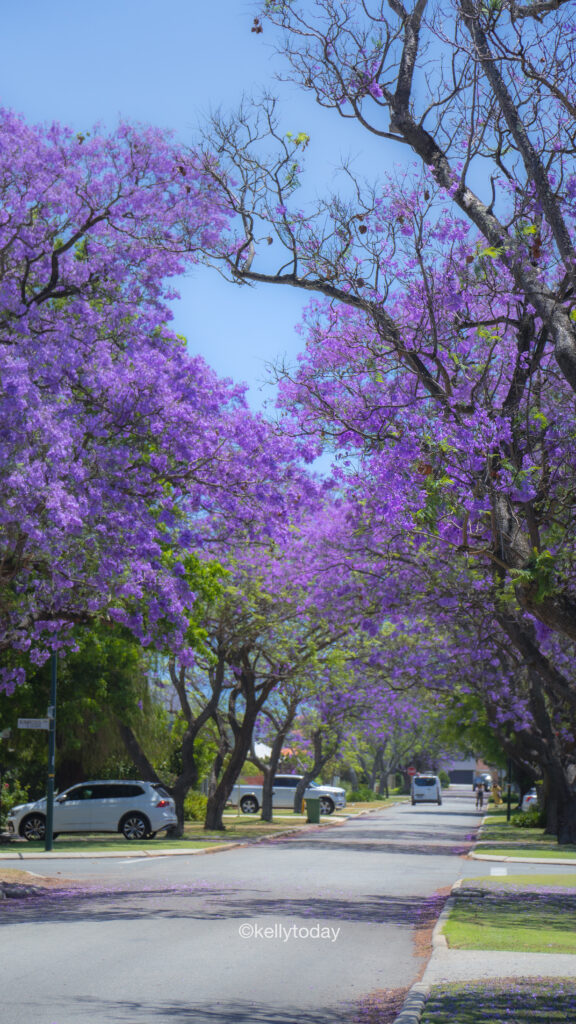 Leake Street, North Perth
Found in North Perth lies the seasonal purple haven of Leake Street. You'll be treated with Jacaranda trees lined on both sides with a purple canopy created and gorgeous city skyline views. This spot makes it a jacaranda hotspot with the iconic purple jacarandas and the city's skyline in the background. After your explorations don't forget to check out Engine Room Expresso or Prodigal Son Cafe to make your spring outing a bit warmer with a coffee.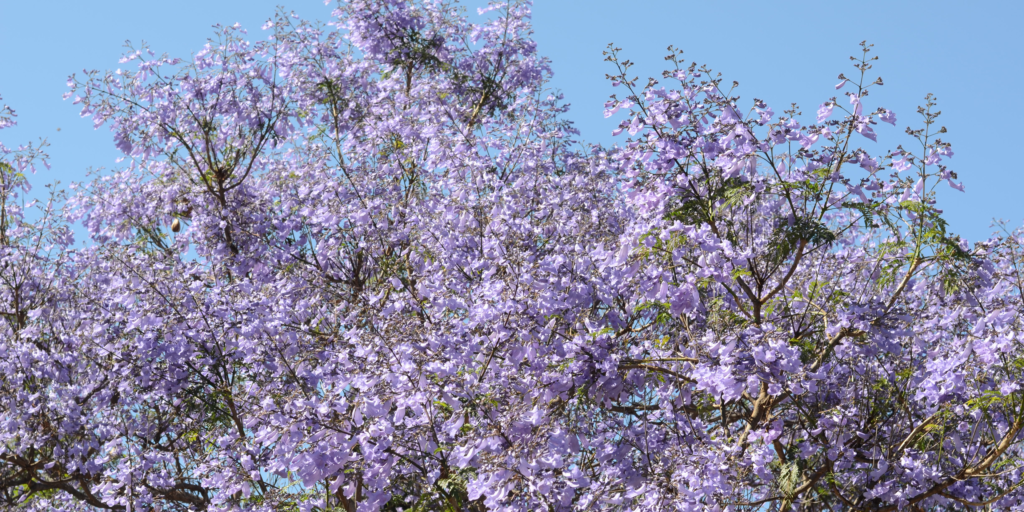 Hyde Park
Located a few kilometres away from Perth's CBD, Hyde Park comes to life with blooming jacarandas. Another Jacaranda hotspot you'll want to check out is along Vincent Street where you'll be treated to a sea of purple on the streets and the historic architecture that only North Perth features.
After you've checked out the Jacarandas strolling around the park why not have a picnic at the park to soak up the spring weather? You can also make your trip sweeter by paying a visit to What the Flip for a coffee or a freshly baked treat, or Chu Bakery from across the road.
Avenues, Inglewood
If you head to the Avenues (Sixth to Tenth) of Inglewood you'll be treated to a sea of purple trees. I recommend starting from Six Avenue and then making your way down to Tenth to explore all the different blooms. You can also add to your colourful adventure by paying a visit to Finlay & Sons by grabbing a bite to eat with their colourful lunches.
Perth
If you're looking for jacarandas near Perth CBD head to Mount Street. You can find jacaranda trees lining the way up the hill which leads to Kings Park. The purple blooms here also make a stunning contrast to Perth's background and you can grab a bite to eat at Mount Street Breakfast Bar.
Perth Hills
During this time of the year Perth Hills comes alive with the city's wildflowers and jacarandas. If you drive up to Kalamunda or explore one of the hiking trails you'll be treated with some purple blooms along the way.
East Perth
Head to Marlborough Street for the beautiful jacaranda trees. Although this street is small, the purple blankets the street making it an iconic shot for your Instagram. Besides checking out the trees it's also a great area to explore by strolling along Swan River's East Perth banks and East Perth's Power Station. If you're looking for a bite to eat before or after your colourful explorations pay a visit to Toast.
Subiaco
Subiaco is no exception to the purple jacarandas, where the streets have even been named after them. Head to Old Jacaranda Way and the small street off Salvado Road for some of the most gorgeous displays of lilac flowers in Perth. Even if you don't reach these streets you'll be the rest of the suburb teeming with purple wherever you walk. After strolling this whimsical street pay a visit to Subiaco Common for a treat.
Read my insider tips and tricks for taking photos by myself as a solo traveller in this step-by-step guide.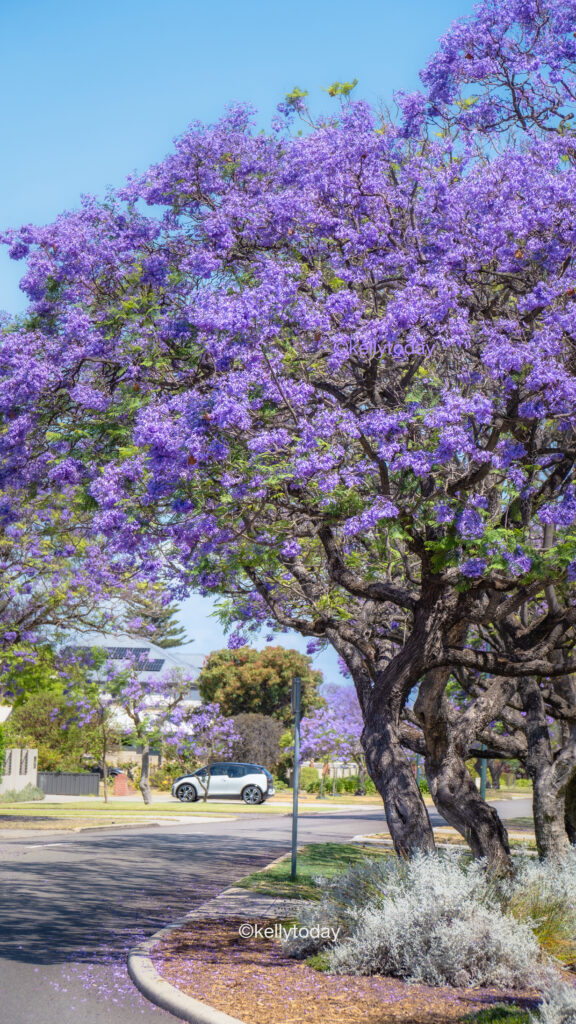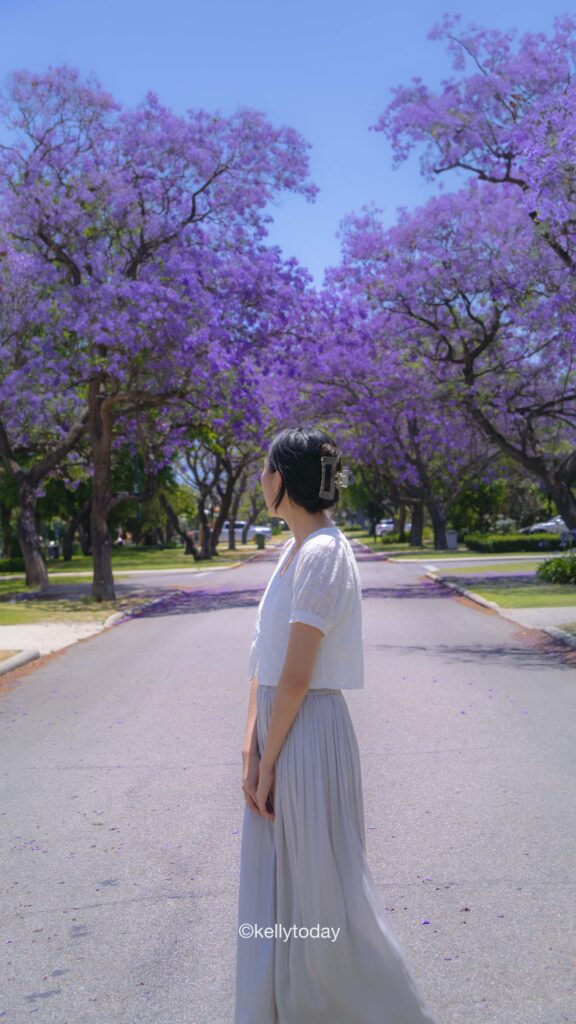 Wembley
Close by the suburb of Subiaco, head to Wembley for purple-lined streets. You're the best bet is Ruslip Street and Simper Street to enjoy the most purple of the suburb.
Swan Valley
If you're looking for a spot outside the city to see the Jacarandas then pay a visit to Swan Valley with one of the many wineries. Mandoon Estate and Houghton Winery are two jacaranda spots to spot the gorgeous blooms against a background of vines and grapes.
Other Spring Attractions in Perth
Besides checking out the Jacaranda throughout Perth you'll want to check out these other must-see spring attractions in Perth. Below are some of the top springtime destinations in Perth to see spring flowers including the tulips, canola fields, Australian wildflowers and more. If you're looking for the festivals and the top things to do in Spring in Perth make sure to check out this local travel guide to spring.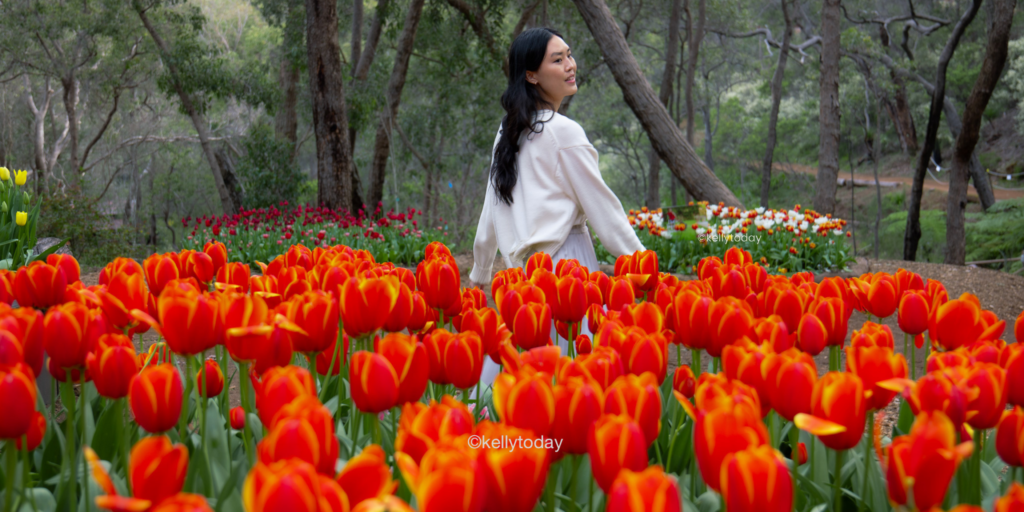 Cherry Blossoms in Perth
Dates: 2nd to 25th September 2023
Address: 36 Halleendale Rd, Walliston WA 6076
Wondering where to see blossoms in Perth during spring? A 30-minute drive from Perth lies S&R Orchard which is a perfect day trip from Perth to enjoy the spring weather and blooms. Besides enjoying the dusty pink and white blossoms you can enjoy a picnic or grab a bite to enjoy from one of the many food trucks.
Tulips Near Perth
Dates: 18th August to 30th September 2023.
Address: 362 Croyden Rd, Roleystone WA 6111
Another springtime attraction to check out in Perth Hills is the iconic Araluen Botanic Park. Araluen's most recognised springtime event is the Yates Springtime Tulip Festival, which draws visitors from around the globe to enjoy the kaleidoscope of spring blooms. In addition to vibrant tulips, the park boasts gorgeous azaleas, magnolia trees and wildlife to add to your spring day trip.
Find out everything you need to know about visiting Araluen Botanic Park during the Yates Springtime Festival in this travel guide.
Canola Fields Near Perth
Dates: From mid-August 2023.
Address: 1625 Qualen W Rd, Gilgering WA 6302
Often when you think of spring in Australia you'll think of the colourful wildflowers however the golden canola fields shouldn't be missed during spring.
The colourful canola fields can be seen on the Great Southern Highway, Spencer Brook Road, York to Northam Road and a few sections of the East of York in Western Australia. You can view the roadside canola fields from the fenceline but please be respectful of these private properties. There have been various articles published over the years about previous farming fields being damaged by visitors.
The only place where you can legally take photos inside the canola fields is at PetTeet Park in York. Read everything you need to know about visiting the canola fields in York in this travel guide.
Please note that all canola fields are private working farmland and it is illegal to enter private property without permission. Visit PetTeet Park for permitted entry into the canola fields.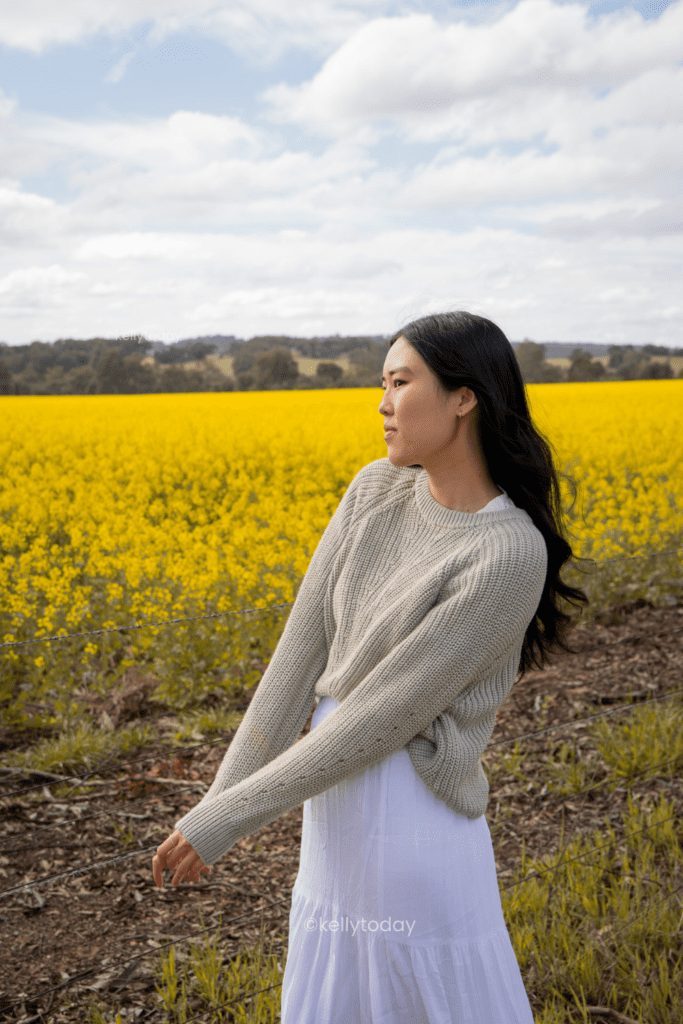 📌 Save this Google map with all the Instagram places.
---
The best time to see the jacarandas in full bloom is typically late October. So grab your camera, pack a picnic, and embark on a colourful adventure to these top jacaranda spots. You'll be treated to a spectacle that transforms Perth into a mesmerising canvas of vibrant shades of purple and other things to do in spring.
Found this helpful? 👇🏼
Support my work by giving me a coffee. I am always grateful when my readers reach out to support me so I can produce more free content for you 🙂.