Spring in Perth, Western Australia, is a magical time when nature awakens from its winter slumber, and the city comes to life with vibrant colours and exciting events. Whether you're looking for a new adventure or are a visitor exploring this captivating city, you'll be treated to stunning landscapes, pristine beaches, and cultural gems Perth has to offer. As the weather warms up and wildflowers bloom, here's a guide to the top things to do in Perth in spring and must-see springtime destinations that you won't want to miss.
Disclaimer: This post may contain affiliate links, which means I get a small commission if you make a purchase (at no extra cost to you). It's one of the ways I can keep producing free resources and guides for my readers. Thank you for your support! Refer to the Disclosure Policy for more details.
When is Spring in Perth?
Spring occurs in Perth from September to November with ideal weather for exploring outside and experiencing a range of spring festivals and events. During the months of spring in Perth, you can expect sunny and warm weather with average temperatures ranging from 11 to 23°C. With this warmer weather, the city of Perth and its surrounding suburbs come alive with blooming wildflowers, wildlife encounters, outside adventures and more. If you're visiting Perth in spring take advantage of the weather to go outside and explore some of Perth's best natural scenery and fun things to do.
Things to do in Perth in Spring
Spring is a magical time in Perth when the city comes to life with vibrant colours and exciting events. If you're planning a visit to this region during the spring season, here are the top things to do in spring in Perth.
Whale Watching
Spring is the busiest and most popular season on the humpback highway, with thousands of whales migrating between August and mid-November along Perth's coast to the feeding waters of Antarctica. One must-try springtime activity in Perth is going on a whale-watching tour to experience the whales up close off the coast of Rottnest. Depending on what's more convenient for you, you can either board a whale-watching vessel from Fremantle or Hillary's Harbour for the local tour.
Milky Way Gazing
Spring is also one of the best times of the year to admire the Milky Way Galaxy before the night sky changes in the summer. If you've always wanted to see the moon or planets up close, a Pinnacles Desert sunset and stargazing tour must be added to your spring travel bucket list. Besides enjoying a gorgeous view of the Milky Way, the moon, and the planets you'll be treated to a barbeque dinner and wine in the Pinnacles as the sun sets over the ocean.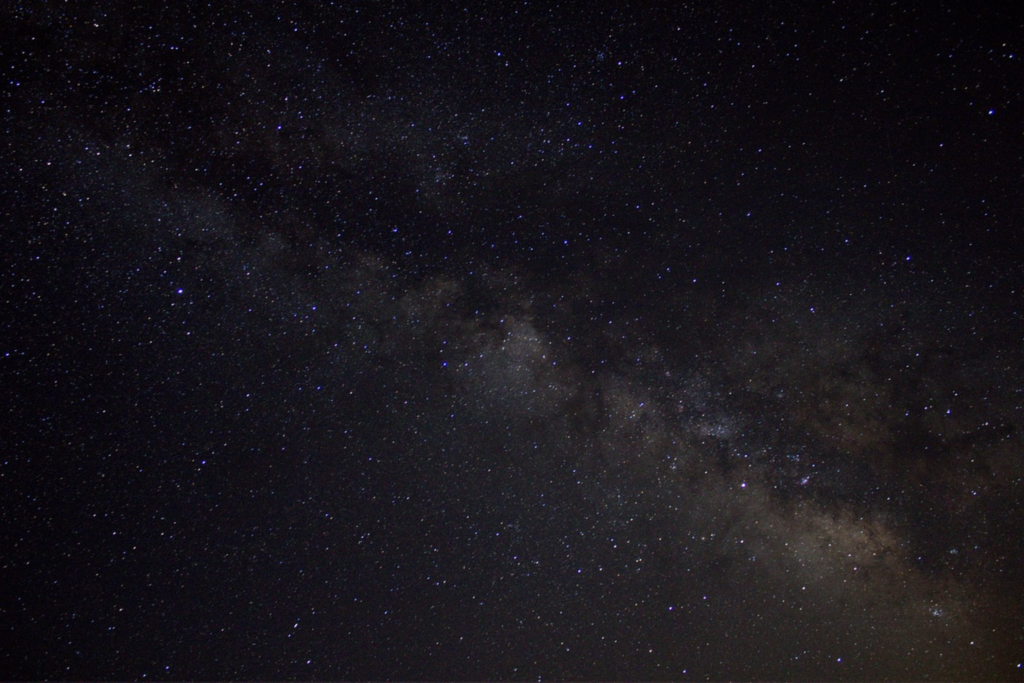 Wildflower Season
Western Australia is known for boasting the largest collection of wildflowers in the world, with over 12,000 species 60% of which aren't found anywhere else on the globe. Spring is the best time to enjoy the vibrant display of native wildflowers in various shapes and shades.
When is wildflower season?
The wildflowers usually start blooming in Western Australia's north from July to August and in the southern areas from October to November.
Where are the best wildflower viewing spots?
Across the city and an hour from Perth's CBD you'll be treated to numerous spots with colourful wildflower blooms that make a great background for your Instagram feed. Take a stroll along the scenic pathways, and don't forget your camera to capture the flowers. Make sure to add these wildflower hotspots in Perth to your spring bucket list.
Yanchep National Park – An hour's drive north of Perth is Yanchep National Park where you'll be treated to a variety of wildflowers. Whilst this park is recognised for its caves, kangaroos, and koalas, during spring it comes to life with wattles, kangaroo paw, Yanchep rose, and native orchards.
Avon Valley – North of Perth, the Avon Valley Park boasts diverse habits and wildflowers including fields of Everlastings, Morning Iris, Orange Immortelle, and Pincushion Coneflowers.
Perth Hills – Araluen Botanic Park is one of the most popular spots to see the wildflowers 45 minutes southeast of Perth. It's most well-known for its annual tulip display and each year boasts more than 150,000 colourful flowers. Other spots in the Perth Hills to enjoy the wildflowers include Rocky Pool Walk, Lions Lookout, Lesmurdie Falls, Whistlepipe Gully, Jorgensen Park, Walyunga National Park, Bungendore Park, John Forrest National Park, Mundy Regional Park, and Ellis Brook Valley Reserve.
Whiteman Park boasts 3 walking trails that will treat you to a floral display of about 400 species of native flowers and rare flora. You'll be able to find orchids, paper daisies, trigger plants and delicate fungi on your walk.
Bold Park Bridle Trail – Get lost on this 7km trail through Bold Park bushland where you'll be treated to over 1,000 native and non-native species of flora, fauna and fungi.
Wadjemup Bidi on Rottnest Island – During spring Rottnest Island flourishes with over 1,500 species of wildflowers. Wadjemup Bidi's 45km walking trail has 5 sections which allows you to explore different areas of the island. You'll be able to see species including Summer Scented Wattle, Feather Speargrass and the Prickle Lily.
📍Wildflower hotspots in and around Perth
Rottnest Island
Rottnest Island is most popular during the summer months when you can expect large crowds and bookings all reserved. To avoid the large crowds consider a day trip to Rottnest Island in spring. In fact, autumn and spring are some of the best times to visit. Since the island has a Mediterranean-style climate the weather during these months will be warm enough to swim and the waters calm enough to enjoy water spots. You'll also want to add Rottnest to your spring itinerary to enjoy the pristine beaches, snorkelling spots, and unique wildlife, including the adorable quokkas.
If you're only visiting Rottnest Island as a day trip make sure to book your departure early in the morning and the return ferry in the late afternoon to enjoy this spot for the fullest. The return ferry will pick you up from the same location you will be dropped off. You can explore the island by renting a bike at your own pace, or join a guided tour to learn about its rich history and biodiversity.
How to get to Rottnest Island?
The most common and easiest way to get to Rottnest Island is by ferry. The ferry journey should take about 35 minutes from Fremantle and 90 minutes from Perth. However, for those with a budget, you can charter a private boat or plane or a helicopter transfer with Corsaire.
There are 3 ferry services that operate to Rottnest Island which operate daily throughout the day. You'll need to book a ferry ride from either Hillarys, Perth City or Fremantle's B-shed markets. The most popular departure point is Fremantle's B-shed due to its parking space and offering the shortest ferry journey to Rottnest Island.
Planning a day trip to Rottnest Island? Add these 15 top things to do on Rottnest Island in this local travel guide.
⛴️ Ferry Services to Rottnest Island
Both Rottnest Express (red ferries) and SeaLink (blue ferries) depart from Fremantle and Perth. Whilst Rottnest Fast Ferries (green ferries) depart from Hillarys Boat Harbour.
Attend Outdoor Events
Throughout spring, Perth hosts a variety of outdoor events, including concerts, markets, and festivals. Keep an eye on the local event calendars to see what's happening during your visit. Events like outdoor cinemas and art markets are particularly enjoyable in the mild spring weather. My personal favourite includes trying an outdoor cinema experience in Perth. Enjoy a movie under the stars in spring at venues including Rooftop Cinemas, Moonlight Cinema or Galaxy Drive-in Theatre.
Swan River Cruise
Why not take advantage of the warm weather and embark on a relaxing cruise on the Swan River? By going on a leisure cruise along the Swan River you'll get to enjoy the picturesque views of Perth and its surrounding suburbs. Many cruises offer lunch or dinner options which make it a perfect addition to add to the beautiful scenery as you cruise on along the Swan River. Below are a few recommendations for local cruises to enjoy the Swan River. Choose the perfect time of day you want to head out on an adventure.
Swan River Lunch Cruise (From Fremantle or Perth) – Take advantage of the warm spring weather with a 2.5-hour lunch cruise showing you all the best sights of the Swan River between Perth and Fremantle whilst you enjoy a buffet lunch.
Swan River Dinner Cruise (From Perth) – Cruise along the Swan River at night to watch the city light up, admire waterfront views as you do, and enjoy a buffet dinner and dessert. You'll also be treated to live entertainment and music.
Swan Valley Gourmet Wine Cruise (From Perth) – Explore Western Australia's oldest wine region on this day trip tour of the Swan Valley from Perth. You'll be treated to a cruise along the Swan River, gorgeous views of Perth's skyline, and most importantly delicious treats from morning tea, lunch at a local brewery, and wine and cheese tasting.
Visit Swan Valley Wineries
If you're looking for a day trip from Perth take a scenic drive to the Swan Valley and indulge in wine tasting at its world-class wineries. Spring is perfect for picnics among the vineyards and savouring the delectable local cuisine. Enjoy wine tasting at the numerous wineries, indulge in gourmet food, and take in the picturesque vineyard views. The vineyards are picturesque, and the warm spring weather makes it ideal for outdoor wine experiences. If you want to enjoy all the best spots in the Swan Valley consider a local winery experience to sample some of the region's best vintages.
Hiking in Perth Hills
Spring offers excellent weather for hiking in the Perth Hills. Trails like the Bibbulmun Track and the Kitty's Gorge Walk Trail provide stunning views and a chance to connect with nature. Spring is an excellent time for hiking due to the pleasant temperatures and blooming flora.
Visit Fremantle Markets
Opening Hours: 8 am to 6 pm (The Yard), 9 am to 6 pm (The Hall)
Address: Corner of Henderson Street & South Terrace, Fremantle
Open all year round, explore Fremantle market to discover local art, crafts, delicious food, and unique souvenirs. You'll be treated to a range of goods from the freshest vegetables and fruit to an electric mix of buskers, stalls and goods. Even if you don't buy anything you'll get to soak up the mixture of culture, art, music and over 100 years of heritage which makes Fremantle a popular destination for visitors. If you're a foodie this is one of the best places to visit in Perth to be treated with organic fresh produce, bakeries, cheeses, dining options, seafood, meats and more.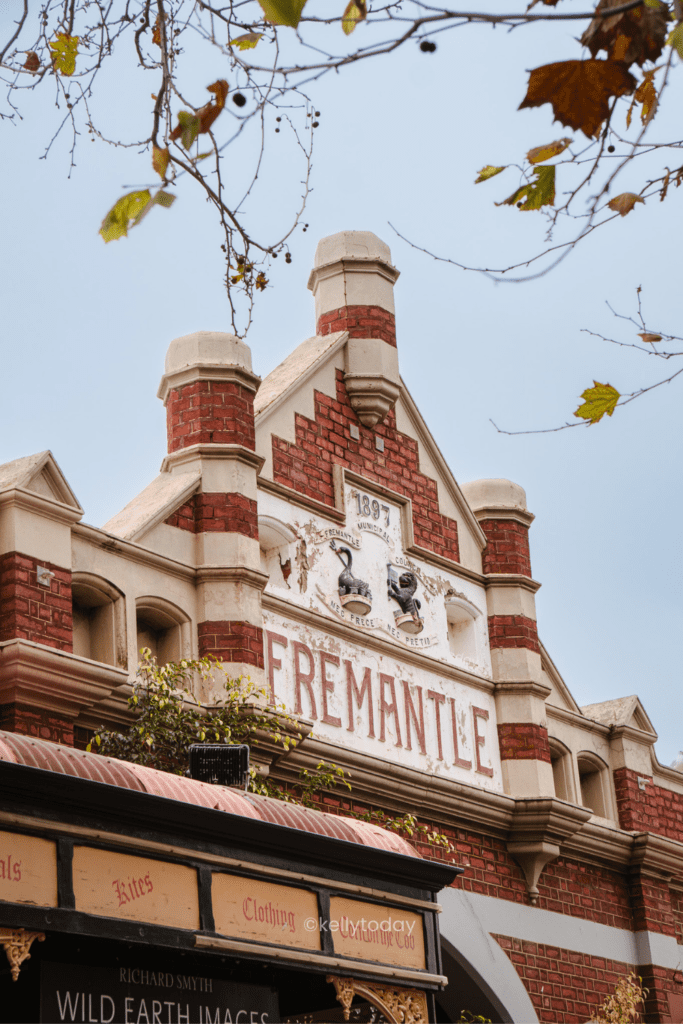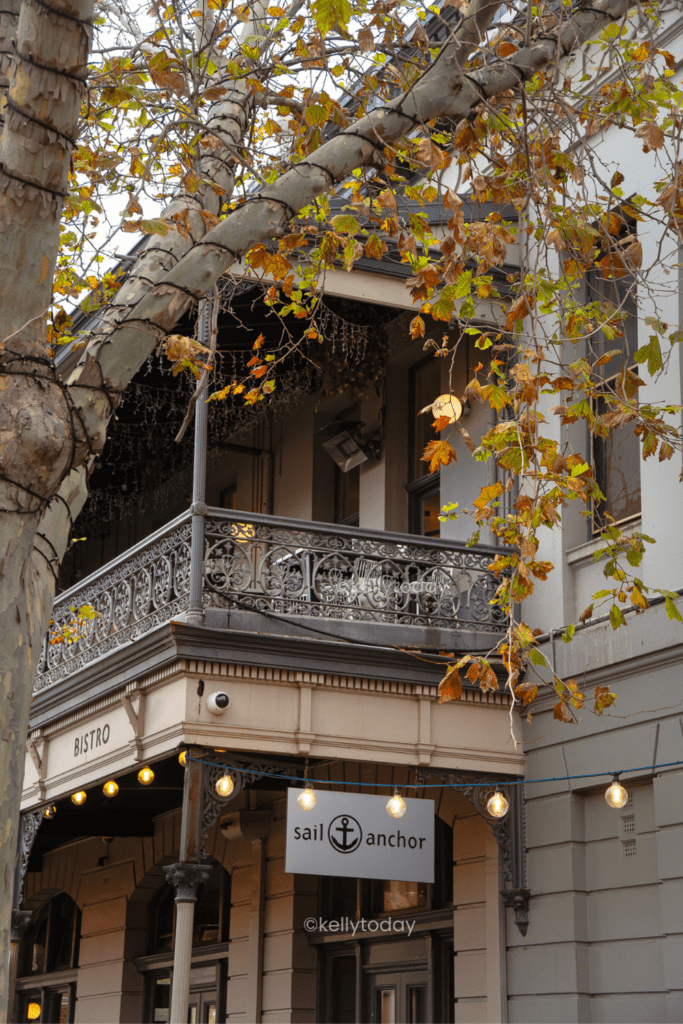 Picnic
Take advantage of the warm weather during spring by having a picnic at one of the many picturesque parks around Perth. In addition to the weather, you'll be treated to stunning views to enjoy with friends or family whether it's the seaside, riverside or the city. Here are some of the top parks for a picnic.
South Perth Foreshore – Enjoy the gorgeous views of Perth's skyline along South Perth Foreshore. There are plenty of picturesque spots to relax and soak up the spring weather including near the observation deck near the Scented Garden or at McCallum Park.
Mardalup Park – Found between Claisebrook Cove and Graham Farmer Freeway you'll get the best city views away from the hustle and bustle of the city.
Kings Park – One of the most well-known spots in Perth for its city views, manicured lawns, play areas and during spring stunning wildflowers. I recommend staying around for sunset for the views.
Hyde Park – Spend an afternoon at Hyde Park by lounging under the plane trees with friends or family. I recommend grabbing a bite to eat or a coffee from Chu Bakery.
Scarborough Esplanade – If you're looking for seaside views head to Scarborough Foreshore for a picnic by the beach, with skate parks, playgrounds and local eateries nearby. You'll get to sit on the grassy lawn or the beach to watch the surfing action, or you can make your way to the amphitheatre – from local markets to entertainment.
Beaches
Perth is renowned for its gorgeous beaches, and spring is the perfect time to hit the sand. Whether you prefer swimming, sunbathing, or water sports, Perth's beaches have something for everyone. Cottesloe Beach, Scarborough Beach, and City Beach are popular choices.
You'll also want to add Scarborough Sunset Markets to soak in the delicious food along the beachside. Every Saturday evening in Scarborough you'll be treated to up to 50 foodies and retailers to enjoy. From French crepes, Asian curries, hot potatoes, Italian street food, and everything in between.
The Scarborough Sunset Markets runs from 13 May until 21 October 2023.
Outdoor Dining
If you're a foodie you'll want to monopolise the pleasant weather by checking out Perth's many alfresco cafes and restaurants to savour fresh local produce and cuisine while soaking up the sun. If this isn't your style spring is also a great time to enjoy afternoon tea in Perth. Both options are perfect to try with friends or family. Here are some of the best places to eat around Perth during spring.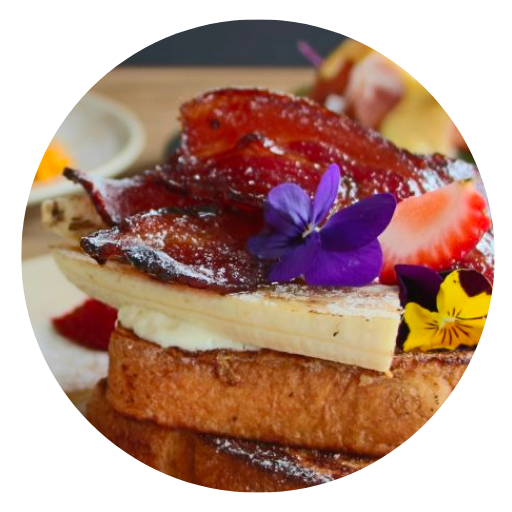 Found in Mount Hawthorn Bites by D offers a delicious and unique high tea experience that shouldn't be missed out on during spring. You'll be treated to a selection of petite and savoury desserts and beverages to try.
Enjoy delicious Southeast Asian flavours and more at Chinta Cafe. If you're looking for morning tea this spot is also available at 9:30 am from Monday to Thursday. You'll be able to experience a variety of sweet and savoury bites and a beverage of your choice whether it's coffee, tea or juice.
Grab a bite to eat in a backyard-style garden cafe. You can either enjoy breakfast or lunch by soaking up the warm weather in the plant-filled courtyard.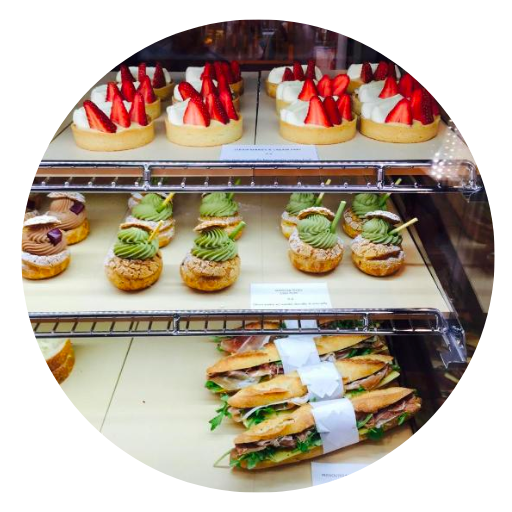 Grab freshly baked picture-perfect pastries at Chu Bakery in Highgate. You can choose from a selection of delicious pastries including donuts and toasts or grab a coffee for your spring outing.
Enjoy some of the freshest produce at this charming Lavender-focused European cafe and boutique in Swan Valley. They offer gorgeous lavender-themed high tea where you'll get to enjoy gourmet finger sandwiches, handmade cakes, lavender macarons and other lavender-infused treats to add to your spring itinerary.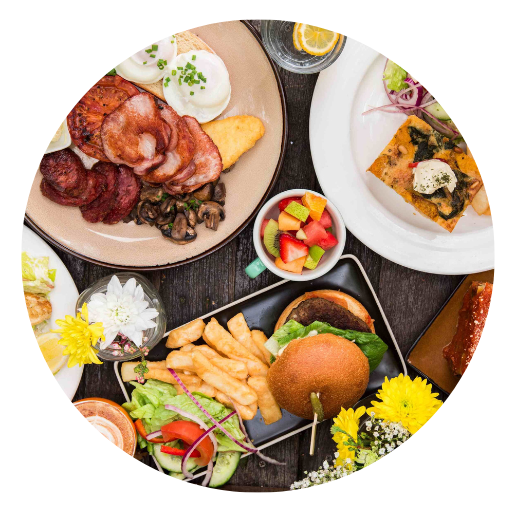 Don't miss out on this boutique cafe that offers roasted coffee, fine teas, vegan treats and delicious healthy all-day brunches. Vegan options you can try include tropical waffles decorated with raw salted caramel and mango to savoury treats including a corn fritter stack, or a Mexican mac and cheese. Don't miss out on these colourful dishes.
Attend a Spring Festival
Spring is the perfect time to enjoy festivals and Perth has plenty to offer during the spring months. The most well-known spring festivals include the Perth Hills Spring Festival, Araluen Tulip Festival, and Kings Park Festival. At these events, you'll be treated to gorgeous scenery including the colourful spring blooms and wildflower season. Other spring festivals to check out are the Summer Salt Markets, Perth International Burlesque Festival, Italian Film Festival, George Street Festival, and Fish & Sip Festival.
Further in the article, I'll go into more depth about these must-try springtime festivals in Perth.
Springtime Destinations in Perth
Below are some of the best springtime destinations to explore in Perth. Some of the included spots are well known, but I've also included some of my local hidden spots across Perth. When you're visiting any of these locations, make sure to always observe the rules of the property particularly when visiting the orchards.
Jacaranda Season in Perth
Dates: Mid-October to late November.
Towards the end of the year, the streets of Perth begin to pop with the breathtaking bloom of jacaranda trees. These trees, adorned with vibrant purple blossoms, transform the city into a dreamy backdrop for a spring outing for a picnic or leisure stroll. Make sure to check out these jacaranda viewing spots in Perth to enjoy the purple blooms.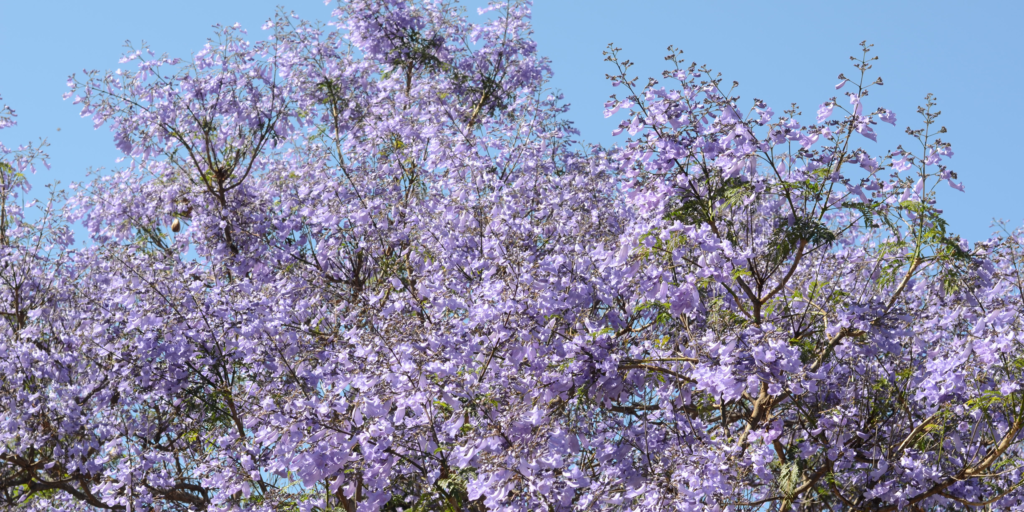 York Canola Fields
Dates: From Mid-August 2023.
Address: 1625 Qualen W Rd, Gilgering WA 6302
When you think of spring in Australia you'll often think of the colourful mix of wildflowers however canola blossoms shouldn't be missed out during spring.
The golden fields of canola can be observed on the Great Southern Highway, Spencer Brook Road, York to Northam Road and a few sections to the East of York. It's important to note that it is illegal to enter private farming property with the canola fields without permission. The only place where you can legally take photos inside the canola fields is at PetTeet Park. Read everything you need to know about visiting the canola fields in York in this travel guide.
S&R Orchard
Opening hours (S&R BLossom Festival): 9 am to 4 pm: 2nd September to 25th September 2023.
Address: 36 Halleendale Rd, Walliston WA 6076
Located about a 30-minute drive from Perth's CBD, S&R Orchard is a perfect day trip to enjoy with family and/or friends to soak up the warm weather. For a limited three weeks during September, the S&R Orchard also holds a Blossom festival for visitors to enjoy the colourful blossoms. Spend a day relaxing at the orchard enjoying the blossoms, tractor rides, Ferris wheel or grabbing a bite to eat.
If you're looking for photo spots you won't be disappointed at this spot with the orchard also supplying free photo props to use in your images.
Araluen Botanic Park
Address: 362 Croyden Rd, Roleystone WA 6111
Araluen Botanic Park, located in the Perth Hills, is a must-visit during spring. All year round it boasts a picturesque landscape with beautiful gardens, water features, and an abundance of blooming flowers. During spring the park truly comes alive with an array of colourful tulips, azaleas, and magnolias. Stroll through the beautifully manicured gardens, enjoy the serene water features, and take advantage of the vibrant tulip displays that are only available from September. It's a great day trip from Perth for a leisure walk or a picnic amidst the stunning nature.
Kings Park Botanic Gardens
Address: Fraser Ave, Perth WA 6005
Kings Park is an absolute must-visit in spring. This sprawling urban park is transformed into a floral wonderland with an impressive display of native wildflowers in full bloom. Stroll along the walking trails, enjoy picnics with panoramic views of the city, and explore the tranquil botanic gardens. My personal favourite flowers to check out are the vibrant pink everlastings in the park.
Spring Events in Perth
Perth Hills Spring Festival
Dates: Weekends (1st October to 30 November 2023)
If you take a short drive from Perth to Perth Hills you'll be treated to a plethora of activities and colours during spring. At the festival, the arrival of spring is celebrated with cafes, boutique shopping, wineries and popular events including Kalamunda Artisan Markets and Kalamunda Open Studios. This festival is great for all ages to enjoy whether you're interested in art, photography, gardening, music, markets or food – the Spring Festival has it all.
Yates Springtime Tulip Festival
Dates: 18th August to 30th September 2023.
Opening hours: 9 am to 6 pm.
Address: 362 Croyden Rd, Roleystone WA 6111
From September you'll want to check out the kaleidoscope of colourful blooms at Araluen Botanical Garden. Boosting over 120,000 tulips and 36,000 spring blooms you won't be disappointed with a gorgeous background of stunning blooms. At the festival, you can expect recognised grand magnolia trees, azaleas, and camellias. In addition to the gorgeous blooms the festival also offers activities and entertainment for visitors including tours, hiking, children's activities and painting classes. If you visit on the weekend you'll also be treated to food trucks where you can grab a bite to eat after exploring the colourful grounds. Read everything you need to know about visiting the Yates Springtime Tulip Festival in this travel guide.
Important tip: Make sure to bring cash for entry payment just in case the electronic payment doesn't work at the establishment. Cash is also handy to have to use with the food vendors inside the Araluen Botanic Garden.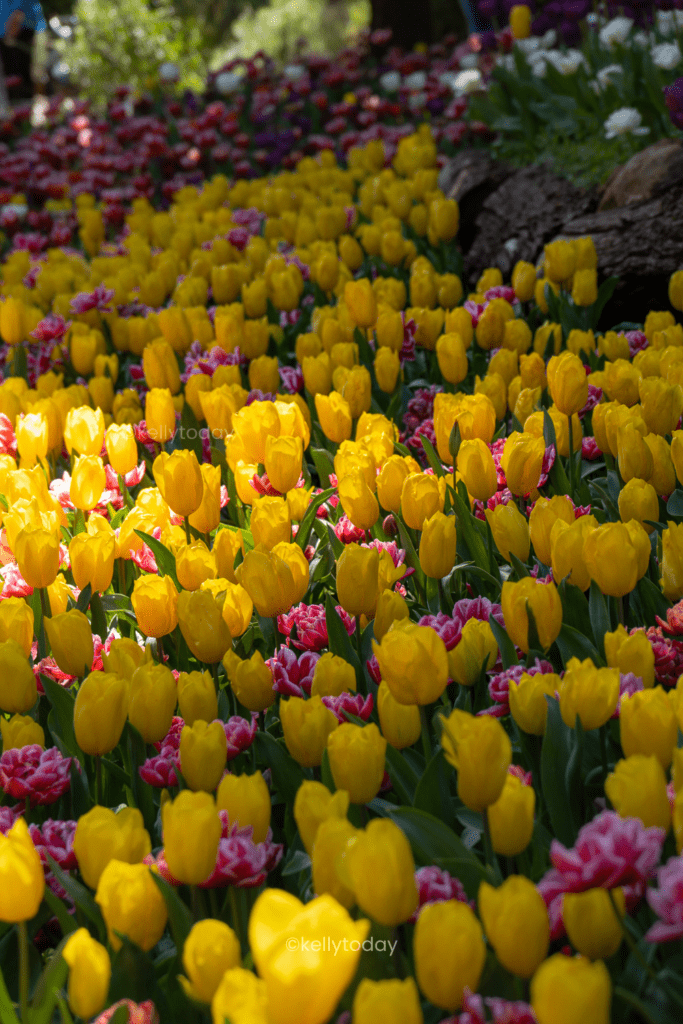 EverNow
Dates: 4 to 9 October 2023
Enjoy a multi-sensory festival that celebrates Western Australia's Aboriginal culture and biodiversity at EverNow. This free festival will be lighting up Booorloo in Perth with five nights of fire, light and sound. The festival will occur during the Noongar season of Kambarang, where an array of flowers and colours will explode across the landscape. There will be a series of free evening events held at locations across Perth including Perth's Government House Gardens, Supreme Court Gardens and Kings Park (Kaarta Koomba).
At Kings Park, it will be transformed into an illuminating moving canvas where you can watch the six seasons of the Noongar calendar and watch their stories come alive through projections. You'll also be treated to lighting effects and soundscapes.
@kelly.today Things to do in Perth Western Australia🌷 Spring Edition ⬇️ 𝐁𝐨𝐨𝐫𝐧𝐚 𝐖𝐚𝐚𝐧𝐠𝐢𝐧𝐲: 𝐓𝐡𝐞 𝐓𝐫𝐞𝐞𝐬 𝐒𝐩𝐞𝐚𝐤🌳 is the Evernow immersive experience you simply CAN NOT miss this weekend! The Evernow Festival is a FREE EVENT with a 1.5km walking route through the gorgeous Kings Park featuring spectacular 3D projections and cherished stories of Indigenous culture, customs and the six Noongar seasons. ✨️ [ABOUT] It's a great place to take photos in Perth with the 3D light reflections and learn about Indigenous cultural stories. 📆 Fri 6 – Mon 9 Oct ⏰️ 7pm-11pm (Last entry 10:30pm) [📌TIPS] ☞ Prepare for 90 to 120minutes of walking time. ☞ Do not rush through the tour, sit, stand and listen to the stories being told. ☞ Don't forget to apply insect repellent before you visit! ☞ There are food trucks at the END of the walking route with places to sit, eat and rest. 📌[IMPORTANT NOTES} ☞ There is NO PARKING in Kings Park & several main roads leading to Kings Park are closed to the public. ☞ There are FREE shuttle buses. Operates 7–10pm Fri 6, Sat 7, Sun 8 Oct every 5 minutes. 🚨Looking for free things to do in Perth? Check out the full guide on my website. Found in the link in my instagram profile. Things to do in perth at night, things to do in perth this weekend, things to od in perth October edition, places to see in Western Australia, places to go in perth, perth travel guide, perth travel itinerary, #perthevents #evernow #perthtodo #thingstodo #perthisok #perthdateideas #placestovisit #australiatiktok #australiatravel #westernaustralia #kingspark #kingsparkandbotanicgarden #travelguide #traveltiktok #traveltip #traveltok #westernaustraliaperth #traveldestinations ♬ original sound – Kelly ☁️ lifestyle & travel
S&R Blossom Festival
Dates: 2nd to 25th September 2023
Entry fees:
$20 for Adults
$15 for Concession holders
$10 for Children (6 to 15 years)
$60 for Family Pass (2 adults & 3 children)
Address: 36 Halleendale Rd, Walliston WA 6076
Enjoy the magical blossoms of spring in Perth at S&R Orchards. You'll be treated to fragrantly sweet fresh air and endless spots with pink blooms at the orchard which is only a 30-minute drive from Perth's CBD. I recommend visiting this place as a day trip with family and/or friends with a picnic to enjoy the day out relaxing at the orchard. Besides taking a few photos with the gorgeous blossoms, there's an animal farm, bouncy castle, Ferris wheel, tractor rides and food trucks to check out.
Important tip: Avoid the queues by reserving your tickets online in advance.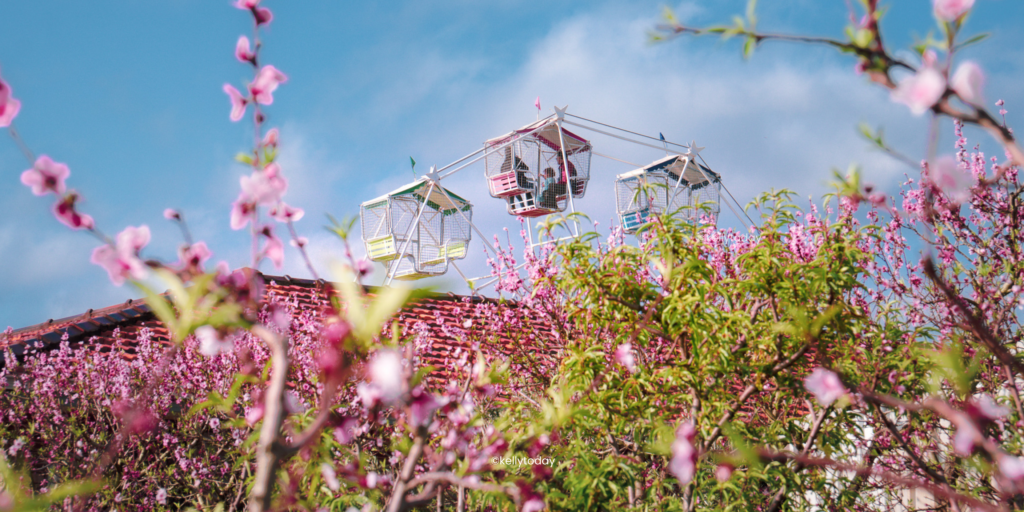 Kings Park Festival
Dates: 15th September to 1st October 2023.
Address: Fraser Ave, Perth WA 6005
In September, Kings Park hosts an annual festival to celebrate the arrival of spring and the diversity of Western Australia's well-known wildflowers. From September at Kings Park Botanical Garden you'll be treated to a pink field of everlastings that shouldn't be missed on your spring bucket list. The festival also runs guided walks, art displays, tours, workshops and family activities across the colourful grounds. Besides immersing yourself in the local culture you'll have endless opportunities to enjoy the stunning natural surroundings at the park. At every corner you turn in the park you'll find Instagrammable spots.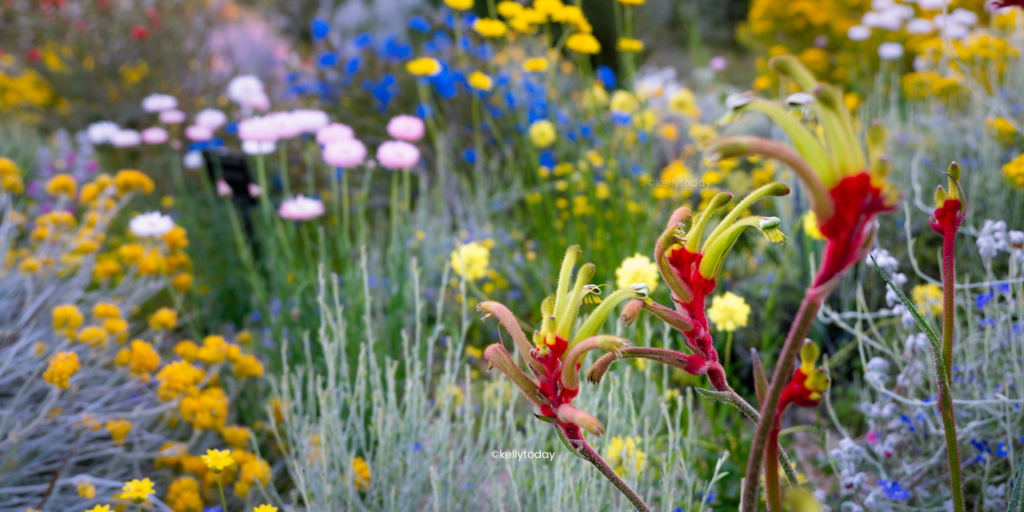 Perth Royal Show
Dates: 23rd to 30th of September 2023
Opening hours: 10 am to 9 pm (Daily)
Address: Claremont Showgrounds, 1 Graylands Rd, Claremont WA 6010
Check out the Perth Royal Show to be treated to over 400 entertainers, performances and endless hours of entertainment. At this event you'll find something for all ages whether it's the show rides, food or drinks, shopping at the local vendors or checking out the local animal nursery. If you stay till night you'll also get to enjoy a firework display lighting up the night sky.
Important tip: Skip the lines at the entrance by reserving your entrance tickets online in advance.
📌 Places mentioned in this post
Don't forget to save this Google Map with all the top things to do and destinations in spring in Perth.
Found this helpful? 👇🏼
Found this free guide helpful? Support my work so I can produce more free content for you.